Once a month, we round-up some of our favorite vegetarian foods and kitchen tools and share them with you here on the Marketplace. Here are this month's picks! (Note that we received samples for review on products marked with an asterisk.)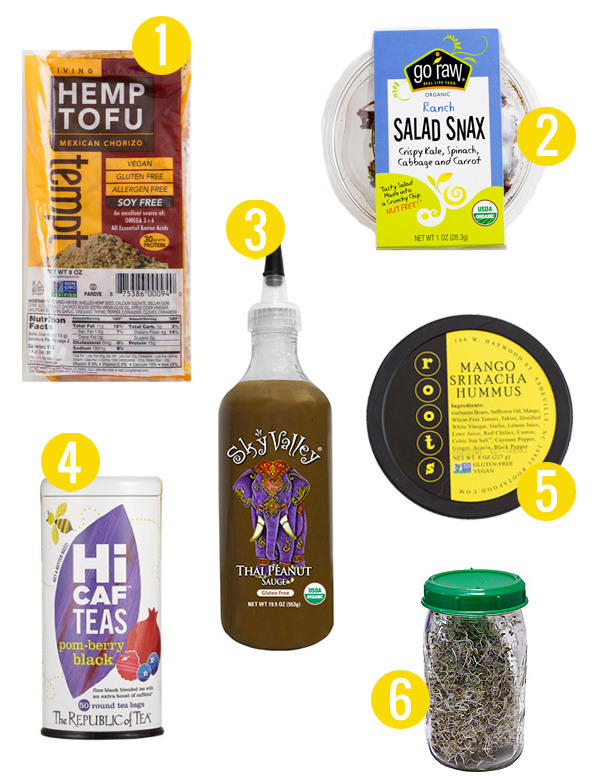 1. Tempt Hemp Tofu
Yes, this is a thing that exists. If you don't eat soy, until now, the best tofu option you had was to make your own chickpea tofu. But now you can buy tofu that's made with hemp seeds! I wrote about it here; the texture is slightly different from soy tofu and a little bit more prone to crumbling when you slice it, but it's delicious and it's a great source of plant-based protein too.
Buy It: I buy mine from Whole Foods Market
Website: livingharvest.com
2. Go Raw Ranch Salad Snax*
Although these come in a few different flavors, I'm all about ranch because: ranch. These crispy raw vegan snacks are what would happen if you crossed kale chips with a salad–they're made with dehydrated kale, lettuce, carrots, cabbage, and other greens and vegetables.
Buy It: Salad Snax are available exclusively at Whole Foods Market
Website: goraw.com
3. Sky Valley Thai Peanut Sauce*
Peanut sauce is the new ketchup. Okay, I just made that up, but let's make it happen. I normally whip up my own peanut sauce, but this version from Sky Valley is just as good and it doesn't require the dirtying of mixing bowls or whisks, which is always a bonus. I love it as a dipping sauce for pan-fried tofu and as a topping for Thai Sweet Potato Nachos.
Buy It: Buy Sky Valley sauces online from amazon
and at Whole Foods Market
Website: organicvillefoods.com
4. HiCAF Teas
I'm not a fan of coffee, but I need caffeine. Solution: HiCAF Teas. This line of tea from The Republic of Tea packs a caffeine boost from green tea extract. The Pom-Berry Black is my favorite variety, but I've also tried the Gingermint Green flavor, which is perfect for making into iced tea.
Buy It: Buy online from amazon.com

Website: republicoftea.com
5. Roots Mango Sriracha Hummus
Mango. Sriracha. Hummus. Three of my favorite foods, together at last. This hummus is sweet and spicy, and it's made with high-quality, fresh ingredients. (They also make a Thai Coconut Curry Hummus that is equally amazing!)
Buy It: Roots Hummus is sold at Harris Teeter, Whole Foods Market, and Earth Fare in North Carolina
Website: rootsfood.com
6. High Mowing Organic Home Sprouting Seeds*
Sprouts! Why buy them when it's so easy to grow your own? I was sent a sprouting lid and three bags of seeds to give them a try myself, which I was excited about because I've always wanted to start growing my own sprouts, but I've never gotten around to doing it. The hardest part is remembering to give the sprouts a daily rinse, but in less than a week, you'll have a jar full of sprouts for adding to your next salad or sandwich.
Buy It: Buy online from the High Mowing Seeds website or at Whole Foods Market
Website: highmowingseeds.com