Photos by Emily Caruso
I am endlessly fascinated by America's Test Kitchen's magazines and cookbooks. I love that they detail the process of recipe development and not just, "Hey, here's a recipe! It tastes good! Enjoy!" While baking is more of a science than cooking, there is still a science to cooking and it's interesting to read exactly why frozen peas are better than fresh for most recipes or how different types of potatoes result in different textures in gratins.
The Complete Vegetarian Cookbook
is exactly what you'd expect from an America's Test Kitchen cookbook. The recipes are tried and true and each starts out with a paragraph explaining why it works. There are 700 recipes in this book (YES! Seven-hundred!) and they range from dishes that are naturally meatless, like this polenta casserole, and dishes that are traditionally made with meat, made vegetarian (we'll be sharing one of those recipes next week). There are cookbooks based on gimmicks and trends that you buy, make a few recipes from, and set aside, and there are cookbooks that you'll be cooking from 20 years from now—this is the kind of cookbook that's destined to be a staple in your kitchen.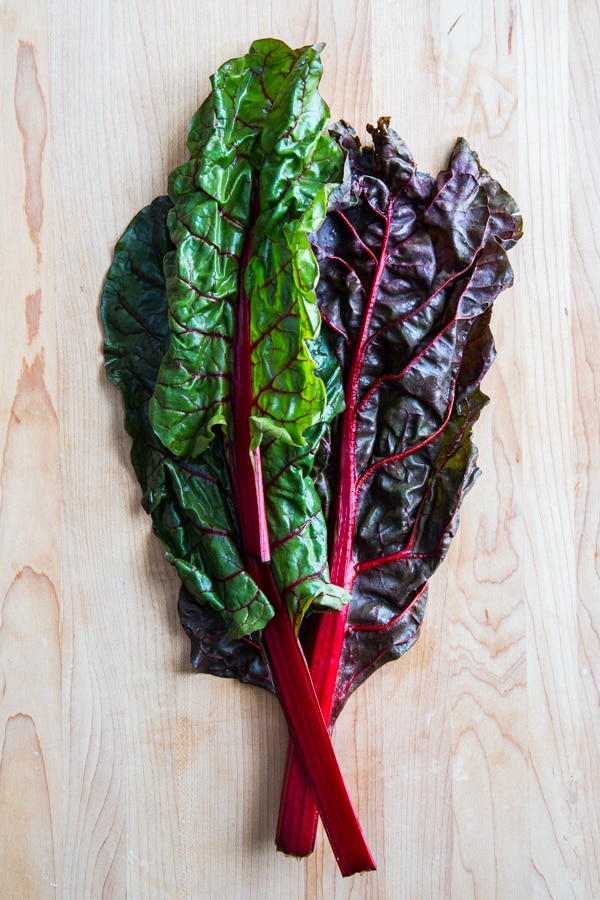 I received an advance copy of the book several weeks ago, so I've already had the chance to make quite a few recipes from it and this polenta casserole is one of my favorites. It tops a batch of creamy Parmesan polenta with a layer of meaty mushrooms and chard cooked in tomato sauce. The thing I love about polenta casseroles is that while they're filling and hearty and everything you love about comfort food, they're actually not that heavy—eating a serving of this casserole doesn't make you feel uncomfortably full and weighed down like eating a serving of lasagna might. I should also note that we had this for dinner 3 nights in a row; the leftovers kept well in the fridge and they were just as delicious as the first day I made it. While the recipe does take a little bit of time that first day, the subsequent days of leftovers (woo hoo, no cooking!) made up for it.
Recipe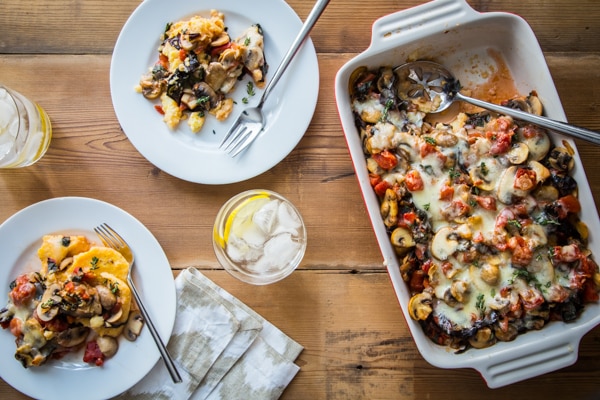 Ingredients
3

cups

water

1

cup

whole milk

1

cup

coarse-ground polenta

2

ounces

Parmesan cheese

grated

3

tablespoons

unsalted butter

3

tablespoons

olive oil

1

onion

chopped fine

1 ½

pounds

white mushrooms

trimmed and sliced thin

3

garlic cloves

minced

1

tablespoon

minced fresh thyme or 1 teaspoon dried

1

28-ounce can diced tomatoes

8

ounces

Swiss chard

stemmed and cut into 1-inch pieces

4

ounces

fontina cheese

shredded
Instructions
Adjust oven rack to middle position and heat oven to 400ºF. Bring water and milk to boil in large saucepan over medium-high heat. Stir in 1 teaspoon salt. Slowly pour polenta into liquid in steady stream while stirring back and forth with wooden spoon. Reduce to gentle simmer, cover, and cook, stirring often, until mixture has uniformly smooth, thick consistency, 15 to 20 minutes. Off heat, stir in Parmesan and butter, and season with salt and pepper to taste. Pour polenta into 13 by 9-inch baking dish and smooth into even layer.

Meanwhile, heat oil in 12-inch skillet over medium heat until shimmering. Add onion and ½ teaspoon salt and cook until onion is softened, about 5 minutes. Add mushrooms and cook until they have released their liquid and are well browned, about 25 minutes.

Stir in garlic and thyme and cook until fragrant, about 30 seconds. Stir in tomatoes and their juice, bring to simmer, and cook, stirring occasionally, until sauce has thickened, about 10 minutes. Stir in chard, 1 handful at a time, and cook until wilted, 2 to 4 minutes. Season with salt and pepper to taste.

Spread mushroom mixture evenly over polenta, then sprinkle with fontina. Bake casserole until warmed through and cheese is melted, 10 to 15 minutes. Let cool for 5 minutes before serving.
Nutrition
Calories:
389
kcal
Carbohydrates:
31
g
Protein:
16
g
Fat:
23
g
Saturated Fat:
11
g
Polyunsaturated Fat:
2
g
Monounsaturated Fat:
9
g
Trans Fat:
1
g
Cholesterol:
47
mg
Sodium:
415
mg
Potassium:
657
mg
Fiber:
3
g
Sugar:
6
g
Vitamin A:
2912
IU
Vitamin C:
17
mg
Calcium:
302
mg
Iron:
2
mg
Craving more veg-friendly recipes?
Shop our collection of vegetarian and vegan cookbooks, including our new Vegan Thanksgiving and Vegan Christmas cookbooks!
Disclosure: We received a review copy of this cookbook from America's Test Kitchen. Links to Amazon in this post are affiliate links.