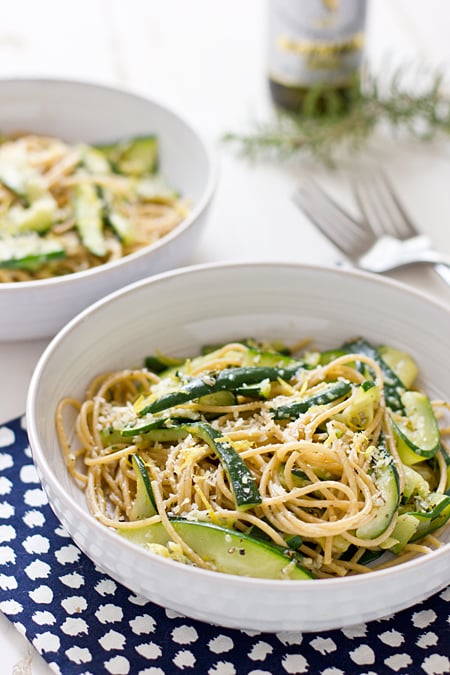 I received a copy of Food: Vegetarian Home Cooking for the purpose of this review. All opinions are my own.
Before I started blogging, I didn't spend much time thinking about vegetarianism. Having stopped eating meat at such a young age, it was simply a way of life. I never felt a longing to eat meat or looked at a restaurant menu and thought, "Oh, I really wish I had more options."
I didn't talk to people about the fact that I didn't eat meat unless they brought it up, just because not eating meat was as fundamental to me as the fact that I have blond hair and green eyes.
Even after I started blogging, I was hesitant to label my blog as a vegetarian one - I just wanted to be known for good food, not good vegetarian food.
But eventually, I embraced the label and here we are today. And now that I do label myself as a vegetarian blogger, I hear from so many people who struggle with vegetarian cooking - whether it's going vegetarian completely or just a few days a week.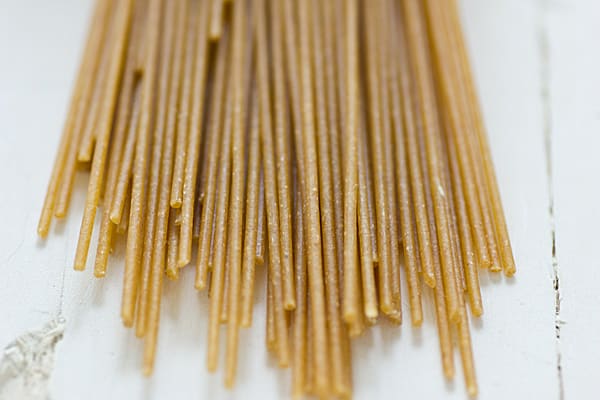 Of course, vegetarianism wasn't always so easy for me either. I remember my mom struggling to come up with things to feed me when I was a kid. And I always felt really left out when I went to birthday parties or when it was hot dog day at school and I'd be stuck eating an empty bun and a bag of chips. When people ask me for advice about how to transition to vegetarianism, I always tell them this:
"Eat delicious food."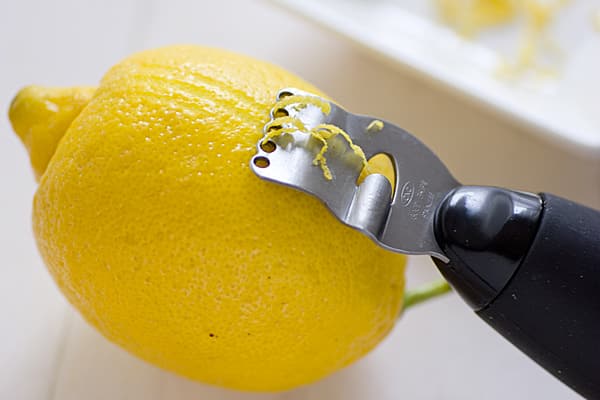 Which sounds like such non-advice, right? But I think when people start a new diet, whether it's vegetarian, vegan, paleo, low-carb, whatever, they tend to do one of two things. They might jump in to their new way of eating a little bit over-zealously.
They fill their fridge with tofu and eat salads for every meal. This usually results in burn out.
The second thing I see people doing is trying to fit vegetarian cooking into their old cooking paradigm. This involves a lot of meat substitutes.
I'm not opposed to making veg-friendly remakes of classic recipes (I even wrote a post about it), but when everything you eat is an imitation, you start craving the real thing again.
So by "eat delicious food", I mean - eat food that you love! Food that's tasty in its own right, and not in relation to how it would taste with meat in it.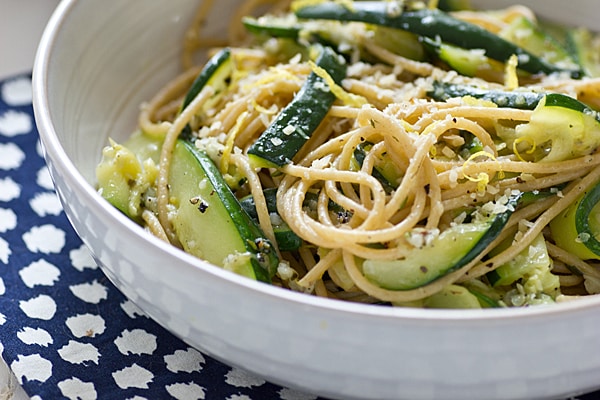 This Zucchini Spaghetti with lemon zest recipe is a perfect example. It's not Spaghetti Fauxlognese or Spaghetti and Soyballs. It's spaghetti tossed with zucchini, fresh herbs, and lemon zest. It's easy and unfussy, but delicious.
The recipe is from Mary McCartney's new cookbook, Food: Vegetarian Home Cooking
, which is full of those basic, simple recipes that shine on their own (although there are a few in here that use meat substitutes).
Mary McCartney, of course, is the daughter of Linda McCartney, who is well-known for her line of vegetarian foods as well as her vegetarian cookbooks. Food is brimming with Mary's bright, colorful photographs of fresh vegetables, family life, and finished dishes.
The recipes in Food don't use strange ingredients and don't require a lot of skill in the kitchen - they're recipes like Black Bean, Sweet Corn, and Feta Tacos and Shepherd's Pie.
They're the types of dishes that you make for your family over and over again, sometimes so many times that you don't even have to consult the recipe anymore because you know it by heart.
Anyone can make these recipes and this is the book's charm. It truly is vegetarian home cooking and if you're still finding your way as a vegetarian, this book is a great cookbook to add to your collection. Enjoy this zucchini spaghetti dish!
Recipe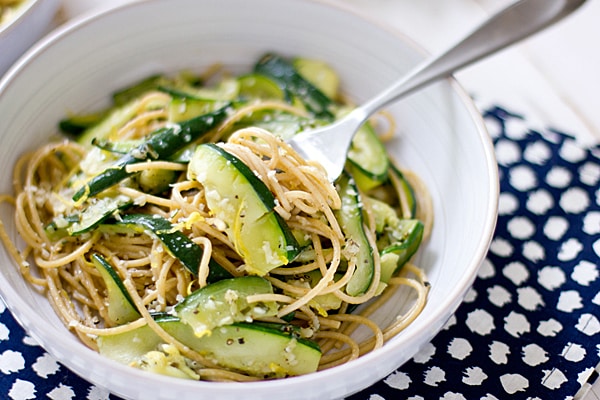 Ingredients
7

oz.

dried spaghetti

I used whole wheat

3

tbsp.

olive oil

plus more for drizzling

2

medium zucchini

thinly sliced lengthwise

3

cloves

garlic

finely chopped

1 ½

tsp.

fresh sage

chopped

1 ½

tsp.

fresh rosemary

chopped

2

tbsp.

grated Parmesan or Pecorino Romano cheese

plus more for serving (optional)

4

oz.

feta cheese

crumbled (optional)

zest of ½ lemon

sea salt and black pepper

to taste
Instructions
First cook the spaghetti (check the package for specific instructions) by bringing a large saucepan of water to a boil, adding a couple of large pinches of sea salt and then the spaghetti; it should take about 8-10 minutes to cook. Stir every so often so the strands of pasta don't stick together. When the pasta is just cooked (al dente), drain it in a colander, drizzle with a little olive oil and then mix to lightly coat the pasta and prevent the strands from sticking together. Set it aside.

You can use the same saucepan to make the sauce. Pour in the 3 tablespoons of olive oil and heat over medium heat, then add the zucchini and sauté for 4-5 minutes, before adding the garlic and herbs and mixing well. Sauté for a couple more minutes, to allow all the flavors to come together and the zucchini to cook through.

Return the cooked spaghetti to the pan and heat through, then mix in the cheese and lemon zest, and season with a little sea salt (you may not need much since the feta cheese is salty) and a good grind of black pepper. Serve, with a little more grated cheese sprinkled over, if you wish.
Notes
Reprinted with permission from Sterling Publishing. Although the book says this recipe serves 2, we got 4 servings out of it.
Nutrition
Calories:
819
kcal
Carbohydrates:
85
g
Protein:
29
g
Fat:
40
g
Saturated Fat:
15
g
Polyunsaturated Fat:
4
g
Monounsaturated Fat:
20
g
Cholesterol:
61
mg
Sodium:
893
mg
Potassium:
831
mg
Fiber:
6
g
Sugar:
10
g
Vitamin A:
855
IU
Vitamin C:
37
mg
Calcium:
537
mg
Iron:
3
mg
Craving more veg-friendly recipes?
Shop our collection of vegetarian and vegan cookbooks, including our new Vegan Thanksgiving and Vegan Christmas cookbooks!