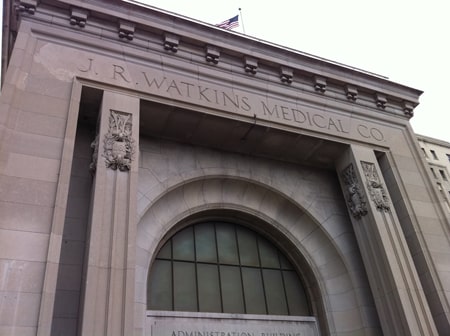 As most of you know, last week I had the chance to visit the headquarters of J.R. Watkins Naturals in Winona, Minnesota with four other bloggers (Micaela from Mindful Momma, Jodi from Mom's Favorite Stuff, Jennifer from Savoring the Thyme, and Lori from Groovy Green Livin). I was super excited about this trip because J.R. Watkins is one of my favorite brands and has been for a while. Their laundry detergent is a staple in our household and I'm in love with their all-purpose cleaner in every scent. Basically, if J.R. Watkins makes it, I'll buy it because I know they make quality products. (When I told my grandma about the trip, she immediately knew J.R. Watkins for their "fantastic vanilla," which she used to buy from her local farmers market!)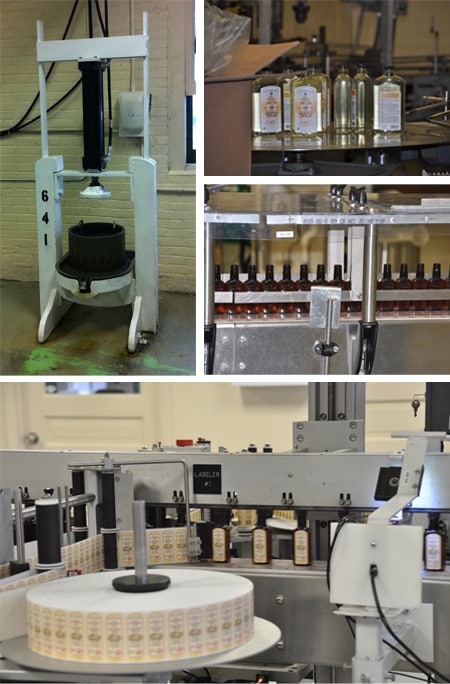 Although the trip only lasted two days, I feel like I learned so much that I'm still processing it all. On the first day of the trip, we were given a tour of the J.R. Watkins factory and museum by the company's archivist, John Goplen. (Surprised that J.R. Watkins has an archivist? Well, they've been around since 1868 and have a lot of history to document!) The headquarters building was constructed in 1912 and much of the equipment in the factory dates back many decades. Because the factory is in a residential neighborhood, it was built up instead of out--products are started on one floor and then pumped down to the floor below for bottling and packaging. Using gravity in this way means less energy is needed. We were able to see some of the lines in progress, the vats where extract is stored, and even where vanilla beans are pressed!
After the grand tour, we were given the opportunity to speak with the CEO of J.R. Watkins, Mark Jacobs, the Vice-President of Sales and Marketing, J.R. Rigley, and the Product Development Manager, Kate Mannor. I tend to be a cynic when it comes to business, but it was clear from our conversation that J.R. Watkins is a brand that is committed to making natural products--real natural products. It's easy to slap a label on a product proclaiming it to be natural when that's only a half truth--and not only is it easy, but it's cheaper than actually doing all the work involved in formulating products that are truly natural and effective. It's good to know that J.R. Watkins goes the extra mile to make sure their ingredients are all-natural, even if it means product development takes more time or costs more money.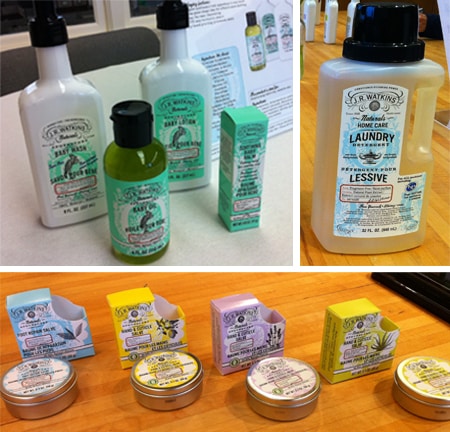 On the second day of the trip, we returned to the company's headquarters to do a little product testing and preview some new products (including a baby line--if you have an infant or toddler, get excited, because it's good!). You know the scene in Willy Wonka & The Chocolate Factory where all the kids go into the chocolate room for the first time? Yeah, it was kind of like that. (Unfortunately, there were no Oompa Loompas.) I've been big into J.R. Watkins home care products for a while, but the product testing introduced me to my two new favorites: Lemon Cream hand cream (which smells like lemon frosting--yes, I repeat lemon frosting) and the Mango lotion. I think I must have applied about 10 layers of lotion that morning. I couldn't stop rubbing my hands the rest of the day because they were so smooth--I'm sure everyone at the airport thought I was insane.
The weather in Minnesota was perfectly brisk (albeit a bit gloomy) and I was happy to be back in the Upper Midwest for a few days. The whole J.R. Watkins team was so friendly and hospitable to us bloggers. We stayed at the beautiful Alexander Mansion, where I had an entire floor (with a kitchen! and a living room!) to myself and all the other bloggers were clearly super jealous. The innkeeper, Richard, made us a fantastic four-course breakfast in the morning which included the best frittata I've ever had. Since this was my first blogger event, I felt a little bit intimidated at first, but the other bloggers on the trip were really fun (and full of good blogging tips!) and I was happy to get to know them.
Do you use J.R. Watkins products? Do you know them best for their home care, bath and body line, or food products (or maybe all three!)?
Disclosure: J.R. Watkins paid for my trip to their headquarters and provided me with product samples in exchange for my honest opinion.