These vegan baked beans are packed with flavor from savory tomatoes, sweet brown sugar, and rich dark stout beer. Yum!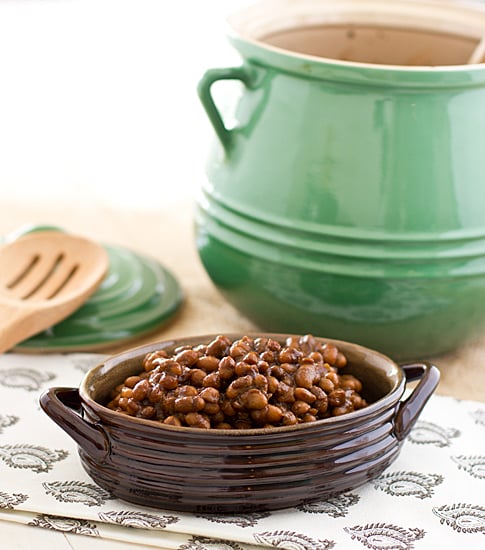 This recipe was sponsored by Le Creuset. All opinions are my own.
Jump to:

You know that saying, "They just don't make 'em like they used to?" I'm quite certain the person who coined it was talking about cookware.
When my husband and I got married, we registered for a cookware set. After years of mismatched pots and pans, I was excited to get a matching set - a set that would last forever!
And then, a few years later, finishes started wearing off and handles started loosening and that pricey set of pots that I figured would last decades was in need of replacement.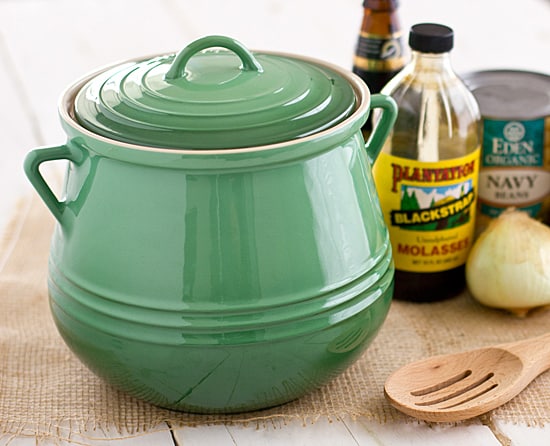 Rather than getting another semi-disposable set of cookware, we made the decision to buy investment pieces. We began replacing our pots and pans one-by-one with nicer items, such as this Le Creuset cookware.
Le Creuset is a brand that does still make 'em like they used to - the same way they started making their products, back in 1925. And while Le Creuset is most certainly pricier than other brands, the difference is that this stuff is built to last a lifetime. It's the type of cookware you pass down to your children.
It's fitting, then, that Le Creuset has come out with a line of products called The Heritage Collection. I was sent this beautiful Heritage Bean Pot to try out in my kitchen.
(Note: This exact pot has since been discontinued, but I highly recommend their dutch oven as an alternative!)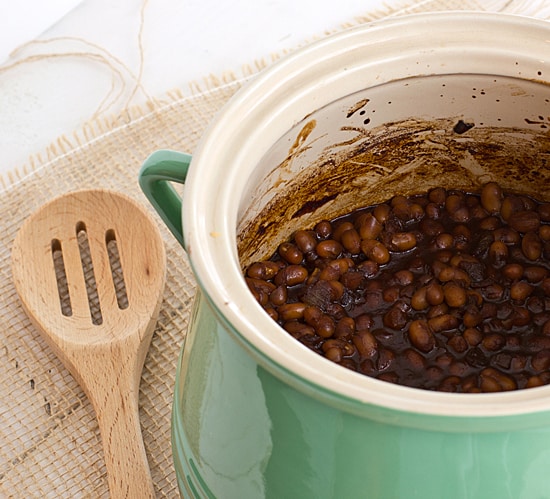 So of course I had to use the bean pot to create a new recipe for... well... beans. I know, I am so creative.
I got to work experimenting and I've come up with what I think may be the best vegan baked beans recipe ever!
Why you ask? Well, these vegan baked beans are:
Easy to make with simple ingredients.
Packed with rich flavor from ingredients like stout and brown sugar.
Hearty and satisfying.
Vegan.
Vegetarian.
Gluten-Free.
Adding stout to these baked beans gives them a deep, rich flavor - rustic, just like the bean pot they were baked in. This has quickly become one of my all time favorite vegan side dishes.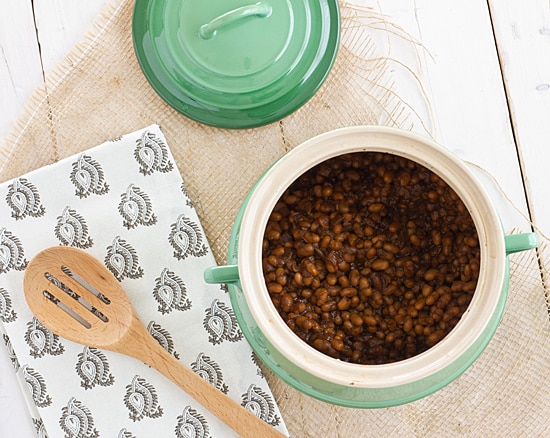 Tips & FAQs
Navy Beans. I used navy beans for my vegan baked beans, but this recipe will also work just fine with cannellini beans or even red kidney beans for a different take.
Tomato Sauce. This recipe calls for tomato sauce. In this case, we are looking for just plain tomato sauce that you buy in the canned good aisle, not a fancy pasta sauce. There is plenty of flavor from the other ingredients!
Dark Beer. I used a stout beer for maximum flavor, but any dark beer will work just fine. A porter will do the trick, and I even made it with Guinness once. Yum!
What pot should I use? Well, obviously I am recommending the Le Creuset pot in the pictures! But if you don't have one you can use a dutch oven or just a heavy pot with a lid. Just make sure it is both stove and oven safe.
What do I serve with baked beans? These vegan baked beans make a great side along with other barbecue favorites like this vegan potato salad and this vegan cornbread! Or just serve it up over some crusty bread
More Vegan Recipes
If you love these vegan baked beans, be sure to check out these other plant based favorites:
Recipe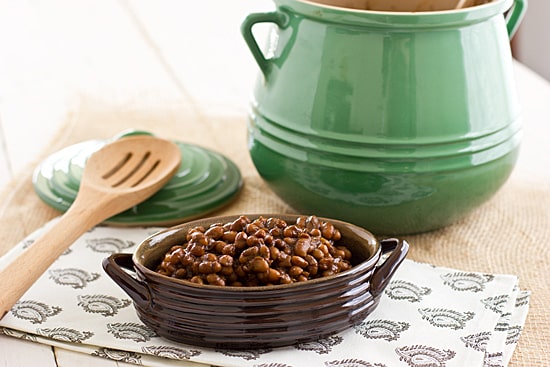 Equipment
Frying pan or skillet
Instructions
Preheat oven to 350 degrees.

Heat olive oil in a large saucepan over medium heat. Add onions and cook, stirring often, until softened, 3-4 minutes.

Add all remaining ingredients except beans and increase heat to high. Bring to a boil, then simmer for about 10 minutes on low heat, or until sauce has thickened. Remove from heat.

Combine sauce and beans in a dutch oven or covered casserole dish. Cover and bake in the oven for one hour, or until beans have reached desired consistency.
Craving more veg-friendly recipes?
Shop our collection of vegetarian and vegan cookbooks, including our new Vegan Thanksgiving and Vegan Christmas cookbooks!