Being vegan is growing increasingly popular, and every vegan saves roughly 200 animals per year. Whether you're someone who lives a vegan lifestyle or just enjoys vegan treats and items, this list of best vegan finds on Amazon is one for you.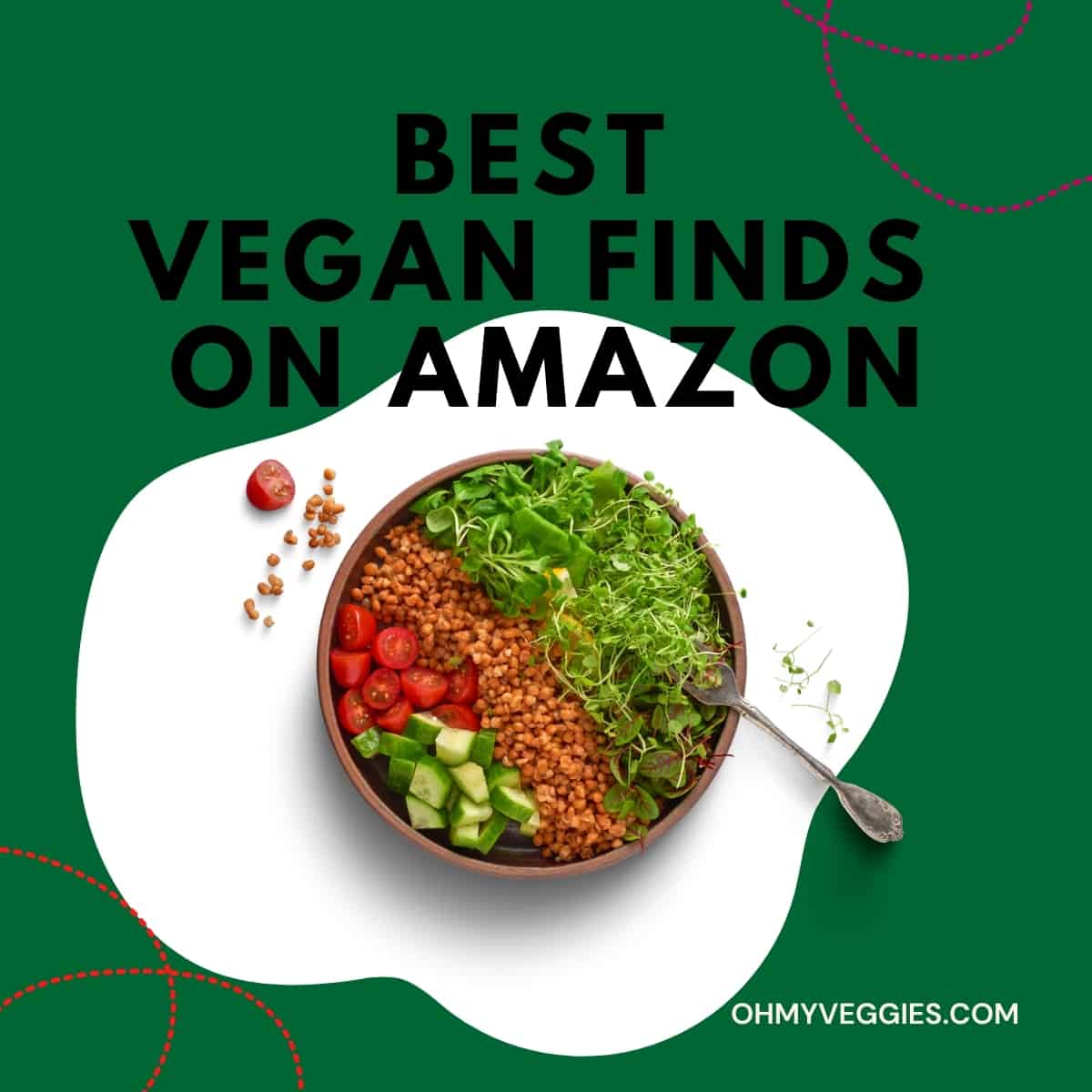 When purchasing items that claim to be vegan, do your research and assure yourself that the product actually is vegan. Also, be aware of price point, as many vegan finds tend to run on the more expensive side. If you're purchasing a snack that claims to be vegan-friendly, read the ingredients to be fully sure of what you're putting into your body. Below are a list of the best vegan finds on Amazon based on quality, affordability, and being certified vegan.
Best Vegan Finds on Amazon
Vegan Snacks
These are perfect packs of vegan snacks to toss in your bag and eat on the go! Made with beautiful, natural ingredients, these vegan snacks are sure to keep you satisfied and filled for a long period of time.
This pack of 12 snacks is aesthetically pleasing and scrumptious! These beautiful legumes are baked into a light and crunchy puff, then seasoned accordingly. Enjoy flavours like vegan white cheddar, bohemian barbeque, and Sriracha sunshine. This snack is USDA organic, certified gluten-free, vegan, kosher, and peanut-free. HIPPEAS also gives back from their sales to local charities. This powerful snack contains 3 grams of fibre and protein per 1oz serving, making these chickpea puffs a perfect snack to keep you full until your next meal. HIPPEAS has beautiful packaging and many faithful customers who love the flavours!
This plant-based jerky mimics a meat snack without the actual meat. This snack is healthy for both you and the planet and is made with King Oyster Mushrooms to get that meat-like texture. There are 3 beautiful jerky flavours to enjoy: original, sweet and spicy, and Hawaiian teriyaki. In each packet there are 7 grams of fibre and 4 grams of protein, making it an incredibly healthy snack when you're on the go. This snack uses heart healthy ingredients in order to get the most nutrients in each bite. Each packet also helps to save some of the planet as well. These snacks are perfect to throw in your purse when you have a lot of running around to do or to toss in your littles' lunch kit to help keep them full!
This tasty snack is made with garden-grown potatoes and delicious vegetables. Available in four scrumptious flavours,—zesty ranch, sea salt, cinnamon, and cheddar cheese—the pack comes with 6 of each flavour for a total of 24 portions. Perfectly sized and deliciously flavoured, these airy, flavourful straws will have you hooked and wanting more. And since they're perfectly portioned, you can eat the whole bag! This is a vegan snack the whole family will want, so you might want to stock up!
Salad Dressing
These vegan salad dresssings are perfect for anyone who loves a salad or dip for their veggies!
There are three great salad dressing flavours in this package. Try homestyle ranch, creamy ceasar and blue cheese all with only one purchase! These delicious plant-based dressings will make you want to eat salad all the time. Creamy, smooth, and packed with flavour, these are must-try dressings. These dressings are also certified by Vegan Action and are free of dairy, gluten, eggs, and other popular allergens. Delicious, rich, and creamy, these vegan salad dressings are a must-try with your next salad. 
Annie's takes pride in where their ingredients come from, and they make sure all their ingredients are non-GMO. There are also no additives, artificial colours, or flavours in this dressing. Rich and creamy, this salad dressing is made with real flavours and will be a hit with everyone in your family!
Vegan Pasta
Even being vegan, you're probably still craving a plate of pasta! This section is full of all things pasta and vegan!
The only ingredient in this pasta is chickpea flour. This pasta is loaded with plant-based protein and tastes delicious. It is also certified kosher and made in the U.S.A! The pasta's texture is similar to regular pasta, and the chickpea gives it a great flavor.
This heavenly pasta is made with 3 simple, clean ingredients: chickpeas and red and yellow lentils. There are no fillers or unnatural products in this pasta. Gluten-free, grain-free, and wheat-free, this pasta is packed with protein and fibre. Toss your pasta with some olive oil and salt or pair it with your favourite vegan marinara sauce. This pasta is amazing any way you eat it!
Plant-based Pasta Sauces
You need some vegan pasta sauce to enjoy with your vegan pasta!
Made with all organic vegetables, this sauce is packed with flavor. This sauce is comparable to traditional sauce textures, and it comes in two flavours: vegan bolognese and velvet vodka. This sauce is fresh, filled with incredible ingredients, and jam-packed with delicious flavours!
Primal Kitchen offers plant-based alfredo sauces that will leave you wanting more and more! Paleo and Keto certified, this alfredo sauce comes in two flavours: alfredo sauce with avocado oil and garlic alfredo sauce. The sauce texture is creamy, and they are made with beautiful, clean ingredients.
Top your pasta—or anything really—with some grated vegan cheese. Vegan, gluten-free, and non-GMO, this parmesan is clean, plant-based, and delicious!
These are some of the best vegan finds on Amazon. Watch for products that are certified vegan and non-GMO. Plant-based lifestyles are awesome whether part-time or full-time, and these products are great additions to any kitchen!