Banana Nice Cream is a fun twist to classic ice cream where the main ingredient is banana! This is a dairy-free dessert that is full of creamy deliciousness in each bite. Add in some chopped almonds and chocolate chips for the perfect amount of creamy and crunchy in each bite.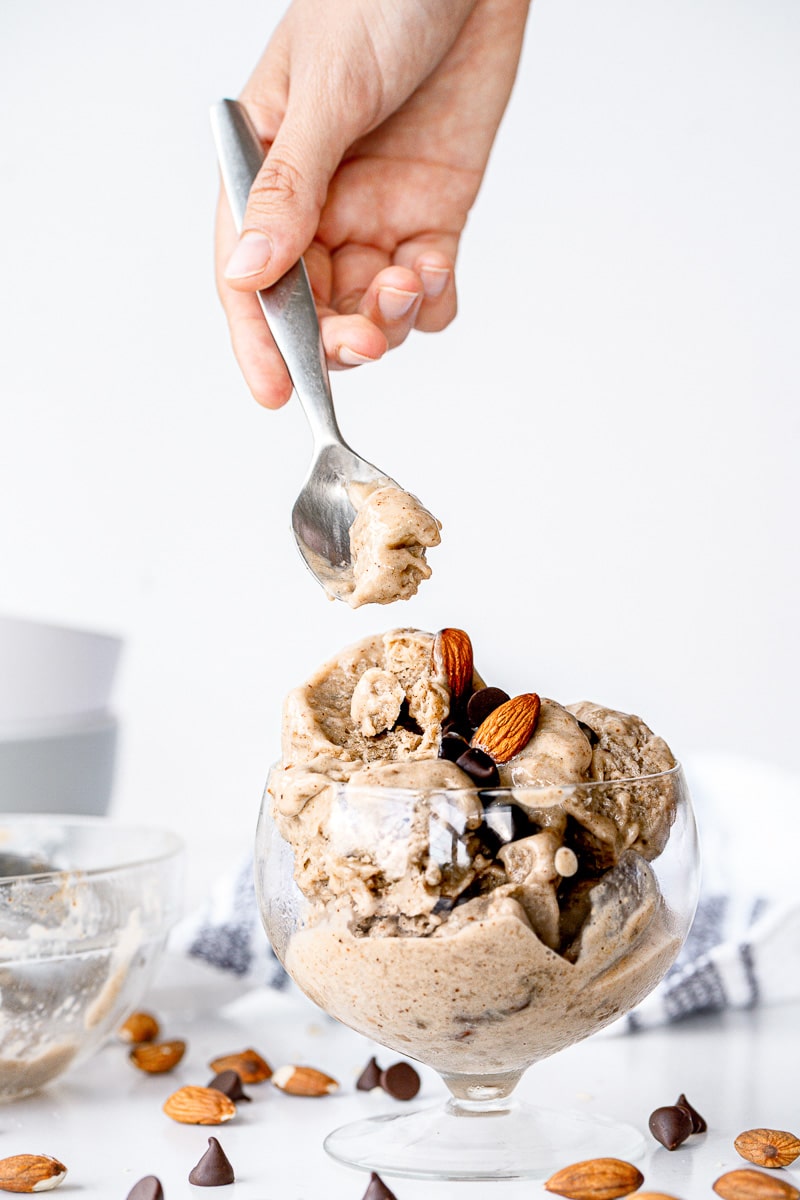 If you enjoy ice cream, then this nice cream recipe is right up your alley!
Banana nice cream started as a vegan alternative to traditional dairy ice cream. Now you will find that nice cream has really picked up steam, and all different types of people are enjoying this dessert.
There are all different kinds of nice cream recipes out there. One of my personal favorites—besides this classic Banana Nice Cream—is Strawberry Nice Cream!
If you're looking for some more traditional ice cream, though, you can try one of my favorites: Caramelized White Chocolate. And if you have more time on your hands, you can reach for the stars with this Bounty Vienetta Ice Cream!
And the best part about all of these ice cream recipes is that none of them require an ice cream making machine!
This Banana Nice Cream recipe is...
Naturally gluten-free 
Vegan (if you use vegan chocolate chips) 
Easily made sugar-free (use sugar-free chocolate chips) 
A plant-based dessert 
How to Make Banana Nice Cream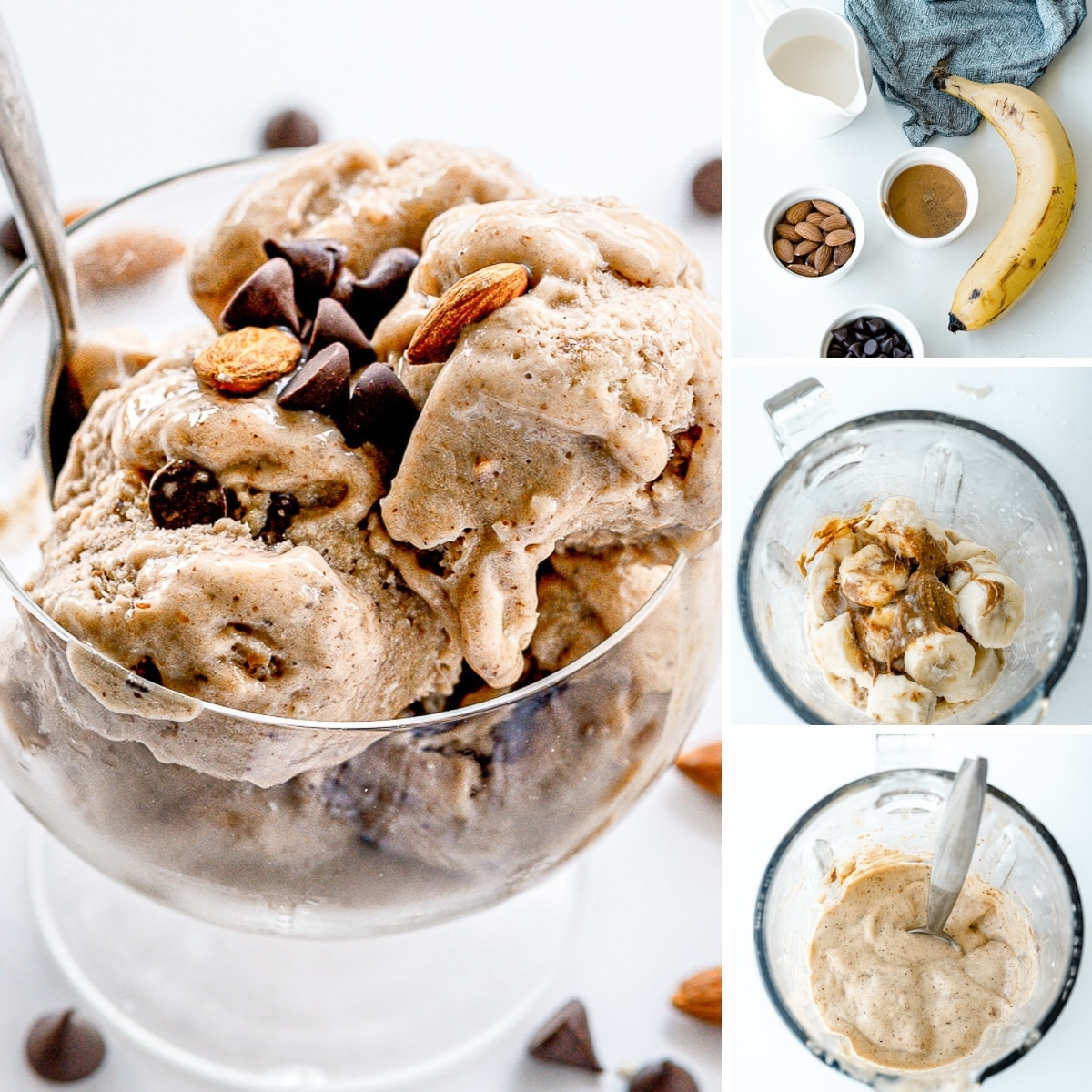 Start with frozen bananas.
Add all the ingredients to a food processor except the nuts and chocolate chips. 
Use the food processor to blend the ingredients to a creamy texture. 
Once done, remove nice cream from food processor and serve immediately. You can top your nice cream with nuts and chocolate chips. 
Full directions and measurements for this recipe are in the printable recipe below.
Tips & Tricks for Banana Nice Cream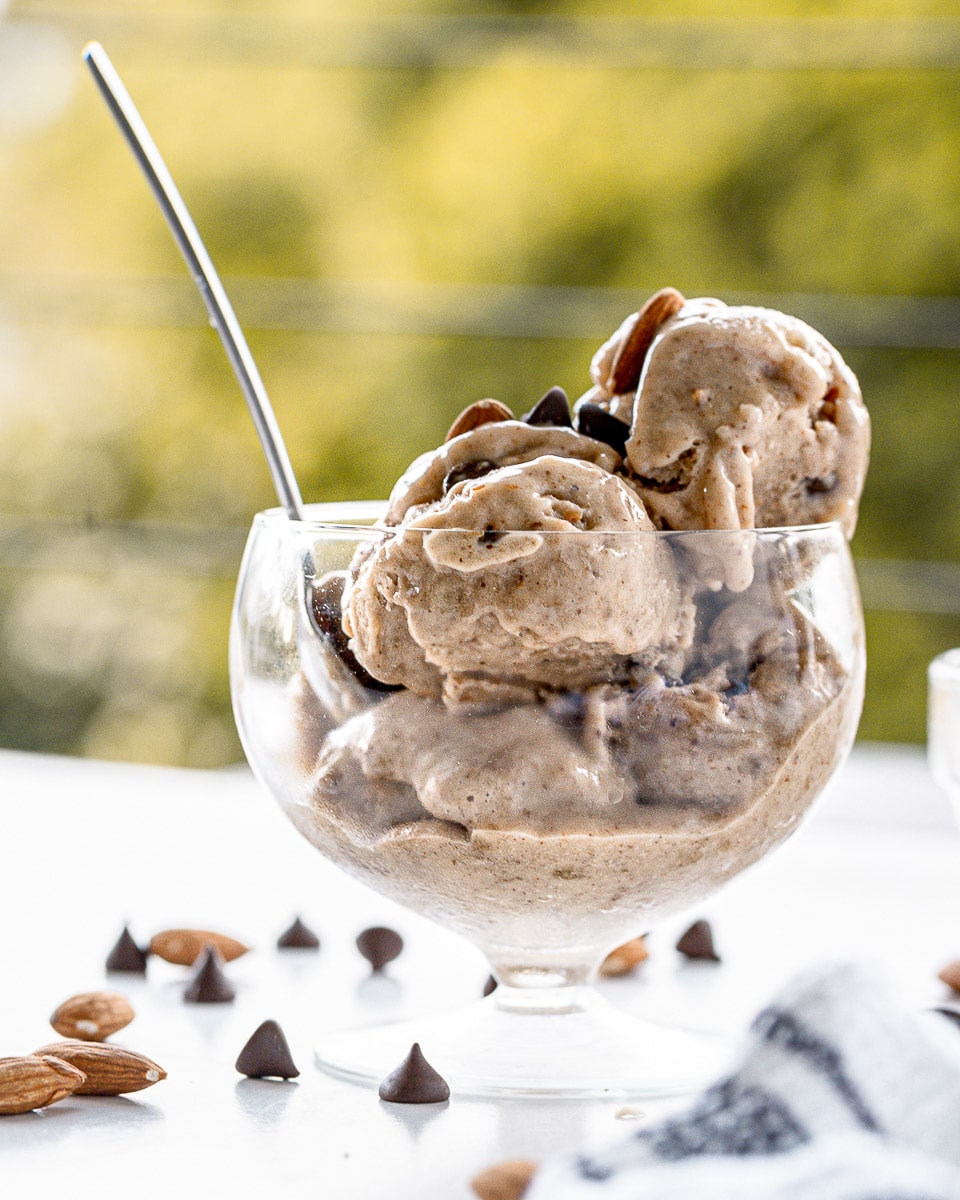 Food Processor
You will find that a blender will not give you the creamy texture you want for your nice cream. A food processor is more powerful than a blender and will be able to blend your nice cream mixture more evenly and quickly. 
Frozen Bananas
You have to use fully frozen bananas, or else your mixture will be soupy. Using fully frozen bananas will give your nice cream the ultra-creamy texture of a soft serve ice cream!
Additionally, you'll want to dice up the bananas before you freeze them. This will help your food processor's motor to blend the frozen banana more easily without getting too worn out. 
Ripe Bananas
Make sure to use ripe bananas when whipping up your dessert treat. Otherwise, your nice cream will lack quite a bit of flavor.
Variations to Banana Nice Cream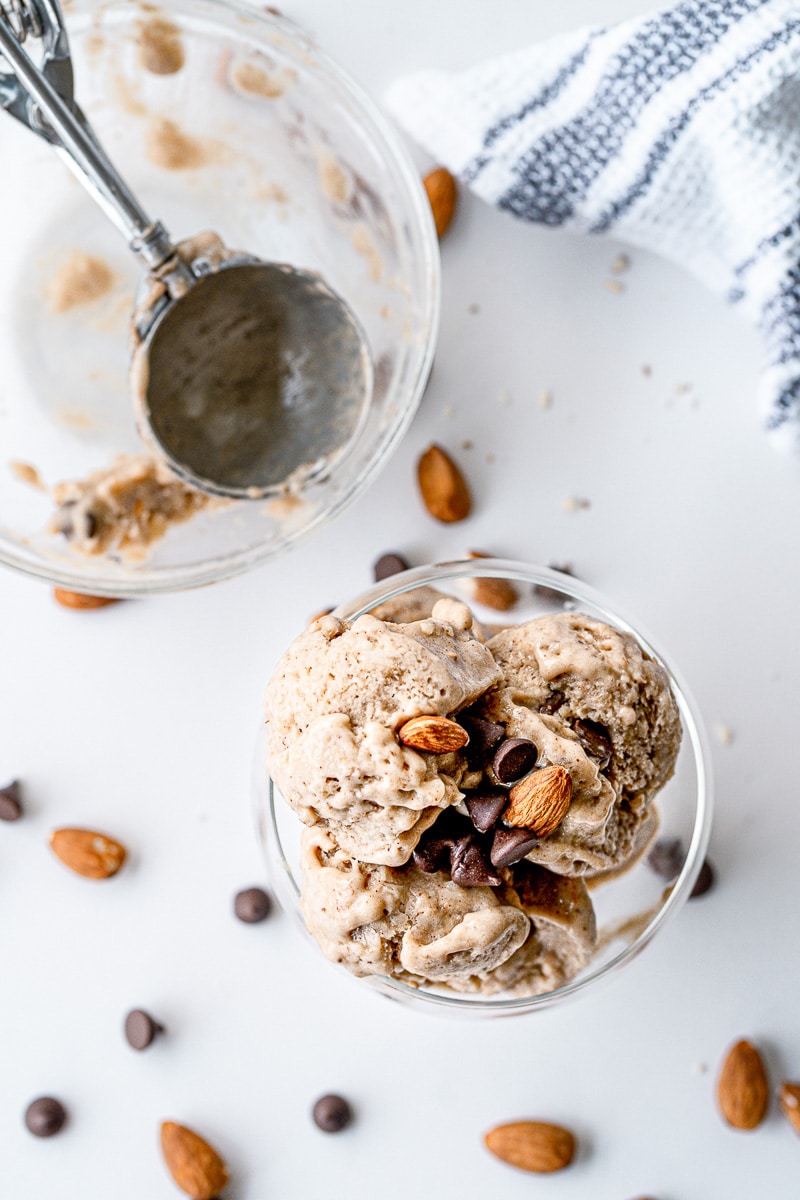 Mix-in Ingredients
There are hundreds of ways to transform your nice cream. Two of the easiest ways are by either mixing in ingredients or adding toppings to your dessert. For mix-ins, try swirling in other flavors like fresh berries, Nutella, nut butters, etc.
Toppings
From marshmallow fluff to sprinkles, there are tons of ways to dress up your nice cream to your taste. 
Banana Nice Cream FAQs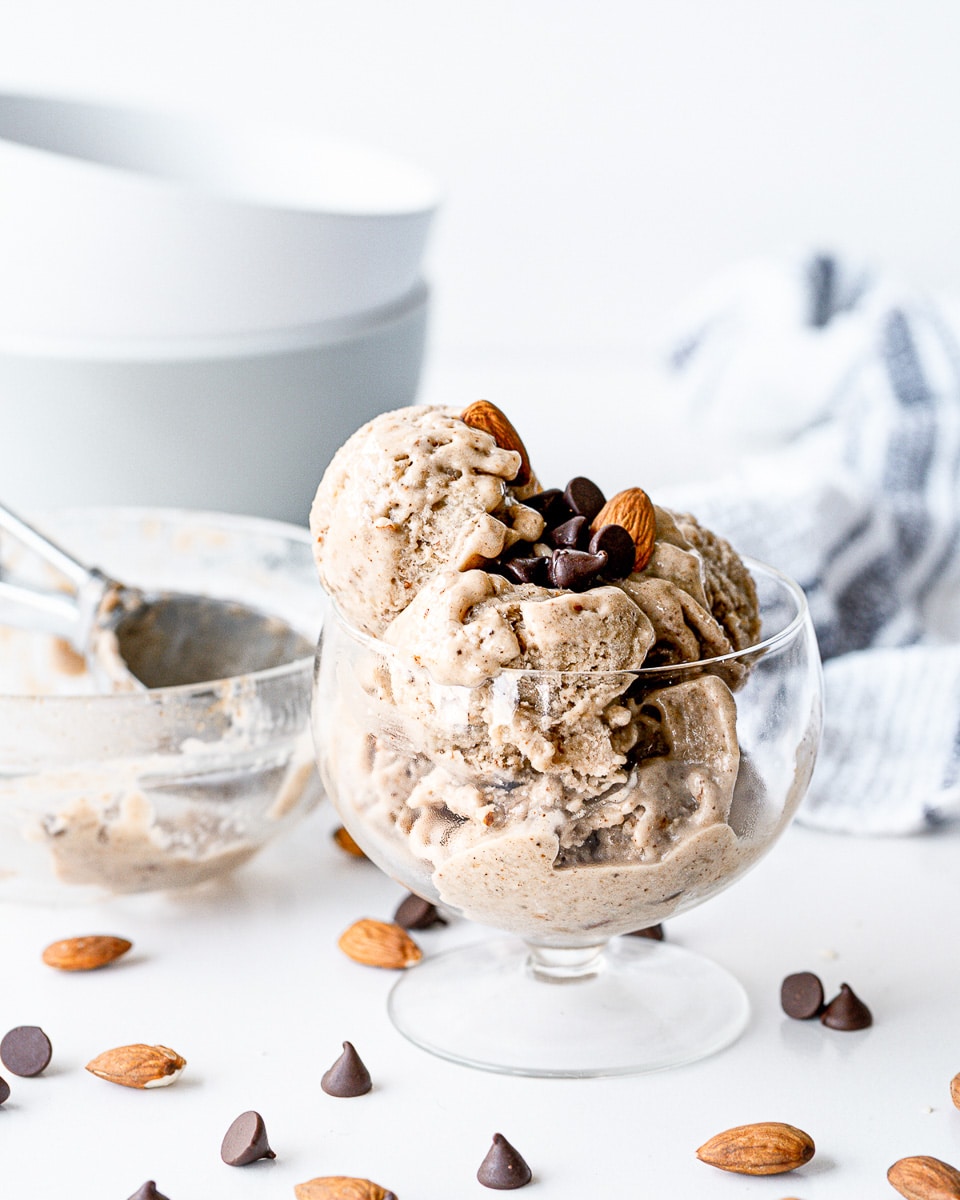 How to store leftover nice cream?
You can store your leftover nice cream in an airtight container in the freezer for 2–3 months. It will freeze pretty hard, so I recommend that you let it thaw at room temperature for 20–30 minutes before scooping. 
Why is it called "nice cream?"
Nice cream is the name that someone came up when they used bananas to create a dessert similar to ice cream. Nice cream is a plant-based dessert full of creamy sweet flavors. 
Recipe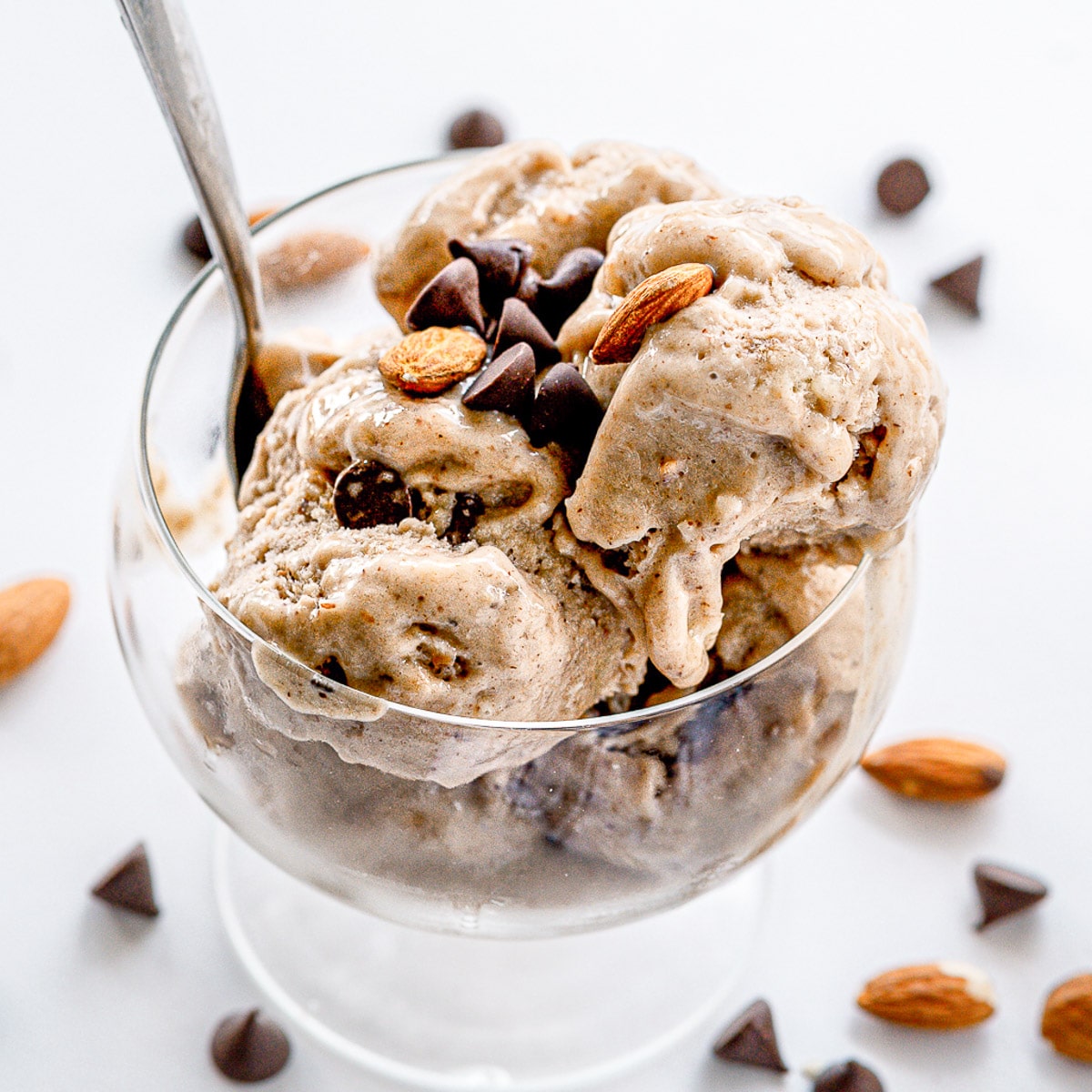 Instructions
Chop your bananas and freeze them for 3 hours or until completely frozen.

Place all ingredients in a food processor, including the frozen banana. Blend on high for 1–2 minutes, stopping to scrape the sides every so often.

You may notice a bit of resistance at the beginning of blending. If you need more liquid, you can add a few more tablespoons of plant milk.

Serve immediately, topped with chocolate chips and chopped almonds (if desired).

Store nice cream in an airtight container in the freezer. Thaw for around 30 minutes before scooping and serving.
Nutrition
Calories:
761
kcal
Carbohydrates:
70
g
Protein:
20
g
Fat:
52
g
Saturated Fat:
8
g
Trans Fat:
1
g
Sodium:
45
mg
Potassium:
1227
mg
Fiber:
15
g
Sugar:
36
g
Vitamin A:
114
IU
Vitamin C:
15
mg
Calcium:
338
mg
Iron:
5
mg
Craving more veg-friendly recipes?
Shop our collection of vegetarian and vegan cookbooks, including our new Vegan Thanksgiving and Vegan Christmas cookbooks!