Making your own almond milk is easier than you think! We'll show you how to do it with just two ingredients and a handful of simple steps.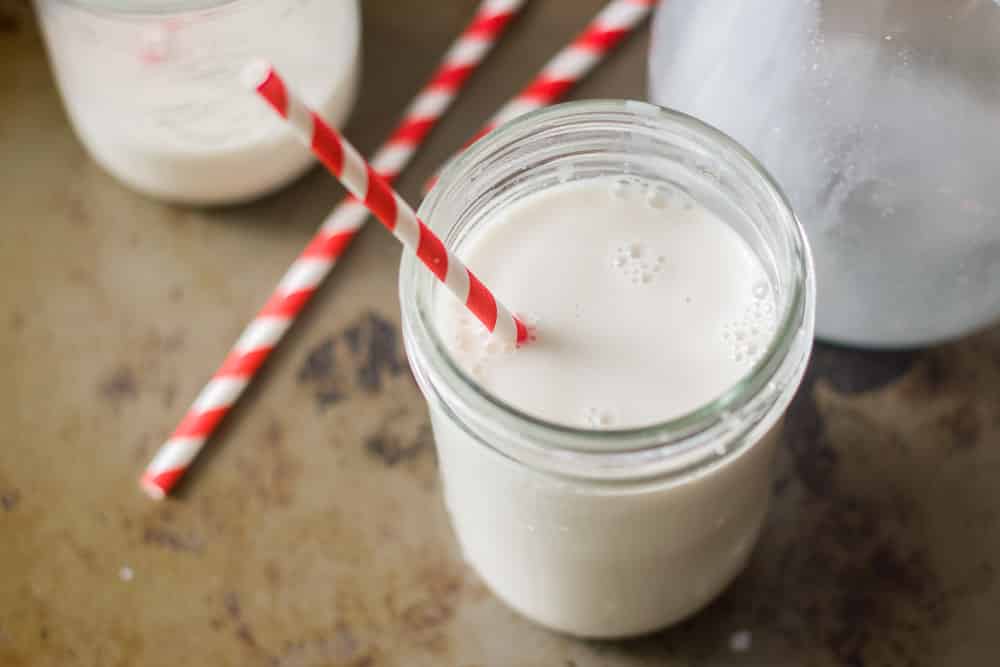 Jump to:
There was a time when making my own nut milk sounded super ambitious. Like something I'd dream about doing one day when I have tons of free time for all the DIY projects I save on Pinterest, but in reality, not likely to happen.
So it's kind of funny that laziness is what got me started on homemade nut milks. It's true!
Making nut milk is easy. Like, really, really easy.
And lugging around cartons of nut milk at the supermarket is a pain. I like to be a light shopper, and dealing with heavy groceries is my pet peeve. So one day I decided instead of piling a bunch of cartons of almond milk into my near-overflowing grocery cart, I'd grab a little bag of almonds instead.
I wondered if I'd regret it later when I had to turn those almonds into milk, but I didn't at all! In fact, I got myself hooked on homemade nut milk. I think you'll be hooked too once you give it a shot.
Here's how I make almond my almond milk!
Making Almond Milk - Step by Step
Soaking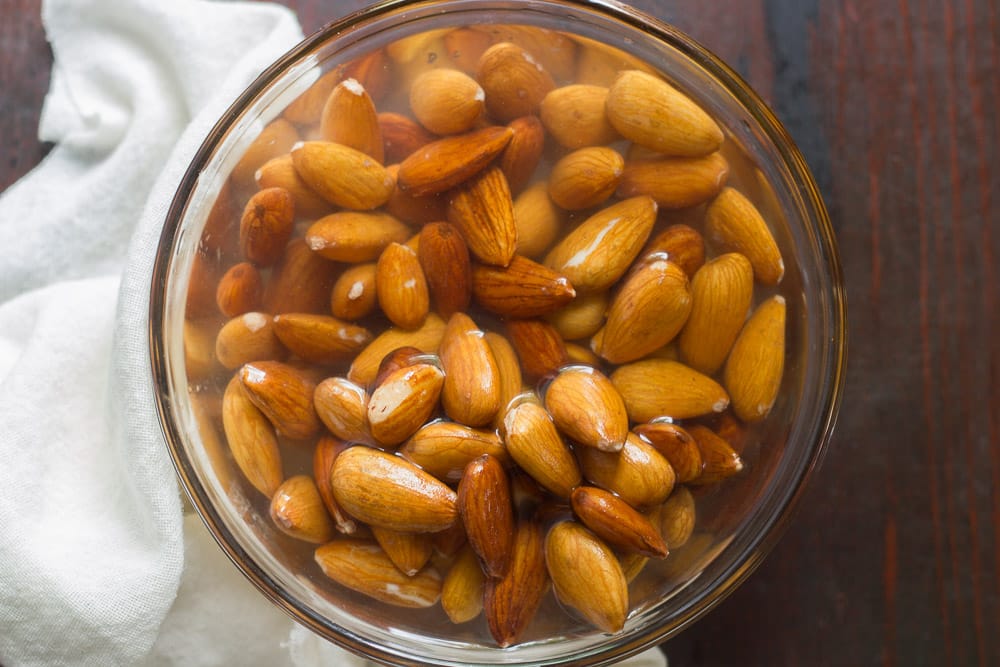 You'll start with some raw almonds (be careful not to buy them roasted!). One cup is a good amount to start with.
Stick them into a bowl, cover with a few inches of water, and soak them for 4 to 8 hours so they get nice and soft.
This is the one hurdle for most people: you have to plan ahead so you remember to soak the almonds. I found that once I became a regular almond-milk maker, it wasn't a problem.
As soon as we get near the bottom of the jug that's in the refrigerator I take a cue and start soaking a new batch of almonds.
Blend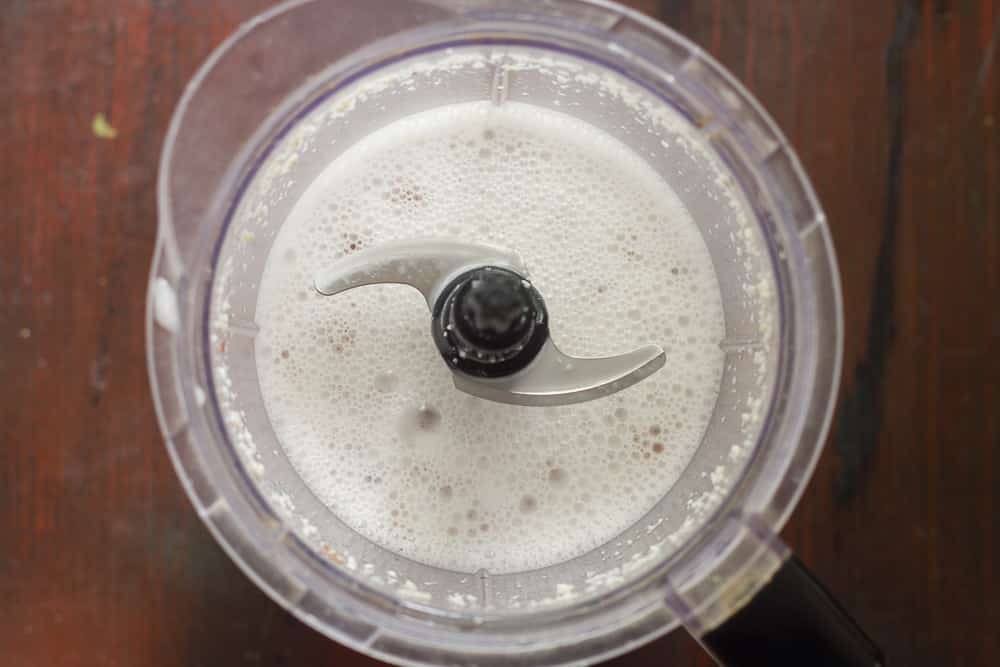 Place the almonds into a blender with some water and blend them up really well. As to how much water, that depends on how creamy you like your almond milk.
3 cups of water is my happy place, but you might want to start with 2, because you can always add more water to thin the milk, but you can't take it out once it's added.
Strain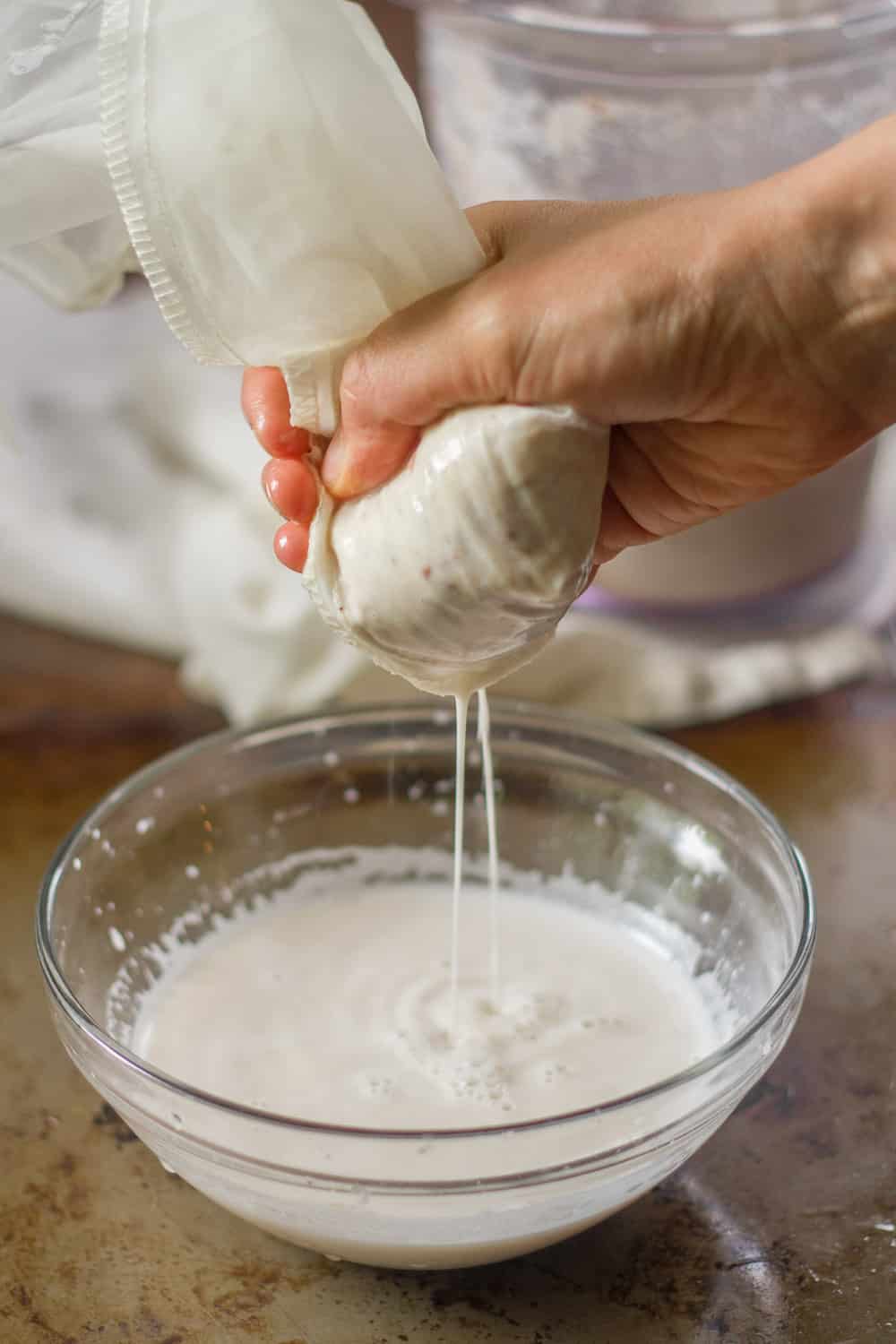 You'll need to get your hands on a nut milk bag, which is essentially a small bag made from cheesecloth. I've tried working with a strainer instead, and always end up with chunks in my milk, so the bag is a must, and a worthwhile investment if you plan on making almond milk regularly.
Set the bag over a large bowl, pour your almond mixture into the bag, and squeeze it over the bowl. Your bowl will fill up with creamy, delicious almond milk.
Adding Flavors or Mix-Ins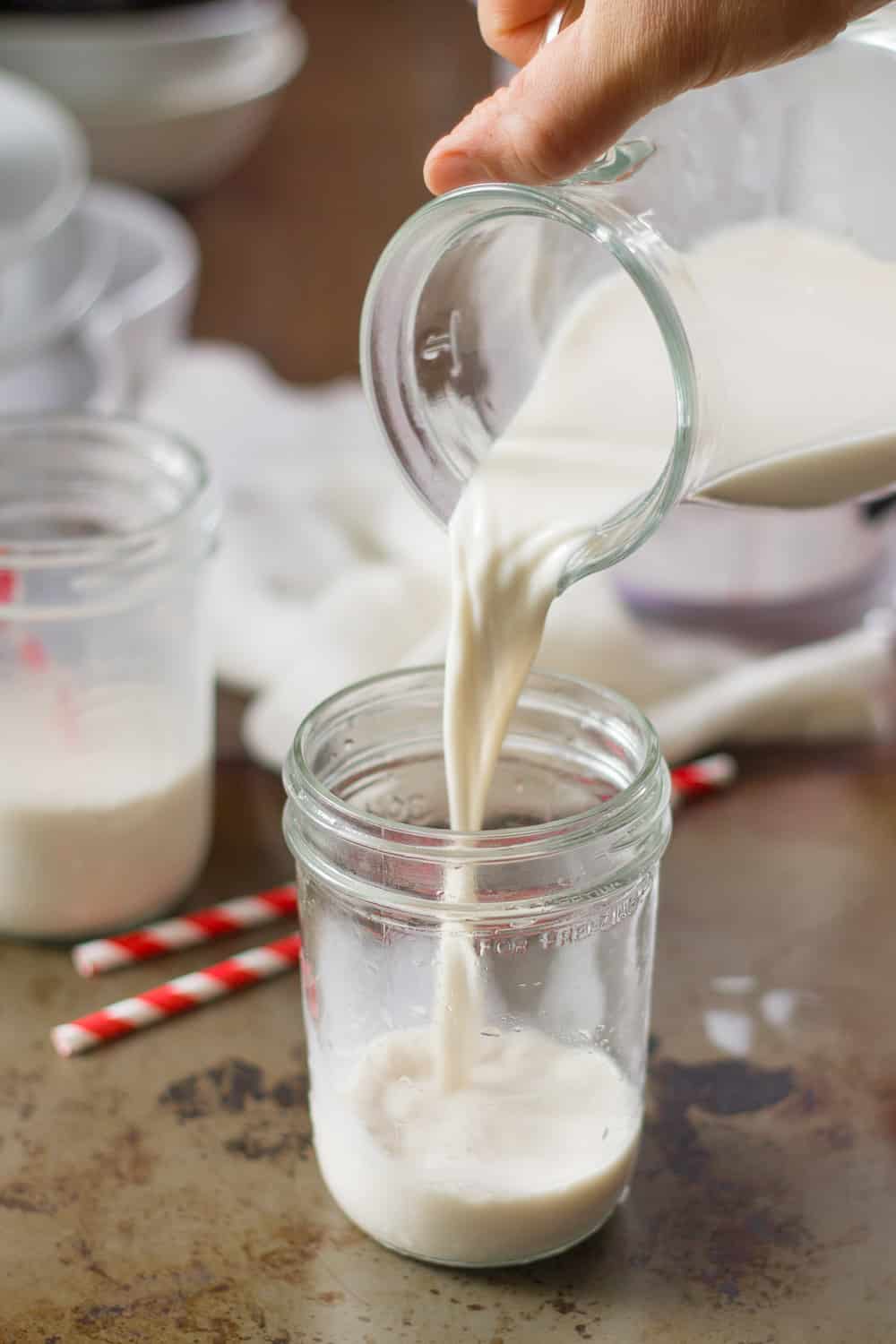 I don't usually add anything to my almond milk - that keeps it nice and versatile for drinking and recipe use. But I totally get it if you like a little flavor or sweetness!
Maple syrup and agave are great choices if you'd like to sweeten up your almond milk. Dates work too, but you'll want to blend the up along with the almonds, rather than at the end of the process.
Vanilla, cocoa powder, spices, or pretty much anything else that you might use to flavor up some dairy milk is fair game too.
Ways to Use Almond Milk
You can use almond milk for just about any purpose that you would use regular dairy milk. I use it to replace the dairy milk in all of my baking recipes, and also use it in my coffee every morning!
One of my favorite uses is to make this delicious almond milk ice cream. It's so creamy, you'd never guess it's vegan.
It's also prefect for mixing up a vegan smoothie or a fancy smoothie bowl.
FAQs
How long does the almond milk last?
This homemade almond milk will last for 3-5 days in the fridge.
What almonds do I use?
It's best to use raw, organic almonds (I use this brand.) for making almond milk. But the most important thing is that they are raw. You don't want to use roasted, or otherwise cooked, nuts.
What if I forget to soak the almonds?
It's best to soak the almonds in cold water overnight if you can. But if you forget and want to speed up the process, you can soak them in hot water for 1-2 hours as a shortcut.
While you're here, be sure to grab our FREE 5-Day Meatless Meal Plan. It's packed with tasty recipes to make vegetarian cooking easy and delicious!
More Resources
If you enjoyed this almond milk recipe, be sure to check out these other helpful resources:
Recipe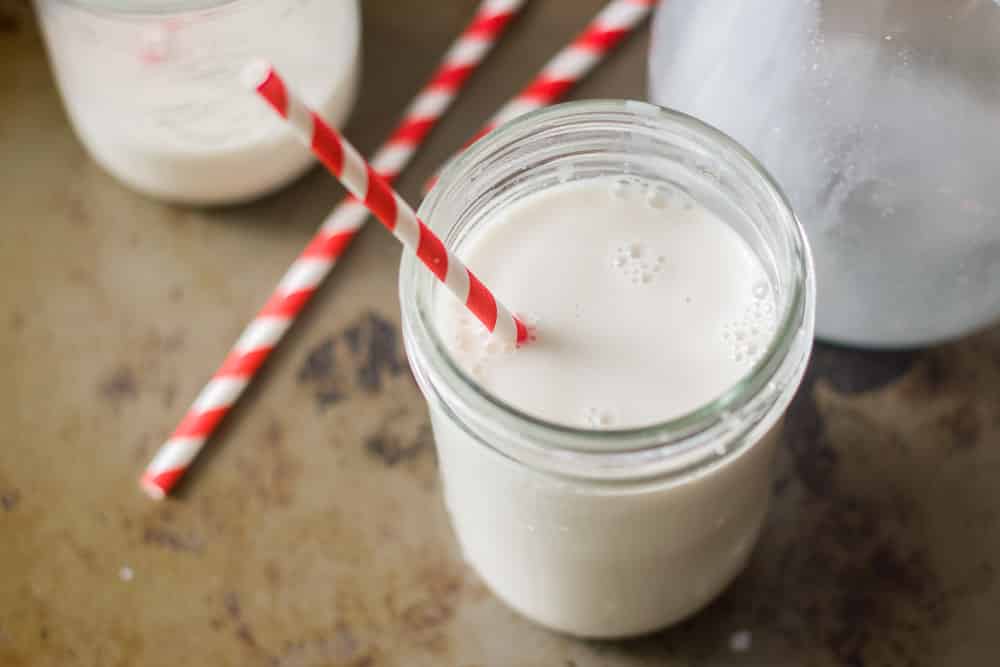 Instructions
Start by soaking your almonds. Put them in a bowl, cover with a few inches of water, and soak them for 4-8 hours. You can leave them overnight if you wish.

Place the almonds into the blender, and add some water. I like to use about 3 cups of water for every cup of almonds. But you may wish to use less for a thicker consistency - start with 2 cups of water and adjust from there. Blend well.

Use a nut milk bag to strain the almond milk mixture. Set the bag over a large bowl and pour the almond milk into the bag. Then squeeze it over the bowl. You will get a creamy almond milk!
Notes
Nutrition information is for the full recipe. Cook time does not include soaking time for the almonds.
Nutrition
Calories:
822
kcal
Carbohydrates:
31
g
Protein:
30
g
Fat:
71
g
Saturated Fat:
5
g
Polyunsaturated Fat:
17
g
Monounsaturated Fat:
44
g
Trans Fat:
1
g
Sodium:
25
mg
Potassium:
1008
mg
Fiber:
17
g
Sugar:
6
g
Vitamin A:
1
IU
Calcium:
392
mg
Iron:
5
mg
Craving more veg-friendly recipes?
Shop our collection of vegetarian and vegan cookbooks, including our new Vegan Thanksgiving and Vegan Christmas cookbooks!