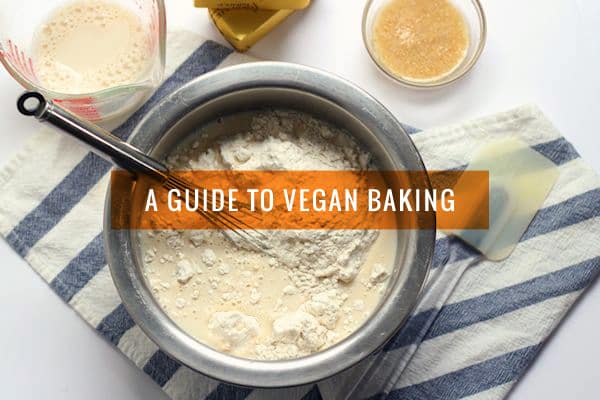 There was a time when I thought cutting out all animal products would mean cutting out all baked goodies from my life. Cookies without butter? Cakes without eggs? Perhaps possible, but good? I was skeptical to say the least. If you've ever visited a really good vegan bakery, or just had someone who knew what they were doing bake up something plant-based for you, you know that vegan baking can be not only good, but it can give conventional baking a run for its money.
That's not to say that vegan baking can't be tricky. It is rather tricky, but the tricks can be learned, and once you've got them down you'll be baking up vegan deliciousness in no time.
As you might have guessed, the tricks I'm talking about revolve around replacing those normally non-vegan ingredients normally required for baking.
Dairy
Dairy would be the (seemingly) easiest class of ingredients to replace in vegan baking. Milk, for the most part, is a cinch. There are plenty of plant-based milks available, and most of them work in most recipes. Soy, nut, rice and oat milk are, for the most part, interchangeable, and can be substituted for dairy milk using a one to one ratio. Some plant milks are a bit richer and more closely resemble dairy milk than others, but for the most part these differences won't be detectable in your baked goods.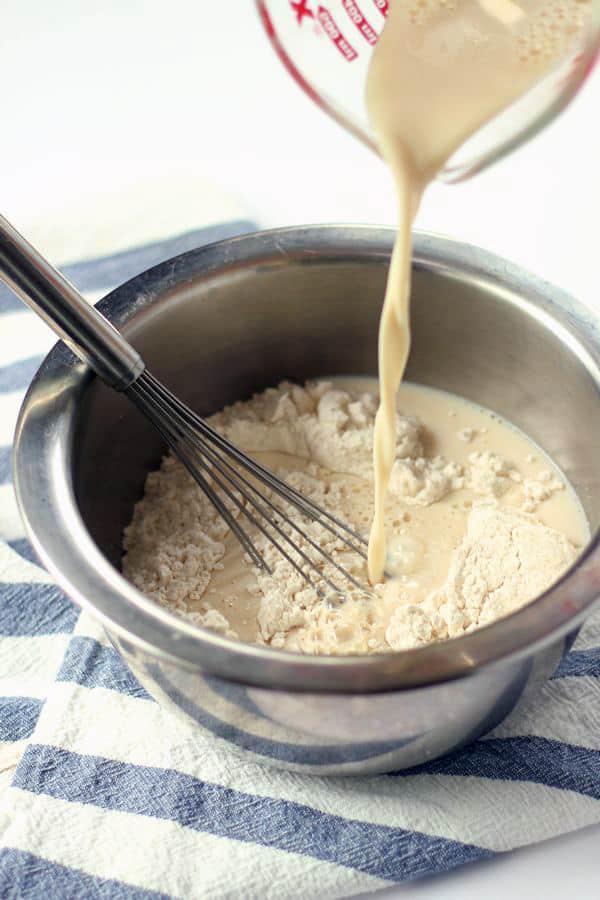 Watch out though, because many plant milks that you'll find in stores contain added flavors. This can be okay, if the flavor goes well with what you happen to be baking, but that's not always the case. Vanilla almond milk may add just the right flavor to some cupcakes, but you probably don't want it in your sandwich bread.
Even unflavored plant milks often contain sweeteners. Check the ingredients list, or look for products specifically labeled as unsweetened. If you've only got a sweetened milk on hand, go ahead and use it in any baked sweets recipes, but maybe cut back a tad when you add your sugar to the recipe. When in doubt, taste test, as the ability to do so safely is one of the advantages of egg-free baking.
The one plant milk that deserves some special discussion is coconut milk, and by coconut milk, I mean the variety you find in cans; the stuff in cartons is typically a blend of other plant milks with a bit of coconut added. Canned coconut milk is a bit different, because it's way higher in fat than most other vegan milks, so it usually doesn't work as a direct substitute for dairy milk. While it's possible to use coconut milk as a substitute for both the milk and fat (which we'll talk about below) in a recipe, even that can get tricky. If you're interested in baking with coconut milk, your best bet is to seek out a recipe that specifically calls for coconut milk.
Finally, if you're got a recipe that calls for a very small amount of milk, water will work in a pinch.
Eggs
Eggs have a few functions in baking. They may leaven, or help your baked goods to rise. For the most part, you can leave it up to other leavening agents in a recipe, like baking powder or baking soda, to take care of this. The trickier action to replicate is binding, but this can be done with a few vegan ingredients.
Commercial egg replacers are available, and a great way for beginners to get started on egg-free baking. These products are typically a mixture of leavening and gelling agents that, when mixed with water and baked up, act quite a bit like eggs. No egg substitute works 100% of the time though, so it's still a good idea to get familiar with other potential egg replacers.
Flax and chia eggs are my go-to egg substitutes for baking, and they usually do a great job. Mix 1 tablespoon of ground chia or flax seeds with 3 tablespoons of water, let it sit for ten minutes, and you'll end up with something slimy, gelly, and not too far in texture from an egg white. You can use this formula to replace one egg in most recipes. Easy, and that, along with their neutral flavor the fact that it's easy to keep flax and/or chia seeds on hand, is why they're my favorite egg substitutes.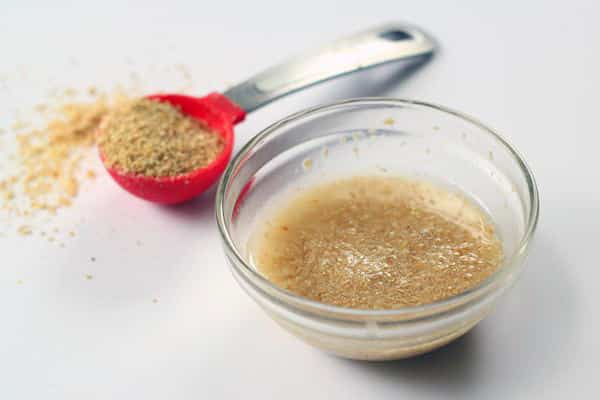 Fruit and veggie purees work well too, but unlike chia and flax seeds, they aren't neutral in flavor and may not be as easy to keep on hand. If you're baking up something that jives with the taste of mashed bananas, apple sauce, pumpkin or sweet potato, and you happen to have some available, it may be worth experimenting with replacing eggs with any of these ingredients. I like to freeze overripe bananas and excess ingredients like pumpkin puree just for this purpose. About a quarter cup per egg should do the trick, but don't overdo it! More than two or three eggs replaced with fruit or veggie puree can result a product that's a bit mushy.
There are a bunch of other ingredients that work as egg replacers. Think about the texture of an egg and what plant-based ingredients have similar textures. There's a good chance you can work them into some of your recipes. Silken tofu, vegan yogurt, and sometimes even just a bit of cornstarch mixed with water or vegan milk can do the job. Whatever you go with, use about a quarter cup.
With lots of the substitutions I've mentioned you can only get away with replacing two, perhaps three eggs, and a year ago I probably would've told you not to bother trying for more. That all changed when chickpea brine, a.k.a, aquafaba, became the latest craze in the vegan food world. It's slimy and even somewhat resembles egg whites, so it's not all that surprising that that this stuff can be whipped up to replicate even the eggy likes of meringue, and there isn't much that's eggier than meringue.
Fat
Fat might not be an issue at all, if you've got a recipe that calls for vegetable oil in liquid form. Solid animal-based fats like butter and lard, on the other hand can be a bit more of a challenge.
Fortunately, there are vegan versions of normally animal-based solid fats. Vegan margarine works as a substitute for butter in most recipes, while vegetable shortening can stand in for lard. Lots of bakers may take issue with the fact that these ingredients are hydrogenated, and therefore maybe not the healthiest choices.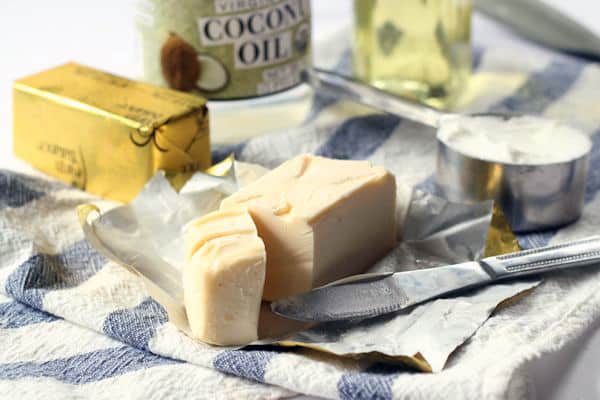 Liquid oils can sometimes work in place of solid fats, though your end product might be a bit oiler. Coconut oil is solid at room temperature, though a bit more solid than butter or shortening, so you might not get that flaky texture in, for example, a pastry recipe.
For the adventurous, you can experiment a bit with naturally fatty ingredients like avocados and nut butters. You can even try your hand at some homemade vegan butter, which, though it's a project and requires some hunting down of ingredients, does tend to perform better than vegan margarine.
Recipes for Vegan Baked Goods
If you're still getting a feel for using substitutions to make baked goods vegan, sometimes it's easier to start with recipes that are vegan by design. Here are some of our favorites:
Chai-Spiced Apple Cider Doughnuts
Gingerbread Pear Bundt Cake
Peanut Butter Chocolate Cupcakes
Chocolate Coconut Bacon Doughnuts
Blueberry Banana Bread
Coconut Lemon Baked Doughnuts
Spiced Carrot Muffins
Leftover Cranberry Sauce Bread
Sweet Potato Mug Cake
Pumpkin Mug Brownie
Meyer Lemon Vanilla Muffins