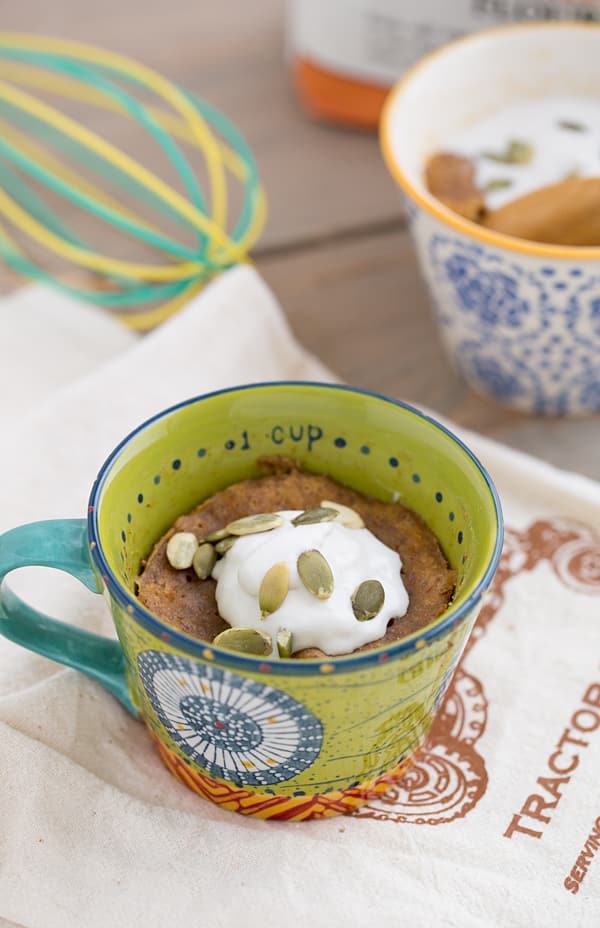 Here is an easy Vegan Sweet Potato Mug Cake recipe from Mug Cakes: 100 Speedy Microwave Treats to Satisfy Your Sweet Tooth by Leslie Bilderback.
Leave Room for Dessert
Even though our next vacation is months away, I'm already in planning mode. Where are we going? What should we do there? Where should we stay? I totally have the travel bug right now. This is pretty much me in a nutshell—I'm a planner. I get ahead of myself. It's kind of my thing. When I was graduating college, I wasn't as excited as everyone else was because I was focused on grad school. We've lived in this house for two years, and I'm already looking at real estate listings for the next house. People sometimes take this as me never being happy with things, but it's really just that I like having something to look forward to.
It's like with desserts. No matter how much you're enjoying your meal, you still anticipate dessert. I always need a little something sweet after dinner—usually it's just a piece of dark chocolate or something small like that, but sometimes if I have a light dinner, I have room for something more. But not too much—I don't want a big slice of cake and I don't want to do all the work involved with making a batch of brownies or cookies. That's why I love mug cakes!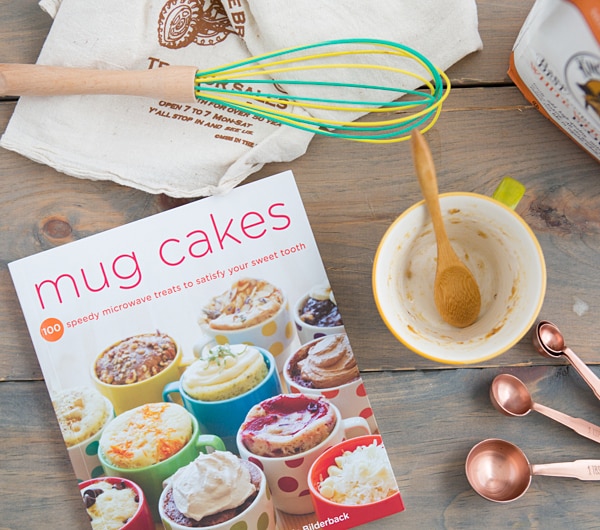 Mug cakes are easy, they dirty up a minimal amount of dishes and measuring spoons, and they're ready in a minute or two. There are days when you just need a mug cake, right? At first, I was put off by the texture because I found they weren't as cakey as I expected, but now I really like that texture and I went through a phase where I was making mug cakes once a week. (Okay, maybe twice a week. Fine, it was three times a week.)
About the Recipe
Guess what? There is an entire book (!!!) about mug cakes now. Mug Cakes: 100 Speedy Microwave Treats to Satisfy Your Sweet Tooth
by Leslie Bilderback is full of unique, delicious recipes for all your mug cake needs. I received a copy to review and was happy to find that there's a chapter with vegan, dairy-free, sugar-free, and gluten-free mug cakes too, which is where I got this vegan Sweet Potato Mug Cake recipe. Also on my list to try are the Fluffernutter Mug Cake and the Caramel Fleur de Sel Mug Cake. (Really, pretty much anything involving salted caramel is automatically on my list. It's a given.)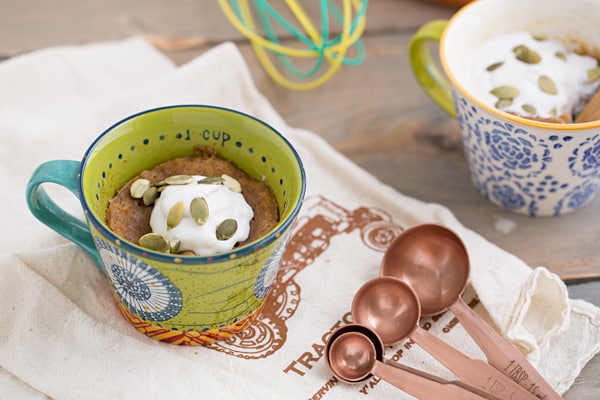 Ingredients
1

tbsp

egg substitute

I used ground flax seeds

¼

cup

water

¼

cup

mashed cooked sweet potatoes

or sweet potato baby food

2

tbsp

soy

rice, or almond milk

¼

tsp

pure vanilla extract

¼

cup

packed brown sugar

7

tbsp

self-rising flour

pinch

of kosher salt

½

tsp

ground cinnamon

½

tsp

freshly grated nutmeg

½

tsp

ground ginger

3

tbsp

toasted pecans or walnuts

chopped (optional)
Instructions
In a large mug, whisk together the egg substitute and water with a fork and set aside for 5 minutes to thicken.

Stir in the sweet potato, soy milk, vanilla, and sugar. Add the flour, salt, and spices.

Beat the matter until smooth. Fold in the nuts. Divide the batter between two mugs.

Microwave separately for 1 ½ to 2 ½ minutes each until risen and firm.
Notes
I made my mug cakes without nuts and topped them with coconut whipped cream and pepitas. Delicious!
Nutrition
Calories:
323
kcal
Carbohydrates:
52
g
Protein:
7
g
Fat:
11
g
Saturated Fat:
1
g
Polyunsaturated Fat:
7
g
Monounsaturated Fat:
1
g
Sodium:
43
mg
Potassium:
233
mg
Fiber:
3
g
Sugar:
29
g
Vitamin A:
2441
IU
Vitamin C:
2
mg
Calcium:
80
mg
Iron:
1
mg