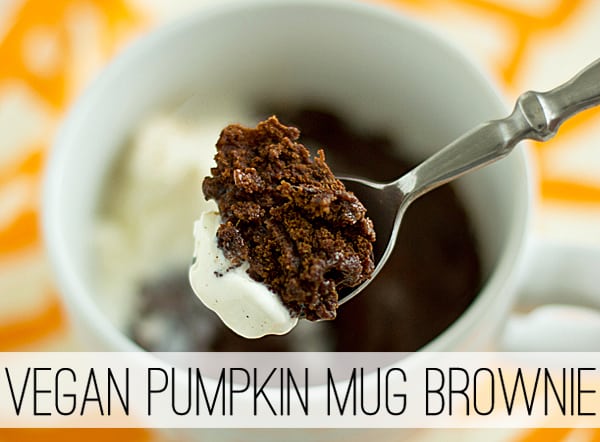 I had been obsessed with the Instructables eggless mug brownie for a few weeks, but with two tablespoons of oil in each serving, I just had to break up with it. After seeing a recipe for 2-Ingredient Pumpkin Brownies on Cookies & Cups, I wondered if maybe I could shave some calories off the Instructables brownie by using pumpkin instead of oil.
Well, it took a few tries. The first time, I tried to make the pumpkin mug brownie even healthier by cutting the flour and sugar too. This did not work! It tasted really good, but as my husband so kindly put it, "That literally looks like poop." (Except he didn't say poop. But this is a family-friendly blog!)
Back to the drawing board.
I found that I couldn't stray too far from the original if I wanted this to work out. So I didn't. There are still 4 tablespoons of flour in this pumpkin mug brownie and 4 tablespoons of sugar. This may be vegan and oil-free, but it's not healthy! It's healthier. Without all the oil, it's a little bit less rich than the original. But the richness is replaced with pumpkiny-ness. (Sure that's a word! Sure it is!) And if that's not good enough for you, well, I threw in some dark chocolate chips.
Alright, let's make a delicious pumpkin mug brownie!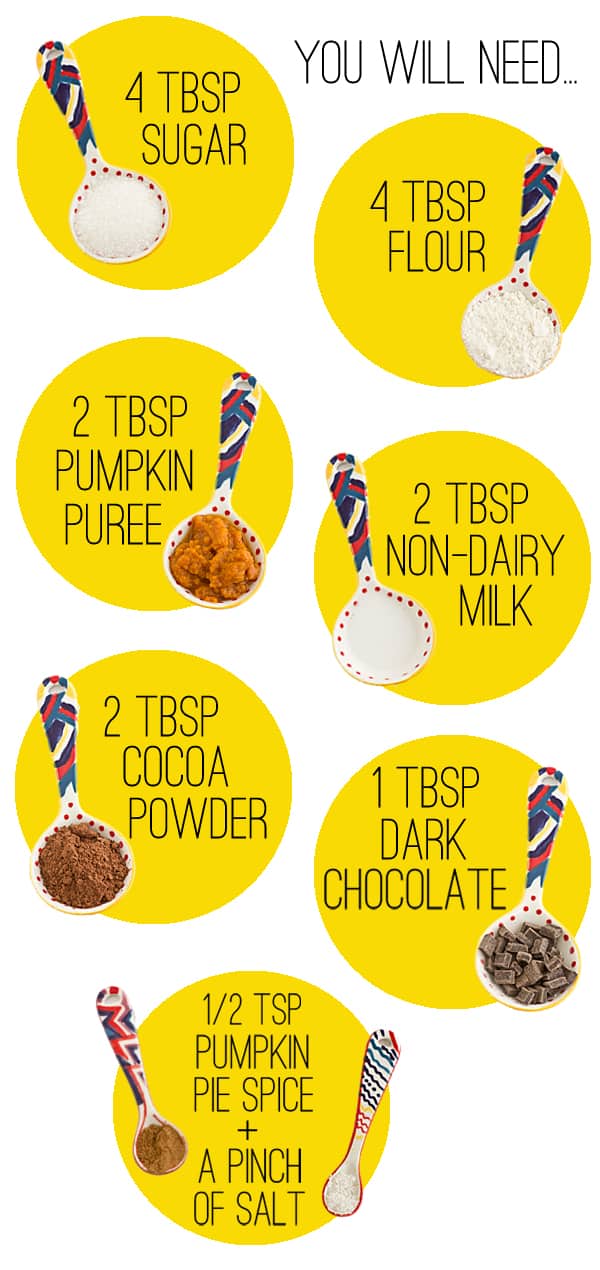 I've used both vanilla soymilk and unflavored Silk coconut milk in this recipe, with good results.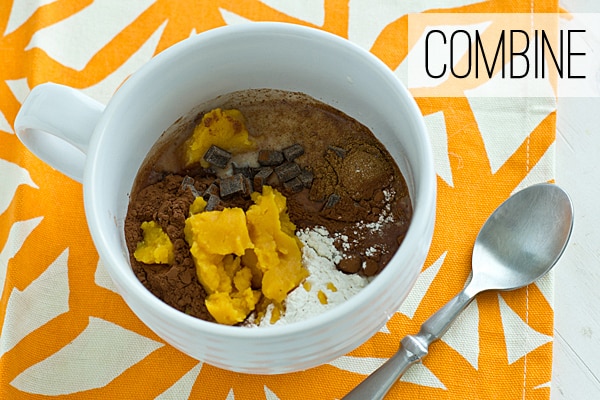 Combine all the ingredients in a latte mug. If you don't have a latte mug, use a small bowl. Unlike traditional mug cakes, this one doesn't rise very much, so it won't make a mess in the microwave.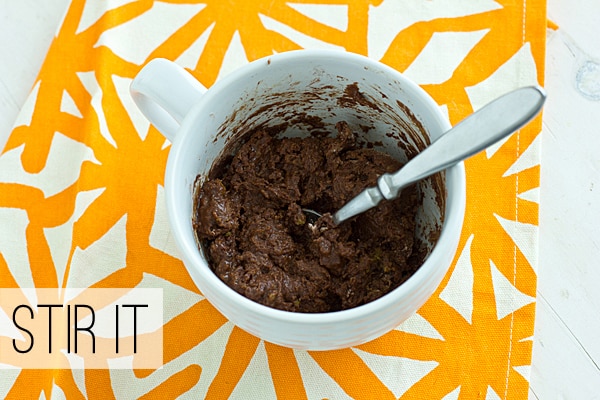 Stir the ingredients together. It will be thick, but be persistent and stir until everything is combined.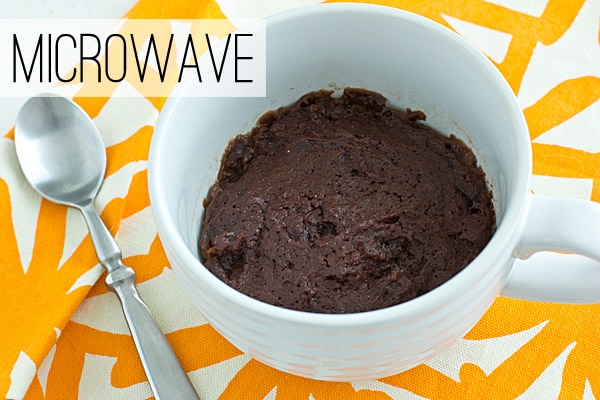 Microwave until the top of the brownie is dry. It takes a minute and a half in my microwave, but I'd check after one minute and cook 15 seconds at a time after that. Okay, maybe it still doesn't look so great...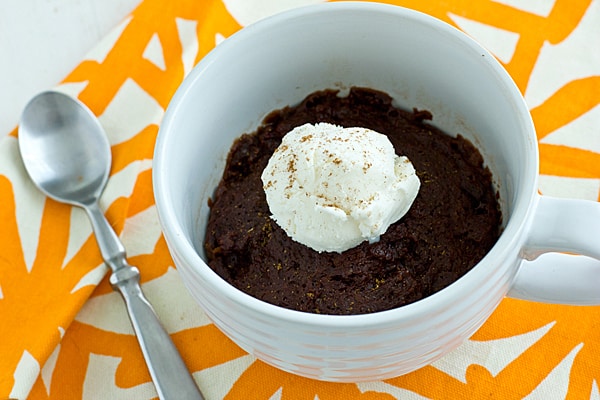 ...ice cream and more pumpkin pie spice! That's better, right?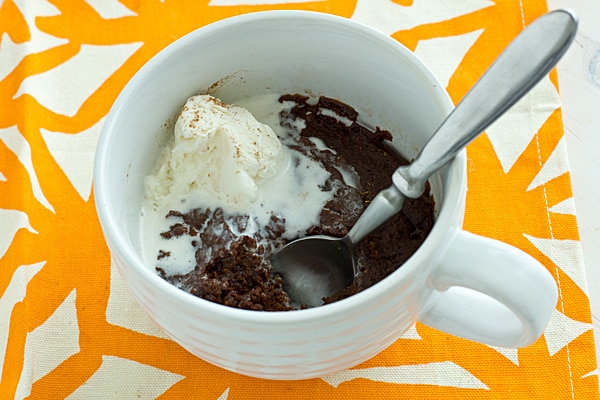 This pumpkin mug brownie is best shared. It's pretty decadent, y'all. If you don't share it, you'll probably regret it in a few minutes. Believe me, I speak from experience.
If you want a printable version of this recipe, it's below!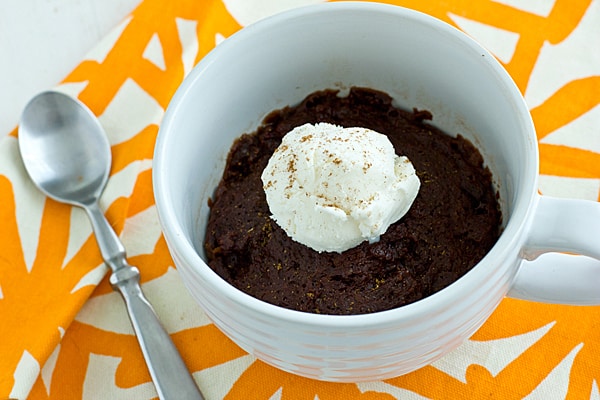 Ingredients
¼

c.

sugar

¼

c.

flour

2

tbsp.

unsweetened cocoa powder

2

tbsp.

pumpkin puree

either homemade or canned

2

tbsp.

non-dairy milk

1

tbsp.

dark chocolate chips

½

tsp.

pumpkin pie spice

a pinch of salt

vanilla ice cream

optional
Instructions
Stir together all ingredients in a latte mug or small bowl. Microwave for 1 minute; continue to microwave at 15 second intervals until top of brownie is dry. Top with ice cream if desired.