This chocolate pumpkin mug cake is rich, chocolatey, loaded with pumpkin flavor - and ready in 5 minutes! Oh, and it's vegan friendly and oil free too.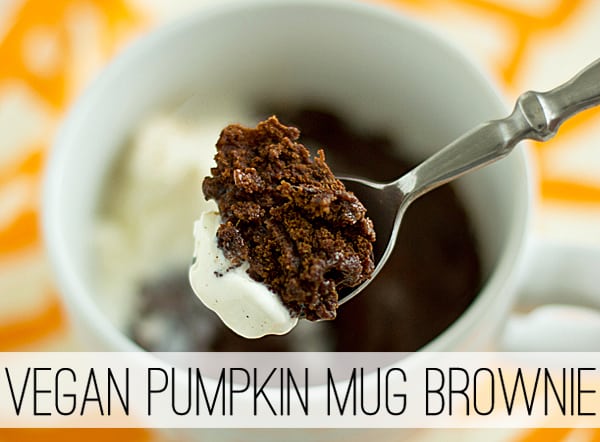 Jump to:
I debated whether to call this recipe a chocolate pumpkin mug cake or a pumpkin mug brownie. I landed on mug cake, but you can call it whatever you like. 😉
I had been obsessed with the Instructables eggless mug brownie for a few weeks, but with two tablespoons of oil in each serving, I just had to break up with it.
In the spirit of Fall, I thought a pumpkin inspired mug cake would be delicious, and wondered if maybe I could shave some calories off of that brownie recipe by using pumpkin instead of oil.
Well, after a few tries it finally worked!
But I wouldn't exactly call this a healthy recipe. It's a dessert, after all. But it is healthy-ish, which means it's at least a little healthier than a traditional brownies.
This pumpkin dessert is both vegan and oil-free. But you won't miss any of the flavor - the richness is replaced with pumpkiny-ness. (Sure, that's a word now!)
And if that's not good enough for you, well, I threw in some dark chocolate chips for you too.
What You'll Need
Alright, let's make a delicious pumpkin mug brownie! You will need the following ingredients - all simple things that you probably have in the pantry:
sugar
flour
pumpkin puree
non-dairy milk
cocoa powder
dark chocolate chips
pumpkin pie spice
salt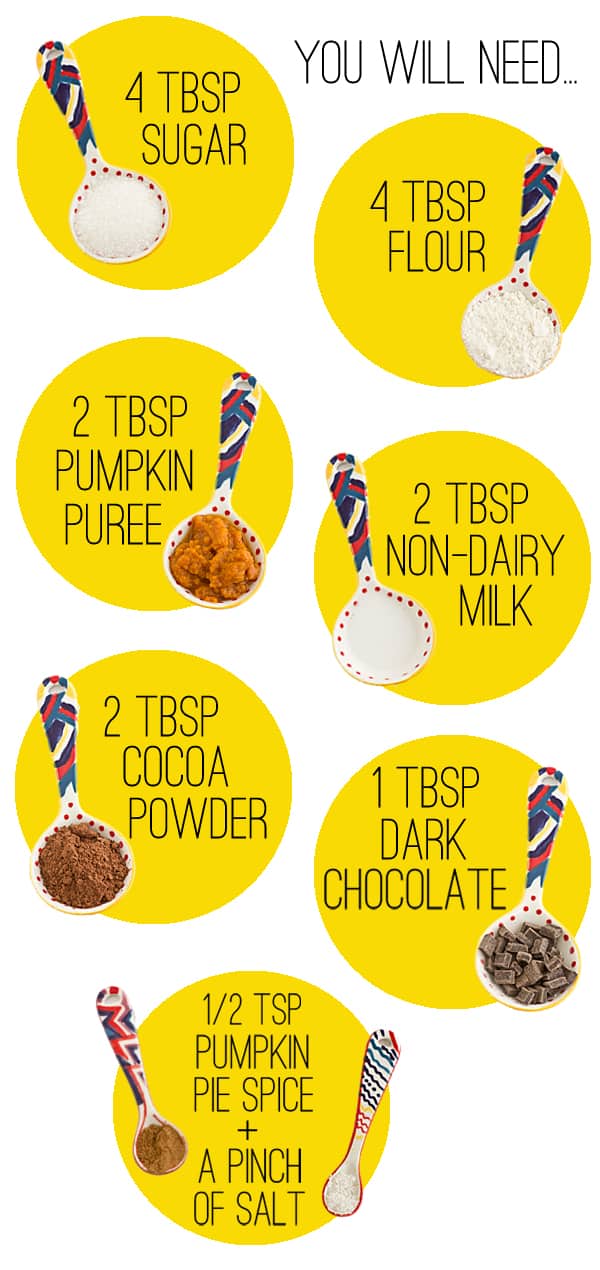 Making the Pumpkin Mug Cake - Step by Step
Then it's time to get baking! Do we still call it baking, if it's done in the microwave? Let's pretend we do.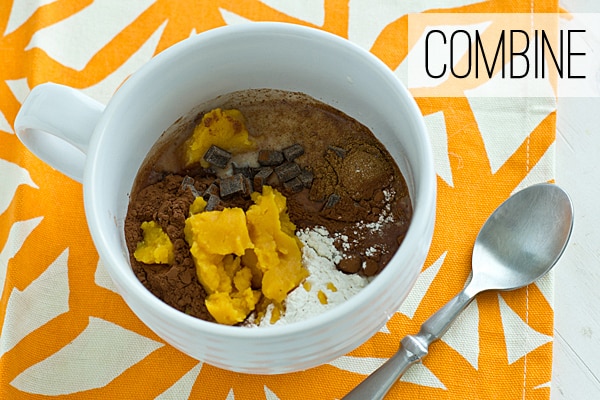 Combine all the ingredients in a big oversized mug. I used a latte mug, because they tend to be really big.
If you don't have, one you can use a small bowl instead. I won't tell anyone that you made your mug cake in a bowl.
Unlike traditional mug cakes, this one doesn't rise very much, so it won't make a mess in the microwave.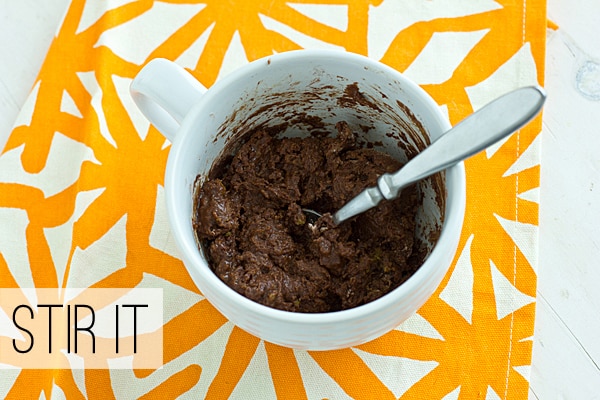 Stir the ingredients together. It will be thick and a little bit hard to stir, but be persistent and stir until everything is well combined.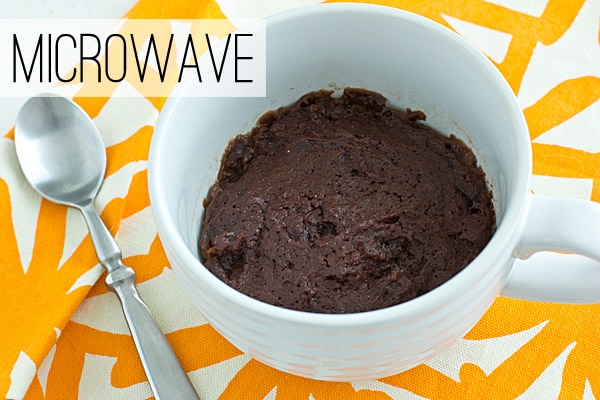 Microwave the mug cake until the top is dry. It takes a minute and a half in my microwave, but I'd check after one minute and cook 15 seconds at a time after that.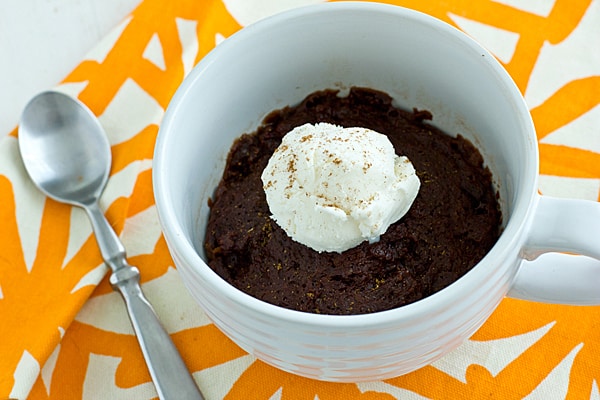 At this point, your chocolate pumpkin mug cake is ready to eat. But it's not the prettiest thing, I admit. So I topped with some dairy free vanilla ice cream and a sprinkle of extra pumpkin pie spice!
That's better, right?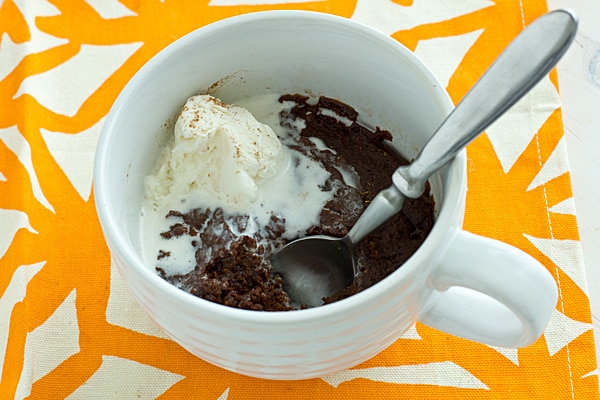 This pumpkin mug brownie is best shared. It's pretty decadent, y'all. If you don't share it, you'll probably regret it in a few minutes. Believe me, I speak from experience.
Tips & Tricks
I've used both vanilla soymilk and unflavored Silk coconut milk in this recipe, with good results. Of course, if you are not concerned with keeping the recipe vegan, regular milk works just fine.
You can also replace the dark chocolate chips with caramel chips or white chocolate chips for a new spin on this mug cake.
If you prefer a sugar-free version, you can use stevia or a bit of agave syrup instead.
I topped mine with ice cream, but you can also try topping your mug cake with coconut flakes or chopped nuts. Yum!
More Mug Cakes
And if you love this pumpkin mug cake, be sure to check out these other tasty ideas:
Recipe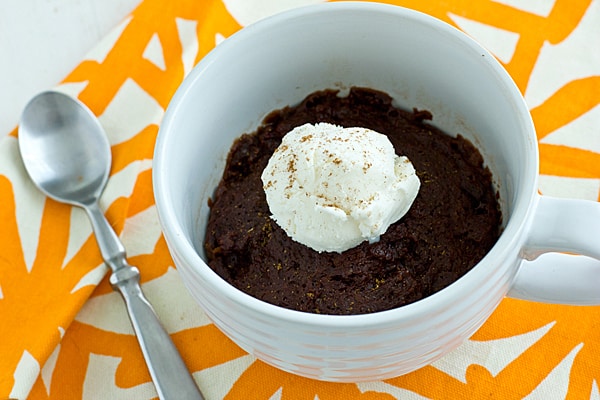 Instructions
Stir together all ingredients in a latte mug or small bowl.

Microwave for 1 minute; continue to microwave at 15 second intervals until top of brownie is dry.

Top with ice cream and extra pumpkin pie spice before serving, if desired.
Nutrition
Calories:
438
kcal
Carbohydrates:
92
g
Protein:
8
g
Fat:
7
g
Saturated Fat:
5
g
Polyunsaturated Fat:
1
g
Monounsaturated Fat:
1
g
Cholesterol:
1
mg
Sodium:
36
mg
Potassium:
393
mg
Fiber:
6
g
Sugar:
57
g
Vitamin A:
4791
IU
Vitamin C:
4
mg
Calcium:
120
mg
Iron:
4
mg
Craving more veg-friendly recipes?
Shop our collection of vegetarian and vegan cookbooks, including our new Vegan Thanksgiving and Vegan Christmas cookbooks!