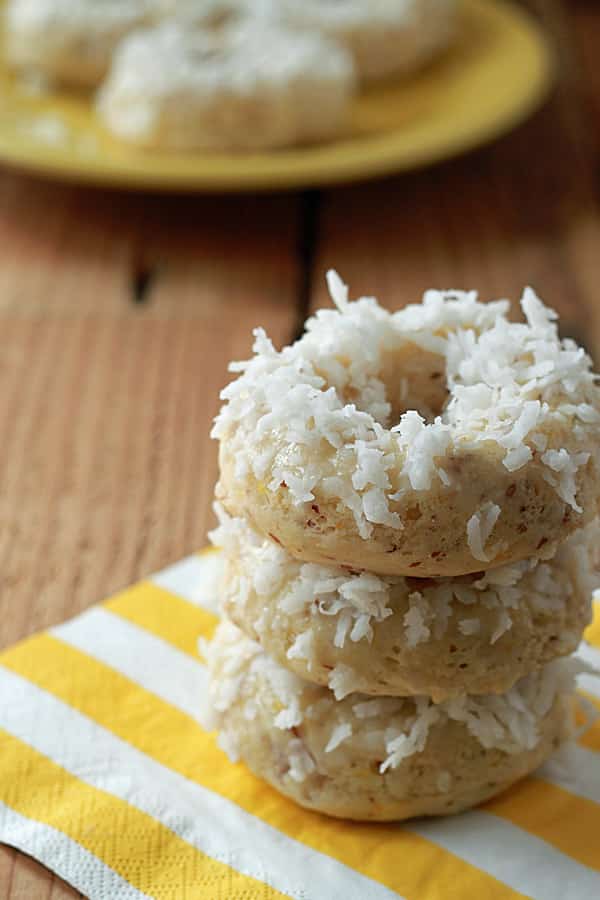 For some, gifting a kitchen item for a birthday or Christmas is a cardinal sin. We've all heard stories about the hapless husband who comes home with beautifully wrapped box containing ... cue ominous music ... a blender. And the poor clueless fella is booted back out that door faster than you can say "margarita."
Me, if my guy showed up with a Vitamix, there would be happy dancing and fridge-to-couch beer deliveries for a week. At least.
So when one of the presents under the tree this past Christmas was a doughnut pan, I was thrilled.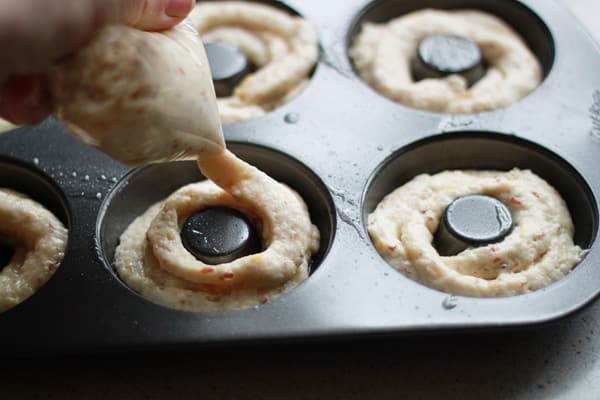 Not that it was much of a surprise - I specifically asked for one. I asked for an ice cream scoop, too, and I got two.
It was a good Christmas.
As a result, I've had fun playing with baked doughnut recipes these past few months. There's been vanilla, chocolate, lemon, coconut, glazes galore, and sprinkles like you've never seen (my toddler must always help with the sprinkles). And! You know where I'm going with this--we've also enjoyed these Vegan Coconut Lemon Baked Doughnuts. A lot.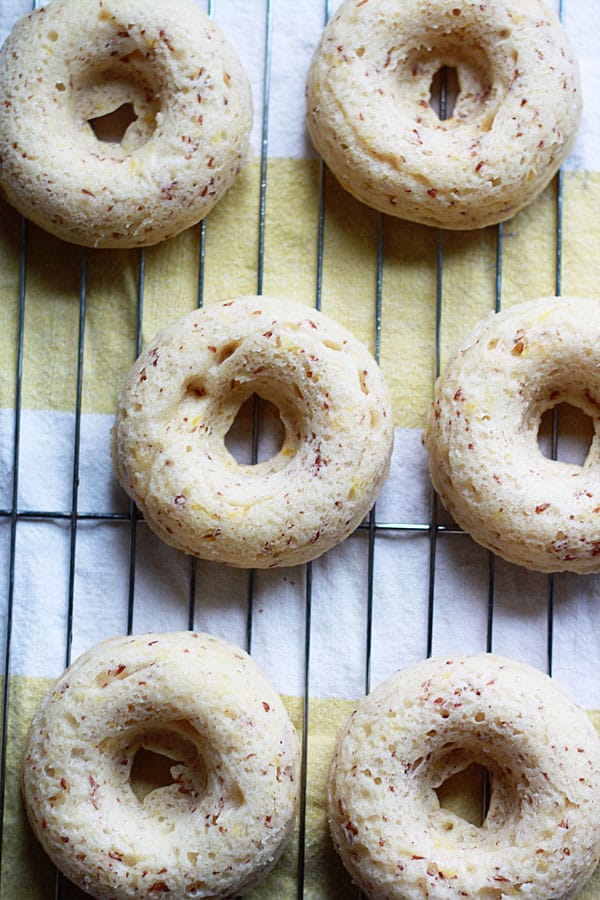 My go-to baked doughnut recipe calls for an egg, so one morning when I was out, I thought I'd try replacing that single egg with a "flax egg." If you haven't heard of flax eggs, well, they're easier (and more awesome) than they sound. For every egg called for in a traditional baking recipe, you mix together 1 tablespoon flaxseed meal with 3 tablespoons water. Let it sit for about 5 minutes, and it thickens into a perfect egg substitute.
Other than the telltale flecks, I can rarely tell the difference between flax eggs and chicken eggs.
After I replaced the egg with flax, I thought I'd go all the way and replace the dairy with vegan-friendly substitutes instead. Coconut oil stands in for butter; canned coconut milk replaces the cow's milk.
And, honestly? I actually like these vegan baked doughnuts a smidge better than the original. They're super, duper tender, with a nice, large, cakey crumb.
This version adds lemon to the mix, both in the doughnut batter and in a zesty, moist glaze that's then topped generously with sweetened flaked coconut.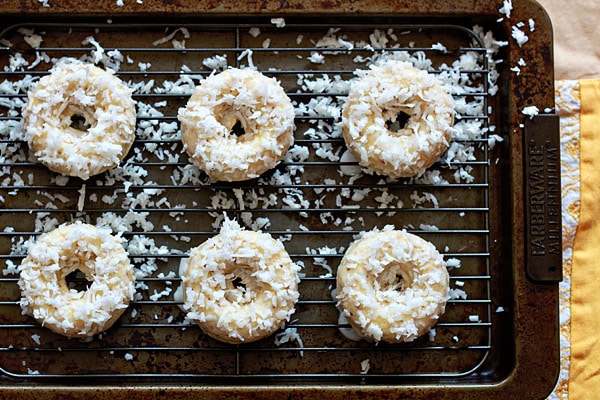 These are my most popular baked doughnuts to date among taste testers (um, family and friends) - vegan or otherwise. Hmmm ... if I bake enough for everyone, maybe one of them will show up to my house with a blender!
Dare to dream.
Recipe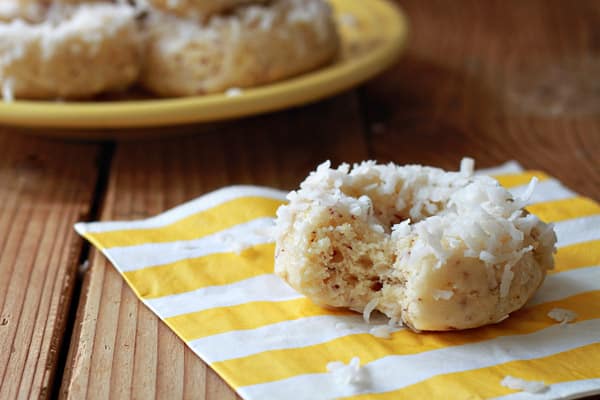 Ingredients
Doughnuts:
1

tablespoon

flaxseed meal

3

tablespoons

water

1

tablespoon

lemon zest

from approximately 2 small lemons

1

cup

all-purpose flour

1

teaspoon

baking powder

½

teaspoon

salt

2

tablespoons

solid coconut oil

½

cup

canned lite coconut milk

1

tablespoon

freshly-squeezed lemon juice
Glaze:
1

cup

powdered sugar

2

tablespoons

fresh-squeezed lemon juice

1

tablespoon

canned lite coconut milk
Topping:
½

cup

sweetened flaked coconut
Instructions
Preheat oven to 350ºF. Grease a six-count non-stick doughnut pan with coconut oil or an oil mister.

In a small bowl, mix together the flaxseed meal and water. Set aside.

In a large bowl, mix together the sugar and lemon zest, using your fingers to rub the zest with the sugar to release the oils. Add the flour, baking powder, and salt, stirring together with a whisk until combined.

Drop the coconut oil into the flour mixture. Use a pastry blender or your clean fingers to distribute the coconut oil throughout the mixture until it resembles coarse crumbs.

Add the coconut milk and lemon juice to the small bowl with the flaxseed mixture. Stir.

Make a well in the middle of the dry ingredients and pour in the wet ingredients. Stir with a wooden spoon just until incorporated.

Scoop batter into a large zipper bag and squeeze the contents toward one of the bottom corners. Snip off the corner and use the bag to pipe the dough into each doughnut cup. Divide dough evenly between each cup--I usually go around each cup once or twice, then if I have any batter left over, I go back and add to each cup. You can also use a pastry bag affixed with a plain round tip.

Bake for 8-10 minutes, or until doughnuts are puffed and spring back when gently poked.

Allow the doughnuts to cool in the pan for five minutes, then use a butter knife to gently loosen the edges. Invert the doughnuts onto a baking rack set over a rimmed baking sheet and let cool completely.

To make the glaze, place the powdered sugar, lemon zest, and coconut milk into a small bowl and beat with a fork until it forms a liquid about the consistency of molasses. Dip each doughnut in the glaze and set glaze-side-up back on the baking rack. Sprinkle doughnuts with coconut.
Notes
Doughnuts keep at room temperature in an airtight container for up to 3 days.
Nutrition
Serving:
1
doughnut
Calories:
294
kcal
Carbohydrates:
52
g
Protein:
3
g
Fat:
9
g
Saturated Fat:
7
g
Polyunsaturated Fat:
1
g
Monounsaturated Fat:
1
g
Sodium:
302
mg
Potassium:
67
mg
Fiber:
2
g
Sugar:
34
g
Vitamin A:
1
IU
Vitamin C:
4
mg
Calcium:
49
mg
Iron:
1
mg
Craving more veg-friendly recipes?
Shop our collection of vegetarian and vegan cookbooks, including our new Vegan Thanksgiving and Vegan Christmas cookbooks!