You know what gives me a great sense of satisfaction? When I plan a menu for the week and it works out just so—all of the recipes borrow ingredients from each other, so I'm not left with any stray veggies in the fridge at the end of the week. And this is one of those meal plans! I've got lots of suggestions at the bottom of this post for making the most of leftover ingredients.
Here's this week's meatless meal plan:
Monday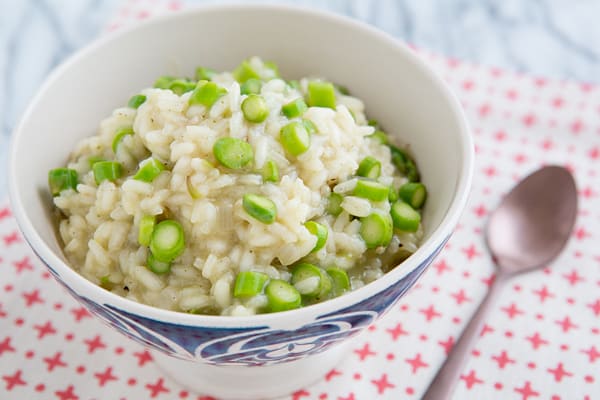 Vegan Asparagus Risotto from Cafe Johnsonia // If you love healthy recipes and pretty pictures, go bookmark Cafe Johnsonia! Risotto is a little time-consuming, but it's not difficult—just park yourself in front of your stove with a wooden spoon and a good book. (Reading TMZ on your iPad works too.) This risotto is creamy, filling, and delicious—even without the dairy!
Tuesday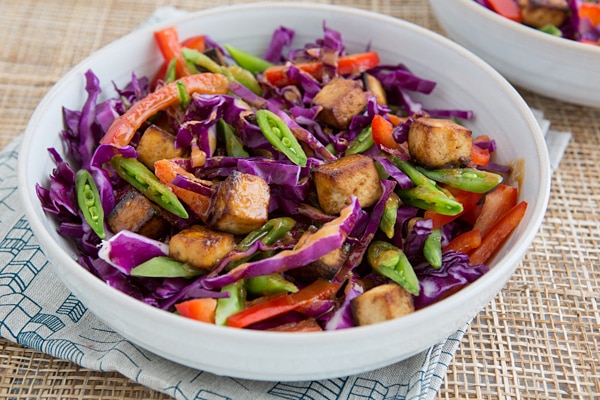 Red Cabbage Bowl with Tofu & Peanut-Sriracha Sauce from Kalyn's Kitchen // Baked tofu is my favorite kind of tofu and peanut sauce is delicious on almost everything, so I knew this recipe would be a winner—and it was! The amount of sriracha in this gives it just a slight kick, so if you like your food spicy, add a little extra.
Wednesday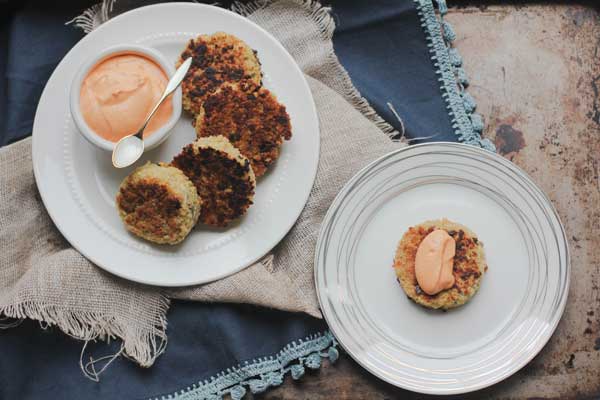 Crispy Quinoa Cakes with Roasted Red Pepper Cashew Cream from Oh My Veggies // Think you don't like quinoa? This recipe just might change your mind. If you happen to have spare vegetables in the fridge, give them a quick sauté and serve them on top of the quinoa cakes—mushrooms, eggplant, or zucchini would be perfect with this recipe.
Thursday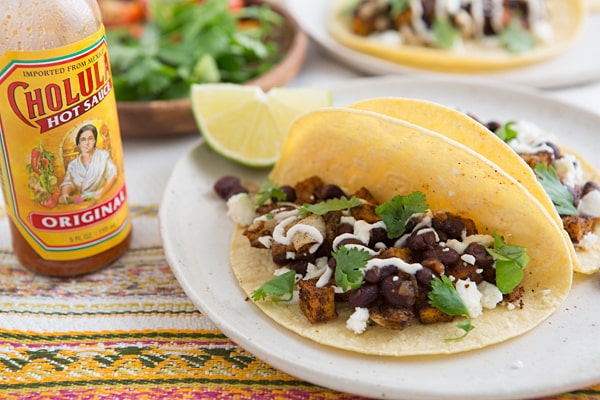 Roasted Sweet Potato & Black Bean Tacos from Oh My Veggies // Taco night! These tacos were one of my most popular recipes last year because they're simple to make and they're delicious too. I added cilantro to the shopping list for these, but add any additional taco fixings you like to the list.
Friday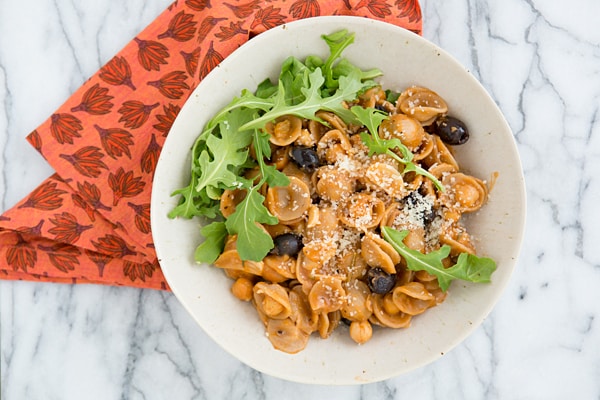 One-Pan Orecchiette with Chickpeas & Olives from Martha Stewart Living // Ever since Kare posted her One-Pot Pasta Primavera, I have been a little bit in love with the whole one-pot pasta concept. And this one is definitely a keeper! The water you add cooks down into a sauce for the pasta. There's not much prep involved and the recipe doesn't require much cooking time either, so it's perfect for a Friday night when you're feeling tired out and ready for the weekend.
Tips for This Week's Plan
If you have leftover risotto from Monday's dinner, you can use it to make my Easy Baked Arancini. Leftover risotto is never quite as good as the first day you make it and arancini is the perfect way to repurpose it.
The cilantro you buy for the tacos can also be used in the Red Cabbage Bowls.
You only need 2 ounces of baby arugula for Friday's recipe, so use the rest as a bed for your Crispy Quinoa Cakes. Want to knock an item off your shopping list? Instead of basil, use minced rosemary in your quinoa cakes.
Leftover cabbage from Tuesday's dinner makes a great topping for Thursday's tacos! Here are some other ideas for leftover cabbage too.
You will probably have some leftover Roasted Red Pepper Cashew Cream from the Crispy Quinoa Cakes, which is a good thing because it's the perfect alternative to sour cream for dolloping on your tacos.
Extra sugar snap peas are a delicious afternoon snack with a little hummus, or buy an extra red bell pepper and an orange to make Sriracha Snap Peas with Red Pepper over the weekend.

Click here for a printable version of this week's meatless meal plan and shopping list, then click on the links above to print out each recipe. Now you're set for the week!

Cracked Black Pepper & Parmesan Grit Cakes with Baby Collard Green Pesto

Bonus recipe! This week I shared a recipe for baked Cracked Black Pepper & Parmesan Grit Cakes with Baby Collard Green Pesto on Our State Magazine's website. If you can't find baby collard greens, no worries—kale will work too.