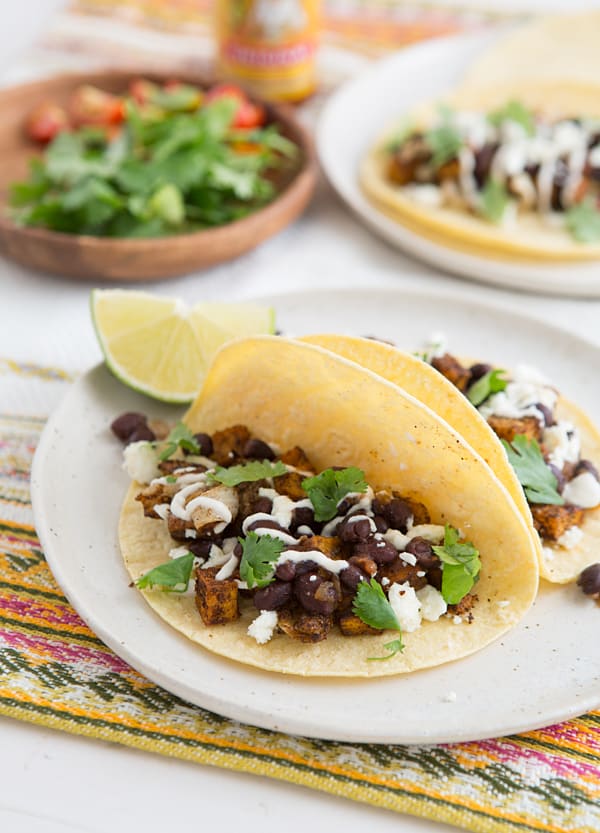 For better or worse (often for worse), I am an idea person. Not really in an inspiring, visionary type of way. More in a "Hey, I have an idea! I'm going to glue Japanese candy wrappers to a piece of cardboard and frame it!" kind of way. I'm less Steve Jobs, more lady on Hoarders who saves empty yogurt containers to make Christmas ornaments. I have ideas! Lots of ideas! For a while, I wanted to start a second blog, for desserts, called Oh My Pants. But then I realized that the fact that I don't bake much might get in the way and really, I just wanted a blog called Oh My Pants.
So then I came up with another idea. I'd start a blog called Oh My House. We'd buy a house (bonus points if it was a former crack house or brothel--hello, interesting backstory!), renovate it, decorate it, and blog about it. Oh sure, the domain might have been taken, but I had the house picked out and everything! Except that there are eleventy billion home reno blogs out there right now. And we can't buy a new house 2 years after moving into this one. Also, my idea of decorating is gluing Japanese candy wrappers to a piece of cardboard and framing it. Oh My House just wasn't meant to be.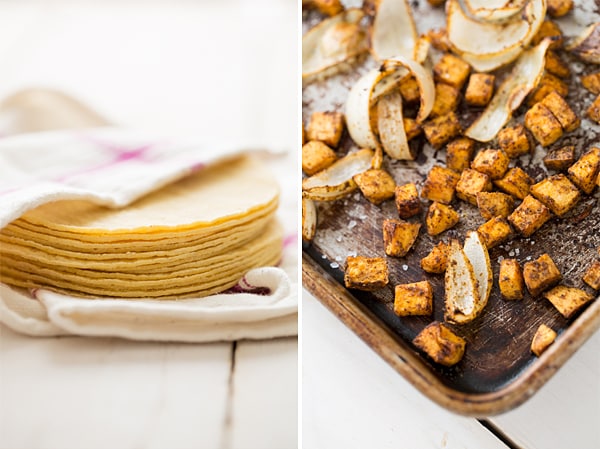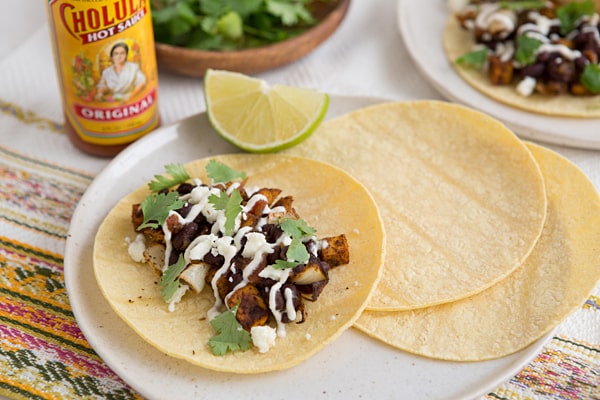 New ideas are great, but sometimes it's best to stick with what you know, right? Like sweet potatoes and black beans. Is it the most mind-blowingly innovative ingredient combination ever? No! But it's delicious, healthy, and filling. These Roasted Sweet Potato & Black Bean Tacos are one of those classic vegetarian recipes that you really can't go wrong with. After tossing sweet potato cubes and onion wedges with a little olive oil, lime juice, and spices, you roast them in the oven for 25 minutes; while they're roasting, you simmer some black beans with salsa. Put them together on a tortilla, top them with delicious taco things like crumbled queso fresco and cilantro, and then get excited because dinner is done!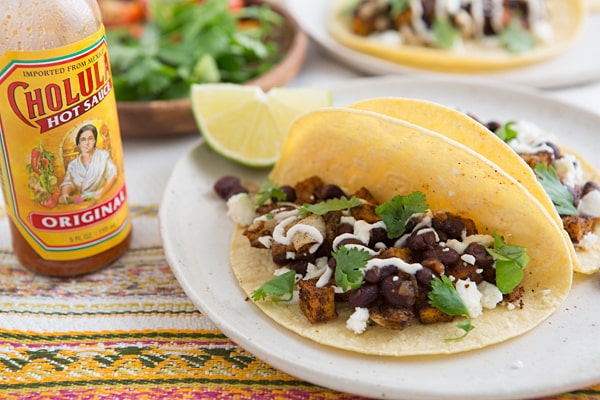 Ingredients
1

extra-large sweet potato

peeled and cut into ½-inch cubes

1

small onion

cut into 8 wedges, then broken apart

2

tablespoons

olive oil

1

tablespoon

fresh lime juice

1

tablespoon

ground cumin

1

teaspoon

chili powder

⅛-1/4

teaspoon

cayenne pepper

or omit altogether for milder potatoes

Salt to taste

1

15-ounce can black beans, rinsed and drained (or 1 ½ cup cooked black beans)

½

cup

prepared salsa

12

small tortillas

warmed

Lime wedges

cilantro, salsa, hot sauce, crumbled queso fresco or shredded cheese, diced tomatoes, sour cream or cashew cream, and other taco toppings for serving
Instructions
Preheat oven to 400ºF.

Toss the sweet potato cubes, onion wedges, olive oil, lime juice, cumin, chili powder, cayenne pepper, and salt in a bowl. Transfer to a rimmed baking sheet and bake for about 25 minutes, or until potatoes are tender, stirring halfway through cooking time.

When potatoes are almost done, combine the black beans and salsa in a small saucepan. Cook over medium heat until warmed through.

Fill each taco with salsa beans and sweet potatoes, then finish with desired toppings and a squeeze of lime juice.
Nutrition
Calories:
410
kcal
Carbohydrates:
64
g
Protein:
9
g
Fat:
14
g
Saturated Fat:
3
g
Polyunsaturated Fat:
2
g
Monounsaturated Fat:
9
g
Sodium:
891
mg
Potassium:
504
mg
Fiber:
5
g
Sugar:
9
g
Vitamin A:
8367
IU
Vitamin C:
5
mg
Calcium:
145
mg
Iron:
5
mg