This vegan chickpea quinoa salad with oven-baked pumpkin is filling, high in protein and easy to make in less than 30 minutes. Serve it as a comforting, healthy fall-inspired dinner or energizing lunch!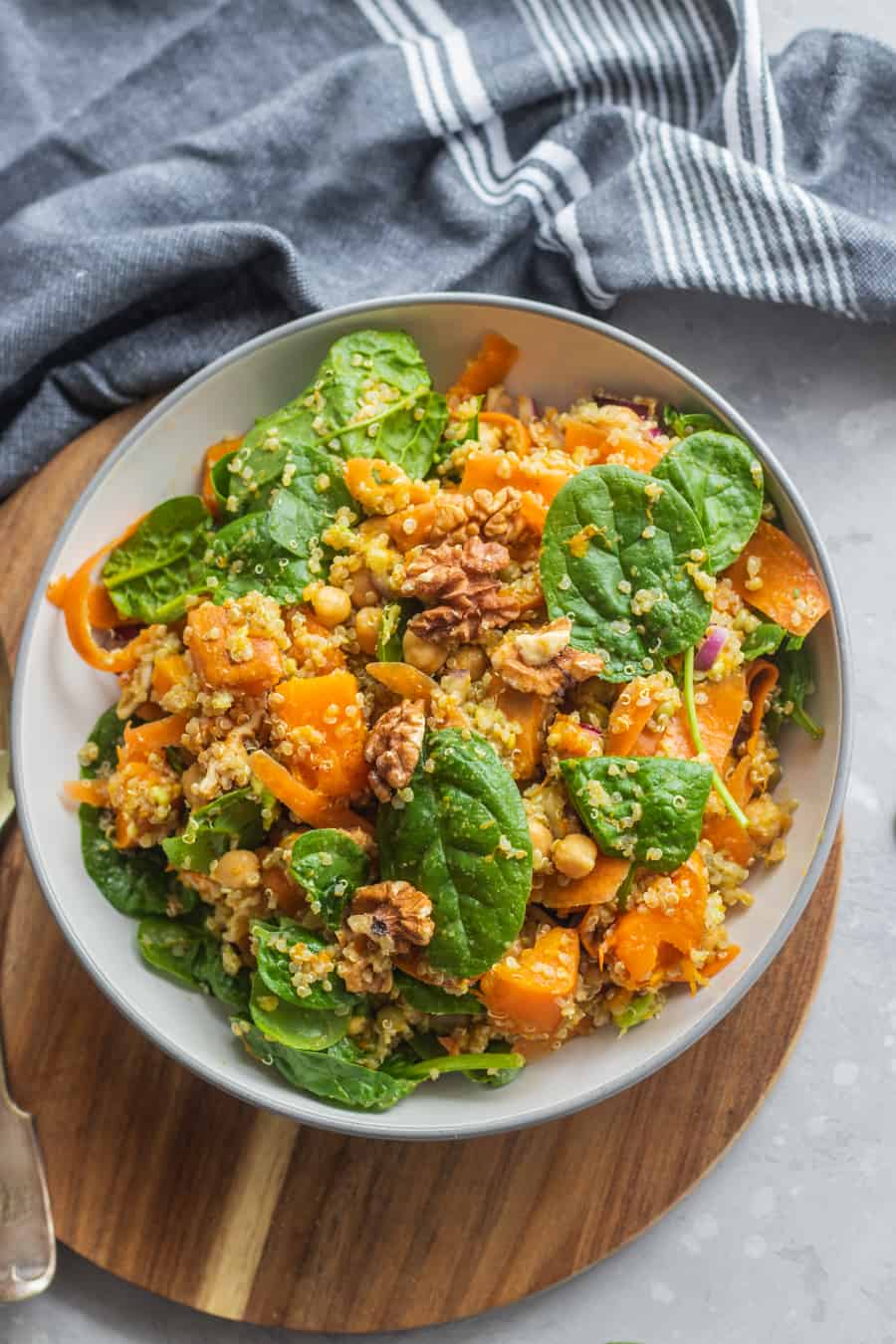 At what point does a salad stop being a salad? I think never. I'm trying to challenge conventional definitions here.
Most people imagine a salad as a bowl of lettuce with a few nuts and seeds that simply leaves you feeling hungrier afterwards.
Well, as far as this chickpea quinoa salad is concerned, that couldn't be further from the truth.
Thanks to the quinoa and chickpeas, this salad is higher in protein and perfect to eat for lunch after a tough workout. And thanks to the pumpkin, it's super filling and comforting too.
I have to admit that I do eat plenty of salad as a vegan, but that doesn't stop me from building muscle and easily reaching my daily protein requirements! Oh, and eating tasty food, of course.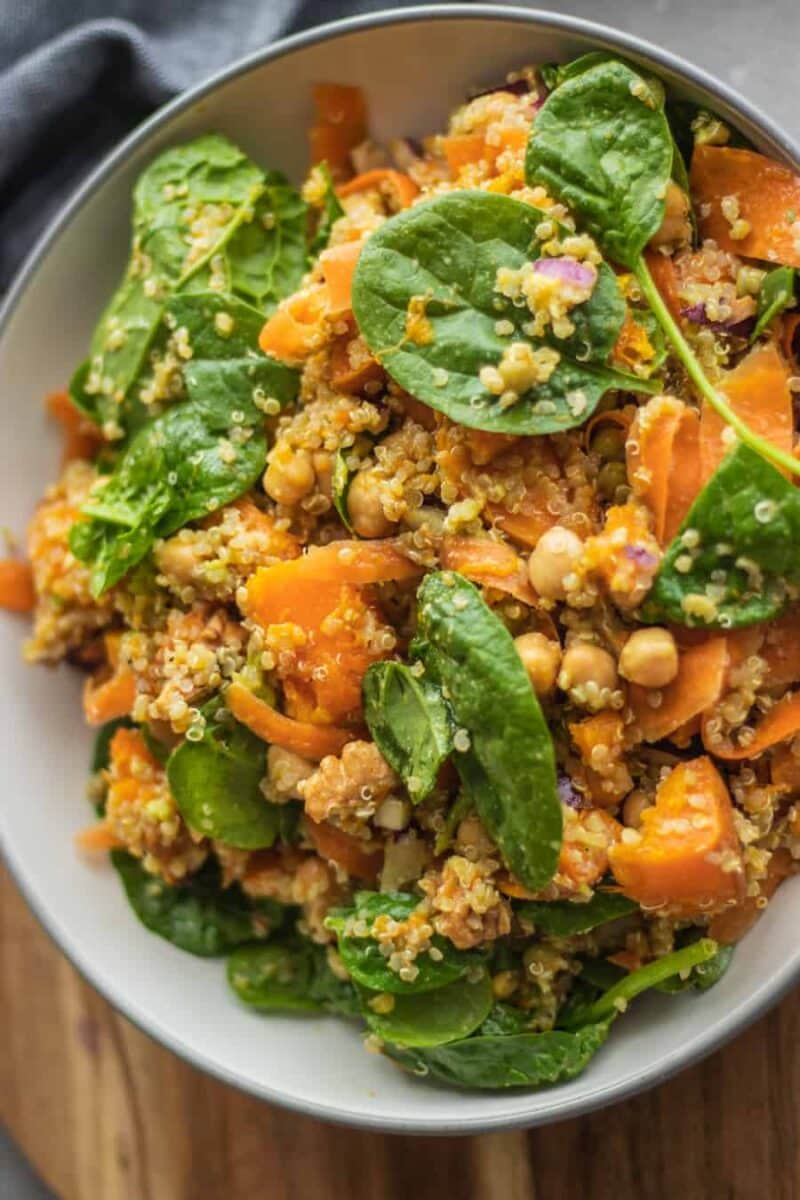 The pumpkin adds texture and sweetness, as well as a seasonal touch. I love trying out different pumpkin varieties.
I would definitely recommend you use a sweet one for this recipe, such as kabocha, Red Kuri squash, sugar pumpkin or Jarrahdale.
Honestly, this delicious fall-inspired pumpkin salad is good enough to eat by itself with just a pinch of salt and pepper.
But I also added mashed avocado and balsamic vinegar to really help bring out the flavors and make this a perfect way to impress anyone who thinks salads are boring!
I mean, they can be, but this one certainly isn't.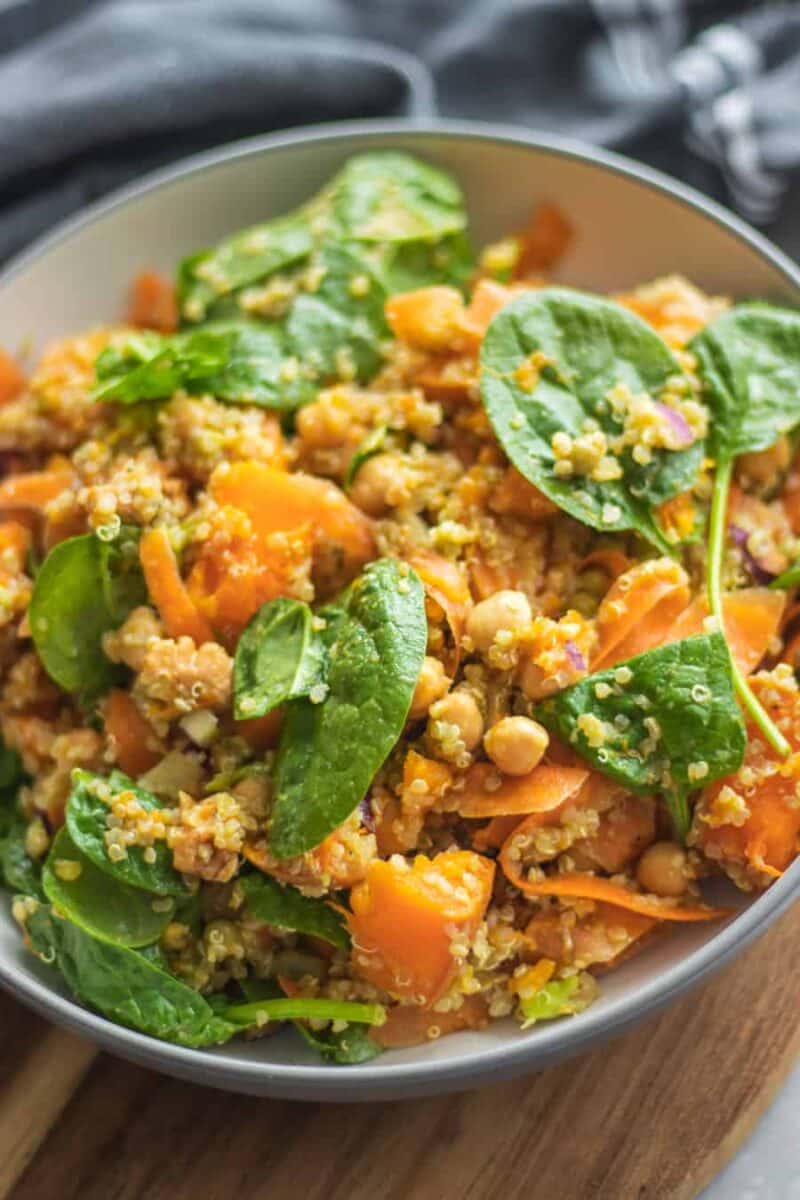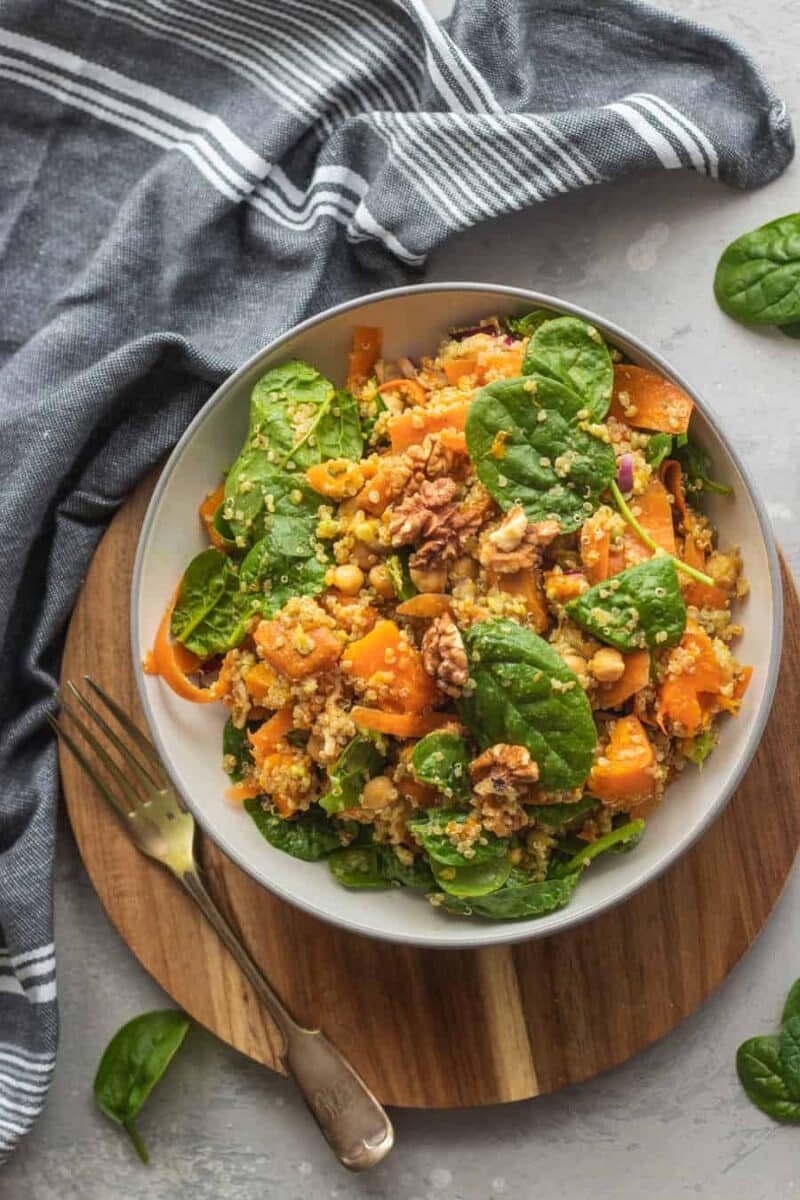 What's to love about this vegan chickpea quinoa salad?
It's high in protein (over 20 grams per serving). I've been loving this as a post-workout meal to refuel and promote muscle growth, especially if I meal-prep it so I don't have to wait to eat after a tough gym session!
Filling and satiating. This salad won't leave you feeling hungry afterwards, thanks to the protein and carbs from the chickpeas and quinoa.
Really incredibly tasty! Flavour is super important to me, because healthy eating doesn't have to be bland or boring. All of the ingredients work together to make sure each bite brings in a lot of flavour.
Seasonal and cosy. The pumpkin makes this salad an ideal dish to enjoy in fall or winter.
Naturally gluten-free.
Oil-free also.
Made with healthy ingredients and ideal as part of a whole foods plant based diet.
Ready in under 30 minutes and super easy to make: no culinary skills required! You could save even more time by batch cooking pumpkin at the start of the week and simply stirring it with the other ingredients.
Meal prep and lunchbox friendly. It lasts for up to 3-4 days in the fridge and even tastier the next day.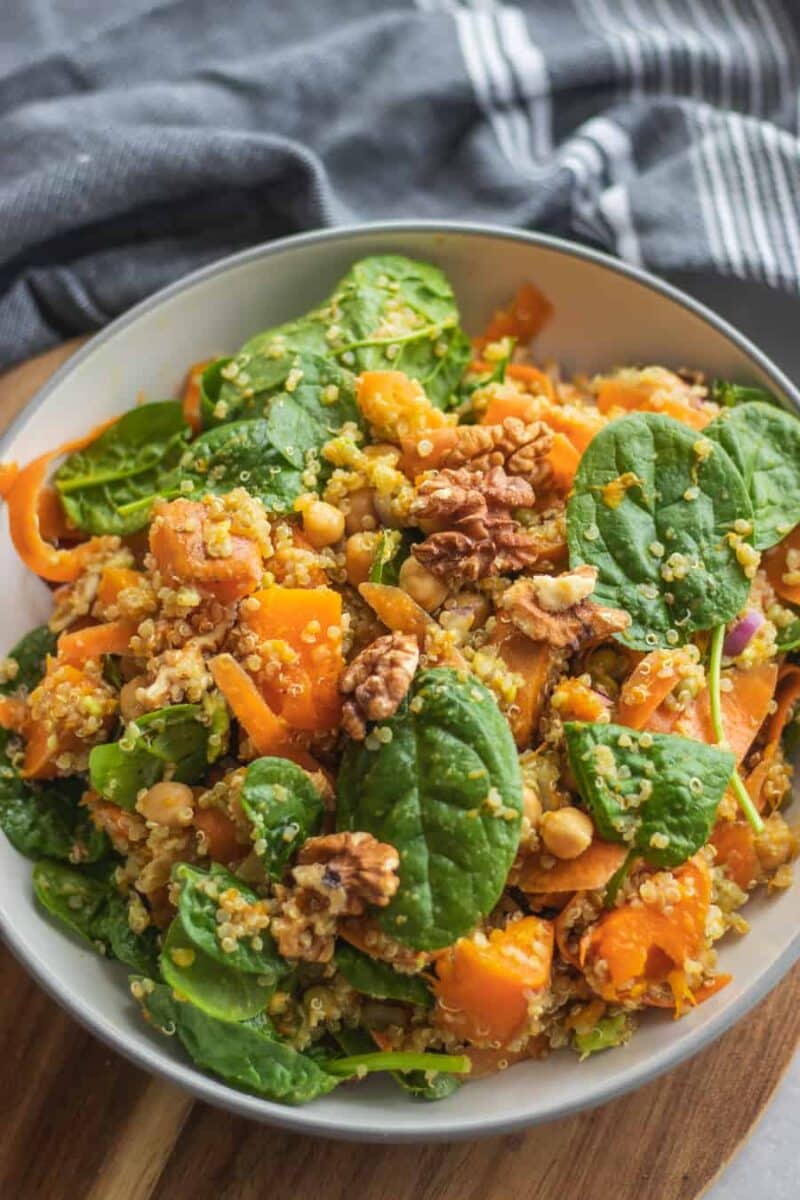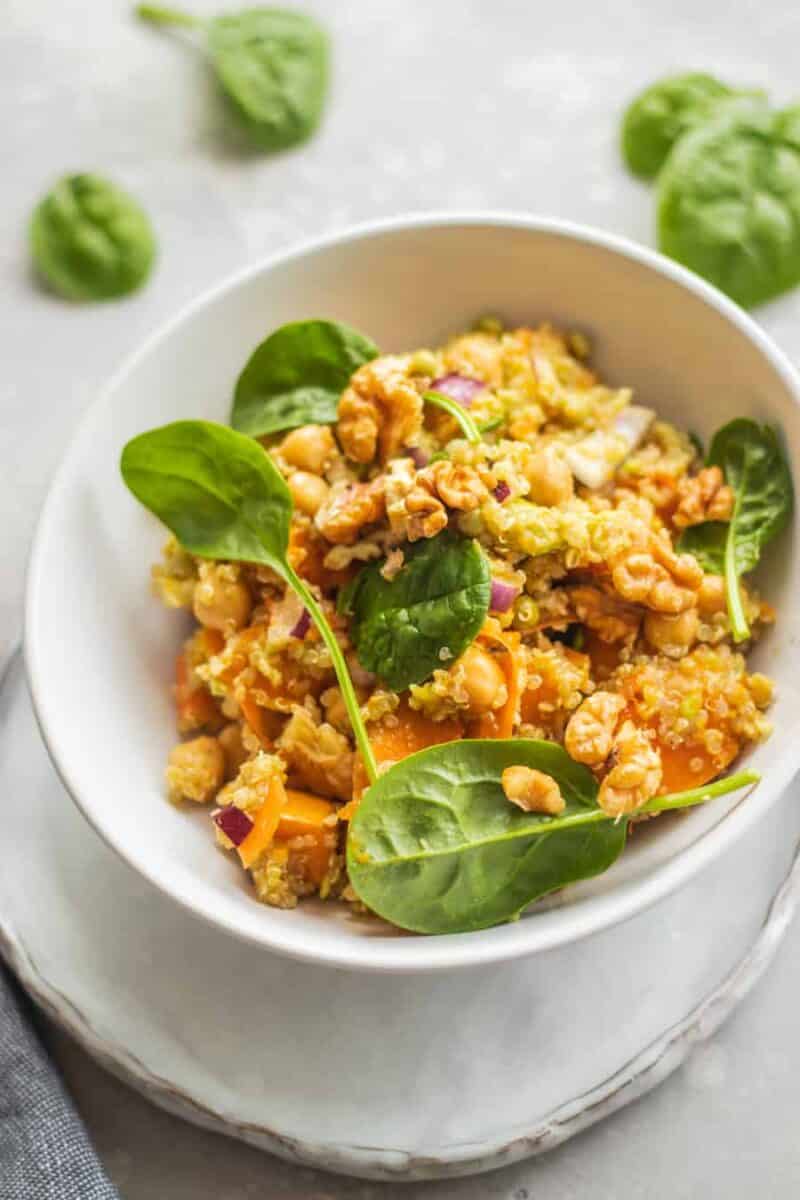 How to make this pumpkin quinoa salad
Chop your pumpkin into bite-sized pieces and toss it in a large mixing bowl with salt, black pepper and maple syrup. Transfer to a baking sheet with parchment paper and bake in the oven for 15-20 minutes, until golden and caramelised.
Once the pumpkin is ready, transfer it to a large mixing bowl together with cooked quinoa, cooked chickpeas, red onion, carrot ribbons and petit pois. At this stage, you can customise the salad by adding any other vegetables of your choice.
Finally, stir in a mashed avocado and balsamic vinegar, seasoning to taste with salt and pepper if desired. Serve and enjoy!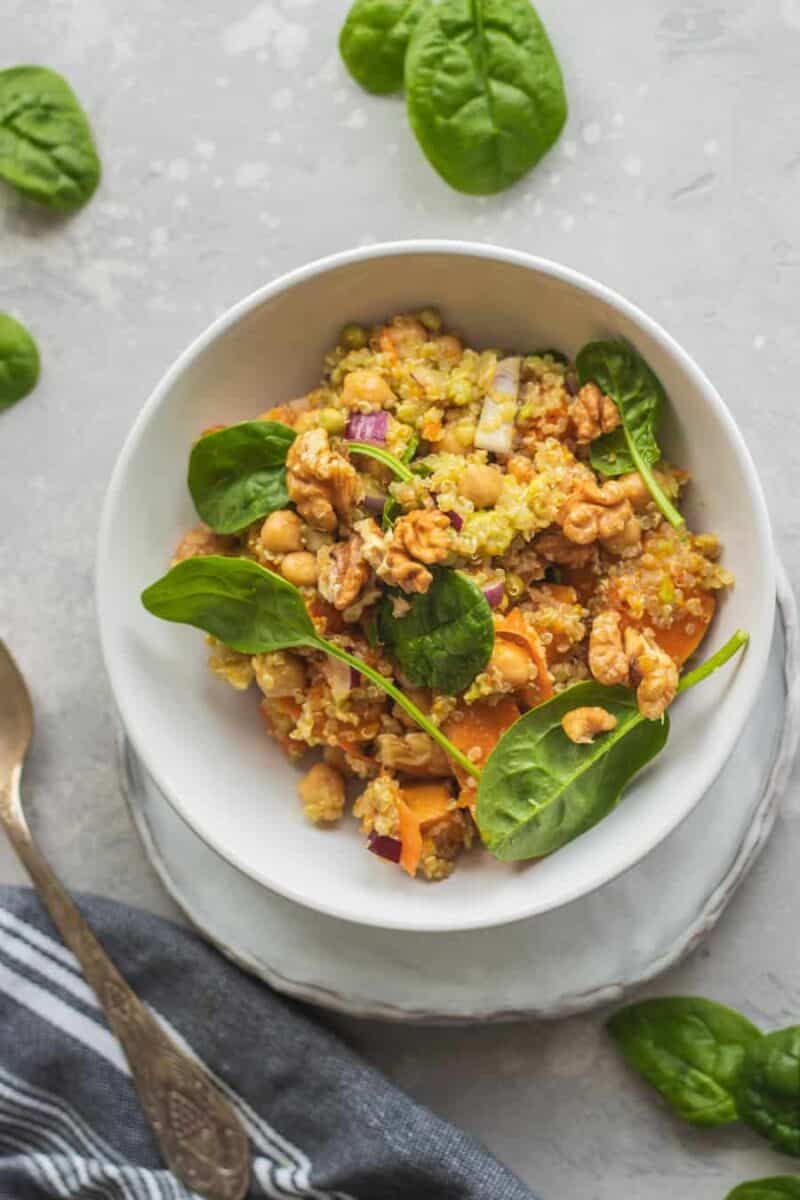 Notes and modifications
This salad lasts up to 3-4 days in the fridge in an airtight container.
You can eat it straight away while warm, or chill in the fridge for an hour before serving.
If you don't like quinoa, replace it with any other grain of your choice.
Other recipes you might like...
Let me know in the comments: what's your favorite way to make your salads taste good? If you give this recipe a go, don't forget to tag me on Instagram (@ohmyveggies) so I can see your creation, and leave a rating below to let me know what you thought.
Recipe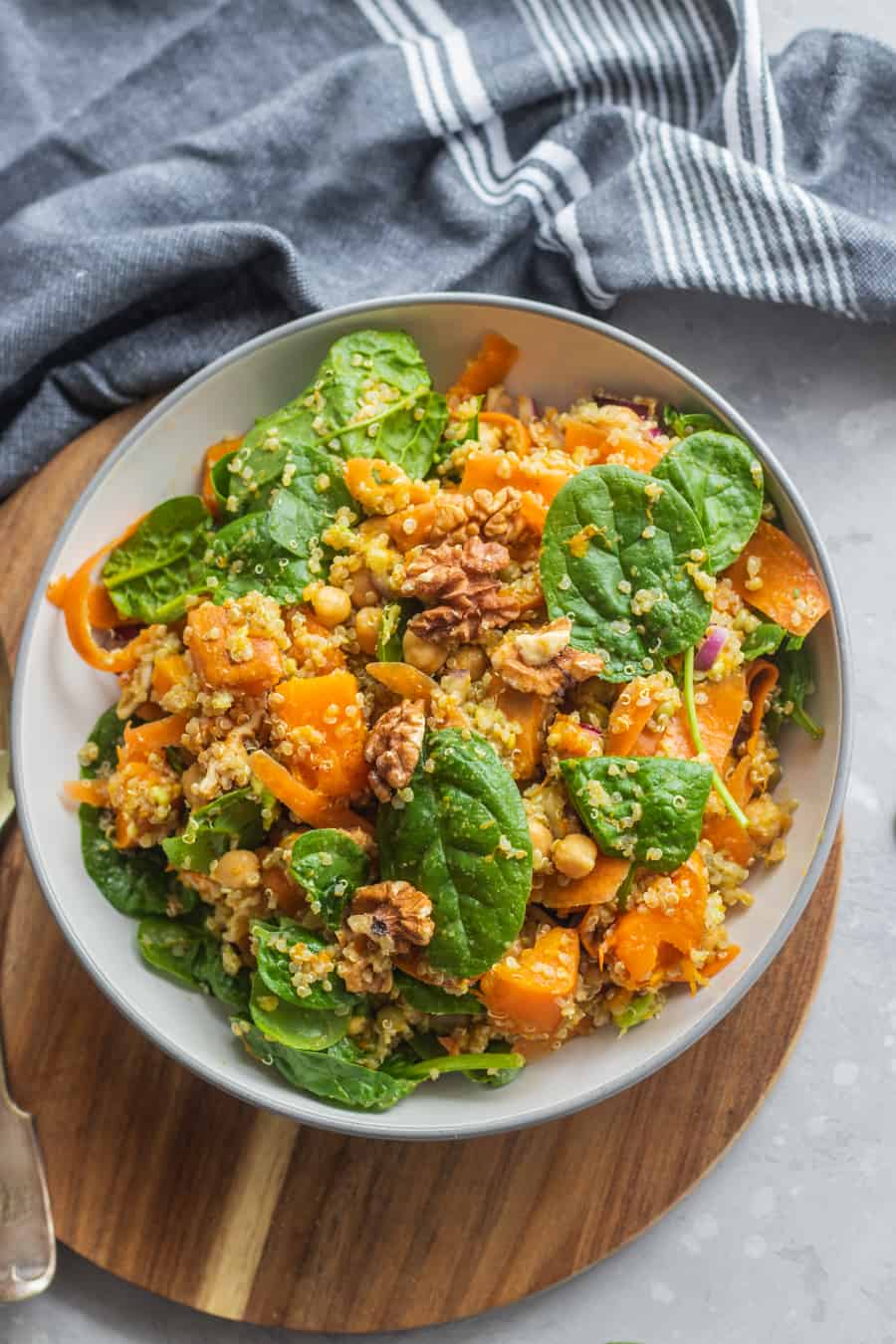 Servings:
2
as a main course
Instructions
Preheat the oven to 200 degrees C/392 F. Cook the quinoa according to packaging instructions (this should take around 20 minutes).

In a large mixing bowl, stir together the cubed pumpkin, salt, pepper and maple syrup until the pumpkin is evenly coated. Transfer to a baking sheet covered with parchment paper and bake for 15-20 minutes, until the pumpkin is soft.

Add the pumpkin, cooked quinoa, chickpeas, carrot, red onion, carrot ribbons, petit pois, mashed avocado and balsamic vinegar to a large mixing bowl. Stir well to combine, seasoning with more salt and pepper and garnishing with walnuts if desired. Serve straight away or chill for an hour for a cold salad.**
Notes
* Simply ribbon the carrot with a vegetable peeler. 
** The salad lasts 3-4 days in the fridge in an airtight container. 
Nutrition
Calories:
486
kcal
Carbohydrates:
91
g
Protein:
20
g
Fat:
6
g
Cholesterol:
1
mg
Sodium:
128
mg
Potassium:
1687
mg
Fiber:
14
g
Sugar:
22
g
Vitamin A:
29460
IU
Vitamin C:
29
mg
Calcium:
161
mg
Iron:
7.8
mg
Craving more veg-friendly recipes?
Shop our collection of vegetarian and vegan cookbooks, including our new Vegan Thanksgiving and Vegan Christmas cookbooks!