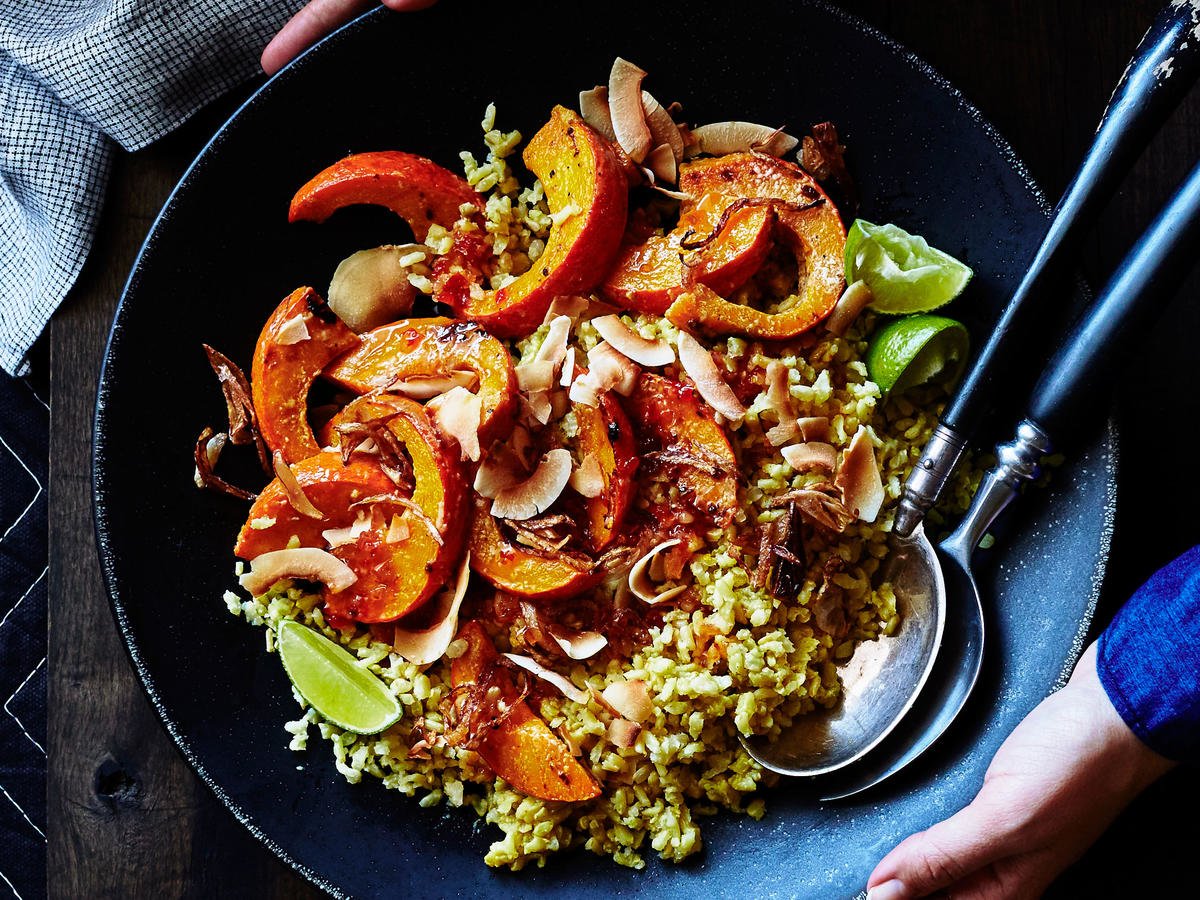 When winter squash season arrives, it's easy to feel intimidated by all of those strange shaped gourds ranging in color from green to yellow and bright fiery orange. With over 15 different varieties, it can be hard to keep up.
Of the most common varieties, it seems the one that doesn't get enough attention, is the red kuri squash.
The rich buttery flesh and hint of chestnut flavor makes a delicious base for all kinds of meals. Since the beautiful red skin also happens to be edible, it's perfect for creating a pop of color at your holiday table too.
Here are 15 creative recipes to help inspire you to get cooking with red kuri squash!
Coconut Red Kuri Squash Soup // Coconut milk and a few key spices give this rich and creamy soup from VeguKate plenty of comforting flavor.
Kale and Roasted Red Kuri Squash Salad // A House in the Hills proves that red kuri will be the star of the table with this gorgeous holiday kale salad.
Sweet and Spicy Red Kuri Squash Bowl // My Recipes puts an Asian-inspired spin on red kuri with these sweet and spicy bowls featuring coconut, lime juice and chili sauce.
Stuffed Red Kuri Squash with Walnut and Beans // A hearty stuffing of walnuts and beans makes this red kuri squash recipe from Green Evi satisfying enough for a meal.
Farinata with Red Kuri Squash and Kale // Chickpea flour is used to make a grain-free crepe as the base for this nourishing meal from The Worktop.
Red Kuri Curry Soup // Almond butter gives this creamy soup from Simply to Thrive an interesting twist that will keep you coming back for more.
Roasted Red Kuri Squash with Cannellini Bean and Spinach Salad // Minimalists will love this simple recipe from Naturally Ella which requires just a few simple ingredients to make.
Roasted Red Kuri Squash + Tart Cherries // A House in the Hills put a unique twist on roasted red kuri squash with tart red cherries, pecans and rosemary.
Maple Roasted Red Kuri Squash with Lemon and Garlicky Greens // Naturally sweet maple roasted squash paired with tart lemon and garlic-infused greens hits your tastebuds in all the right places. Recipes from So...Let's Hang Out.
Red Kuri Squash Curry with Chard and Coconut // Cold winter days will be much more bearable thanks to this comforting curry with leafy chard from Naturally Ella.
Vegan Caramelized Red Kuri Pasta with White Wine and Olive Oil // The Pig and Quill makes date night extra delicious with this impressive pasta dish featuring white wine.
Maple Ginger Red Kuri Squash // Looking for a new side dish? Foraged Dish has the answer and it's coated in a delicious maple ginger glaze.
Red Kuri Squash Soup with Miso // Miso paste creates a rich umami flavor in this creamy soup from Scaling Back.
Kuri Squash Pie with Ginger Shortbread Crust // Healthy Green Kitchen proves that pumpkin isn't the only squash for pie with this decadent shortbread crust version.
Chocolate Red Kuri Pumpkin Pie // Pumpkin pie gets a major upgrade with red kuri filling and a chocolate topping from Eatwell101.
I hope you've found the perfect recipe to give that red kuri squash a spin. And if you're looking for more inspiration, check out these other tasty ideas: