Who loves quinoa? WE do! It's healthy, easy to cook with, and delicious. And these quinoa cakes? Crazy-versatile. Whip them up as an appetizer, serve them as a side or a snack, even put them on buns and top with some roasted veggies and this cashew cream sauce for an amazing spin on a veggie burger. They do the work!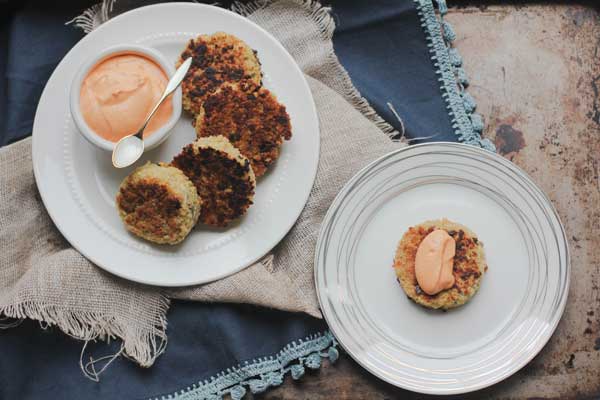 Ingredients
2 ½

cups

cooked white quinoa

at room temperature

4

large eggs

beaten

1

teaspoon

kosher salt

¼

cup

finely chopped fresh basil

½

cup

finely minced red onion

⅓

cup

freshly grated Parmesan cheese

3

cloves

garlic

minced

1 ½

cup

bread crumbs

since I cook gluten-free, I made my bread crumbs by pulsing an Udi's bagel in the food processor

Olive oil or clarified butter for coating pan
Instructions
In a large bowl combine the quinoa, eggs, and salt; stir to mix well. Add the basil, red onion, cheese, garlic, and breadcrumbs to the bowl; stir, then let the mixture sit for a few minutes so that the bread crumbs can absorb some of the moisture. If your mixture is too wet you can add a little more breadcrumbs at this point and if it is too dry add a small amount of water.

Heat a tablespoon of olive oil or clarified butter in a large, heavy skillet over medium-low heat. Form the mixture into 12 small patties; when the oil is hot place enough patties in the skillet so that it is full, but the patties still have room in between them. Cover, and cook for 7-10 minutes, until the bottoms are crisp and deeply browned. Carefully flip the patties with a spatula and cook the second side for about 7 minutes more. Remove from the skillet and cool on a wire rack while you cook the remaining patties.
Notes
Make about 1 cup of dried quinoa according to package instructions to get 2 ½ cups cooked.
I cook my patties in a cast iron skillet on medium-low. If you see that your patties are not browning after the first side has cooked for 10 minutes crank up the heat on your stove a bit and continue to cook the patties until they are browned.
Nutrition
Calories:
658
kcal
Carbohydrates:
101
g
Protein:
29
g
Fat:
15
g
Saturated Fat:
4
g
Polyunsaturated Fat:
5
g
Monounsaturated Fat:
4
g
Trans Fat:
1
g
Cholesterol:
169
mg
Sodium:
1080
mg
Potassium:
789
mg
Fiber:
10
g
Sugar:
4
g
Vitamin A:
397
IU
Vitamin C:
2
mg
Calcium:
259
mg
Iron:
8
mg
You can serve these Crispy Quinoa Cakes with a number of different sauces; if you're short on time, a good jarred marinara will definitely work, but I love using this Roasted Red Pepper Cashew Cream. If you have leftovers, it makes a tasty veggie dip or sandwich spread!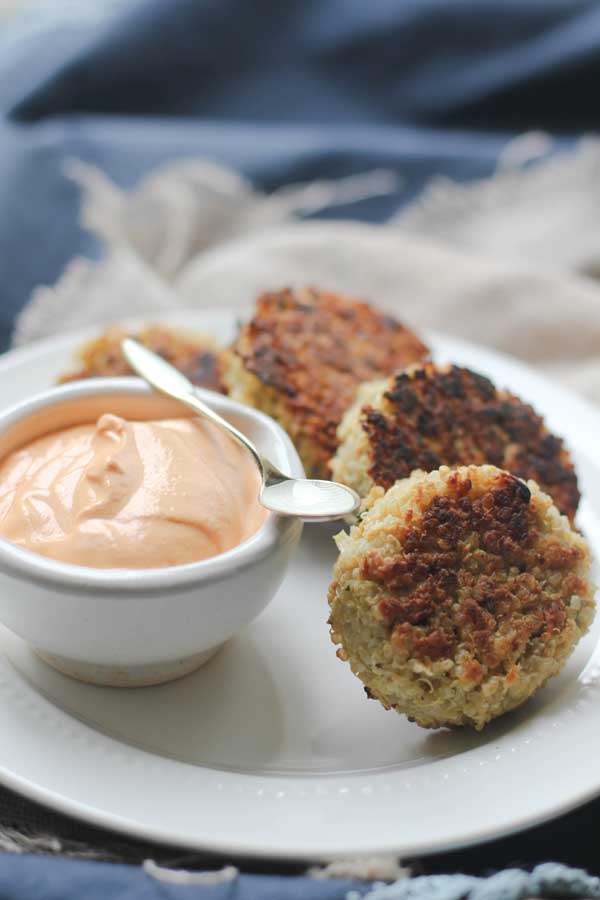 Ingredients
1 ½

cups

raw cashews

soaked in water for 30 minutes and drained

1

roasted red bell pepper

seeds and skin removed (from a jar is fine)

¾

cup

filtered water

1

small clove of garlic

¼

cup

minced red onion

¾

tablespoon

lemon juice

1

teaspoon

salt to taste
Instructions
Add all of the ingredients in a high powered blender or food processor and blend on high, stopping to scrape down the sides if necessary. Blend until the cashew cream is smooth and silky with no chunks. Taste and adjust seasonings to your liking.
Nutrition
Calories:
1100
kcal
Carbohydrates:
65
g
Protein:
36
g
Fat:
85
g
Saturated Fat:
15
g
Polyunsaturated Fat:
15
g
Monounsaturated Fat:
46
g
Sodium:
2866
mg
Potassium:
1414
mg
Fiber:
8
g
Sugar:
13
g
Vitamin A:
194
IU
Vitamin C:
26
mg
Calcium:
109
mg
Iron:
13
mg