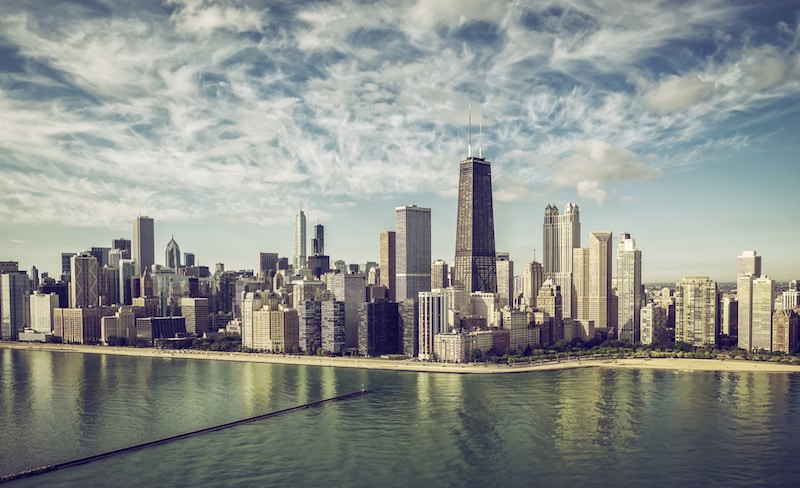 Vegetarians will definitely NOT go hungry searching for great dining options in the city of Chicago! Depending upon your mood, you can find something in nearly every neighborhood for vegetarian and even vegan preferences. From classic American fare to Mexican, Indian and soul food made vegetarian-style, you're sure to eat well as you taste your way through these veggie-friendly Chi-Town favorites.
"Meat-Free Since '83" is the slogan at this award-winning Windy City stop. With two locations (Halsted and Logan Square) and bakeries in the region, these diners are open daily until late serving up all meals, even dessert. Don't miss their popular vegan shakes (chocolate peanut butter is a favorite), biscuits and vegetarian gravy, country-fried steak and "radical reuben" sandwiches (both made with seitan). (If you feel the need for Chicago Diner grub but can't get to one, try getting it delivered within close range, grab one of their cookbooks, or buy a slice of their famous cakes, now carried at Whole Foods.)
Roscoe Village's Victory's Banner has both vegetarian and vegan menus and serves stellar French Toast, omelettes, and veggie burgers—which were taste-tested as 'best in the city' by Brittany of WGN's Chicago's Best. A popular brunch spot, this locale is rated high on both its breakfasts and its serene environment. You won't leave stressed after you eat here—most of the staff here study meditation and incorporate the teachings of Spiritual Master Sri Chinmoy into their work. Go early if you can, especially on Sundays—this is a small restaurant and it gets busy fast.
There's plenty to love with the classic soul food dishes and juice bar at this popular southside spot. Choose from Southern and soul delicacies like macaroni and cheese, kale greens and cornbread, tofu wings, BBQ seitan roast, navy beans and rice, lentil meatloaf, spaghetti, sweet potatoes and nachos. A casual setting with relaxed service and friendly staff awaits you here.
If you're craving Mexican food in Little Village, give El Faro a try. Although not exclusively vegetarian, they provide vegetarian options and can make many dishes vegetarian-style. Go for the vegetarian burritos, queso panela a la parrila, ensalada campesina or torta de soya estillo pollo. You'll find soy "chicken" and tofu cheeses in most of their vegetarian options.
Everything in Wicker Park's The Handlebar is vegetarian or vegan, breakfast through dinner and drinks/beers are served on-site and takeout is offered. Try the Green Meanie sandwich, buffalo "chicken" wraps, smoked gouda mac, chipotle sweet potato breakfast tacos, fried avocado tacos, fried pickles, and vegan benedict. The veggie burgers, chili cheese fries, and nachos are also popular here.
With a 100% vegan and 80% organic menu, the Loving Heart Vegan Cafe in Uptown offers both dine-in and delivery options. Soups, burgers, wraps, desserts, meal bowls, snacks, and side dishes make up the menu. Don't miss the dessert cakes, popular "Eden Wraps" and "Lotus Wraps", "Happy Burgers," smoothies, teas and lattes.
Many have called this spot the best place in town for Thai food—and it's also vegan! Choose from Lake View or Lincoln Park locations for curry dumplings, spring rolls, crispy noodles with seitan, sticky rice, ginger beer and even "seafood" like "shrimp"—among other delicious choices!
A substantial menu and friendly service await you at Arlington Heights' Chowpatti Restaurant. Open for both lunch and dinner (but check the times—and they're closed Mondays), all types of American, Italian, Indian, Mexican and Middle Eastern cuisine is available. According to the Chicago Tribune, "It is inclusive for all ethnic groups, not just Indian. People who are Swedish Vegetarian or Mexican Vegetarian can also find food prepared here for them."
This vegan cafe provides a full menu of starters, sandwiches, burgers, pizza and side dishes. Favorites include the cauliflower bites, chili cheese nachos, hummus appetizers, and gyros. The Chicago Reader's Kevin Warwick bragged about the Seitan Satay with peanut dipping sauce, Asian burgers with tangy ginger slaw, Philly-style "cheesesteak" sandwiches and finally praised, "the vegan oatmeal cream pie, which uses cashew butter as the filling. Chill that thing and have it as an afternoon snack the next day—the wait makes it even better."
This northwest side locale offers both hot and cold dinner menu options in either small or large portions, as well as sides, beer and cocktails. Try the beet salad with Amish blue cheese, burritos, gnocchi, baked goat cheese, or the daily Slider Special (offered 5:30 - 6:30 pm only.) Gift cards, a to-go menu and a very local delivery range is also available. Reservations for parties of five or larger are accepted, but not on the popular patio which is first-come, first-serve only.
Green Zebra
Also on the northwest side, about 15 minutes' drive from central downtown Chicago, stands the Green Zebra. With many interesting entrees available (like Scarlet beet poke salad, Hen of the Woods mushroom pate, homemade gnocchi, black bean chili, buckwheat pappardelle, palak paneer and a Vietnamese cinnamon-infused Fuji apple dessert), you can also try assorted new items on their tasting menu. The staff are knowledgeable about the menu as well as accompanying wine options, so don't hesitate to ask questions!
Bill Choi's vision for the perfect restaurant began at age 13—and has now manifested in the city's Amitabul, featuring 'Korean Spiritual Vegan Cuisine,' which is, according to his website, a "vegan merging of traditional Korean preparation and Western taste." The vegan dumplings, mushroom soup, seaweed salad and vegan ice cream are rumored to be most delicious!
Great service and generous portions are found at this W. Armitage location. Favorites include beet burgers, southern-fried tofu, kimchi grilled cheese, Asian BBQ, beer-braised kale, curry fritters, and vegan dessert cakes.
A huge vegetarian-style Mexican menu awaits you here. Hearty vegan "steak" dinners are substantial and there's a healthy assortment of everything from vegan tacos to tortas, tamales, and of course, quesadillas. Try the tres leches cake for dessert!
This chic spot has a globally-inspired, fully vegetarian menu in Evanston. A little outside the city, it's worth the ride to try their seitan marsala, sweet potato fries and fresh baked goods.
Karyn's
Karyn's has both raw and cooked vegan menus, as well as a luxurious day spa & detox/cleanse/wellness programs. Don't be surprised if you run into a celebrity here—famous folks from near and far have been seen at Karyn's grabbing a spa treatment or nibbling green enchiladas, raw ice cream and almond butter bars!
The Kopi Cafe on North Clark is a coffee shop with an extensive vegan food menu, bookshelves full of reading material, and a shop. Everything from wine to nachos, fresh-baked croissants, Mexican hot chocolate or sangria can be enjoyed here while browsing the eclectic boutique.