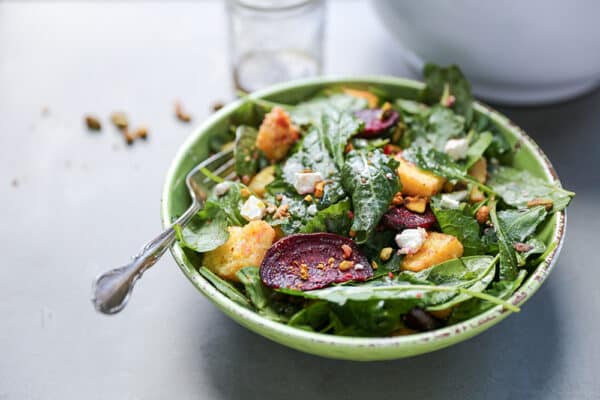 I eat a lot of salads. Pretty much every single day (and sometimes even twice a day!) I can be found at some point during the day with a giant bowl of salad balanced precariously on my lap. It's the best way I know how to get a healthy dose of plant-power, all while simultaneously helping to clean out the crisper drawer of my refrigerator (= real talk).
So to keep things interesting, my salads need to be so much more than just a big pile of leafy greens. I'm always mixing things up with various seasonal ingredients, cheeses and crunchy elements, like nuts and croutons. It's those little extra touches that really make a salad enjoyable and not just simply "diet food."
My current obsession is turning baked polenta into croutons. It's a great way to add bulk to any salad, all while keeping things gluten-free. I've been putting polenta croutons into all kinds of salads lately, and they are a key player in this beet and mixed green salad that I'm sharing here today.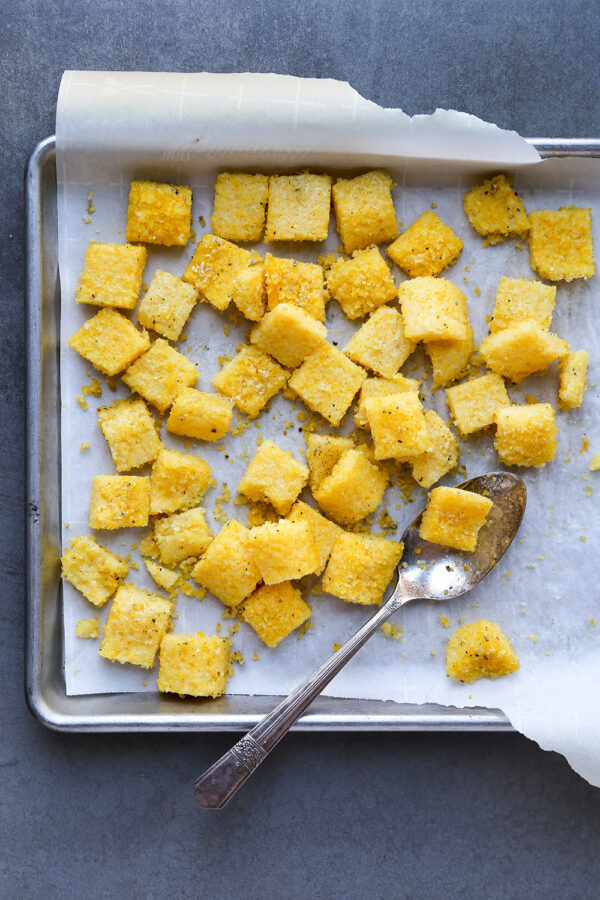 These polenta croutons are so simple to make. I start by baking some polenta in a greased pan in my oven until it's firm and all of the water is absorbed, a trick I learned from The Kitchn a couple of years ago. It's is a great hands-off way to prepare a large amount of polenta with virtually no stirring. And it's the perfect way to make croutons, because you end up with a large square of baked polenta that you can effortlessly cut up in cubes for your salads. Once I've created the polenta cubes, I bake them a second time (you can do this while you cook the beets, so it doesn't require any additional time investment) to make them crisp around the edges. It's a step that I don't recommend skipping!
If you're really short on time, you can purchase one of those tubes of prepared polenta from the grocery store, cut it up and bake it your oven as you would for the homemade polenta.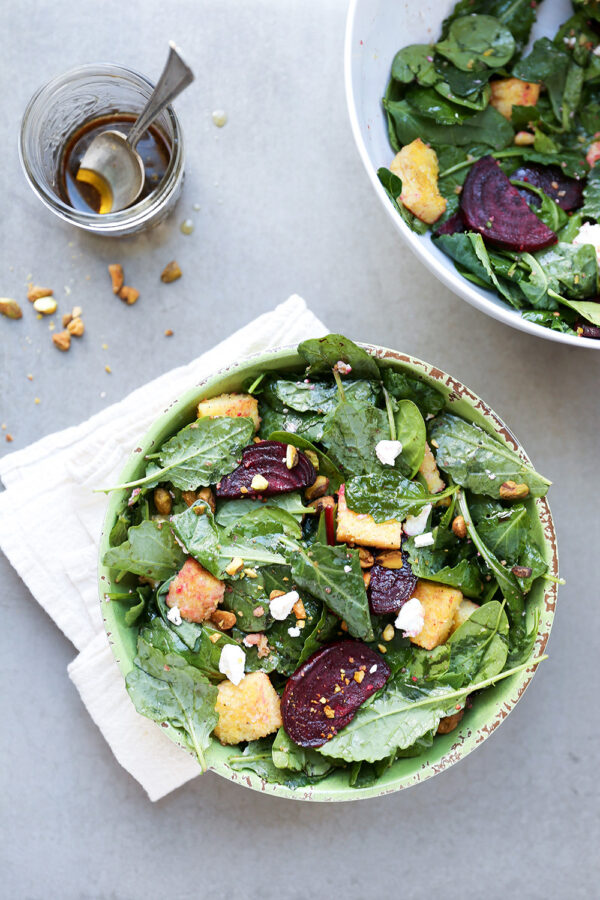 I made a very simple dressing that uses fresh squeezed orange juice instead of lemon juice, because I just love the combination of beets and oranges. And my other favorite easy salad trick is adding in fresh herbs. They really brighten the flavor of any salad, while almost going undetectable in the final dish. I chose mint leaves in this case. But I've used cilantro, parsley and dill in the past, all with success. Just a couple of tablespoons is all your need to make your salads pop!
Recipe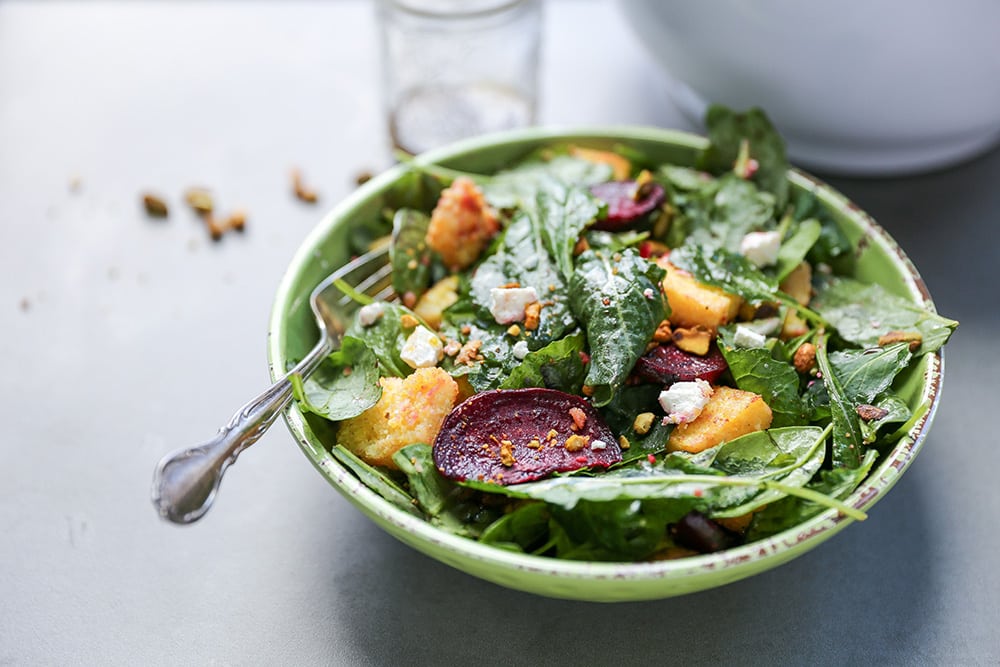 Ingredients
Instructions
To prepare the polenta, preheat your oven to 350°F. Spray an 8 x 8 inch baking dish with nonstick cooking spray. Whisk together the water, polenta grits and salt in your prepared baking dish. Then transfer the dish to your preheated oven and bake until the polenta is firm and all the water is absorbed, about 40 minutes. Remove the baking dish from your oven and set it aside to cool to room temperature. Then cover the dish and transfer it to your refrigerator. Chill the polenta for at least 4 hours or up to overnight. Once the polenta is fully chilled, slice it into 1-inch cubes.

To prepare the salad, preheat your oven to 350°F. Line two rimmed baking sheets with parchment paper. Slice the beets into ¼ inch thick rounds. Then slice the rounds down the middle to create half moon shapes. You should have about 2 cups of sliced beets. Toss the sliced beets in a bowl with 1 tablespoon of olive oil and ¼ teaspoon each of salt and black pepper. Spread the beet slices out onto one of the parchment paper-lined baking sheets. In a separate bowl, toss together the cubed polenta with the remaining 1 tablespoon of olive oil and ¼ teaspoon of salt and black pepper. Spread the polenta cubes out onto the second parchment paper-lined baking sheet. Transfer both baking sheets to your oven and bake for 15 minutes. The beets should be slightly softened and the polenta should be starting to crisp around the edges. Remove both baking sheets from the oven and set aside.

Meanwhile, in a small bowl, whisk together all of the ingredients for the dressing until well combined.

Add the mixed greens to a large bowl and drizzle with the dressing, tossing to coat. Then add the mint leaves, pistachios, goat cheese, roasted beet slices and polenta croutons to the bowl, tossing gently to combine. Transfer the salad to serving bowls and enjoy immediately.
Nutrition
Calories:
302
kcal
Carbohydrates:
27
g
Protein:
7
g
Fat:
19
g
Saturated Fat:
4
g
Polyunsaturated Fat:
2
g
Monounsaturated Fat:
12
g
Cholesterol:
7
mg
Sodium:
705
mg
Potassium:
412
mg
Fiber:
3
g
Sugar:
6
g
Vitamin A:
1031
IU
Vitamin C:
22
mg
Calcium:
55
mg
Iron:
2
mg
Craving more veg-friendly recipes?
Shop our collection of vegetarian and vegan cookbooks, including our new Vegan Thanksgiving and Vegan Christmas cookbooks!