Our vegetarian meal plans are 5-day menus that serve a family of 4 — or less if you don't mind leftovers! Click on each of the meal links below to get printable recipes, then print the meal plan and shopping list at the bottom of this post.
Here's this week's vegetarian meal plan:
Monday
Mexican-Inspired Sweet Potato Casserole // This comforting bake is made with spiralized sweet potato noodles, spicy black beans, veggies, and a layer of melthy cheese.
Tuesday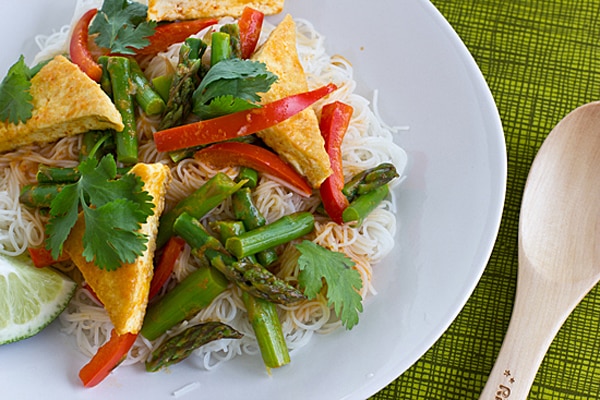 Thai Red Curry with Asparagus and Tofu // This curry tastes like it came from a Thai restaurant, but is actually super quick and easy to make at home.
Wednesday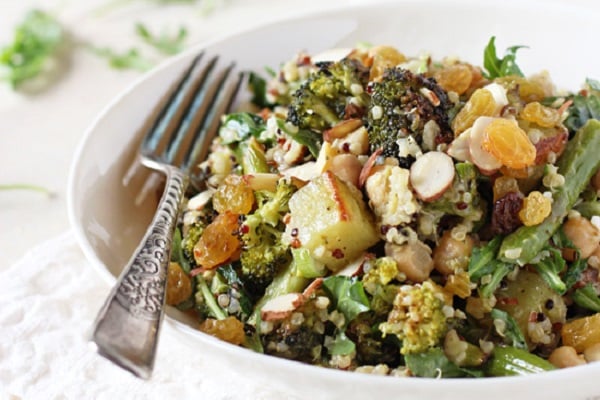 Roasted Yukon Potato Spring Vegetable Bowls // Spring is here at last, and these hearty bowls celebrate the fresh produce that comes with it.
Thursday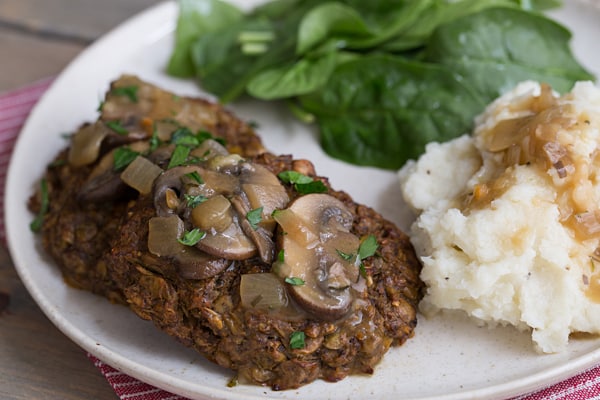 Vegetarian Salisbury Steak // This meatless version of Salisbury steak is made with a mix of lentils, mushrooms and oats, and served with a savory mushroom gravy.
Friday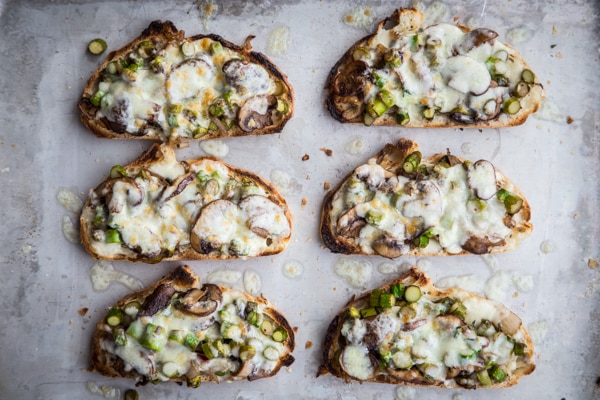 Asparagus Mushroom Melts // These open-faced sandwiches are topped with fresh spring asapargus, wild mushrooms, and melty cheese.
Printable Meal Plan & Shopping List
Tips for This Week's Vegetarian Meal Plan
Don't worry if you don't have a spiralizer for Monday's casserole—the recipe works with diced sweet potatoes too.
Tuesday's curry is the only dish on this week's plan that calls for peanut oil, so we left it off the list. Use whatever high smoke point cooking oil you have on hand.
You can save some time on Wednesday's bowls by doing some of the prep work ahead of time, such as chopping the veggies and mixing up the dressing.
Thursday's Salisbury steak recipe would go great with a side of mashed potatoes. If you'd like to serve it that way, add some extra potatoes, milk, and butter to the list.
Wednesday's bowl recipe is the only one that calls for green onions, and you should have more than you need. The extras would make a nice topper for Monday's casserole or Tuesday's curry.
Check the ingredients on your curry paste for Tuesday's curry, to ensure it's vegetarian.
Annie's is a widely available brand of vegetarian Worcestershire sauce that you can use for Thursday's Salisbury steak. Some store brands are vegetarian as well.
Click here for a printable version of this week's vegetarian plan and shopping list.
Find more dinner ideas from our Meatless Meal Plan