This vegetarian remake of Salisbury Steak is made with lentils, mushrooms, and oats for a hearty, delicious, vegan friendly main dish.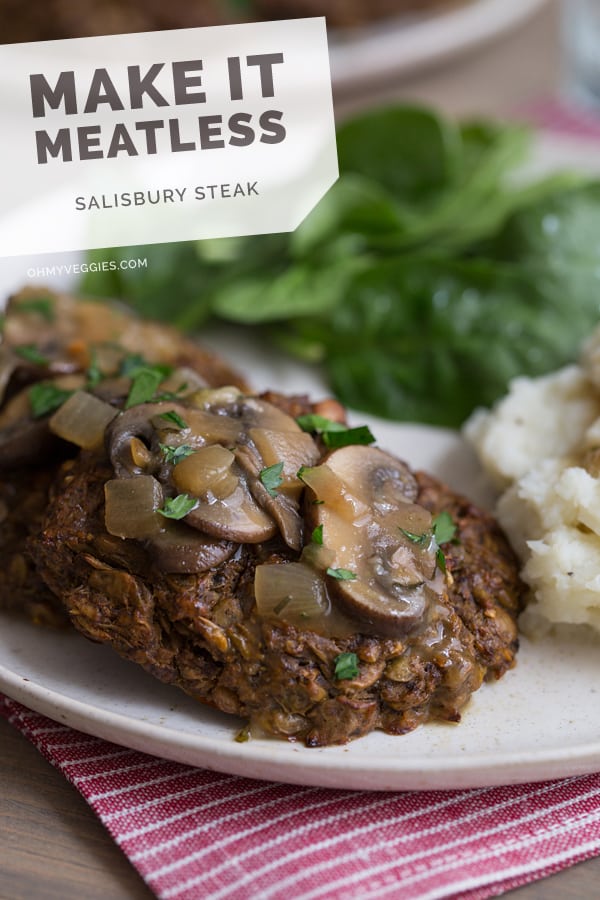 For the past month and a half, we've been having Salisbury Steak once a week for dinner. I wanted this recipe to be perfect, so every week, I'd make it in a slightly different way. With oats, without. With ketchup, without. Pan-fried or baked.
It was like March Madness all up in my kitchen, except the brackets were made up entirely of vegetarian Salisbury Steaks. I'm betting my money on savory deliciousness!
My mom never made Salisbury Steak when I was a kid, but I loved it in TV dinners and hot lunches at school, on the rare occasion I'd get them. (I think the congealed gravy was my favorite part--I mean, it must have been, because the meat had the texture of an old sponge.)
Salisbury Steaks are traditionally cooked in that gravy; you cook the steaks, take them out of the pan, make the gravy, then put the steaks back in the pan to let them soak it up a little bit.
After a lot of experimentation, I realized that this didn't work for my vegetarian Salisbury Steaks - they soak up too much of the gravy, get mushy, and fall apart. So instead, I bake the steaks in the oven, whip up the gravy while they're baking, and then spoon the gravy on top.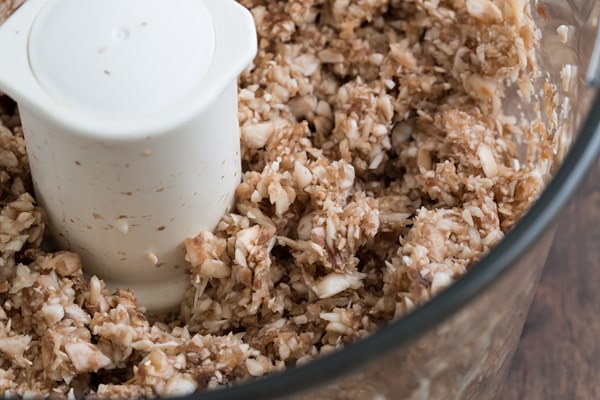 These steaks are made with my little trifecta of mushrooms, lentils, and oats. This is the same combination I use my my Lentil Mushroom Meatballs and Lentil Mushroom Burgers.
I tried a few other ingredients in this recipe, but settled on those three because they just work!
The mushrooms are pulsed in a food processor until finely chopped - you don't want a puree, but you want it to have almost the consistency of crumbled ground beef. Thyme and sage, ketchup, tamari, and vegetarian Worcestershire sauce add lots of flavor to the faux-beef mixture.
Because there's extra gravy, you'll want to serve this recipe with mashed potatoes or cauliflower on the side. We rounded things up with a simple spinach salad too, although steamed green beans or broccoli would be just as good.
This makes a perfect Sunday night dinner and the leftovers keep well, so they're great for bringing to work the next day.
And if you love this vegetarian (and vegan!) Salisbury steak, be sure to check out these other tasty ideas:
While you're here, be sure to grab our FREE 5-Day Meatless Meal Plan. It's packed with tasty recipes to make vegetarian cooking easy and delicious!
Recipe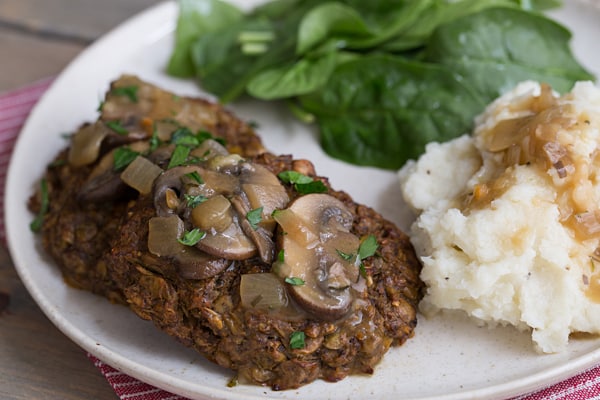 Instructions
Combine the lentils and 2 ¼ cups of water in a medium pot. Bring to a boil, then partially cover and reduce to a simmer. Cook for 20-25 minutes, or until lentils are tender, but not mushy. Drain and set aside to cool.

Process the oats in the small bowl of a food processor until they're finely chopped—they should be almost the consistency of flour, but not quite. Transfer to a small bowl.

Slice 4 ounces of the mushrooms and set them aside. You'll use those later for the gravy. Quarter the remaining mushrooms and pulse them in the food processor until finely chopped.

Preheat oven to 375ºF. Line a baking sheet with parchment paper.

Once the lentils have cooled a bit, put them in a large bowl. Use a wooden spoon to mash them a little bit. You don't want them to be completely mashed; about half of the lentils should still be intact. But mashing them a little bit helps your steaks stick together. Stir in the chopped mushrooms, oats, 1 tablespoon of tamari, ketchup, 1 teaspoon of thyme, Worcestershire sauce, sage, and garlic powder. Season with salt and pepper to taste, then fold in the egg.

Form the steak mixture into 8 small patties, about the size of your palm. Place them on the parchment-lined baking sheet. Once you've shaped all the patties, put them in the oven and bake them for about 25 minutes, until they're browned on the outside and hold together.

While the steaks are cooking, start the gravy. Heat the olive oil in a large skillet over medium heat. Add the onions and cook for about 3 minutes, until just beginning to soften. Add the mushrooms and cook about 5 minutes more, stirring occasionally, until the mushrooms are browned and have released their juices. Pour in the wine and increase the heat to medium-high. Cook until the wine has just about evaporated, about 2 minutes. Add the remaining tablespoon of tamari, the remaining teaspoon of thyme, and the mushroom or vegetable stock. Once the stock comes to a boil, let the gravy cook down for about 8 minutes, until it's reduced and thickened slightly, stirring occasionally.

Whisk the flour and 2 tablespoons of water in a small bowl. Pour this mixture into the gravy and reduce the heat to low. Simmer for 2-3 minutes, until the gravy has thickened. Remove from heat and season with salt and pepper to taste. The gravy will thicken as it cools. Spoon the gravy over the steaks to serve.
Nutrition
Serving:
2
steaks
Calories:
191
kcal
Carbohydrates:
26
g
Protein:
9
g
Fat:
5
g
Saturated Fat:
1
g
Polyunsaturated Fat:
1
g
Monounsaturated Fat:
3
g
Trans Fat:
1
g
Cholesterol:
41
mg
Sodium:
1085
mg
Potassium:
578
mg
Fiber:
5
g
Sugar:
6
g
Vitamin A:
374
IU
Vitamin C:
3
mg
Calcium:
55
mg
Iron:
3
mg
Craving more veg-friendly recipes?
Shop our collection of vegetarian and vegan cookbooks, including our new Vegan Thanksgiving and Vegan Christmas cookbooks!