Photos by Emily Caruso
Let's just get this out of the way: cauliflower steaks are not trying to be steaks. Cauliflower is not trying to catfish you—it's not all, "Yeah, sorry, I don't have a phone so we can't talk, but I swear I'm a steak. Here's a stock photo of me searing on a grill to prove it!" The term cauliflower steaks refers to the form the cauliflower takes, not the taste—rather than being broken into florets, it's cut into thick slices.
Because cauliflower steaks don't taste or cook like meat, I've never used them as a meat substitute in a recipe—until now! When I happened upon a Parmesan Chicken Cutlets recipe from Epicurious, I went through my mental rolodex of chicken substitutes and came up empty. I have a weird aversion to combining tofu and cheese, so that was out. Chickpeas? Nope. Seitan? Meh. And then I thought that the breadcrumb coating might be delicious on cauliflower. I'd have to adjust the recipe to bake it instead of frying, but Crispy Parmesan Panko Cauliflower Steaks sounded pretty irresistible.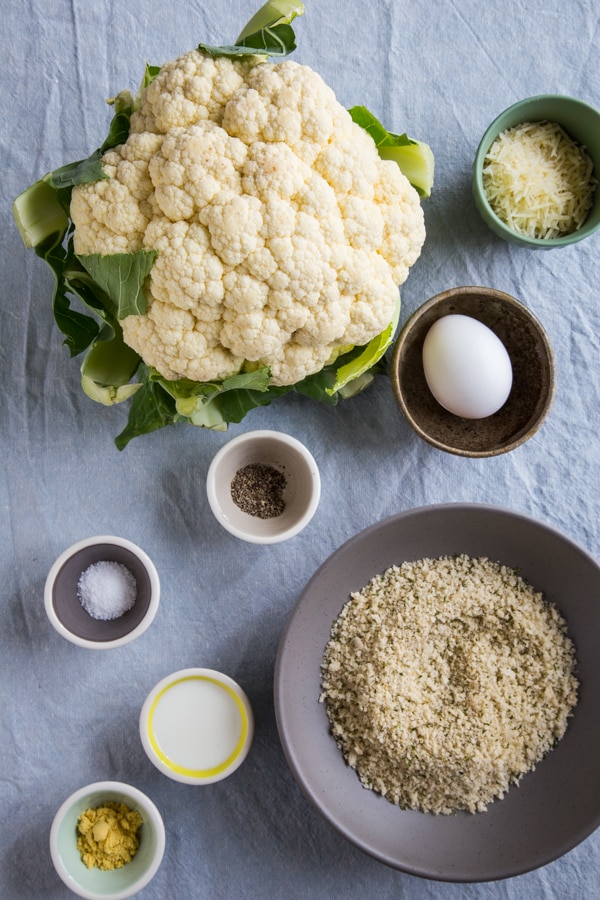 When you cut cauliflower into steaks, you have to embrace the fact that they're not going to be perfect—not like the photos you see in magazines, at least. When you cut the cauliflower into steaks, it's inevitable that some florets will fall off, especially on the ends. That's okay! As you can see in the photos here, we just bread and roast them with the rest. Other recipes I've seen say to discard the florets, reserve them for another use, or eat them as a snack, but unless you're cooking for someone you need to impress, I say you should just cook them with the steaks.
In my years of cauliflower steak making, I've learned a few tricks. First, using a large cauliflower helps and if you can find one that's oblong rather than round, that's even better—it will allow you to cut more steaks that stay intact. I always start by cutting the cauliflower in half down the middle, from the top to the stem, and then I cut each half into steaks.
You can serve these steaks with a variety of sauces, dressings and pestos—marinara or gremolata would be delicious—but I stuck with the original recipe's suggestion of serving with lemon wedges. A squeeze of lemon juice and a sprinkling of fresh herbs is all these steaks need.
Recipe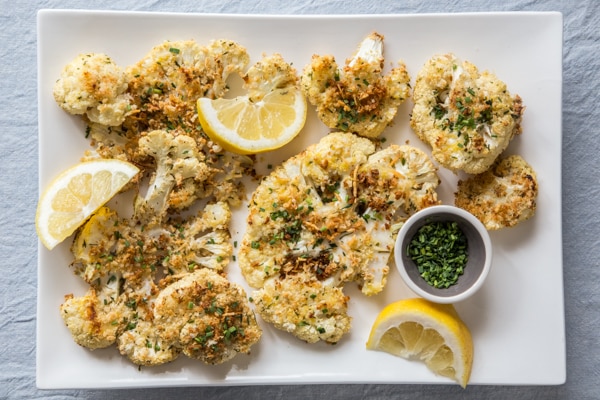 Instructions
Preheat oven to 400ºF and line a rimmed baking sheet with parchment paper.

Using a sharp chef's knife, trim the leaves from the bottom of the cauliflower and cut off the very bottom of the stem. Cut the cauliflower in half down the middle, through the stem. Take one half of the cauliflower and cut it into ¾ to 1-inch slices—you should end up with 2-3 steaks, with some florets falling from the sides. Repeat with the other half of the cauliflower.

Whisk together the egg and milk in a wide, shallow bowl with enough room to dip the cauliflower steaks. Pour the flour onto a large plate and combine the panko, parmesan, mustard powder, salt and pepper on a second large plate.

Dredge the cauliflower steaks in the flour, dip them in the egg mixture, and then press them into the panko mixture. Use your hands to make sure the cauliflower is fully coated on all sides with each. Place the steaks on the prepared baking sheet and spray liberally with oil.

Bake the steaks for 15 minutes, then flip them over and spray them with more oil. Bake for another 15-20 minutes, or until golden brown with tender florets. Sprinkle with chopped herbs and a squeeze of lemon juice before serving.
Nutrition
Calories:
166
kcal
Carbohydrates:
25
g
Protein:
10
g
Fat:
4
g
Saturated Fat:
2
g
Polyunsaturated Fat:
1
g
Monounsaturated Fat:
1
g
Trans Fat:
1
g
Cholesterol:
47
mg
Sodium:
241
mg
Potassium:
534
mg
Fiber:
4
g
Sugar:
5
g
Vitamin A:
132
IU
Vitamin C:
84
mg
Calcium:
146
mg
Iron:
2
mg
Craving more veg-friendly recipes?
Shop our collection of vegetarian and vegan cookbooks, including our new Vegan Thanksgiving and Vegan Christmas cookbooks!