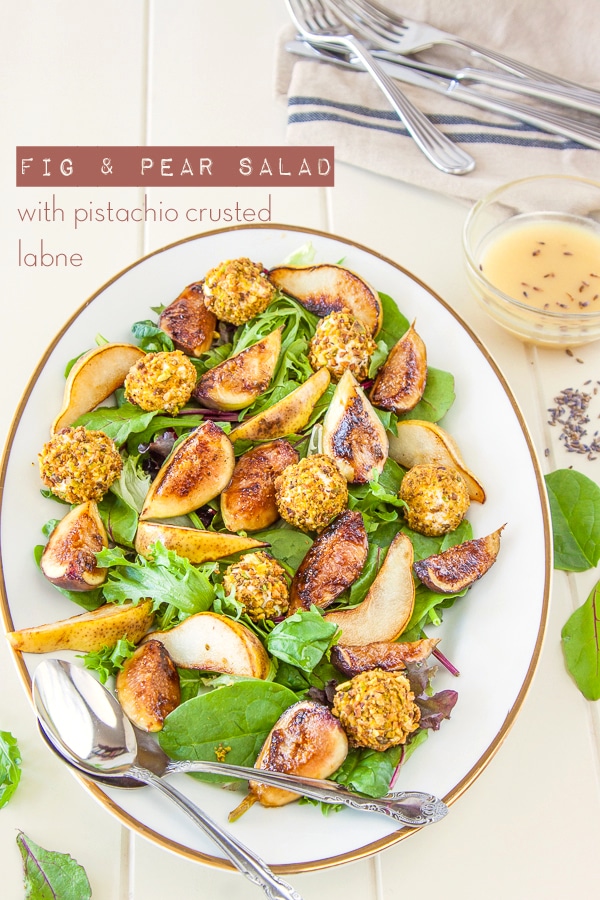 Figs are in abundance at the moment, and it has been very remiss of me to not share a fig recipe so far this season.
So, to make up for it, I have a special salad to share with you - this Fig and Pear Salad with Pistachio Crusted Labne and a Honey and Lavender dressing. Yes, it sounds a little fussy, but it really comes together quite quickly and easily. Promise!
It is a decadent salad, to enjoy over a glass of wine, or two, on a lazy Sunday, with a loved one, or a group of good friends. It also looks impressive, but, as I said, is really easy to put together.
The inspiration for this salad came from a simple combination of yoghurt, figs, honey and pistachios. Something I enjoy during fig season, and it kind of took a life of its own from there.
I made the labne and realised I had a few pistachios left from the last batch of granola I made, and thought that, once toasted and crushed, they would make a fabulous and pretty coating for the labne. Then as I reached into the pantry for the pistachios I spotted the lavender sitting neglected amongst my spices, and new I had to add that in too. The lavender, in the dressing, adds an interesting note, but don't stress if you don't have any lavender as you can easily leave it out.
Labne (sometimes called yoghurt cheese or labneh) is made from yoghurt which has been strained through a cheesecloth in order to remove excess whey. You can easily purchase it from most gourmet food stores, and even some supermarkets, however it is just as easy to make it at home. If you do decide to make your own (and I think you should) begin the recipe a day ahead, to allow time for the yoghurt to strain in the refrigerator overnight. If you don't have any yoghurt or labne try using some goats cheese instead, or even torn up pieces of blue cheese.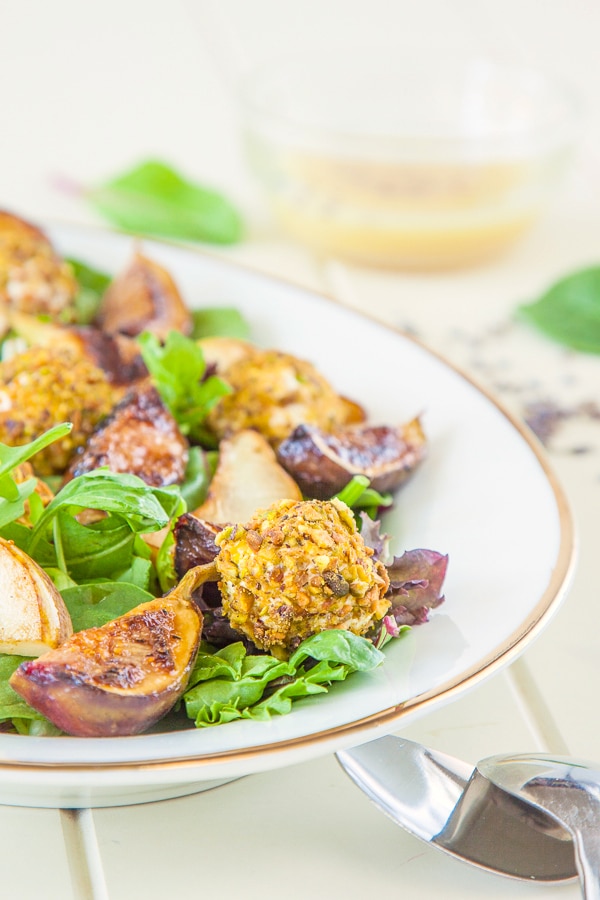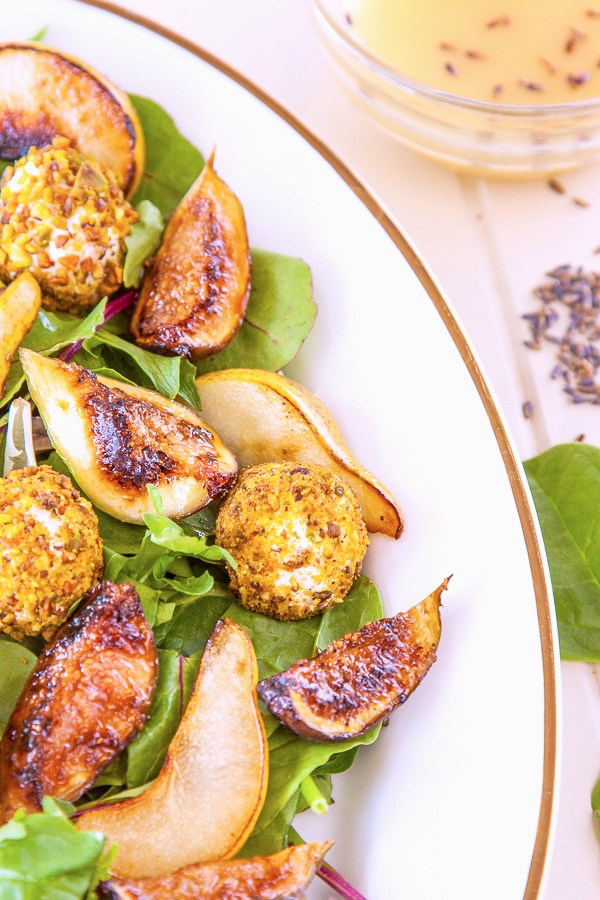 Recipe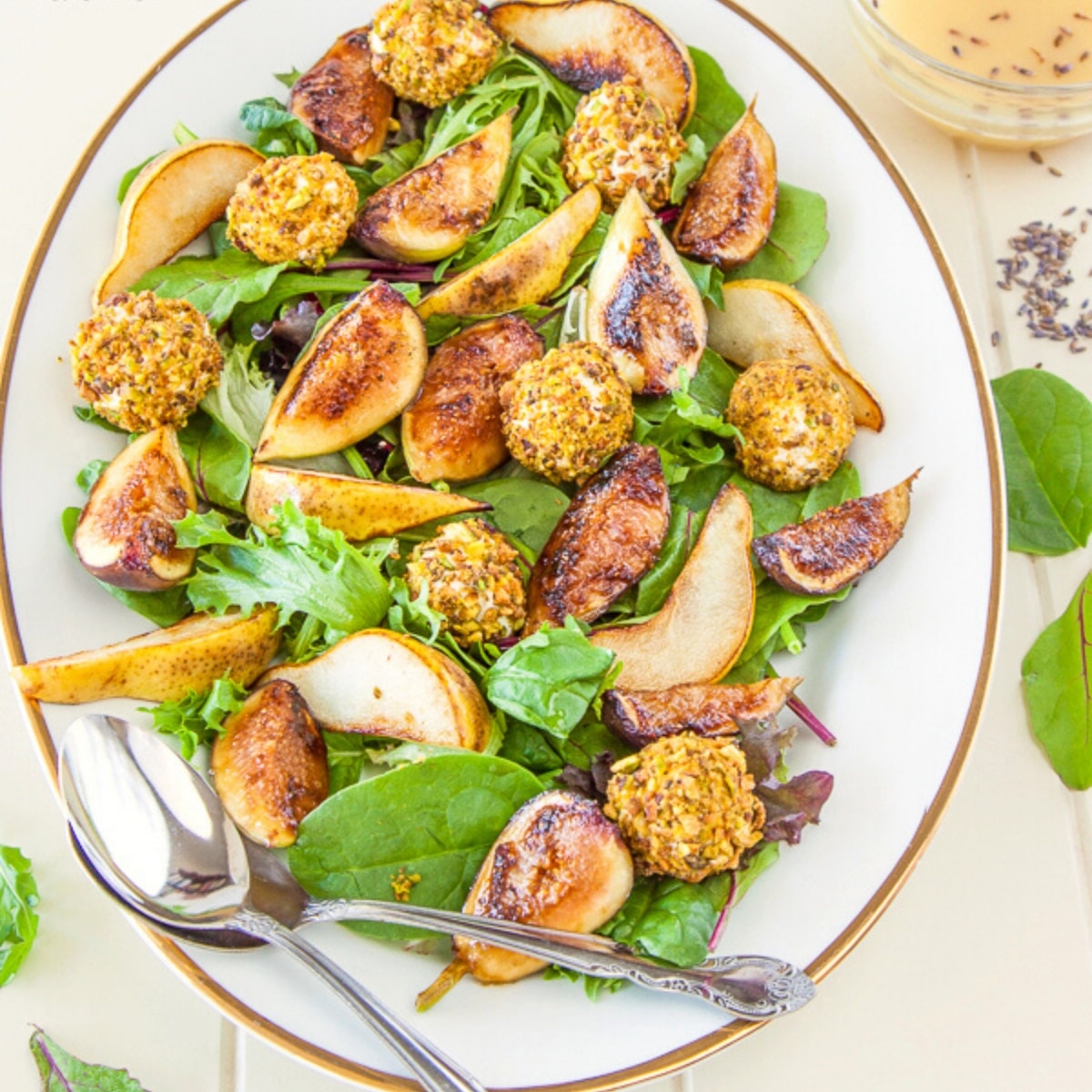 Ingredients
⅔

cup

Greek yoghurt

sea salt

⅓

cup

shelled unsalted pistachios

6

figs

quartered

2

pears

firm but ripe, quartered

1- 2

tsp

olive oil or butter

3

cups

salad leaves

HONEY & LAVENDER DRESSING:

3

tbs

extra-virgin olive oil

1

tbs

white wine vinegar

2

tsp

honey

1

tsp

dijon mustard

pinch of lavender

salt to taste
Instructions
Place the yoghurt in a [amazon_link id="B001VZ5E40" target="_blank" ]fine mesh seive[/amazon_link] lined with cheesecloth and sit over a bowl. Refrigerate overnight. Discard the liquid.

Meanwhile, place a dry [amazon_link id="B000GWG0T2" target="_blank" ]frying pan[/amazon_link] (don't add any oil) over a medium low heat and add the pistachios and cook for a few minutes, sitting now and then, until fragrant. Set aside to cool. Place the pistachios in a small food processor and process until until well chopped (be careful not to turn the pistachios into a paste) and place the chopped pistachios in a small bowl.

Season the labne (strained yoghurt) with sea salt to taste and stir well to combine. Form into teaspoon sized balls and coat in the crushed pistachios. Cover and refrigerate.

Return the frying pan to a medium heat and add the olive oil (or butter, if using) so that there is just enough to stop the fruit sticking and cook the figs and pears, cut side down, until golden (1 to 2 minutes). Place on a plate lined with paper towel.

To make the dressing combine all the ingredients in a jar, except the lavender. Lightly crush the lavender between your fingers to release its scent and add to the jar and seal and shake to combine.

Arrange the salad leaves on a platter and top with the figs and pears and pistachio crusted labne and drizzle with the dressing.
Nutrition
Calories:
664
kcal
Carbohydrates:
72
g
Protein:
14
g
Fat:
39
g
Saturated Fat:
6
g
Cholesterol:
4
mg
Sodium:
79
mg
Potassium:
867
mg
Fiber:
11
g
Sugar:
52
g
Vitamin A:
1070
IU
Vitamin C:
25.7
mg
Calcium:
186
mg
Iron:
2.2
mg
Craving more veg-friendly recipes?
Shop our collection of vegetarian and vegan cookbooks, including our new Vegan Thanksgiving and Vegan Christmas cookbooks!