Spring is upon us! Are you ready for it? Parts of the country may still be a winter wonderland, but over here in California, we're bright-eyed, bushy-tailed, and blue-sky-ed! March 20 marks the Spring equinox, and with that comes the transition between winter and spring produce. On account of that transition, I have tailored this week's meatless meal plan around lighter meals that still incorporate some winter vegetables. In my house, we're moving away from heavy winter comfort foods and easing into spring with lightened-up meals that are still nutritious and filling.
Want to ease (and eat!) into Spring? Here's this week's meatless meal plan!
Monday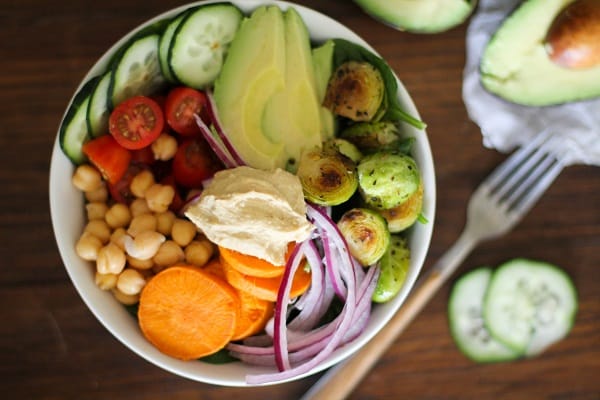 Nourish Bowl from Nutrition Stripped // Nourishing, well-balanced bowls such as this one are so versatile and simple! You can follow the recipe as provided on Nutrition Stripped, or you can modify it with your favorite add-ins. I love this meal because it takes into account the fine balance between healthy fats, fiber, and protein. I find this balance to be not only paramount in vegetarian and vegan eating, but also completely delicious. This recipe serves one, but since our meal plans are for four servings, we've quadrupled the ingredients on the shopping list; if you're cooking for fewer than four, adjust accordingly!
Tuesday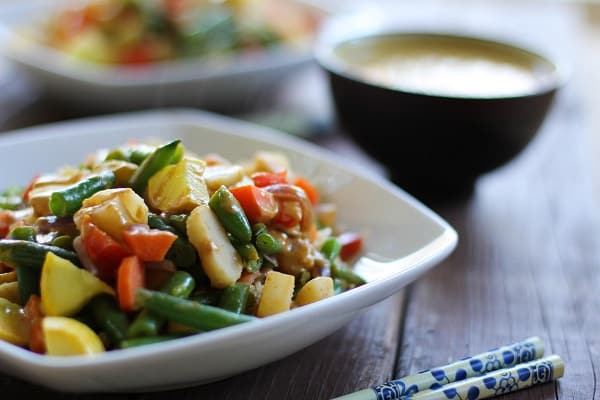 Vegetable Stir Fry with Thai Peanut Sauce from The Roasted Root // There are no words to describe my love of peanut sauce. Spring rolls and peanut sauce shall go down in history as my all-time favorite take-out! When I make peanut sauce at home, I like to keep the recipe all-natural and eliminate the sugar. It may not be the same as take-out, but it's nutritious and can be used in so many ways. I even use it as a dressing for Thai chopped salads! Vegetable stir-fry with homemade Thai peanut sauce is one of my go-tos for post-work weeknight meals. The recipe comes together quickly and the leftovers are perfect for lunch the next day.
Wednesday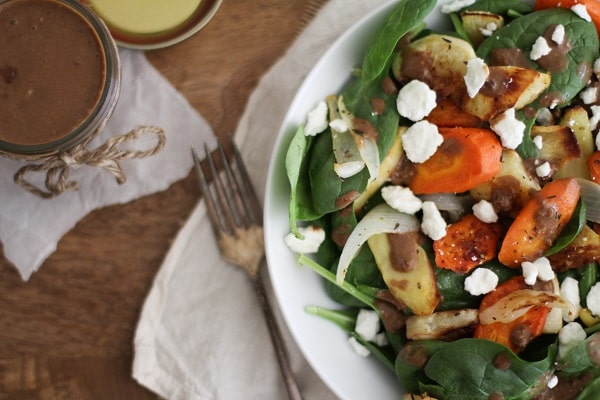 Roasted Root Vegetable Salad with Balsamic-Date Dressing from Aida Mollenkamp // Roasted root vegetables! My favorite! I'm cherishing the abundance of root vegetables that are still available at my grocery store, and absolutely love adding roasted veggies to green salads. The balsamic-date dressing that goes along with this recipe is completely delicious! I'd even recommend making a double or triple batch of it to keep on-hand if you and your family eat a lot of salads. Consider modifying this salad to incorporate roasted walnuts, pecans, and/or quinoa if you're looking to add some protein.
Thursday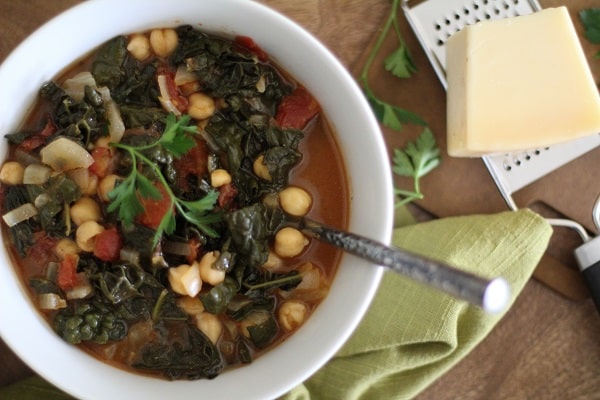 A Modest Vegetable Soup from Produce on Parade // Modesty (along with honesty) is a great policy! This soup was gone the same night I made it, in spite of the fact that only one other person besides me was eating it. It is so full of flavor, and while it may be simple (and modest!), it is completely satisfying. This lighter soup recipe is a definite keeper and can be made any time of year--a win for someone like me, who absolutely eats soup even during the summer months! Because this soup serves 3, you'll want to serve it with leftovers from last night's salad.
Friday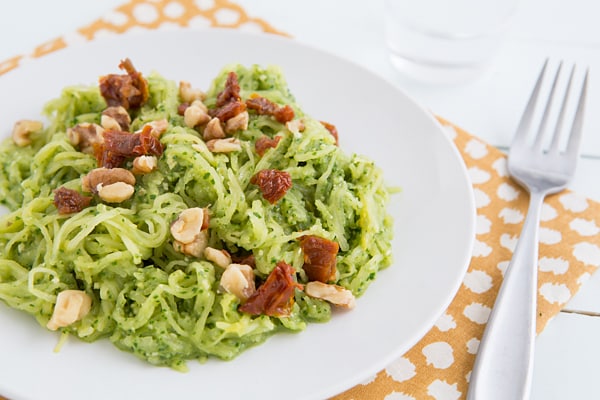 Spaghetti Squash with Garlicky Kale Pesto and Sun-Dried Tomatoes from Oh My Veggies // Have you tried Kiersten's garlicky kale pesto? Because it's bangarang! Pesto, sun-dried tomatoes, and walnuts are one of my favorite flavor/texture combinations--I really never get sick of it. As a huge fan of spaghetti squash, I love that this meal is healthful, filling, comforting, and delicious all swaddled up in one complete cozy package.  Similar to Tuesday's recipe, I recommend making more garlicky kale pesto sauce than you need if you enjoy having homemade sauces on-hand!
Tips for This Week's Meal Plan
You'll notice these recipes call for a lot of greenery: romaine lettuce, spinach, chard, and kale! In order to save yourself a little hassle, double up on 2 of the greens instead of getting all four.
Cross-check the shopping list against what you want in your Nourish Bowl; the recipe is flexible and can be customized to your liking. It's also a great recipe for cleaning out the fridge and pantry or for using up veggies from a CSA box.
I left the kelp granules for the Nourish Bowl off of the shopping list, so add them back if you like!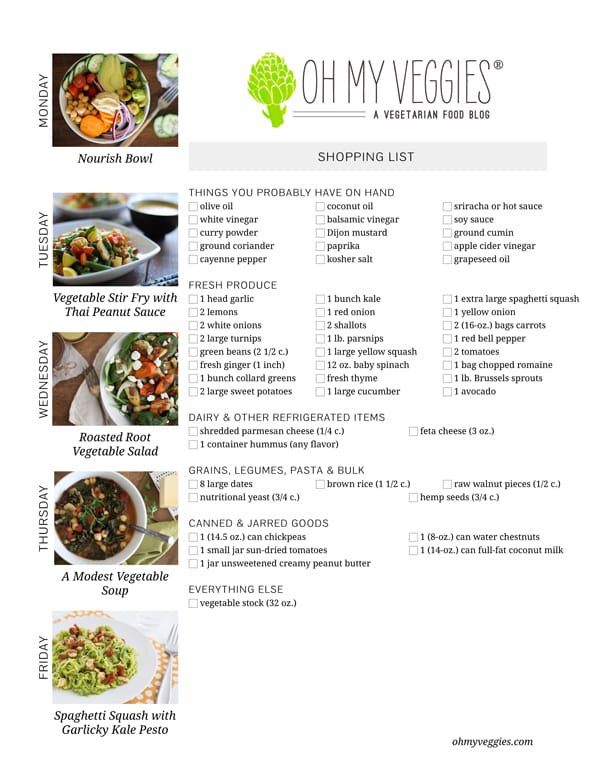 Click here for a printable version of this week's meatless meal plan and shopping list, then click on the links above to print out each recipe. Now you're set for the week!