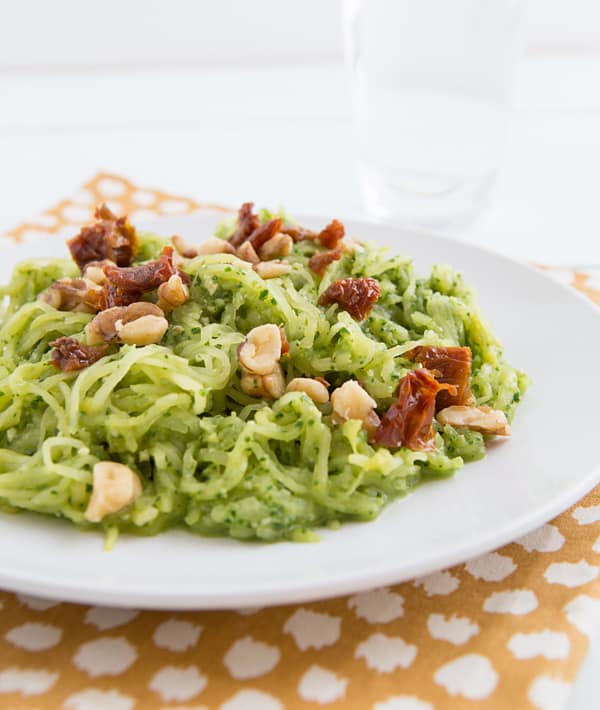 It took me a long time to warm up to spaghetti squash. I think it's because I had unfair expectations. People say they eat it because it's just like eating spaghetti (!!!), but those people are liars because it's really not like eating spaghetti. It's like eating squash in the shape of spaghetti. Which is good! But it's not spaghetti! Please don't lie to me about pasta!
The other reason I was on the fence about spaghetti squash was the wateriness. Sometimes spaghetti squash releases a lot of liquid after you've cooked it and this can pretty much ruin any recipe you're using it in. I searched the web for tips on how to prevent this, but I couldn't find much about it. Through trial-and-error, I've learned that roasting the squash, instead of steaming or microwaving it, results in the least amount of water, and that when you're pairing the spaghetti squash with a sauce, you need to make it a little bit stronger than you normally would so it's still flavorful when tossed with the squash.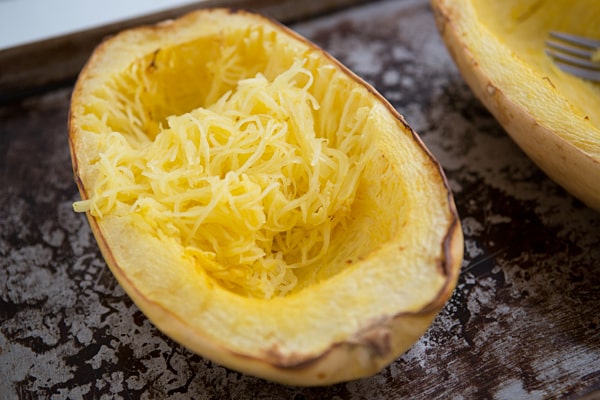 For this particular sauce, I made some slight adjustments to a kale pesto that Kare from Kitchen Treaty had posted as part of a White Bean & Kale Pesto Dip recipe. Basil pesto would be a solid choice too if you don't want to go the kale route, but since it's fall and basil is no longer growing right outside my kitchen (sad!), I went with kale. Although I halved other ingredients in the pesto, I kept the amount of garlic the same to compensate for any water the squash released after being tossed with the sauce. (And the great thing about making your own pesto is that you can use it for other recipes, too! I topped each plate with toasted walnuts and sun-dried tomatoes; if you have a little more time, roasted broccoli would be a great addition to this dish too.
I'm not going to tell you it's going to curb your craving for pasta, but this recipe is really good. So good that maybe you'll forget you had a pasta craving in the first place. That works too, right?
This post was originally published on October 31, 2013.
Recipe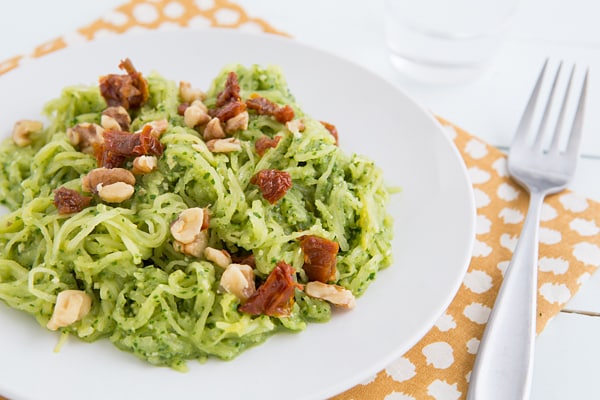 Ingredients
1

extra-large spaghetti squash

seeded and halved

Oil mister or cooking spray

1 ½

cups

packed torn kale leaves

½

cup

raw walnut pieces

divided

¼

cup

shredded Parmesan cheese

¼

cup

olive oil

1

tablespoon

fresh lemon juice

2

garlic cloves

minced

Salt and pepper to taste

⅓

cup

chopped sun-dried tomatoes
Instructions
Preheat oven to 400ºF.

Place the spaghetti squash halves cut-side-up on a baking sheet and spray the tops with oil. Bake until tender and just beginning to brown on the edges, about 40 minutes. Allow the squash to cool slightly; if liquid has collected in the centers, drain it off, then scrape out the insides with a fork and separate it into spaghetti strands.

While the squash is baking, combine the kale, ¼ cup walnuts, cheese, olive oil, lemon juice, and garlic cloves in your food processor. Process until smooth. Season to taste with salt and pepper.

Toast the remaining walnuts and set aside.

Toss the spaghetti squash with the pesto in a large bowl. Divide onto 4 plates and top each with the toasted walnuts and sun-dried tomatoes.
Notes
The squash I used was 5 pounds. If you can't find one that big, you could buy two or three smaller ones, but note that they may need less time in the oven.
Nutrition
Calories:
353
kcal
Carbohydrates:
27
g
Protein:
8
g
Fat:
27
g
Saturated Fat:
4
g
Polyunsaturated Fat:
9
g
Monounsaturated Fat:
12
g
Cholesterol:
4
mg
Sodium:
174
mg
Potassium:
778
mg
Fiber:
6
g
Sugar:
11
g
Vitamin A:
2932
IU
Vitamin C:
41
mg
Calcium:
195
mg
Iron:
3
mg
Craving more veg-friendly recipes?
Shop our collection of vegetarian and vegan cookbooks, including our new Vegan Thanksgiving and Vegan Christmas cookbooks!