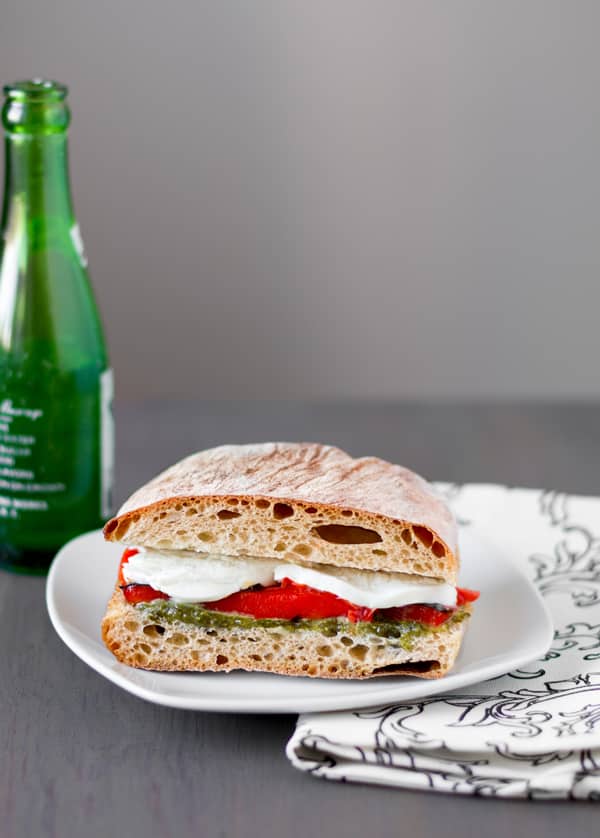 Photos by Rikki Snyder
These Roasted Red Pepper and Mozzarella Sandwiches are a tasty and creative way to use up your leftovers. The homemade arugula pesto (recipe included) ties all the flavors together perfectly.
Made for Leftover Lovers and Leftover Haters
Not everyone is a fan of leftovers, but for me, it feels like a triumph to cook once and have dinner for two days. I win at meal planning! Take that, world! And then I do a little dance in my kitchen, waving my hands in the air like I just don't care, thinking about all the things I'll have time for now that I don't have to make dinner. Things like watching RuPaul's Drag Race and making up songs about my cats.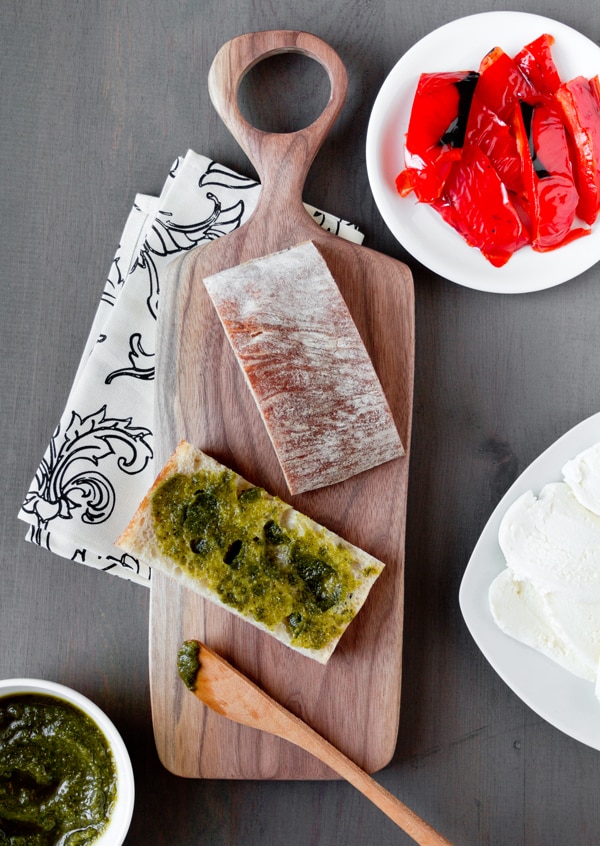 I do get why some people have an aversion to leftovers, though. A lot of the time, things just aren't quite as good the second time around. So this recipe is the perfect compromise for leftover lovers and leftover haters. It starts with a big batch of arugula pesto. Whip that up and use it to make Roasted Red Pepper and Mozzarella Sandwiches one night, and then the next night, use it to make a pasta dinner.
Get Creative
Let's start with the sandwiches. You can grill them panini-style to make them gooey and melty and warm, or you can skip that part and eat them without heating. Arugula has a peppery, assertive flavor, so I like pairing it with a mild cheese like mozzarella and sweet roasted red peppers. And you have options here too—use jarred red peppers to save time or roast your own, it's up to you.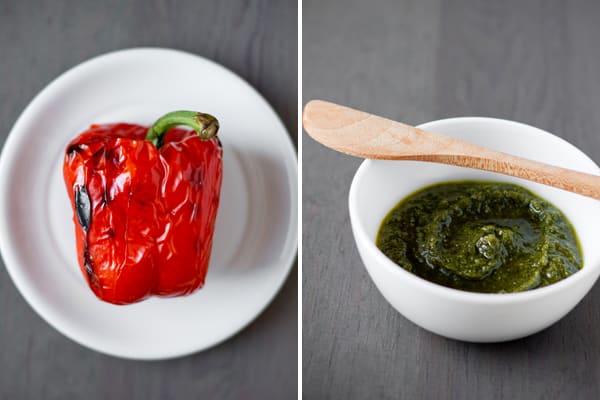 You'll have plenty of pesto left after making the sandwiches; just enough to toss with pasta the next day for another dinner. Add some sun-dried tomatoes, steamed broccoli, and toasted pine nuts to make it a meal. That's a 15-minute dinner right there! Now go write some songs about your cats with all that free time you have.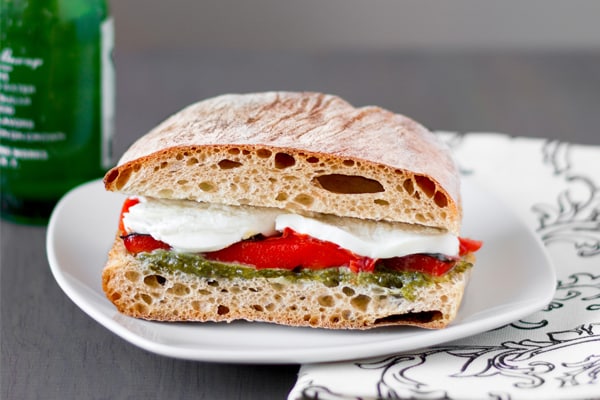 Ingredients
1

large red bell pepper

1

large loaf ciabatta bread

cut in quarters and then halved lengthwise

¼

cup

Arugula Pesto

1

8 oz ball fresh mozzarella cheese, cut into 8 slices

olive oil
Instructions
Preheat oven to 500°F (broil).

Line a small baking sheet with foil. Put the pepper on the baking sheet and broil until the skin is beginning to char, using tongs to turn occasionally, about 10 minutes. Remove the baking sheet from the oven and wrap the foil around the pepper. (Use oven mitts!) Let the pepper steam in the foil for 10 minutes.

Remove the pepper from the foil and transfer it to a cutting board. Peel off the skin, cut off the stem, pull out the seeds, and discard them. Cut the rest of the pepper into thick strips.

Spread 1 tablespoon of pesto onto the bottoms of the ciabatta bread. Divide the pepper strips onto the bread, then place the mozzarella slices on top of the pepper strips. Top with the remaining slices of bread and brush the tops with olive oil. (If you're going to serve the sandwiches cold, don't brush them with oil—just eat them!)

Heat a grill pan or griddle over medium heat. Flip the sandwiches over and place them on the grill pan oiled-side down, then brush the other side of the sandwich with oil. Use a spatula to press the sandwiches down slightly, but don't press too hard or you'll have a mess of mozzarella everywhere! Cook 5–8 minutes on each side, or until golden brown.
Notes
Jarred roasted red peppers can be substituted for the fresh red bell pepper. If you can't find a loaf of ciabatta bread at your grocery store, any sturdy, crusty bread will work.
Nutrition
Calories:
268
kcal
Carbohydrates:
55
g
Protein:
10
g
Fat:
1
g
Saturated Fat:
1
g
Polyunsaturated Fat:
1
g
Monounsaturated Fat:
1
g
Cholesterol:
1
mg
Sodium:
554
mg
Potassium:
63
mg
Fiber:
2
g
Sugar:
1
g
Vitamin A:
933
IU
Vitamin C:
38
mg
Calcium:
3
mg
Iron:
1
mg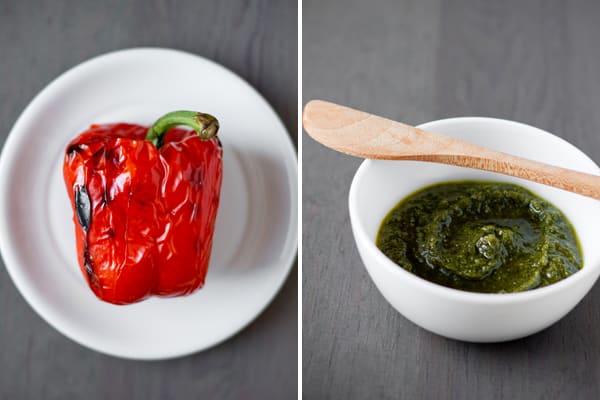 Ingredients
2

cups

packed arugula leaves

⅓

cup

toasted walnut pieces

⅓

cup

shredded Parmesan cheese

2

small cloves garlic

2-3

tablespoons

extra-virgin olive oil

Salt and pepper to taste
Instructions
Combine arugula, walnut pieces, cheese, and garlic in the large bowl of a food processor. Pulse until finely chopped, then pour olive oil through the feed tube and continue to process until almost smooth. Season with salt and pepper to taste.
Nutrition
Calories:
163
kcal
Carbohydrates:
2
g
Protein:
5
g
Fat:
16
g
Saturated Fat:
3
g
Polyunsaturated Fat:
5
g
Monounsaturated Fat:
7
g
Cholesterol:
6
mg
Sodium:
137
mg
Potassium:
94
mg
Fiber:
1
g
Sugar:
1
g
Vitamin A:
304
IU
Vitamin C:
2
mg
Calcium:
127
mg
Iron:
1
mg