A puff pastry tart topped with Brussels sprouts, apples, and walnut pesto. This savory tart is perfect for a vegetarian Thanksgiving or Christmas dinner, or just a tasty meatless meal.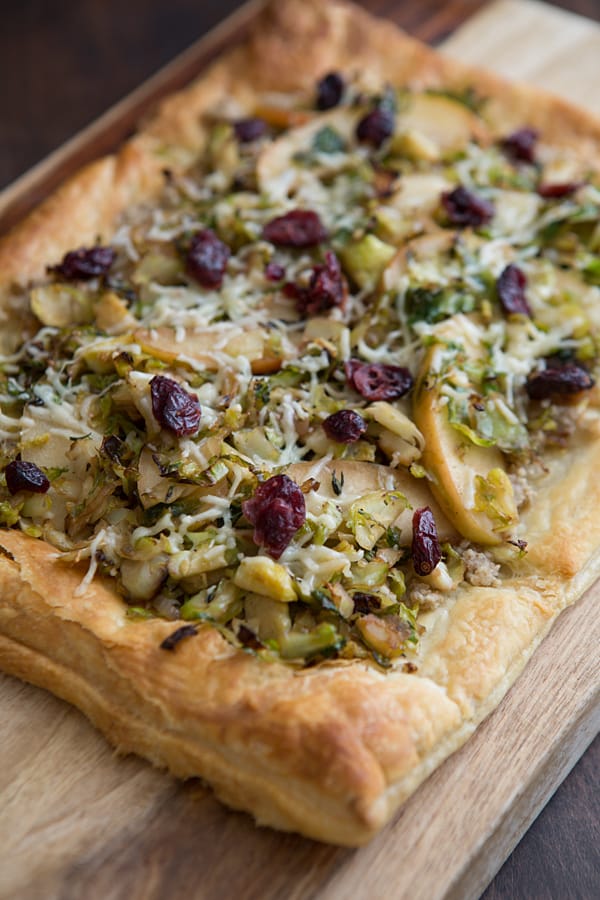 This Brussels Sprout and Apple Tart with Walnut Pesto recipe makes a perfect vegetarian main dish, side, or appetizer for Thanksgiving! (Or Christmas, too.)
Thanksgiving is next week. (At least when I'm writing this it is.) Did I just blow your mind?
Fine, maybe not. Maybe you are a person who has things together, who plans everything in advance, and for that, I commend you. I used to be that person too. But then I turned into a person says "Have a good weekend!" on Tuesdays and who does all her Christmas shopping the day before Christmas.
I have no sense of time and no have-it-togetherness. Evidenced by my use of the word "have-it-togetherness."
The thought of hosting a Thanksgiving gathering makes me a little bit woozy, in fact. There is so much planning involved! It's kind of like Tetris, except instead of fitting together colorful shapes, you're figuring out when to put the gratin in the oven when the breadsticks need to be cooked at the same time, but at a different temperature or how you're going to cook 5 different things on the stovetop when you only have 4 burners.
Also, there's no Russian-y Tetris music playing while you figure this stuff out, which makes it much less fun.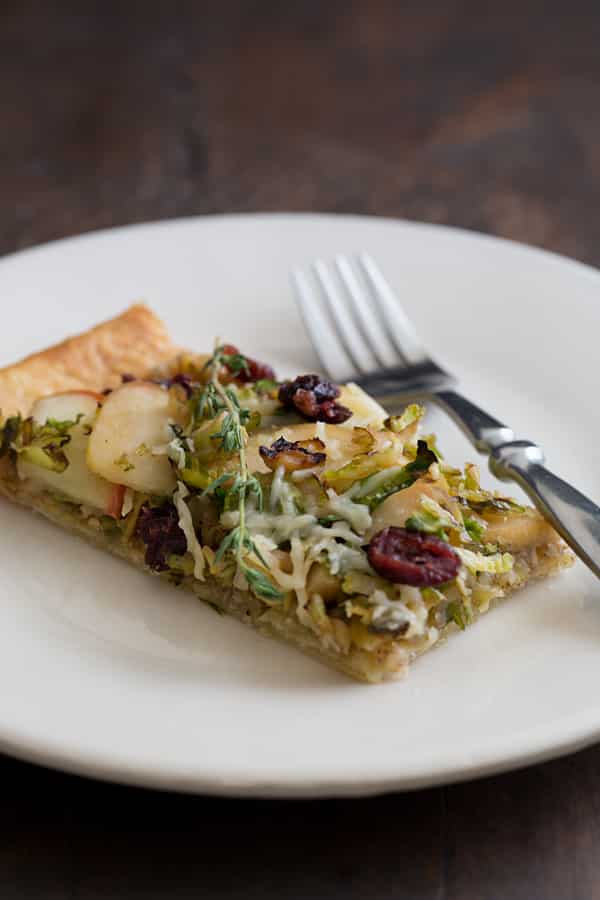 Well, this is the kind of meatless main dish that makes things a little bit easier. (You thought I wasn't getting to a point, huh?)
Here's the game plan: you make the pesto and the Brussels sprout topping the day before. On Thanksgiving day, you'll prepare the puff pastry crusts and top them - they only take 15 minutes total in the oven.
So after your gratins and casseroles and whatnot have finished cooking, cover them to keep them warm, then pop these savory tarts in the oven.
This brussel sprout and apple tart is hearty enough to be a main dish for your vegetarian guests, and you can cut smaller pieces for others to have a taste too.
It's nice to have vegetarian main dishes that double as sides for everyone else on Thanksgiving - less alienation! I've paired Brussels sprouts with apples before and it's one of the most popular recipes on Oh My Veggies.
Brussels sprouts go so well with that little bit of sweetness from apples. This tart is the perfect balance of savory and sweet flavors, with a flaky puff pastry crust to boot. Yum!
P.S. If you're looking for more holiday inspiration, be sure to check out our brand new Vegan Thanksgiving Cookbook!
Recipe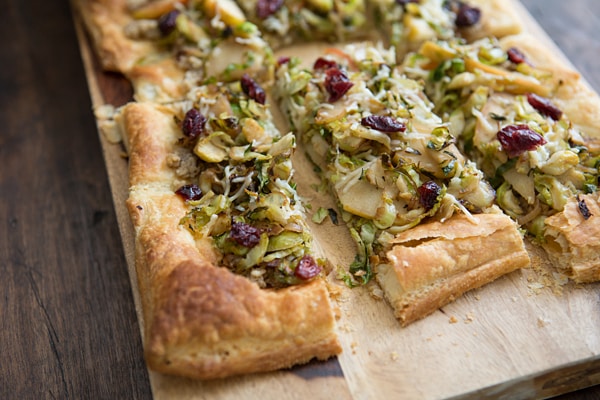 Instructions
Preheat oven to 425°F.

Put the walnuts, ¼ cup of cheese, and olive oil in a food processor and process until crumbly. Season with salt and pepper.

Heat the butter in a large skillet over medium heat. Add the shallot and cook for about 5 minutes, until softened. Stir in the Brussels sprouts and apple slices; cook about 10 minutes more, or until apples and sprouts are beginning to brown. Stir in the maple syrup and thyme, then remove from heat and season to taste with salt and pepper.

Place the puff pastry on baking sheets lined with

Silpats

or parchment paper; roll the pastry out to about 9x12 inches. Bake for 8–10 minutes, or until the pastry is puffed and golden brown. Gently press down the center of the pastry, leaving a 1-inch margin on all sides. Sprinkle the pesto onto the crust, then top with half the cheese, the sprouts and apples, then the remaining cheese. (You might have some of the sprout mixture leftover.) Return to the oven for 5 more minutes to melt the cheese, then top with the cranberries. Cut each tart into 6 pieces and serve.
Nutrition
Calories:
536
kcal
Carbohydrates:
43
g
Protein:
12
g
Fat:
37
g
Saturated Fat:
9
g
Polyunsaturated Fat:
9
g
Monounsaturated Fat:
18
g
Cholesterol:
7
mg
Sodium:
320
mg
Potassium:
365
mg
Fiber:
5
g
Sugar:
9
g
Vitamin A:
561
IU
Vitamin C:
51
mg
Calcium:
163
mg
Iron:
3
mg
Craving more veg-friendly recipes?
Shop our collection of vegetarian and vegan cookbooks, including our new Vegan Thanksgiving and Vegan Christmas cookbooks!