How to make vegan puff pastry from scratch! Don't buy store bought chemical laden rubbish. This recipe yields a wonderful golden flaky pastry. And below you'll find a video of complete step by step instructions to help ensure success at home!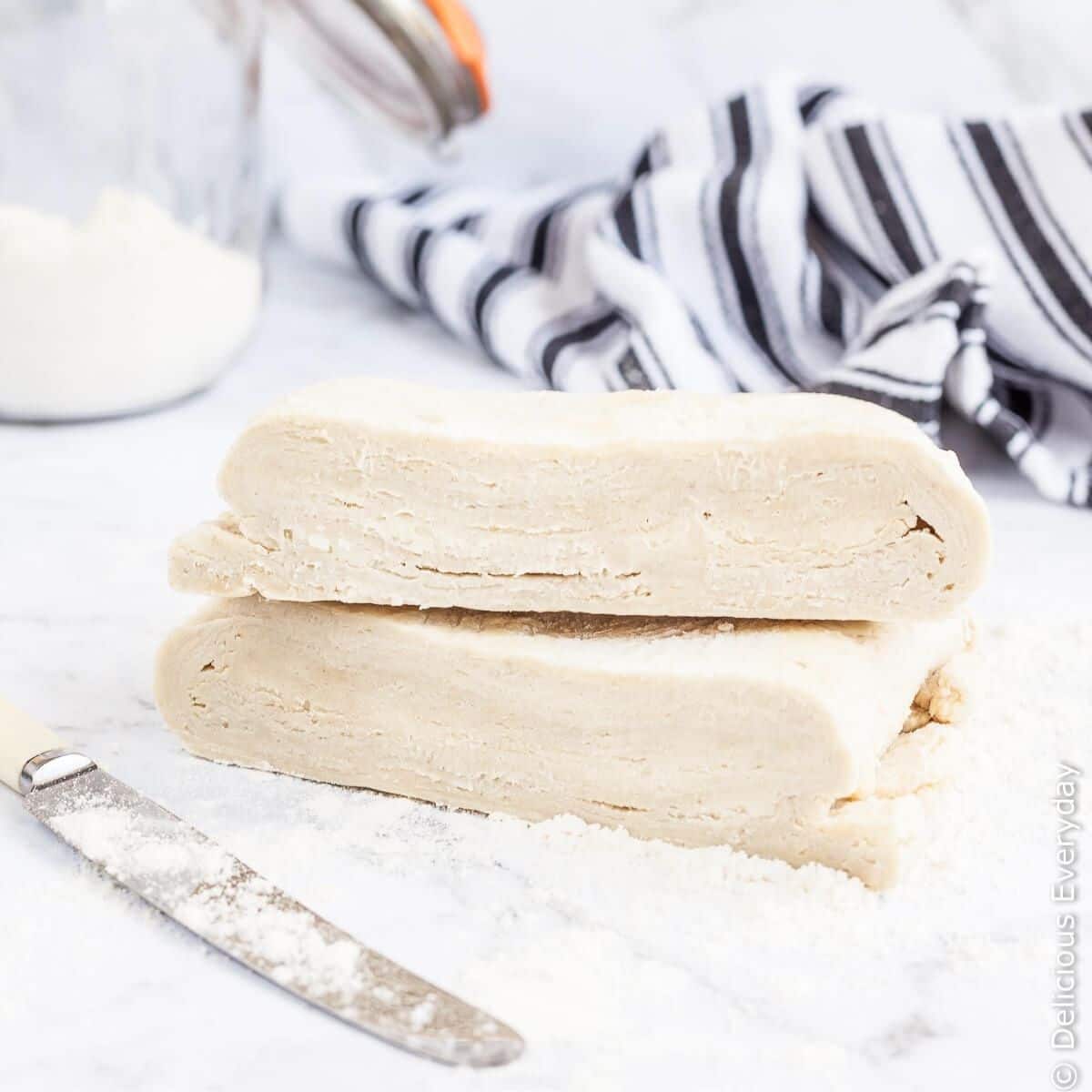 I can't begin to tell you just how much time I've spent perfecting this recipe.
To say I've been obsessed with getting this recipe right is an understatement. For the last 2 months, I've slept, eaten and breathed this my vegan puff pastry.
I've tested it over and over and over, each time adjusting the measurements ever so slightly to get the end result I wanted - a homemade dairy-free vegan puff pastry that is flaky, golden and delicious.
(And if you think this is amazing too, be sure to grab a copy of my free 5-Day Vegan Meal Plan. It's packed with all my favorite vegan recipes - plus you'll get freebies like a handy cheat sheet for easy vegan cooking.)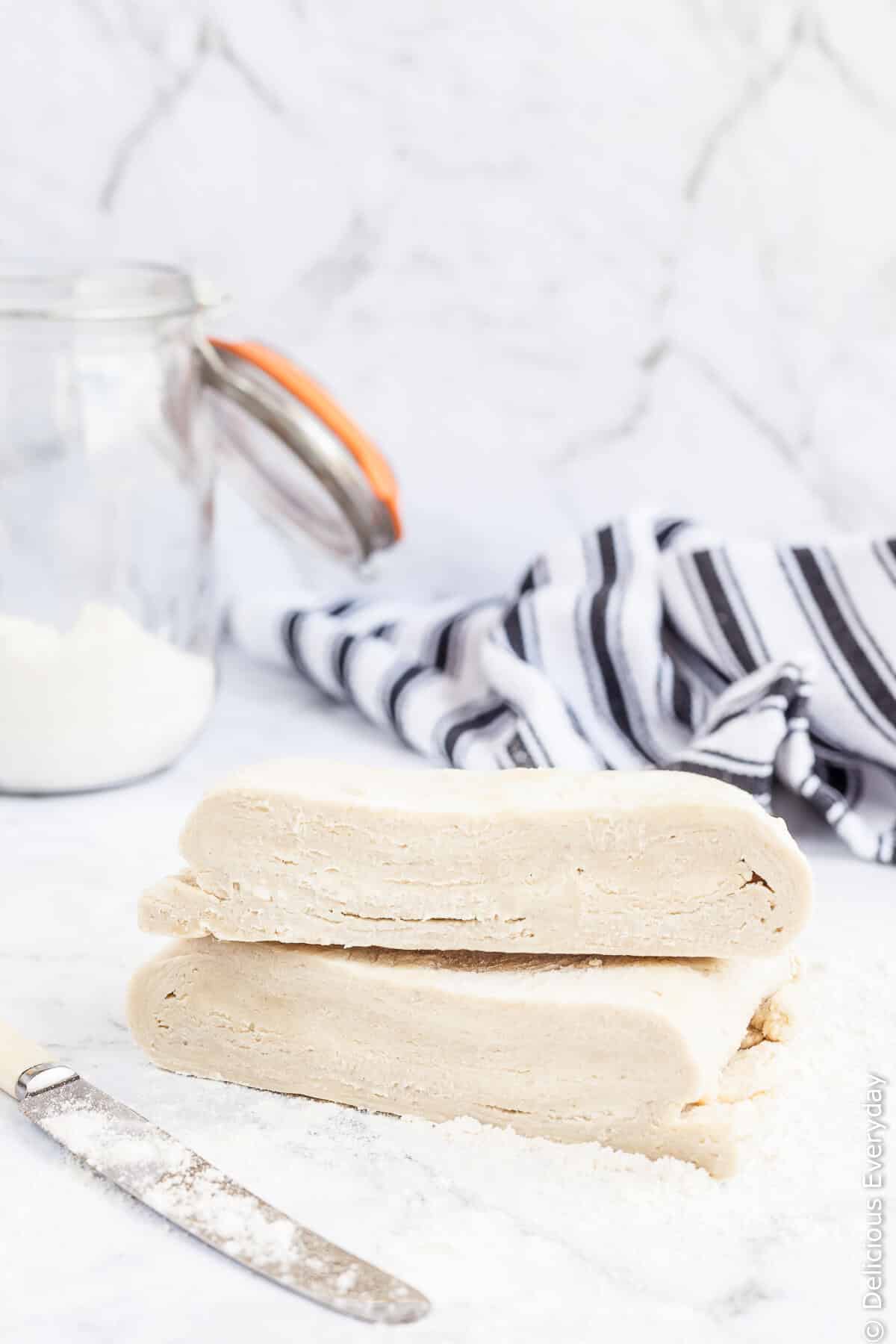 Why you might ask, have I gone to so much effort when you can simply buy dairy free puff pastry from the freezer section of your local supermarket?
Obsession with making food from scratch has something to do with it. I like to make as much as possible myself because then I know exactly what has gone into it.
Every weekend I make liters of vegetable stock, and the other day I milled some wheat I had left over from a commercial I filmed and used it to make bread rolls.
But as much as I love knowing exactly what has gone into my food, what I love more is the act of cooking and creating something from scratch. It's relaxing and I find it so rewarding.
My journey down the dairy free puff pastry path began when I first made Nina's vegan butter about 12 months ago. I loved it and marveled at how - from a mix of a couple of ingredients - a wonderfully creamy emulsified butter was formed.
I enjoyed the butter on bread and toast.....and then forgot about it until a couple of months ago when I began planning my Christmas menu.
Top of my list was the fact I wanted to make my Mushroom Wellington but I wanted to make it dairy free and vegan so everyone could enjoy it.
But given that I'm trying to eat less dairy, all butter puff pastry was now out of the question. I needed a vegan puff pastry.
(This would be a good time to mention my vegan baking cheat sheet. If you love to bake like me, be sure to snag a copy. It's packed with all my favorite substitutions to vegan-ize just about any recipe.)
Then I remembered Nina's butter, made a batch and used it to make rough puff pastry.
The problem was that the weather at this time of year is unforgiving, and the week I decided to try my hand at making vegan puff pastry we were experiencing a relentless heatwave.
Even with the air conditioner at full blast and only taking the butter out of the fridge when absolutely necessary the butter quickly began to melt and pastry was soft and tore easily.
Even all butter pastry is difficult to work with in the heat we have here!
I knew I needed something more stable. A little more forgiving. And ultimately something that could cope with the hot summer days we have here in Florida.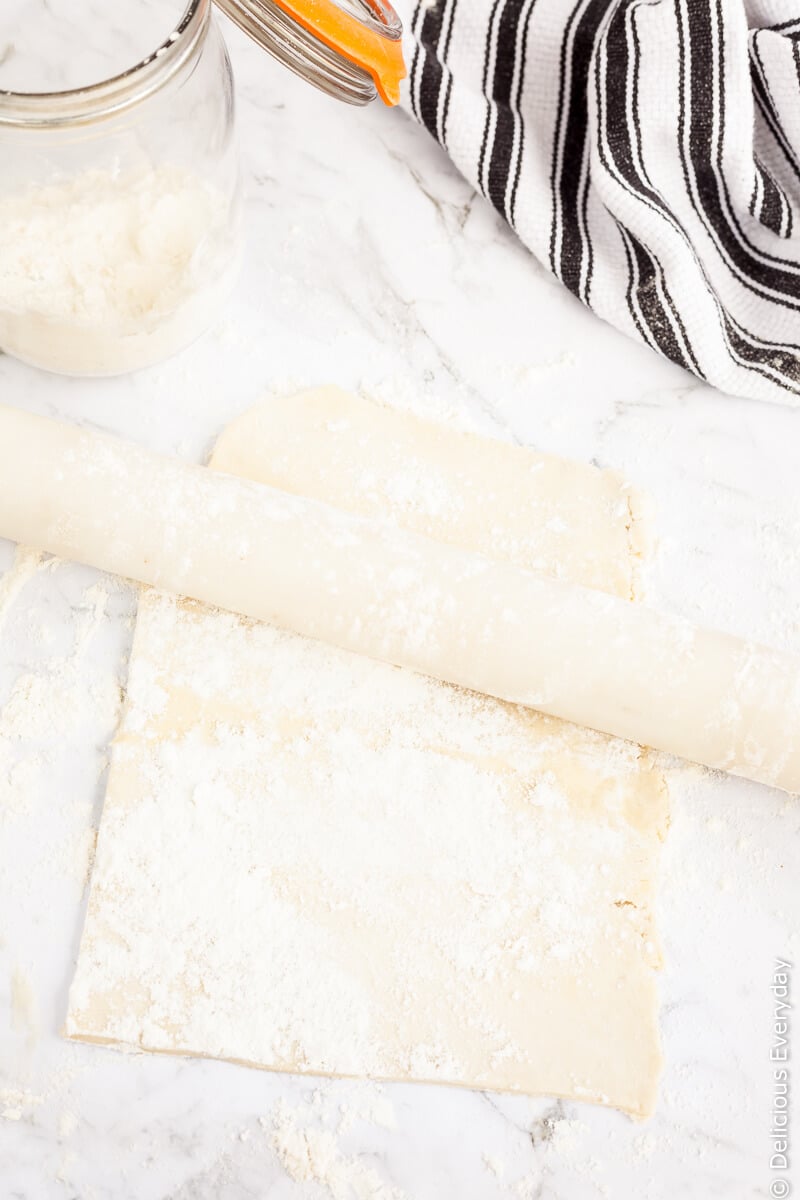 I then spotted the cocoa butter (grab some here!) I have stashed away in my pantry, which I use to make vegan panna cotta and vegan ice cream.
Given it is a hard butter, that is solid on even the hottest summer days I thought I'd give it a try. I was close but still not there.
I replaced the vinegar and salt and I added miso to provide that slight tang that butter has, and also because it provides a wonderful umami flavor.
With each attempt, I upped the cocoa butter percentage ever so slightly, until I reached the recipe I'm sharing with you today.
It is not rock solid out of the fridge, but it holds itself well and it can be rubbed into the flour without completely falling apart and when the pastry is rolled out.
If you've chilled your butter for a couple of days before rubbing it into the flour it will be a little firmer. You'll just need to use a little extra pressure. 🙂
The end result is the vegan puff pastry you can see wrapped around my beautiful vegan Mushroom Wellington. Can you see how flaky and golden it is? And completely vegan from head to toe!
It's one of the most popular recipes on the blog today! And it's also included in my free vegan toolkit - grab a copy while you're here!
Admittedly vegan butter requires more care than regular butter, but I think it's totally worth it.
So I thought I'd share a few tips for vegan puff pastry success:
Make sure the melted coconut oil and cocoa butter has cooled to room temperature before using. Allow an hour for this. If you live in a hot climate, like me, your coconut oil will probably be liquid at room temperature and therefore not need melting.
Chill your aquafaba (otherwise known as chickpea water) and olive oil while your cocoa butter is cooling. To get aquafaba - you literally just take a can of chickpeas (like this!) and use the liquid from the can.
Chill the jug you plan to make your butter in. It is also important to use a jug with a narrow base. Ideally, the jug will be the same diameter from top to bottom. In the video below I've used my Pyrex jug so you can see what is happening, but normally I use a jug like this.
Make sure to foam up your aquafaba BEFORE drizzling in the oil. And make sure to blend ALL the oil you've added BEFORE adding more!
Go slowly! I can't reiterate the importance of this enough. The magic of this process relies on the aquafaba to emulsify the oils. Add the oil too quickly and your butter will split. And as you reach the end don't get excited and dump the rest of the oil in. This is when it is most prone to splitting.
Pour your thick emulsified butter into a shallow flat dish lined in plastic wrap and chill for 2 hours before using. Don't cover it while you initially chill it. Once it has chilled for 2 hours, and if you don't intend on using the butter that day you can cover it.
Have I scared you? I hope I haven't, as I do feel it is a worthwhile process, especially for special occasion recipes. And what better occasion could there be than Christmas or Thanksgiving?
To help you along the way, and to understand the process I've put together a video of the process. If you don't already see it playing - scroll down to the recipe card or view it here.
Yes, my FIRST EVER video. As it is my first video please be kind. Depending on the feedback I might make more videos in the future. So if you'd like to see more videos PLEASE LET ME KNOW by leaving a comment!
FAQs from Readers about this Recipe
Help, my butter split!!!
This happens when you try to add the oil too fast or you didn't cool everything before hand.
If it happens, though, don't fear, all is not lost! Finish adding all the oil and refrigerate as normal.
You can use this split butter in place of regular butter to make cookies or cake. However, I wouldn't recommend using it to make vegan puff pastry.
Due to the fact that the oils haven't been completely emulsified, you're likely to find your vegan puff pastry will weep some of the oil while you are rolling it out and while it is being baked. If that doesn't bother you fine, but the end result won't quite be the same.
What can I use the butter for other than vegan puff pastry?
I've used it successfully in cookie recipes that don't require butter to be melted. If the recipe calls for melted butter simply use your favorite oil.
You can use it in cakes as well. However, I'd stick to recipes where the butter flavor is prominent otherwise I feel it is a bit of a waste.
How long will the vegan puff pastry keep?
The vegan puff pastry is best used within 3 to 4 days of being made.
How long will the butter keep?
The vegan butter keeps for up to 3 to 4 weeks in an airtight container.
More Vegan Recipes
If you're here planning your holiday menu, don't miss our new Vegan Christmas and Vegan Thanksgiving cookbooks. They're packed with all my favorite holiday-worthy recipes for a plant-based feast.
And if you love this vegan puff pastry recipe, be sure to check out these other delicious ideas:
Recipe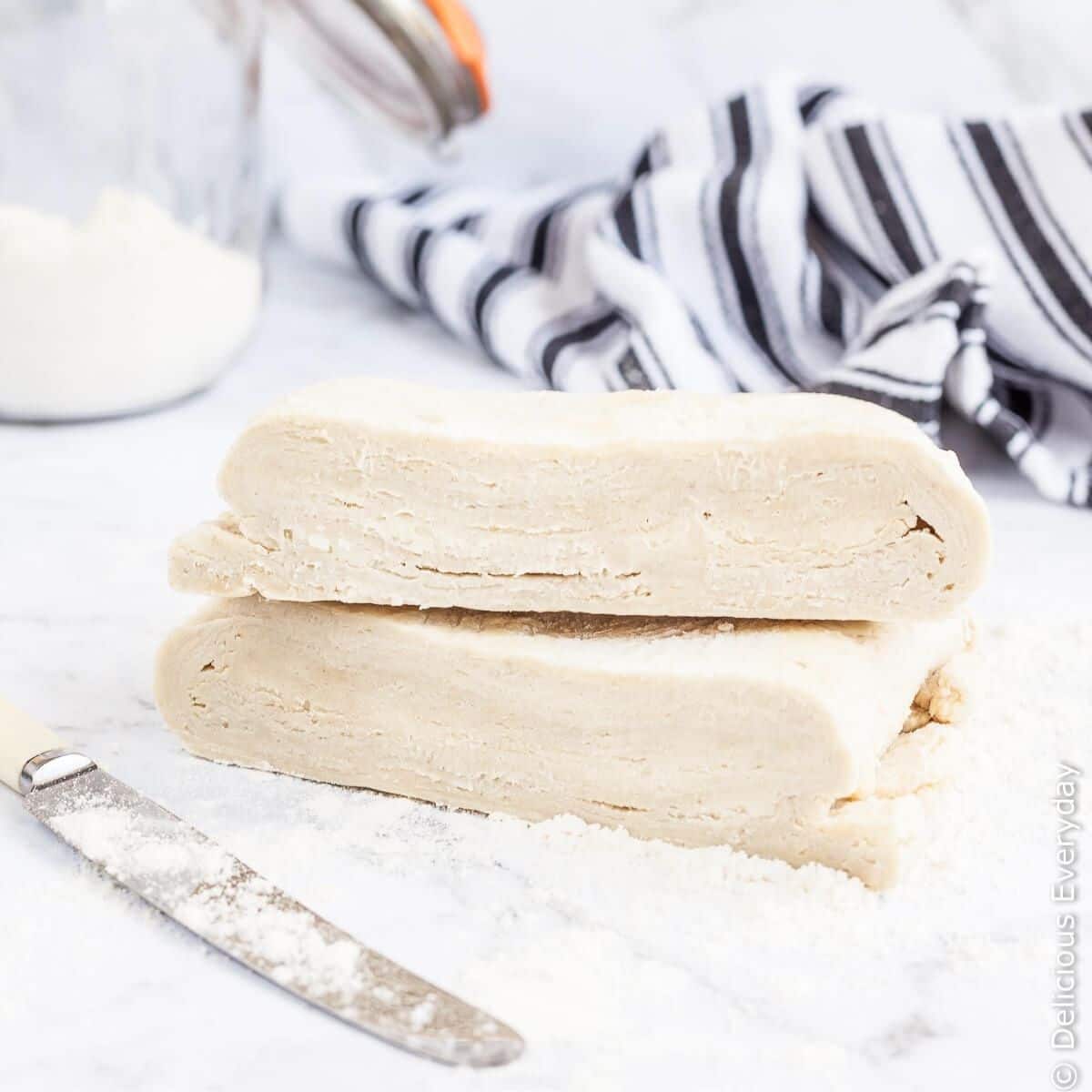 Ingredients
VEGAN BUTTER
60

g

cocoa butter

(¼ cup plus 1 tbsp)

70

g

flavourless coconut oil

(⅓ cup)

30

g

extra virgin olive oil

(2 ¼ tbsp)

36

g

aquafaba

(the water from a drained tin of chickpeas or cannellini beans)

6

g

miso

(⅓ tsp)
VEGAN PUFF PASTRY
160

g

pastry flour

(1 ⅓ cups)

½

tsp

fine sea salt

160

g

vegan butter

(5.6 oz) from this recipe or storebought

95

ml

cold water

(⅓ cup plus 1 tbsp)
Instructions
TO MAKE THE BUTTER
Start by melting the cocoa butter. Melt either in the microwave or using the double boiler method. Set aside to cool. It is VERY important that the cocoa butter completely cools to room temperature before using. Allow an hour for this.

Melt the coconut butter if it is solid at room temperature. Again, allow for the coconut oil to cool completely BEFORE making the butter.

Place the olive oil in a small jar or bowl and refrigerate while the cocoa butter is cooling. Refrigerate your aquafaba at this time if not already refrigerated.

Combine the cocoa butter, coconut oil and olive oil in a jug.

Grab a jug with a narrow base. The base should just fit your immersion blender. Add the aquafaba and place your immersion blender in the jug and blend the aquafaba until it is foamy.

Keep the blender running and slowly drizzle in the oils and coconut butter a little at a time. The process is much like making mayonnaise as we want to emulsify everything. It won't work if you dump the oil in. Make sure the oil is fully emulsified before adding more. Slow and steady wins the race here. It should take about 5 to 7 minutes to add all of the oil. When you are close to the end, don't be tempted to rush. Keep it slow and steady as you don't want to split the butter.

Once all of the oil has been added add the miso and blend until combined.

Pour the mixture into a small rectangular baking dish lined with plastic wrap and refrigerate. Your butter should be usable in about 2 hours, depending on how cold you run your fridge.
TO MAKE THE PASTRY
Place the flour in a medium bowl and add the salt and mix well to combine.

Break the butter into chunks and add to the flour and rub it into the flour. Be careful here as you don't want to rub the butter in too much. You still want to see chunks of buttery goodness as this is what will make your pastry lovely and flaky.

Add the water little by little and mix until you have a dough. Cover and refrigerate for 30 minutes.

Form the dough into a rectangle and roll it out until it is 3 times its original length. Fold the top third of the dough onto the middle of the dough and the bottom third on top of that.

Give the dough a quarter turn and roll it out again until it is 3 times its original length. Again fold the top third to the middle and the bottom third on top of that. Wrap in plastic wrap and refrigerate for 30 minutes. Repeat another 2 times and you're pastry is ready to use!

Notes
The vegan butter recipe was inspired by Nina's Game Changing Vegan Butter.
While I've provided cup measures (primarily for my US readers) I STRONGLY suggest you invest in scales for this recipe. Kitchen scales aren't expensive and they are an invaluable tool if you love to bake. I'd suggest multi-function scales such as these so you can cook from recipes using grams and ounces without having to convert everything by hand.
The butter recipe should yield between 160 to 170g of butter depending on how diligently you scrape out the jug.
This dough will make enough pastry for my Mushroom Wellington.
Nutrition
Calories:
392
kcal
Carbohydrates:
19
g
Protein:
3
g
Fat:
34
g
Saturated Fat:
15
g
Sodium:
403
mg
Potassium:
104
mg
Fiber:
2
g
Vitamin A:
1020
IU
Calcium:
9
mg
Iron:
1
mg
Craving more veg-friendly recipes?
Shop our collection of vegetarian and vegan cookbooks, including our new Vegan Thanksgiving and Vegan Christmas cookbooks!
Did you make this vegan puff pastry recipe?
I'd love to see! Share your photo on Instagram and use the hashtag #deliciouseveryday for a chance to be featured or share it on my Facebook page.
And don't forget to follow Oh My Veggies on Pinterest, Facebook and Instagram for all of the latest news and competitions.
Want more delicious recipes?
Subscribe to the Delicious Everyday newsletter. It's FREE! As a subscriber bonus, I'll also send you my free vegan toolkit with my favorite recipes, printables, and cheat sheets.