This delicious strawberry vegan panna cotta is quick and easy to make. If you love panna cotta but no longer eat dairy you'll love this easy recipe.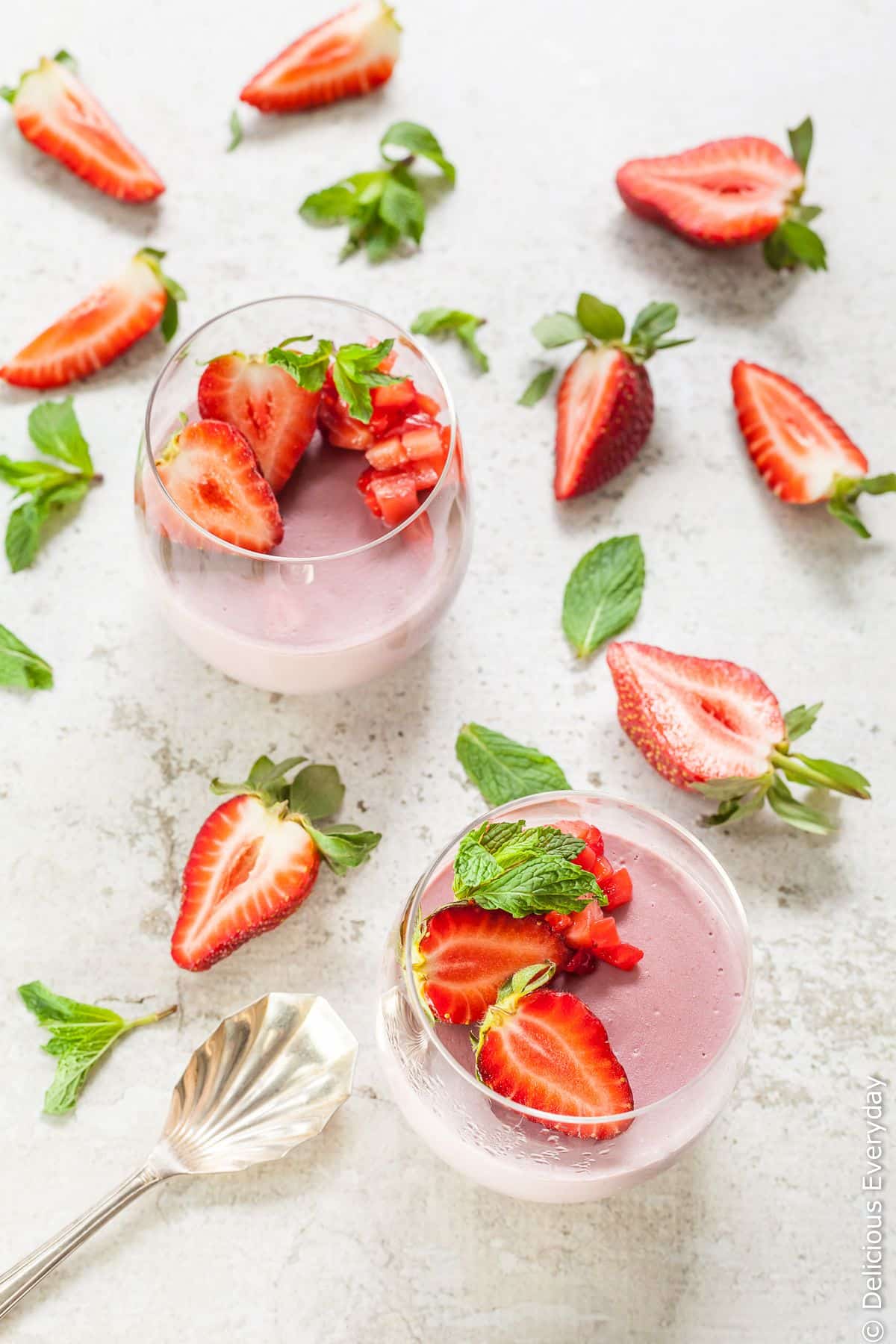 With a recent abundance of strawberries going cheaply at my local farmers markets I've been testing various recipes to make the most of them.
While simply eating them as they are is hard to beat I wanted to do a little more with the 3 kilos I had sitting in my refrigerator.
This panna cotta recipe is one of the many recipes that came out of my strawberry kitchen adventures.
Since having to go dairy free I've had fun experimenting with different ingredients in order to recreate some of my favourite desserts. Panna Cotta is one of those favourites.
I've been playing around with panna cotta recipes for a while now. Trying to get that richness for which it is famous, using dairy free ingredients. While coconut is always a good replacement in the creaminess stakes. It is not a flavour my husband is overly fond of. Nor is it something I wanted to use in this recipe because it would overshadow the strawberries.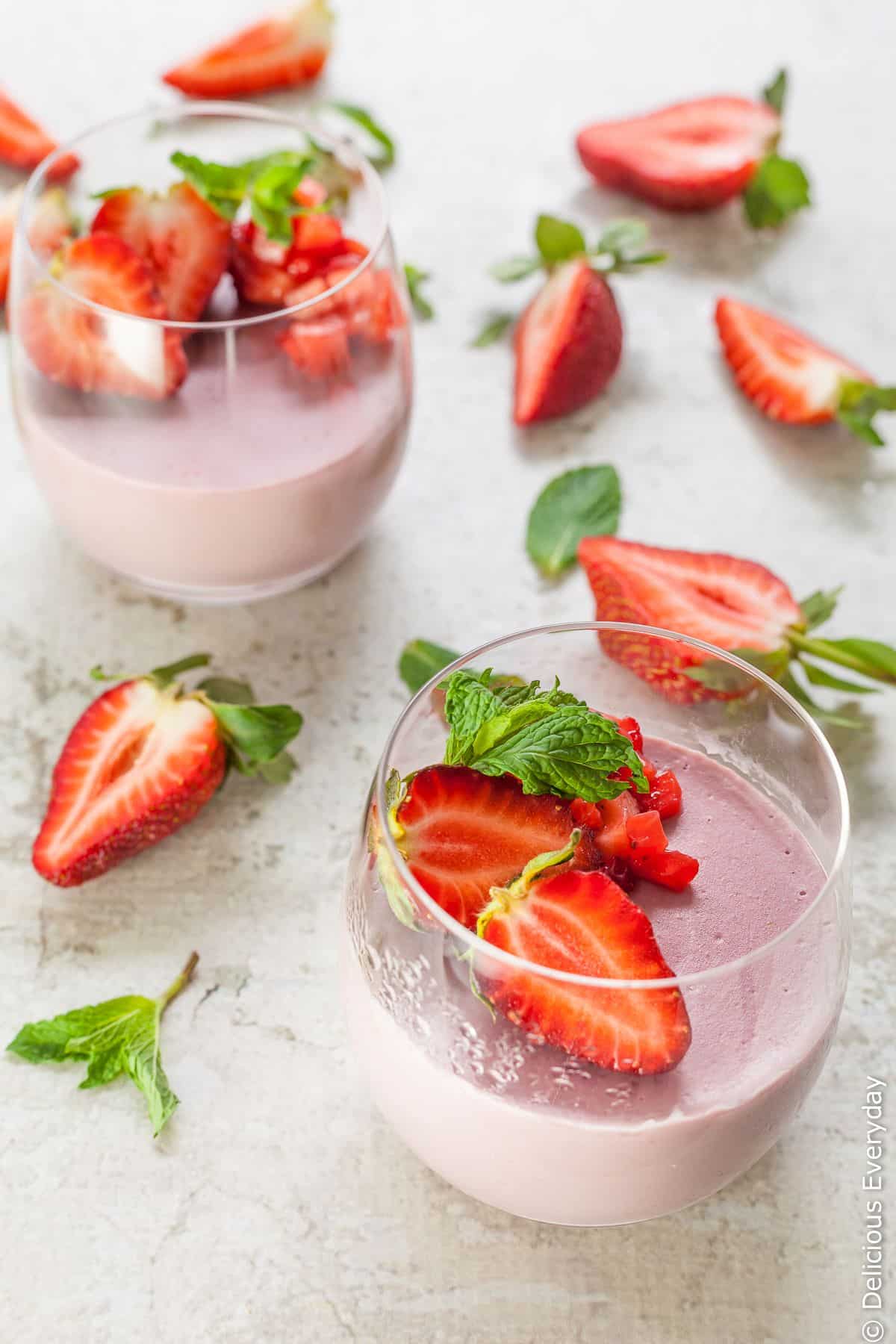 So I turned to cocoa butter. An essential ingredient in chocolate, cocoa butter provides that lovely richness that dairy based panna cottas are known for.
Cocoa butter isn't perhaps something you'll come across at your local supermarket. However, it is something you will easily find at your local health food store, and online.
The key here is to add the melted cocoa butter to the cashew milk mixture slowly while the blender is running. Dump it in and you'll end up with a horribly lumpy panna cotta. Add it slowly and you'll be rewarded with a rich panna cotta.
If you don't have or can't find cocoa butter, but still want to make this recipe, don't fret! Simply omit the cocoa butter and you'll still end up with a delicious panna cotta. The plated version below uses the exact same recipe, minus the cocoa butter. It is also a great low fat option too!
The only downside of vegan panna cotta is that it is difficult to get the same effect from agar as you do from gelatine. Nigella Lawson once referred to as "an inner thigh wibble".  And she's right. Gelatine does provide a lovely wibble wobble. Whereas agar provides a firmer set than gelatine and therefore doesn't offer quite the same mouthfeel.
But if you are vegan or dairy free, and you've been craving panna cotta, I hope you'll find my easy vegan panna cotta a great option.
So tell me, are you a panna cotta lover? What is your favourite flavour combination?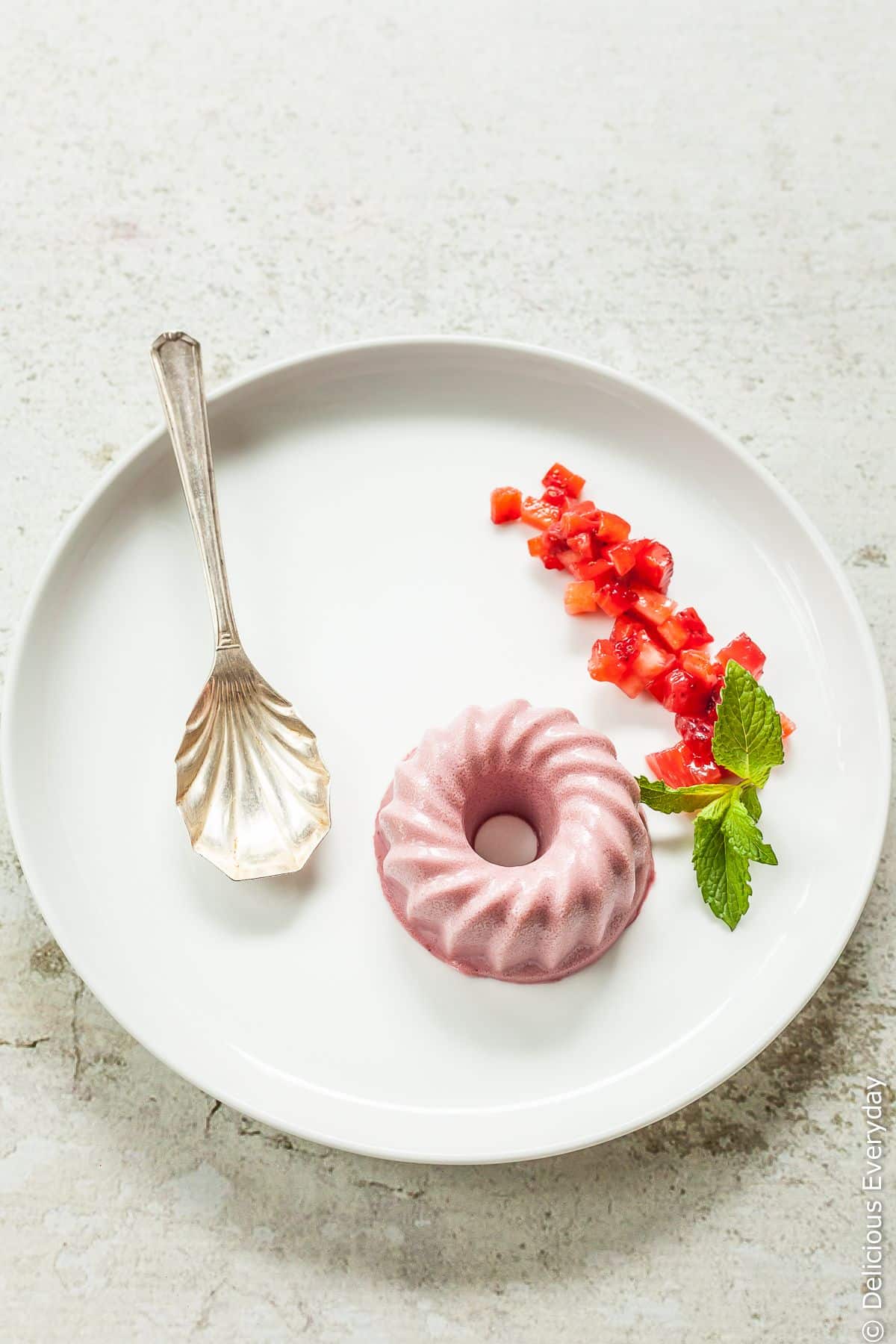 Recipe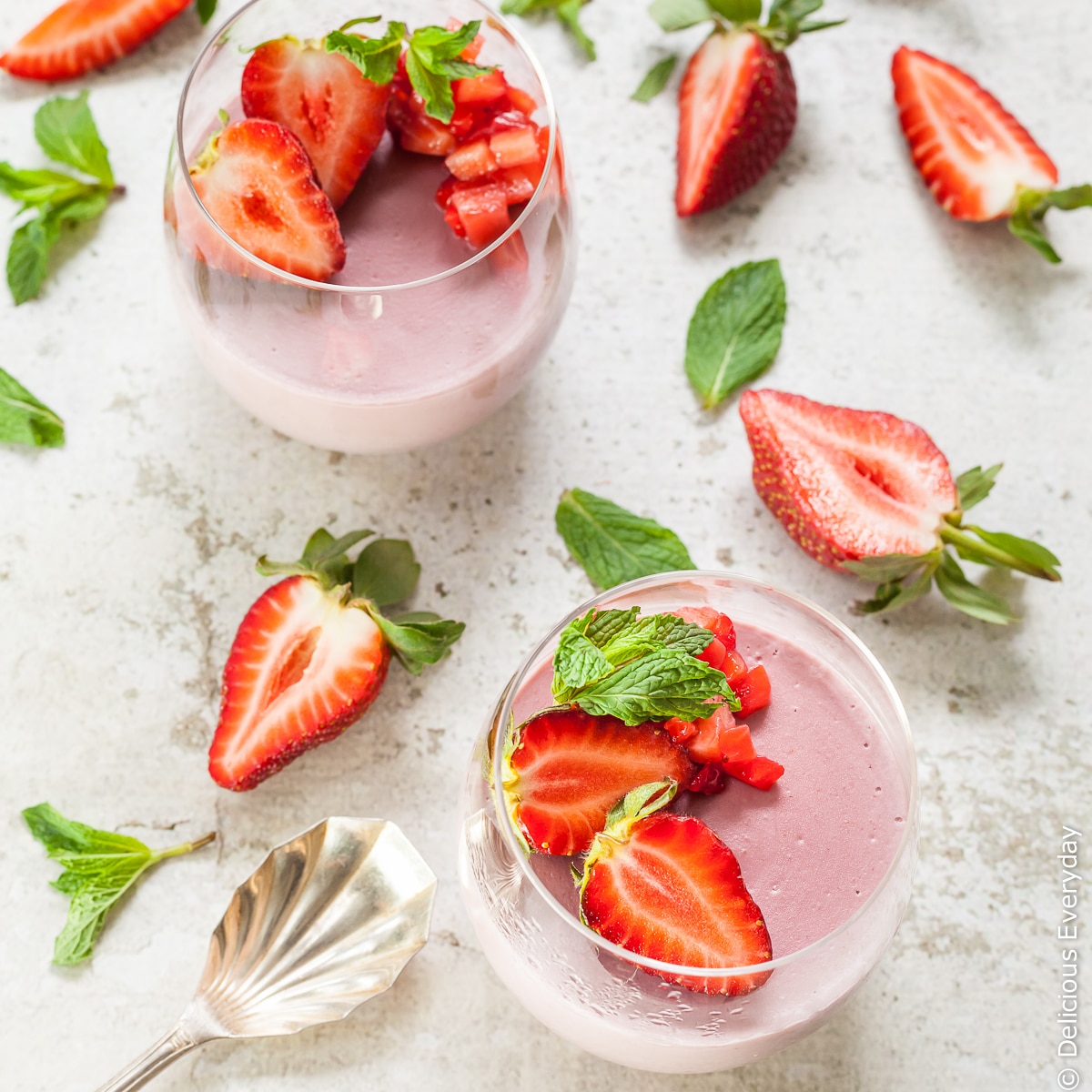 Servings:
6
small panna cotta or 4 larger panna cotta.
Ingredients
½

cup

raw unsalted cashews

½

cup

plus 2 tbs water

30

g

cocoa butter (optional

but great if you want a richer panna cotta), 1 oz

3

tbs

raw sugar

225

g

strawberries

hulled, 8 oz

¾

tsp

agar agar powder

1 tsp agar agar powder if omitting the cocoa butter
Instructions
Pre soaking the cashews overnight will help soften them, but if you have a high speed blender and don't have the time or inclination to pre-soak them then you can blend them as is with the water. Blend for 3 minutes or until completely broken down and you have a smooth creamy milk.

Melt the cocoa butter. The microwave is great for this. Microwave it in 30 second bursts, stirring each time, until melted. Otherwise you can melt the cocoa butter using the double boiler method. Once melted turn the blender on, and once the liquid has settled a bit use the spout at the top to slowly pour in the cocoa butter. Replace the spout and blend for 2 minutes.

Add the strawberries and sugar and blend until completely smooth. Pour the mixture into a small saucepan and add the agar agar powder and whisk to combine. Leave for 10 to 15 minutes.

Place the saucepan over a medium low heat and bring to a simmer. Reduce the heat to its lowest setting and simmer for 5 minutes, whisking every now and then.

Divide the panna cotta mixture between your serving dishes. I used a combination of silicone bundt moulds and glasses. Whatever you have will be fine. Leave on the bench for 5 minutes before refrigerating until completely set and chilled. Allow about 2 to 3 hours for this.

Serve with your favourite accompaniments.
Notes
If you have agar flakes use 1 tbs of flakes for every 1 tsp of powder. Agar agar powder is commonly found in health food shops here in Australia. Outside Australia you can find it here on Amazon.
Nutrition
Calories:
95
kcal
Carbohydrates:
12
g
Protein:
2
g
Fat:
4
g
Sodium:
2
mg
Potassium:
128
mg
Fiber:
1
g
Sugar:
8
g
Vitamin C:
22
mg
Calcium:
10
mg
Iron:
0.9
mg
Craving more veg-friendly recipes?
Shop our collection of vegetarian and vegan cookbooks, including our new Vegan Thanksgiving and Vegan Christmas cookbooks!