Whether you're hosting a completely vegetarian Thanksgiving feast or just looking for a few special meatless dishes to complete your menu, you've come to the right place! This collection of 55+ vegan and vegetarian Thanksgiving recipes has something to please every guest.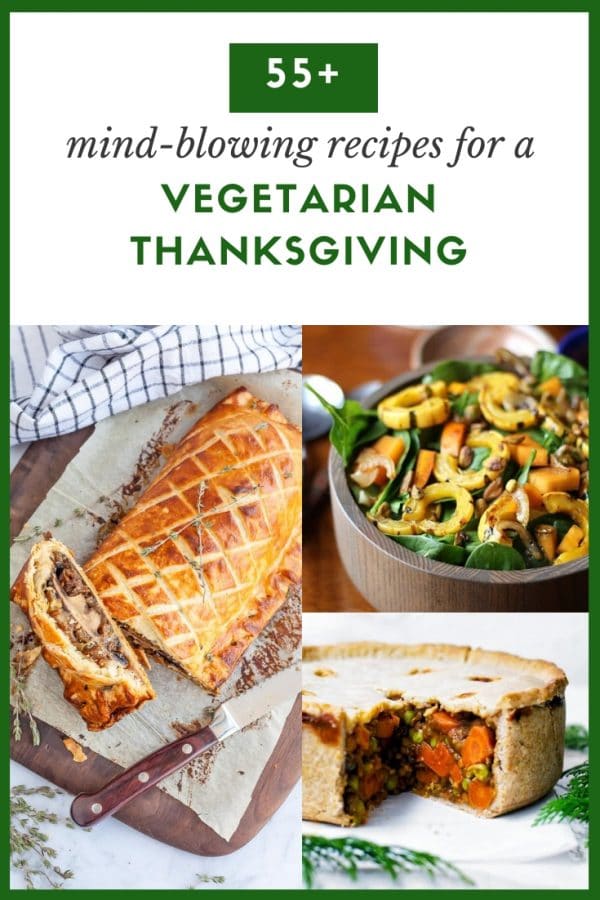 Can you believe Thanksgiving is almost here already? I feel like summer was just yesterday.
As I started to pull together my own menu, I thought you all might appreciate a round-up of some of my favorite Thanksgiving-worthy recipes from around the internet.
All of the recipes featured here are completely meatless, and many are even 100% vegan!
I've organized this list into vegetarian main dishes first, followed by side dishes. Then comes the desserts - because no celebration is complete without a little something sweet. And finally, I've included a few Fall cocktails at the end.
Vegetarian Thanksgiving Recipes
This collection of 55+ vegetarian Thanksgiving recipes has a little something for everyone. They're all completely meatless and totally delicious, and many are totally vegan too.
Whether you're planning a full-blown Thanksgiving feast or just gathering with a few friends and family, I hope you've found some vegetarian Thanksgiving recipes that will help brighten your day.
I would love to hear how your Thanksgiving meal turns out - so please comment and tell me. Or post some pictures on Instagram and tag me @deliciouseveryday. Happy holidays!