If you're looking for a plant based replacement for your usual meat loaf, you're going to love this Vegan Lentil Loaf! Hearty lentils, savory onions, crunchy breadcrumbs, and flavorful seasonings team up for one delicious meatless dinner. Top it with classic ketchup for the ultimate meatloaf replacement.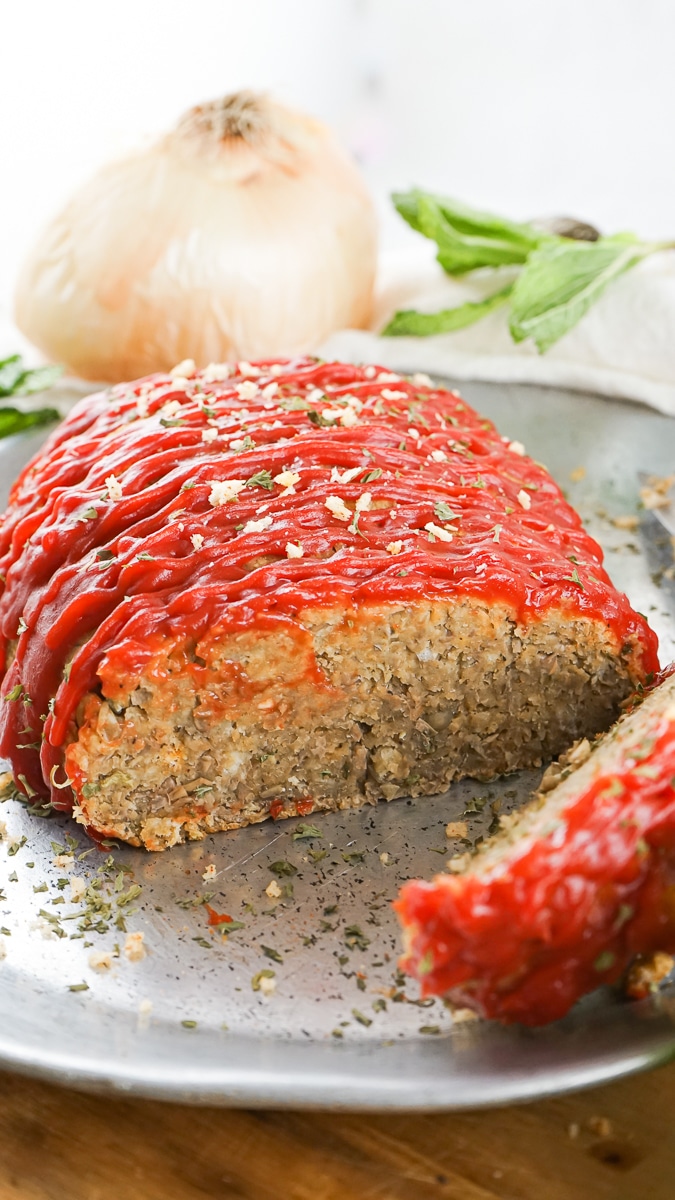 Jump to:
I know I'm not alone when I talk about growing up with meatloaf as a staple meal. So I wanted to pay homage to that comfort food by putting a delicious and modern, vegan twist on it.
My Vegan Lentil Loaf is nothing short of totally tasty and satisfying. It stands up to some of my favorite dishes like my Vegan Mushroom Wellington or Creamy Mushroom Pasta as a holiday favorite too.
This lentil loaf has so many amazing flavors and requires only the simplest of ingredients. Prep time is a piece of cake, and it is a recipe that basically cooks itself.
If you're in the market for a vegan recipe that doesn't take hard-to-find ingredients, this one will definitely hit the spot. Not to mention, there are no long and drawn out directions. An easy mix and cook recipe!
If you're here planning your holiday menu, don't miss our new Vegan Christmas and Vegan Thanksgiving cookbooks. They're packed with all my favorite holiday-worthy recipes for a plant-based feast.
How to Make Vegan Lentil Loaf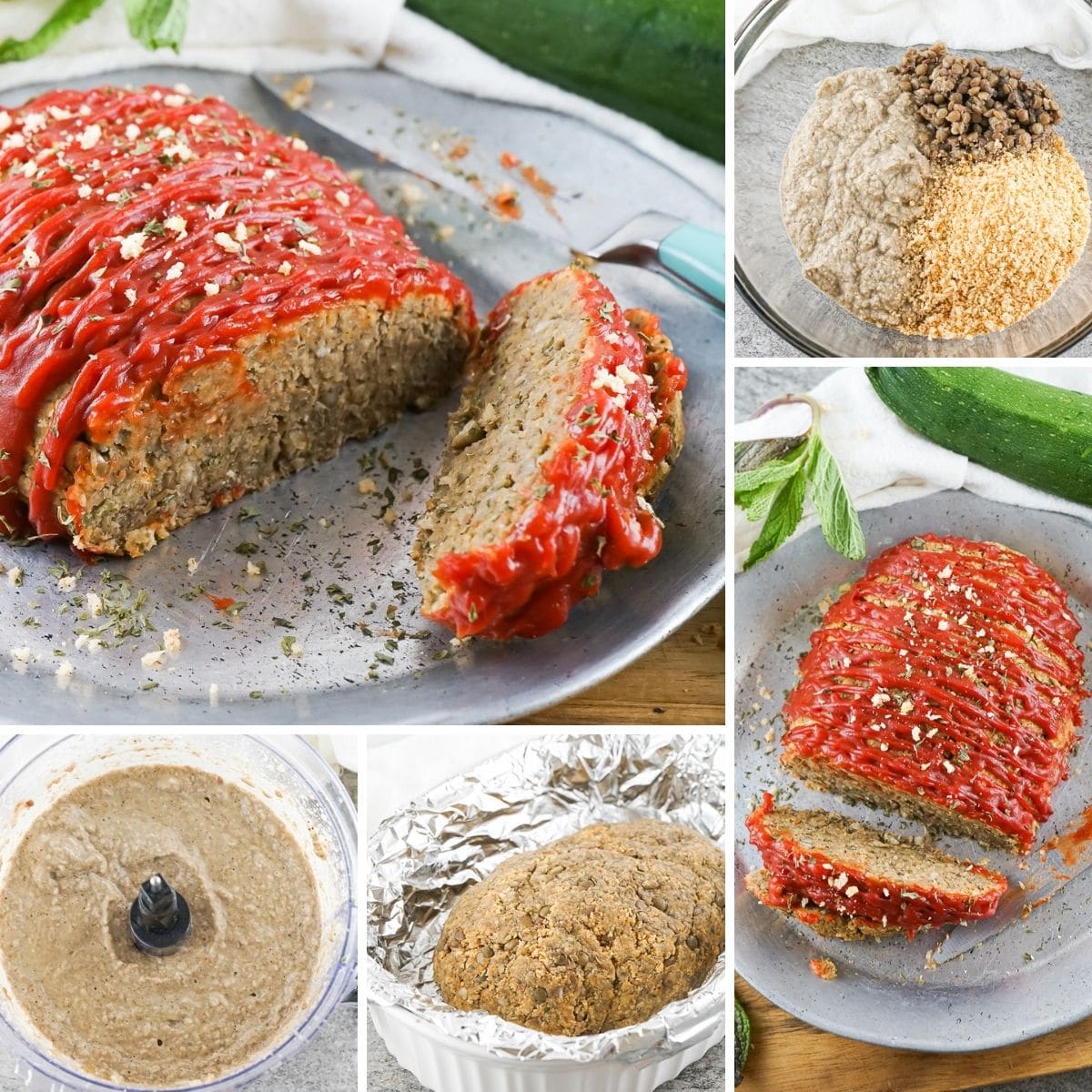 Blend - Add 1 ½ cups of cooked lentils, garlic, onion, and seasonings in a food processor and combine well.
Mix and form the loaf - Place the mixture in a bowl along with the rest of the lentils and breadcrumbs and form the loaf.
Cook - Place in a foil lined loaf pan and bake at 350°F for 15 minutes. Remove, spread with ketchup, and bake for another 10 minutes.
Cool and serve - Remove the loaf from the oven, and let it cool for a few minutes and serve!
Tips and Variations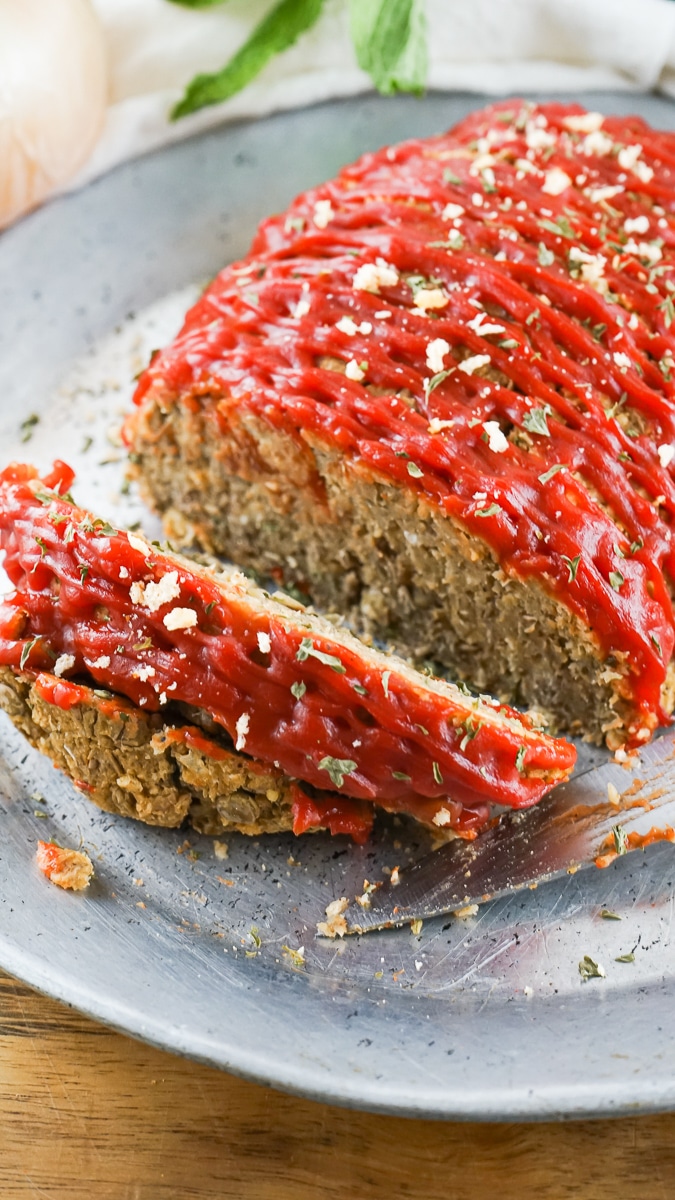 Storage - Store in a sealed container in the fridge for up to 5 days. Store in an airtight container, in the freezer, for up to 2 months.
Reheating - Reheat using the microwave. If dried out, place a damp paper towel over the top of the lentil loaf while heating.
Add other seasonings - If you want to add more spice or flavor to your loaf, add away! Some delicious flavor additions might be Cajun, Italian, Greek, Mexican, etc.
Add other veggies - If you want to load your lentil loaf up, you can add other veggies if you like. Just be aware that you might need to adjust the amount of mashed lentils or other ingredients going into the recipe.
Use brown lentils - If you don't have access to green lentils, brown lentils will work as well. I don't suggest other lentil types for this recipe.
Skip the ketchup - If you don't want to add the ketchup, you definitely don't have to. I think it adds a delicious flavor, but it's not for everyone and that's ok! It's still delicious without it.
Vegan Lentil Loaf FAQs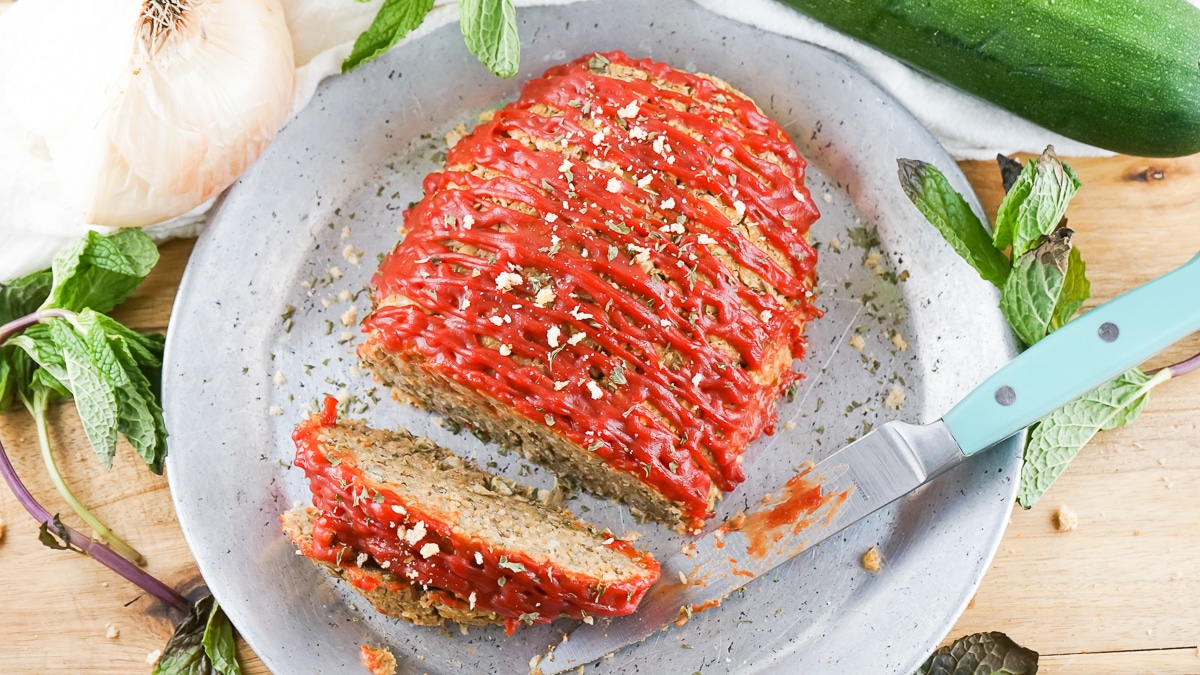 What to Serve with Lentil Loaf?
You can treat vegan lentil loaf like you would meatloaf. This means that any of the sides you would serve with meatloaf or a beef heavy dish would also go great with this.
I always tend to go for a potato side dish such as Crispy Roast Potatoes. Of course, a light salad is always a bullseye, such as this Cucumber Tomato Salad or Artichoke Salad with Chickpeas.
A light soup would do the trick as well, especially on colder nights. I like this Vegan Corn and Sweet Potato Soup or Jerusalem Artichoke Soup.
You could always shoot for classics like mashed potatoes, corn, or homemade dinner rolls as well.
Can Lentil Loaf Be Frozen?
Lentil loaf can certainly be frozen. Be sure that it is stored in a freezer safe container or bag. It can be safely frozen for up to two months.
You can reheat the loaf in the microwave, oven, or even the air fryer, if desired. If you find it to be a little too dry, just cover it with a damp paper towel to restore some tenderness. It can even be refrigerated for up to five days!
If you decided to give this Vegan Lentil Loaf a try, please let me know in the comments below or on social media!
More Recipes You Might Like:
If you love this vegan lentil loaf, be sure to check out these other delicious plant based ideas:
While you're here, be sure to grab our FREE 5-Day Meatless Meal Plan. It's packed with tasty recipes to make vegetarian cooking easy and delicious!
Recipe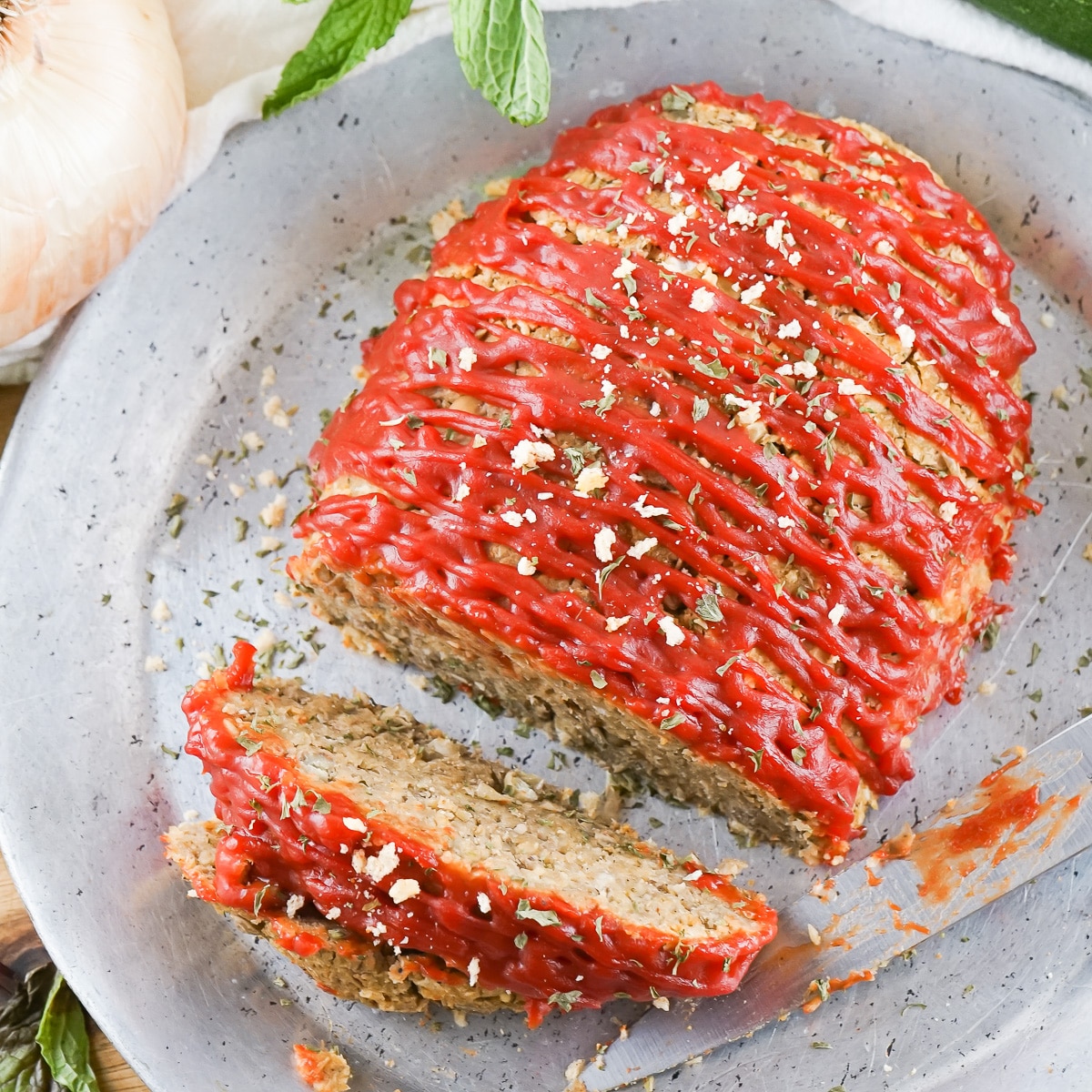 Instructions
Preheat the oven to 350°F and line a baking dish or sheet with tin foil.

Place 1 ½ cups of the cooked lentils, along with the garlic, onion, and seasonings, in a food processor. Blend until well combined.

Place the mixture in a medium bowl along with the remaining cooked lentils and breadcrumbs.

Mix well and form into a loaf.

Place in the prepared pan and cook for about 15 minutes.

Remove from the oven and spread the ketchup evenly across the top and place back in the oven for another 10 minutes.

Remove, let cool, and enjoy!
Nutrition
Calories:
388
kcal
Carbohydrates:
71
g
Protein:
20
g
Fat:
3
g
Saturated Fat:
1
g
Cholesterol:
1
mg
Sodium:
2041
mg
Potassium:
785
mg
Fiber:
14
g
Sugar:
12
g
Vitamin A:
253
IU
Vitamin C:
5
mg
Calcium:
129
mg
Iron:
8
mg
Craving more veg-friendly recipes?
Shop our collection of vegetarian and vegan cookbooks, including our new Vegan Thanksgiving and Vegan Christmas cookbooks!