This Vegan Pasta Bake is an easy and hearty dish that's great for any night of the week, year round. Rotini pasta is slathered with a savory tomato sauce and dairy-free cheese, then baked to perfection. This recipe uses ingredients that you probably already have in your pantry—making it a frugal dinner choice too!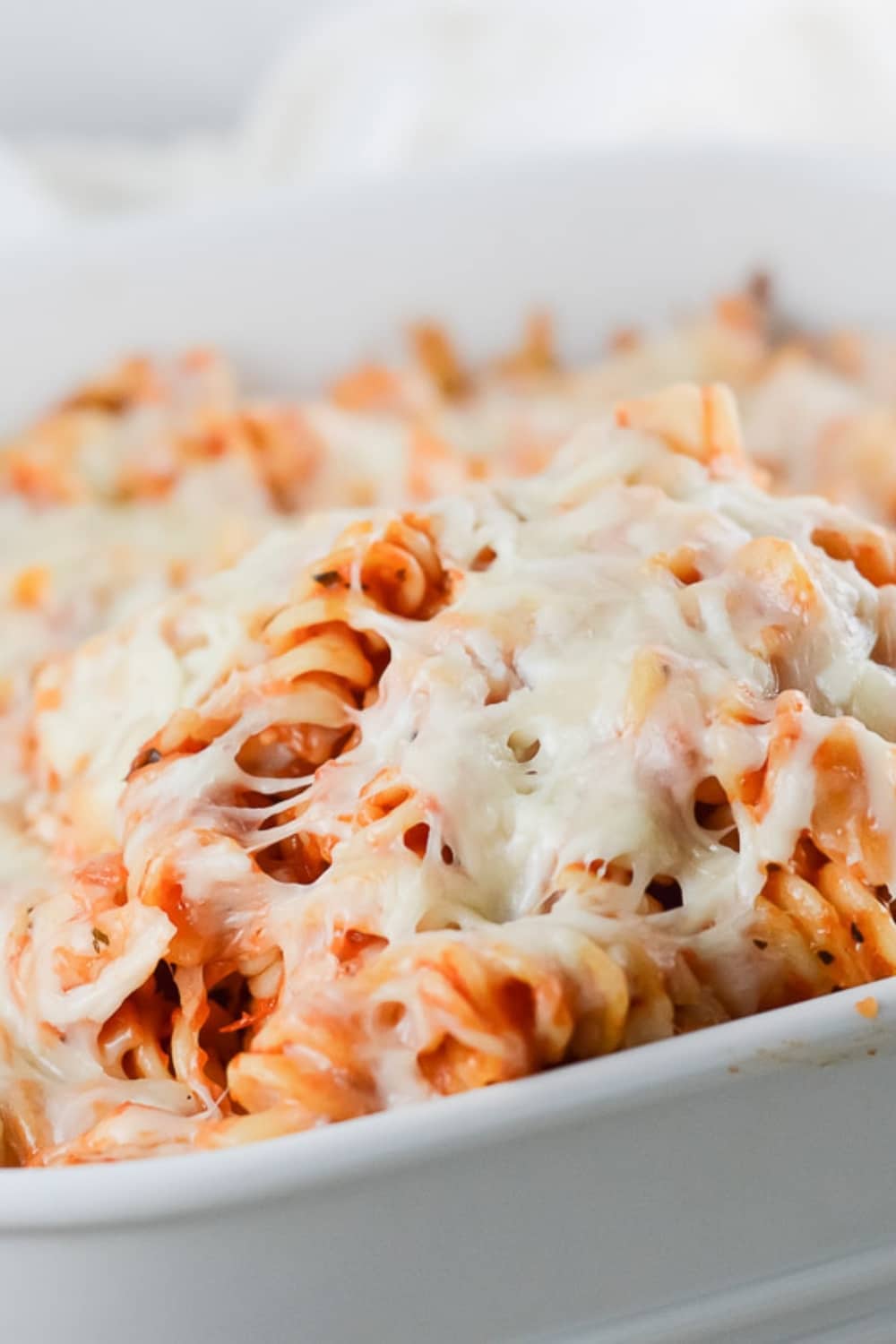 Jump to:
Nothing says comfort food quite like a classic and delicious pasta bake. Well, maybe my Vegan French Onion Soup or One-Pot Vegan Potato Soup, but you get what I'm after.
Pasta is that year round ingredient that never gets old and always pleases a crowd. It's hard to go wrong with pasta (check out all my vegan pasta recipes here) and you can pair it with an endless variety of sauces.
Not to mention, it makes for one hearty meal. Every time I make my Vegan Pesto Pasta or Baked Vegan Mac and Cheese, everyone has a full belly on the first go around.
This means leftovers for dinner another night that week! I know the cooks of the house can cheer at that one right along with me. Alright, enough gabbing—let's get to making that pasta bake.
While you're here, be sure to grab our FREE 5-Day Meatless Meal Plan. It's packed with tasty recipes to make vegetarian cooking easy and delicious!
How to Make Vegan Pasta Bake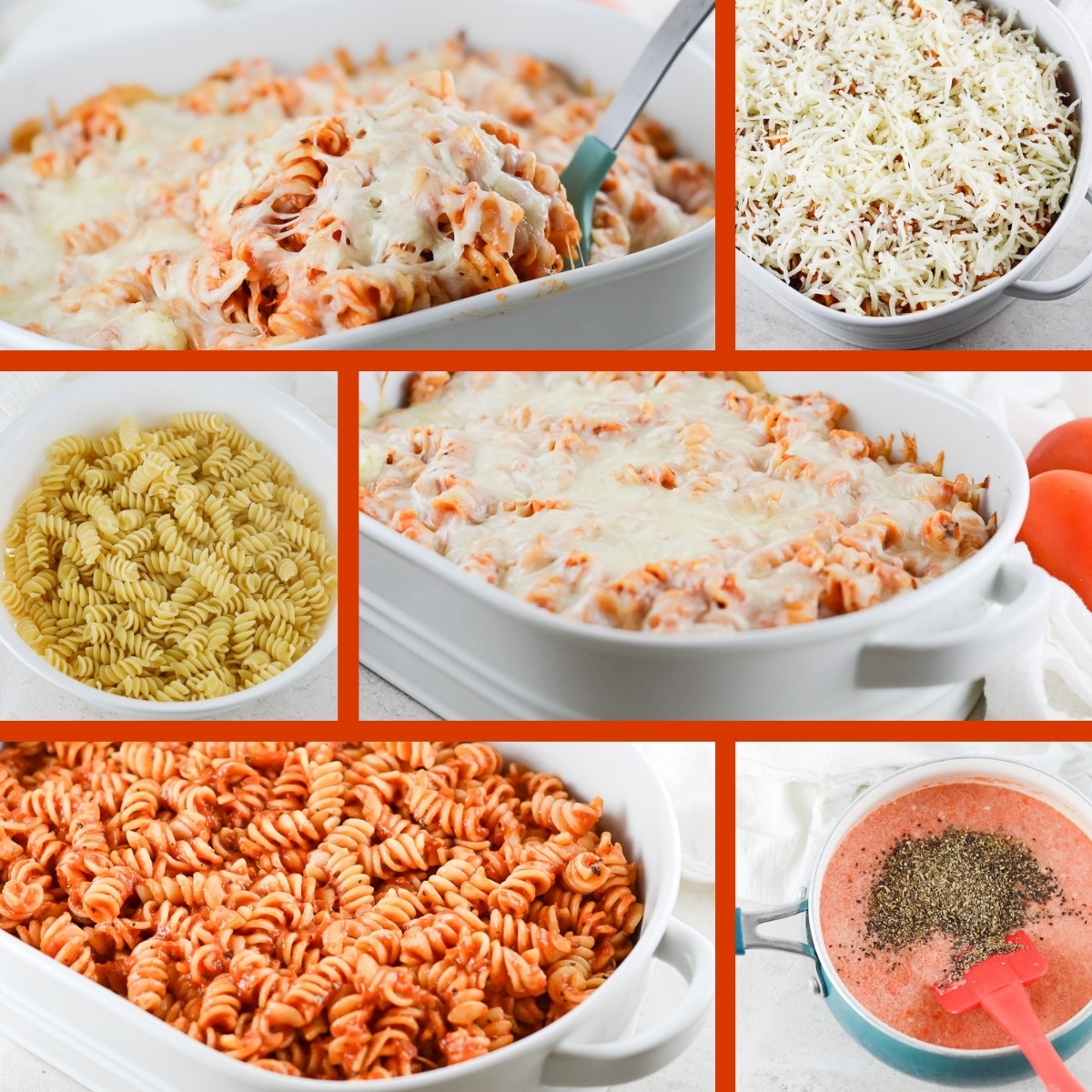 Prep - Preheat the oven to 350 degrees and boil the pasta until al dente. Drain and set aside.
Blend - Slice the stem ends off your tomatoes and toss them in the blender until smooth.
Saute - Melt the butter in a medium pot and saute the onions until translucent. Add the garlic and cook for another couple of minutes.
Add tomatoes - Add the tomato mixture and Italian seasoning to the pot. Mix and simmer for 5 minutes.
Finish the sauce - Add the rest of the ingredients except for the vegan cheese and simmer for another few minutes.
Combine - Mix together the pasta and sauce until it's fully distributed. Pour into a casserole dish and top with the vegan cheese.
Bake - Bake for about 15 minutes or until the vegan cheese has melted. Serve and enjoy!
Tips and Variations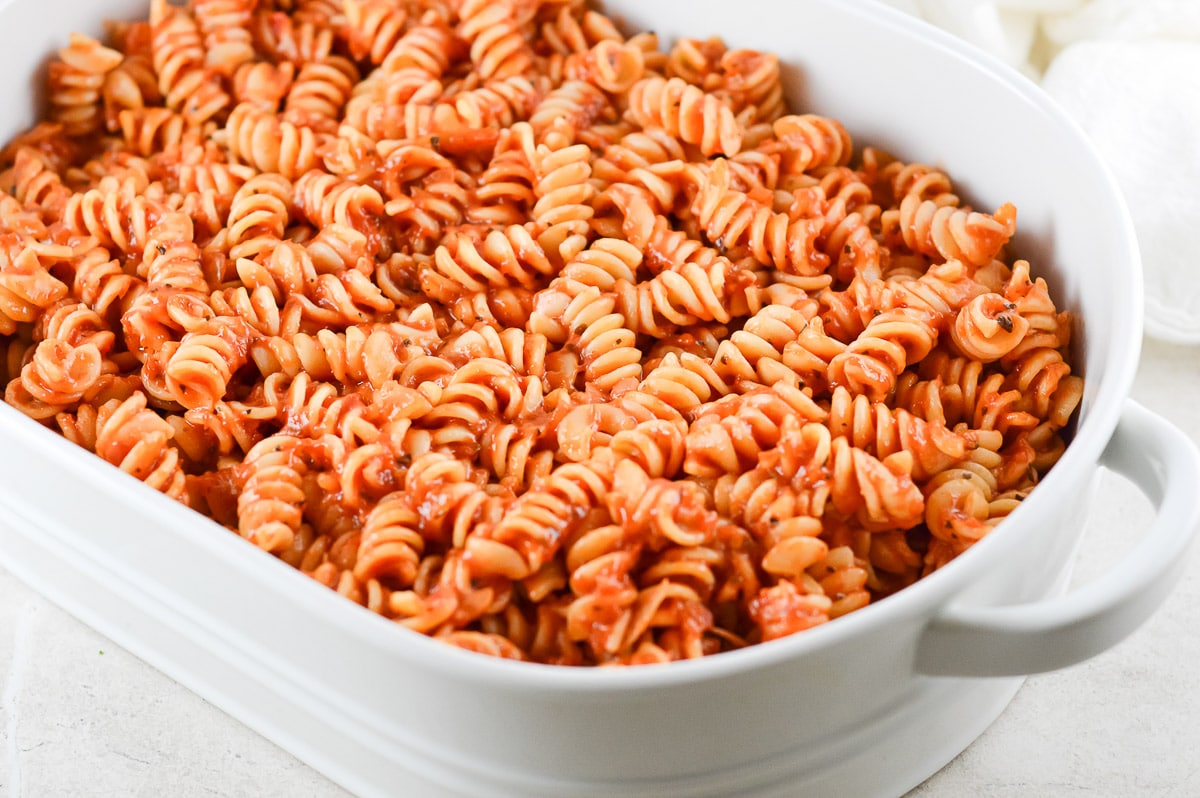 Storage - Store in the fridge, covered or in a sealed dish for up to 4 days. This dish can be frozen in an airtight container for up to 2 months, if desired. However, it's important to note that the noodles change texture a bit and might not turn out as great as when they were fresh out of the oven or stored in the fridge.
Reheating - Reheat in the oven or microwave. Cover with foil if reheating in the oven and cover with a damp paper towel if reheating in the microwave.
Use other pastas - You can use any other type of short pasta if desired. If you don't have rotini on hand, other pasta options such as elbow macaroni, bowtie, shells, etc. all work just as well.
Use other vegan cheeses - You don't have to stick with a mozzarella substitute. You can mix it up and use other cheese substitutes as well. Cheddar or an Italian mix is always a fine choice for this meal - so go explore that dairy free cheese section!
Use other pasta sauces - If you want to make the dish quicker, you can use canned or jarred sauces as long as they're vegan-friendly. A tomato sauce is a classic and you can never go wrong with it. This would also be tasty with my vegan alfredo sauce.
Common Questions About Vegan Pasta Bake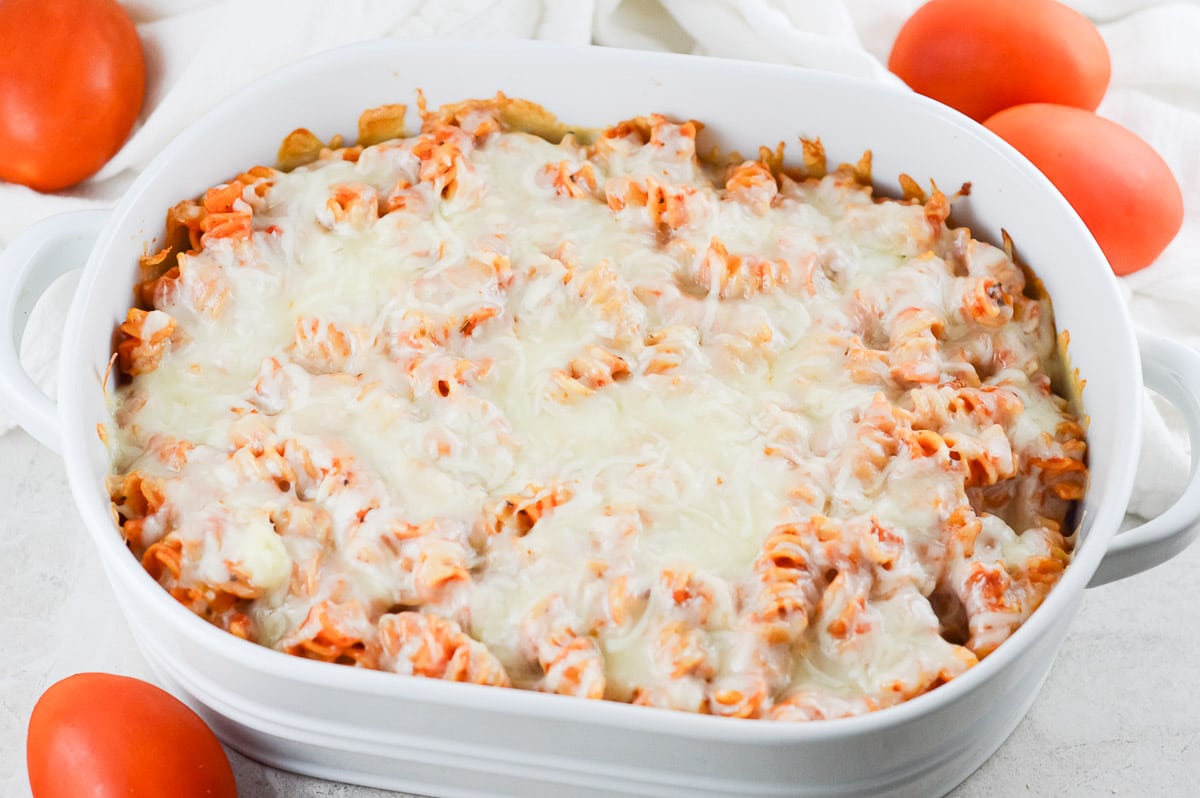 Is Coconut Cream the same as Coconut Milk?
Nope, they are similar but different ingredients. Coconut milk is thinner, more like the consistency of regular milk. Coconut cream is much thicker, more like the consistency of heavy cream.
For this recipe, I used coconut cream like this one.
What is Xantham Gum?
Xantham gum is an ingredient used to thicken sauces and soups. It's a great vegan friendly way to give your sauce a thicker consistency. I like this brand that I get on Amazon.
If you don't have any on hand, you can skip it. The dish will still taste great, but the sauce will be a little thinner.
Do You Cook Pasta for a Pasta Bake?
Yes, typically pasta is cooked before being used in a pasta bake. This is because there's usually not enough liquid in the bake to cook the pasta otherwise. Not to mention, the pasta wouldn't cook up correctly in the oven and other ingredients would likely burn before it cooked through.
Should You Cover a Pasta Bake?
There's no need to cover a vegan pasta bake during the cooking process. However, if you fear your pasta dish drying out or the dairy-free cheese cooking too fast, there's no harm in covering it with a piece of foil. You may need to adjust the cooking time though.
What Brand of Vegan Cheese Should I Use?
Choose a brand that melts well, which can sometimes be tricky with dairy free cheeses. I've had good luck with this Violife cheese and this Daiya cheese.
If you decide to give this Vegan Pasta Bake a try, please let me know in the comments below or on social media!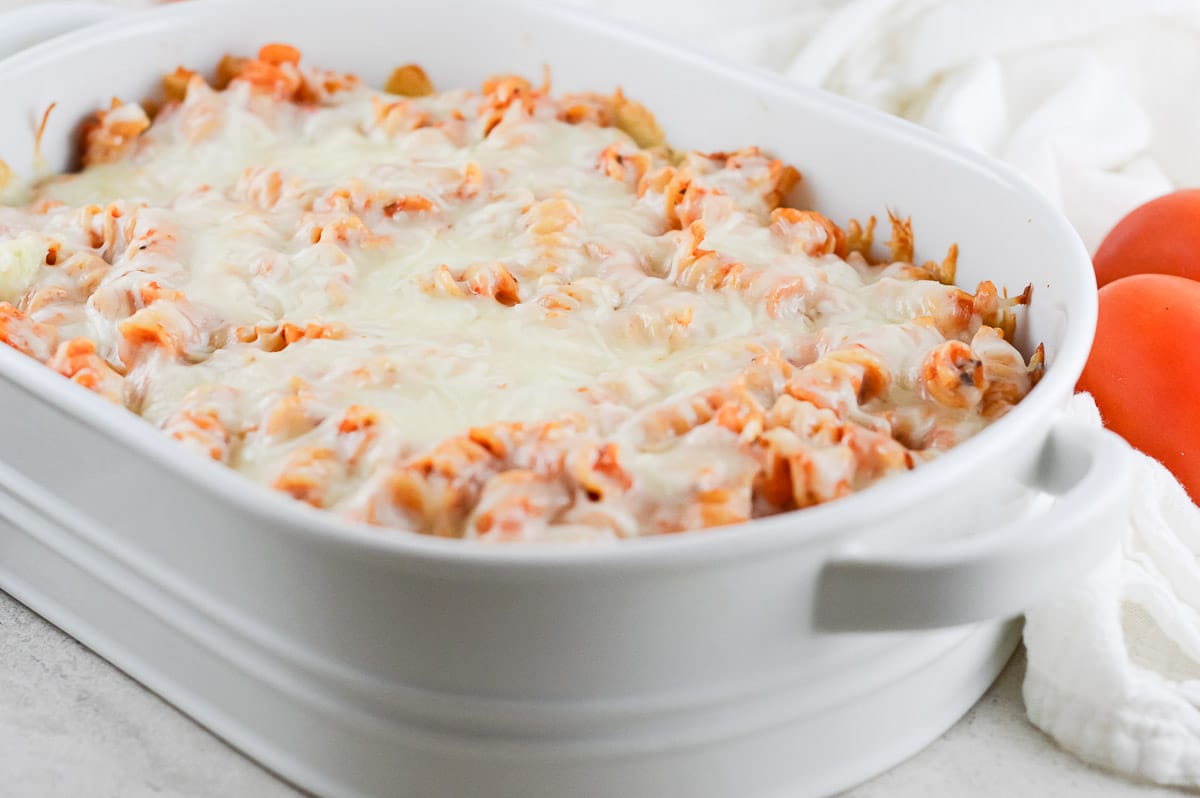 Other Vegan Dinner Recipes You Might Like
If you love this vegan pasta bake, here are a few other vegan dinner recipes you might like:
While you're here, be sure to grab our FREE 5-Day Meatless Meal Plan. It's packed with tasty recipes to make vegetarian cooking easy and delicious!
Recipe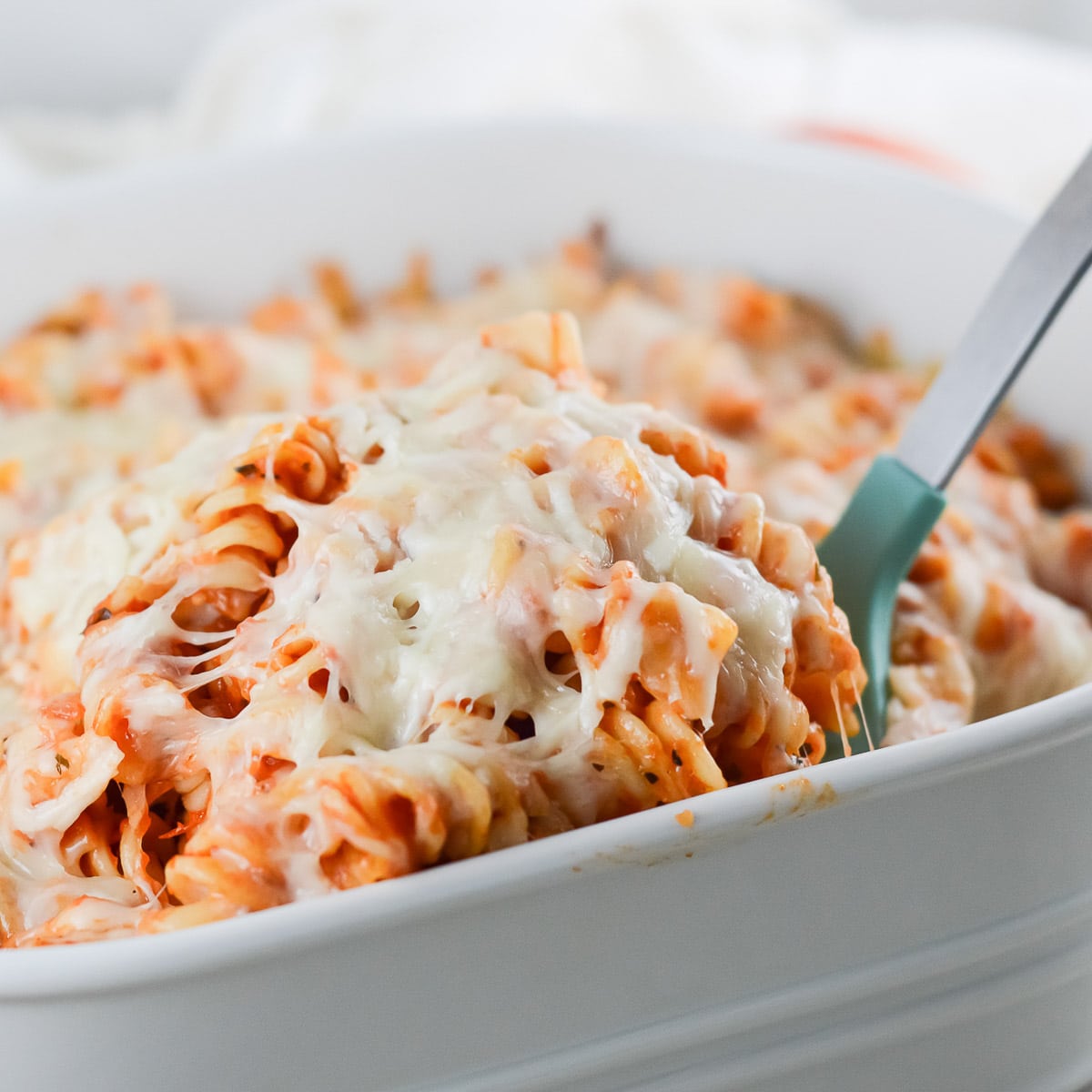 Instructions
Preheat the oven to 350°F. Bring a large pot of water to a boil and prepare pasta according to package directions. Set aside.

Slice the stems off the tomatoes and place them in a food processor or blender and blend them until smooth.

In a small pot, melt the butter and add the onions. Cook for 2-3 minutes or until translucent. Add the garlic and cook for another 2 minutes.

Add the blended tomatoes and Italian seasoning and let simmer on medium for 5 minutes. Add in the coconut cream, tomato paste, salt, and pepper. Stir thoroughly. Let simmer for 5 minutes. Add additional salt and pepper, to taste.

In a large bowl, combine the pasta and tomato sauce. Stir gently to coat the pasta thoroughly with the sauce.

Add the past mixture to a 3–3.5 quart pasta dish and spread even. Top with the vegan cheese and bake for 15 minutes or until the cheese has just melted.

Serve and enjoy!
Nutrition
Calories:
441
kcal
Carbohydrates:
59
g
Protein:
11
g
Fat:
18
g
Saturated Fat:
11
g
Sodium:
489
mg
Potassium:
565
mg
Fiber:
6
g
Sugar:
6
g
Vitamin A:
733
IU
Vitamin C:
12
mg
Calcium:
69
mg
Iron:
3
mg
Craving more veg-friendly recipes?
Shop our collection of vegetarian and vegan cookbooks, including our new Vegan Thanksgiving and Vegan Christmas cookbooks!