These Thai Green Curry Noodles are loaded with veggies and bursting with flavor from coconut milk, lemongrass, ginger, and garlic. Plus, the whole thing cooks up in just one pot, making for a simple weeknight meal.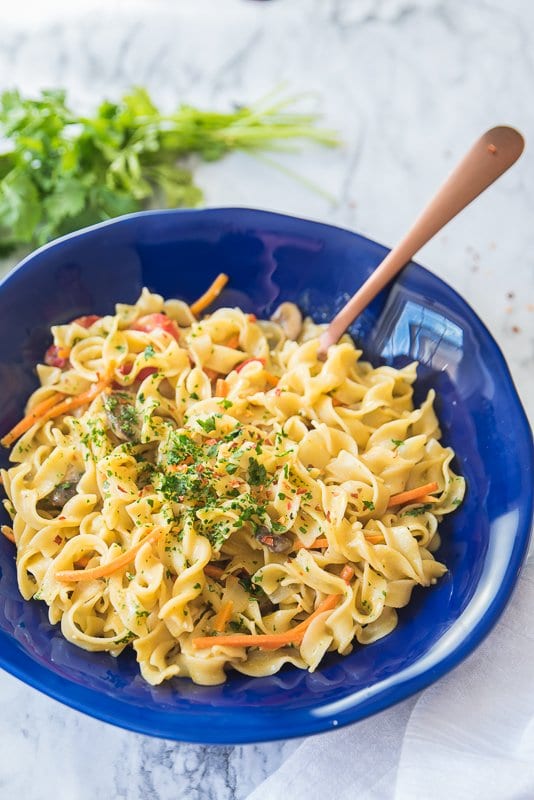 If you have been following the blog for a while, then you know that I have a real affinity for Thai food.
My love affair with Thai flavors started with my Honeymoon, when my husband and I spent time travelling through Chiang-Mai and the beautiful islands around Krabi. (Read more about Thailand on our travel blog!)
Isn't it just gorgeous there? I just loved all the natural rock formations along the beach.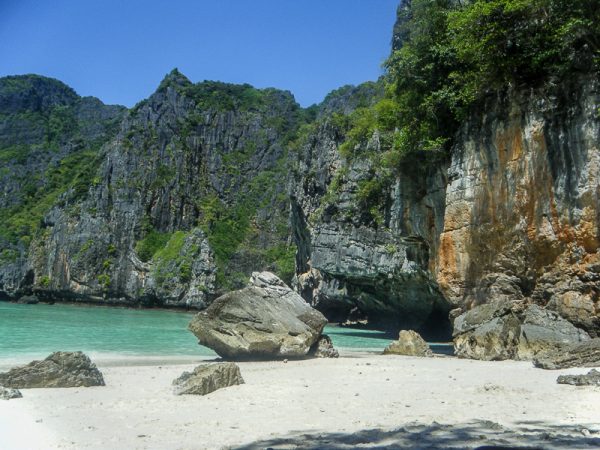 Thai food is so incredibly flavorful, and somehow it always strikes the perfect balance between sweet and spicy.
Flavors like ginger and lemongrass are prevalent in Thai cuisine, and pair perfectly with coconut-milk based curries. I tried my best to capture all the flavors of this beautiful region in this Thai Green Curry Noodle dish.
For more easy weeknight recipe ideas, be sure to snag a free copy of my One Pot Vegan Recipes.
Choosing the Right Noodles
For these green curry noodles, you will want to use nice broad noodles, like egg noodles. This helps makes sure they soak up all the delicious curry sauce.
I highly recommend the No Yolks Broad Noodles. The folks at No Yolks were kind enough to gift me some complimentary noodles for this post, and so I crafted this one-pot noodle recipe to complement them.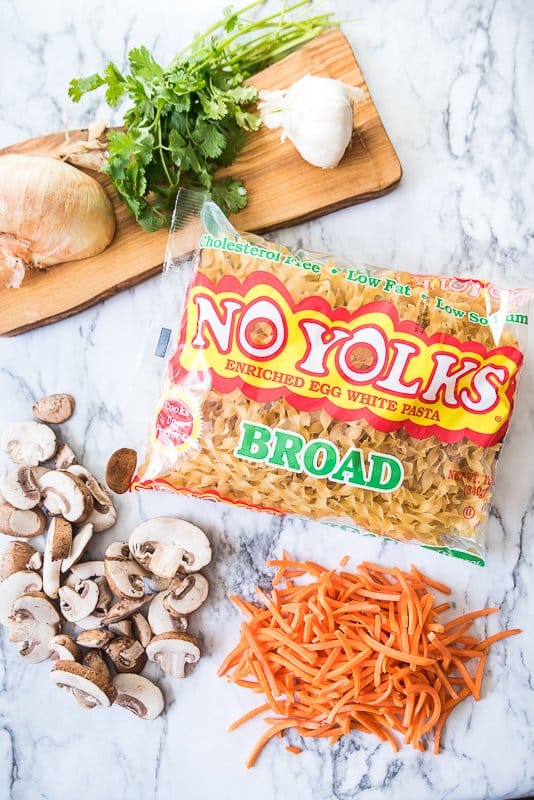 No Yolks taste just like traditional egg noodles – cooking up fluffy and firm. But they are made from egg whites, so they have zero cholesterol and are low in fat and sodium.
My husband has always had a problem with high cholesterol, so I love being able to cook things that are delicious and still healthy for him.
You can grab these egg noodles here on Amazon.
You may think of egg noodles as being mainly for traditional dishes like casseroles or stroganoff, but they are really versatile!
They come in all sorts of varieties for different types of recipes – Broad, Extra Broad, Fine, Kluski, Dumplings, and even Stir-Fry! You can even use them in soups, like this Miso Soup recipe. (Just substitute vegetable stock for the chicken broth, of course!)
I used these same noodles to create this delicious Ginger Garlic Noodle Soup - comfort food at it's best.
Check out the No Yolks website for more really creative recipes, like Sriracha Cheesy Noodles or Noodles with Kale and Walnut Pesto. Yum!
Let's Make One-Pot Thai Green Curry Noodles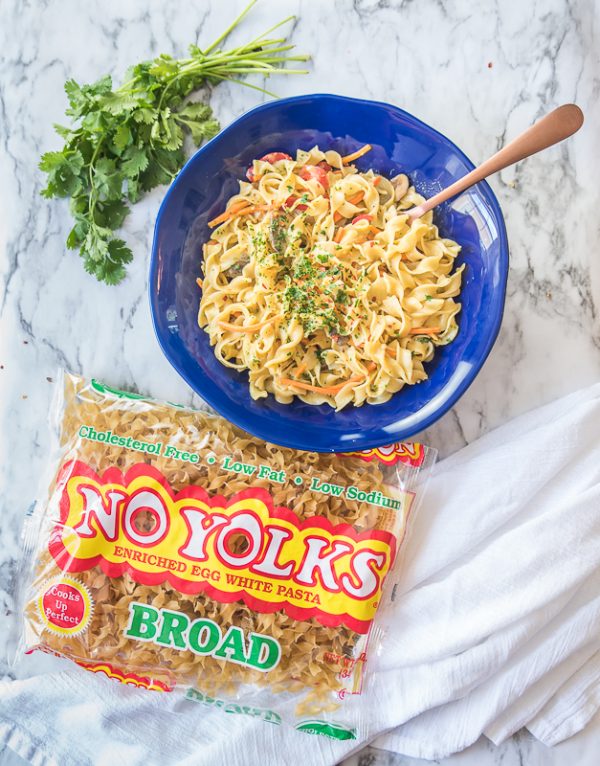 Besides the amazing flavors, I really love this noodle recipe because of how simple it is to pull together on a busy weeknight.
The whole thing can be cooked in just a single pot on the stovetop, which makes it so much easier to manage the cleanup afterwards.
Pssst... Be sure to grab a copy of my favorite One-Pot Vegan Recipes for more easy weeknight dinner ideas.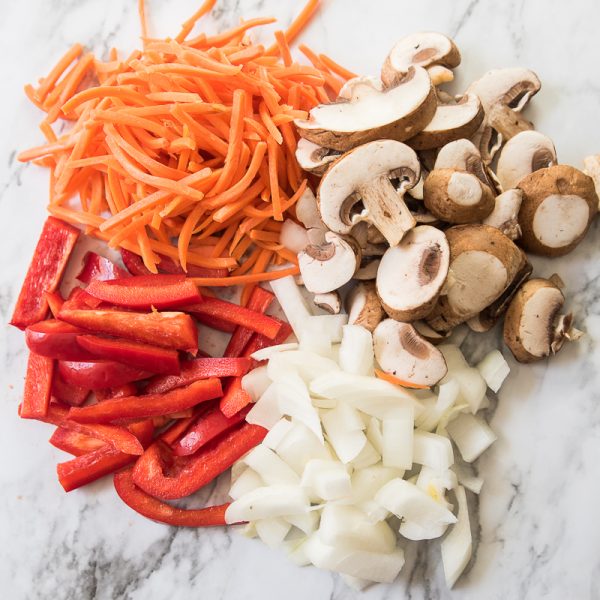 Start off by simply cooking the veggies in a large, deep pan. I used mushrooms, onions, carrots, and a red bell pepper. But you can use any assortment of veggies that you like.
I bet this would also be great with eggplant, zucchini, or even baby corn!
Once the veggies are softened, add the garlic, ginger, red pepper flakes, and lemongrass. These are the key ingredients for your green curry noodles.
Besides the curry paste, of course. So much flavor! This is where your kitchen will really start to smell amazing too.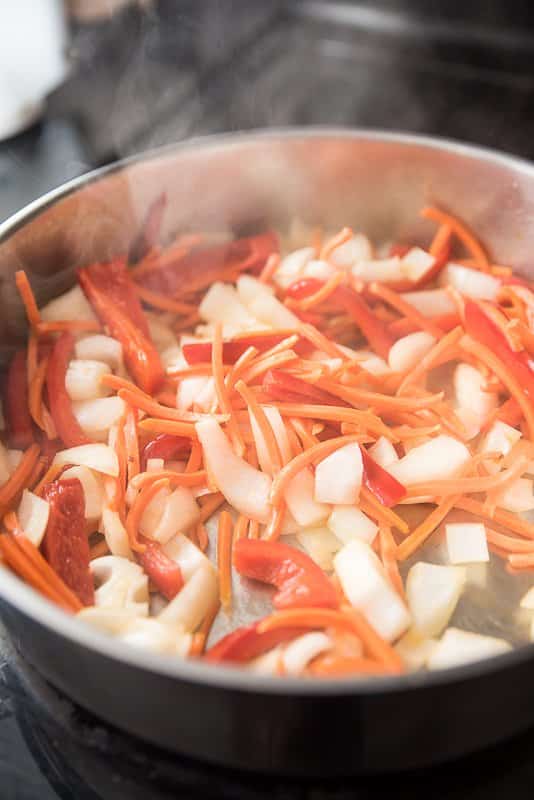 Then it's time to make the green curry broth. Mix in the coconut milk, green curry paste, and vegetable broth.
If you want to make your own fresh vegetable stock, check out this recipe. Otherwise, store bought is just fine – and faster!
Now you simply add in the No Yolks Noodles, and cook them right in the pot with the green curry sauce. It's truly a one-pot meal!
It will only take about 12 minutes for the noodles to cook, and for the green curry sauce to thicken.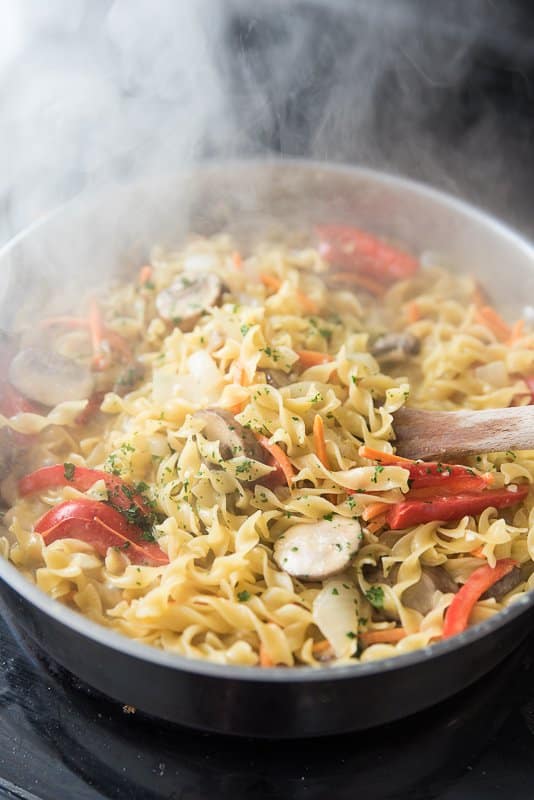 I love the color of this curry! Isn't it gorgeous? I have to admit that I thought this green curry would be more… well… green.
But with the yellow noodles and the mix of fresh veggies, it really turned out to be a colorful masterpiece.
And that's it! You can scoop the noodles into serving bowls. Top them with fresh cilantro and a bit of red chili flakes.
These would also be great topped with peanuts, or with slivers of red hot chili peppers if you like things extra spicy!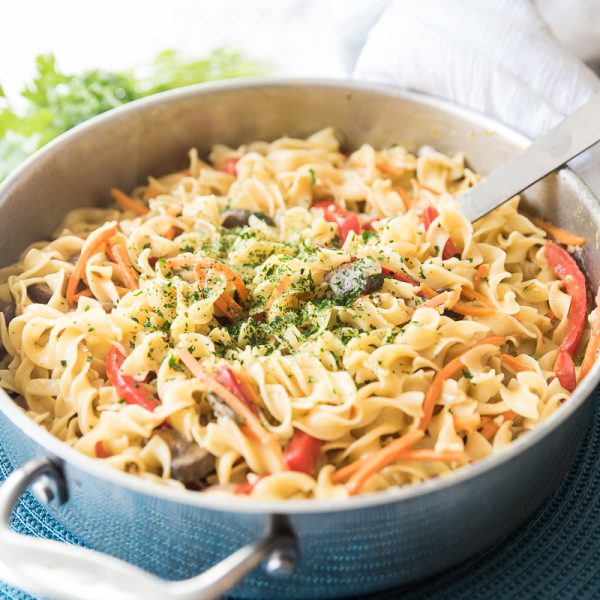 I hope you give these one-pot green curry noodles a try. And be sure to check out all of the other great noodle recipes from No Yolks. I know I will be trying more of their noodles in my other dishes.
The No Yolks Fine Noodles would work perfectly in my vegan pho recipe. And I bet the extra broad noodles would be great in my One Pot Creamy Mushroom Pasta – it's one of my most popular recipes ever!
For more inspiration, check out my favorite vegan pasta recipes!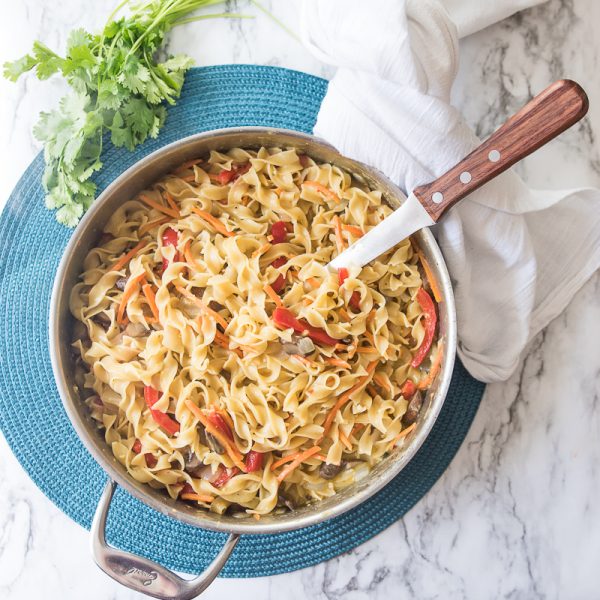 Recipe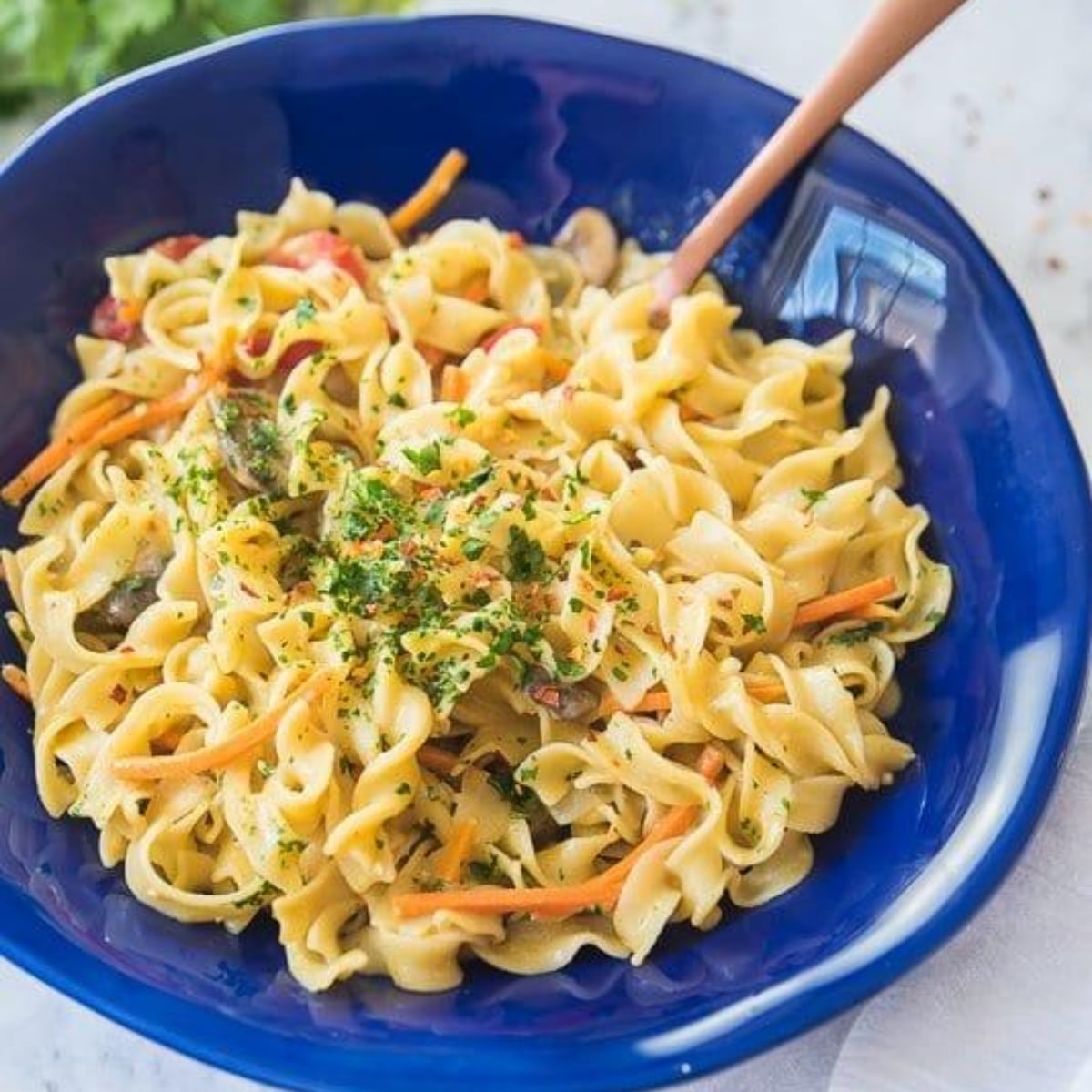 Ingredients
1

package No Yolks Broad Noodles

14

oz

coconut milk

3

tbsp

green curry paste

1

tbsp

lemongrass paste

2

cloves

garlic

chopped

1

tbsp

ginger paste

1

tsp

red chili flakes

plus extra for garnish

2

tbsp

fresh cilantro

chopped

8

oz

mushrooms

washed and sliced

1

cup

shredded carrots

1

red bell pepper

sliced

½

yellow onion

peeled and sliced

2

cups

vegetable broth
Salt

to taste
Instructions
Heat a drizzle of olive oil over medium heat. Add red bell pepper and onion. Cook for 3-5 minutes, until just softened.

Add carrots and mushrooms. Cook for additional 3-5 minutes.

Add garlic, ginger paste, and lemongrass paste. Cook for 1-2 more minutes.

Add coconut milk. (Shake the can well first!) Stir.

Add green curry paste and red chili flakes. Stir well to combine. Cook for 5 minutes over medium heat.

Add vegetable broth and bring to a boil. Stir in No Yolks Noodles.

Cook for 12 minutes, until noodles are fully cooked and sauce is thickened.

Add salt, as desired. Stir to combine. (The amount of salt found in vegetable broth can vary widely by brand. Be sure to taste first!)

Serve topped with fresh cilantro and additional red chili flakes.
Nutrition
Calories:
350
kcal
Carbohydrates:
52
g
Protein:
12
g
Fat:
15
g
Saturated Fat:
12
g
Sodium:
346
mg
Potassium:
401
mg
Fiber:
3
g
Sugar:
4
g
Vitamin A:
5640
IU
Vitamin C:
29.7
mg
Calcium:
33
mg
Iron:
2.9
mg
Craving more veg-friendly recipes?
Shop our collection of vegetarian and vegan cookbooks, including our new Vegan Thanksgiving and Vegan Christmas cookbooks!