This vegan paella is bursting with flavor. Spanish rice is simmered in vegetable stock and wine, then combined with saffron, spanish spices, and delicious veggies.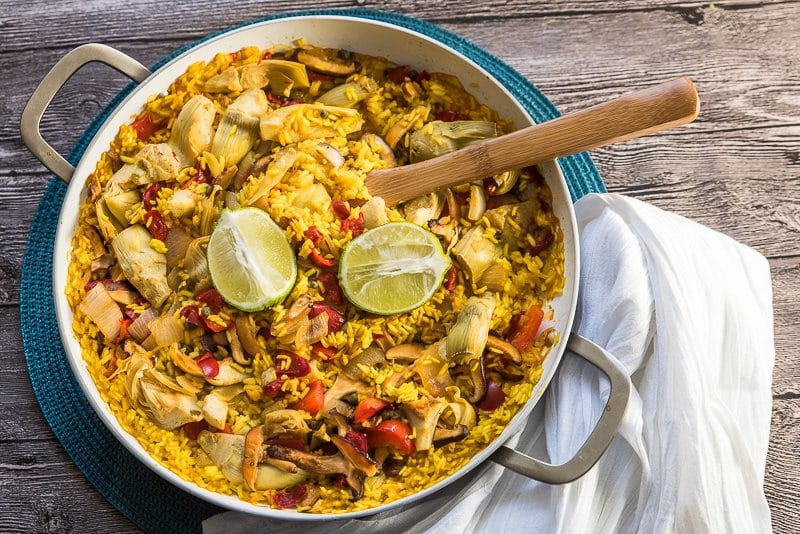 I have always loved paella. There's something extraordinarily comforting about a big bowl of rice and spicy seasonings that will warm your belly!
We first made this vegan paella for an Easter Brunch, and have been serving it up for special occasions ever since. (P.S. If you are planning an Easter brunch, don't miss my new Vegan Brunch Book!)
Paella originates from Valencia in Eastern Spain. Valencia has been one of the most important rice-producing regions in Spain for the past 1200 years. And here paella began as a typical meal for farm laborers.
They would cook the rice, a bit of seasoning, and whatever vegetables or meat they had access to in the rice fields. It was traditionally eaten family style, directly from the pan in which it was cooked!
This vegan paella is really simple to prepare in large quantities, which is why it's one of my go-to recipes for family gatherings.
And it's extremely versatile - you can use any combination of veggies that you prefer and easily adjust the spices to your own taste. It's been a huge hit with my vegetarian and non-vegetarian family members alike!
For more easy and delicious vegan recipes, grab this free printable with all my favorite one-pot vegan recipes!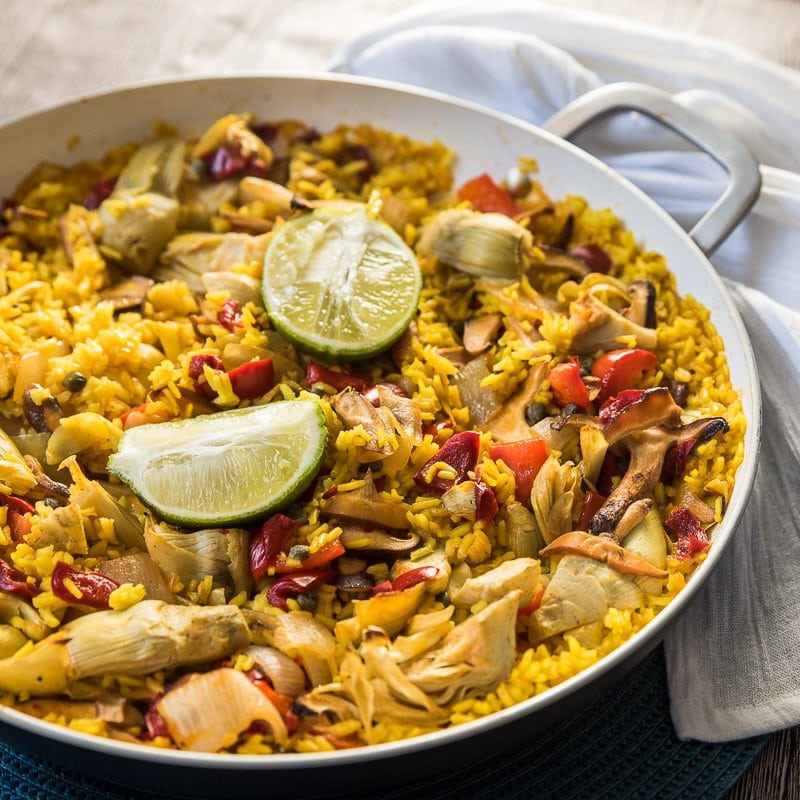 Let's make vegan paella!
The first step to making this vegan paella is choosing the right type of pan for cooking it. You need something fairly large, preferably non-stick, and oven safe.
Traditional paella pans are obviously a great choice. These special pans are made just for cooking paella.
They typically have a bunch of divets in the bottom, which are designed to capture excess liquid and ensure the dish cooks evenly. That will help you get a nice crusty bottom, which is characteristic of traditional paella.
If you're making a huge batch of paella, you may need to get a little creative. On those days, I will cook my rice and veggies on the stovetop, and then combine everything in these big disposable baking pans.
It might not quite get as crusty, but I don't really mind that. And this method has the added benefit of easy clean up- just throw the dirty baking pan away when you're done!
So let's move on to actually cooking this vegan paella.
The first step is cooking the rice. I always use this same Mahatma Spanish Rice. I've been eating it my whole life, and it's perfect for this dish.
Now here is the main secret to this whole recipe. Do not cook the rice in water! Cook it in vegetable stock and white wine.
You won't even believe how much flavor this adds to the dish. You can change any other part of this recipe, and it will still be amazing, as long as you cook the rice in broth and wine. And look how pretty that color is!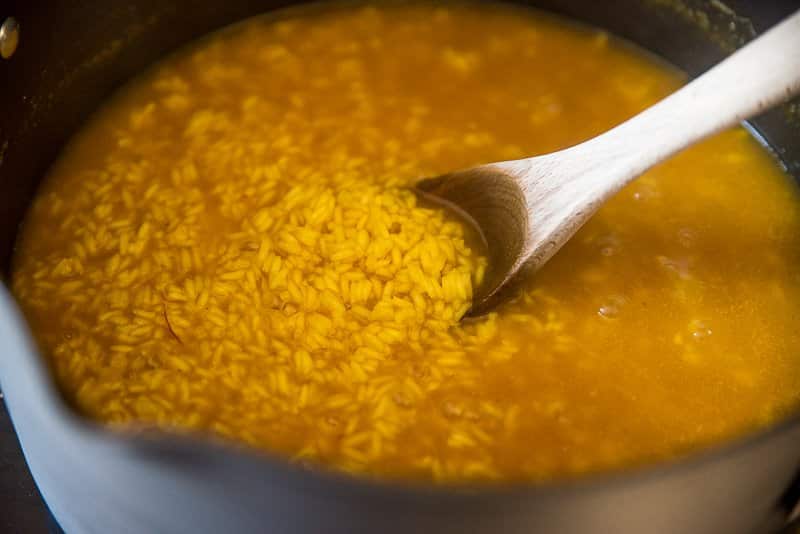 Make sure you use a decent quality wine for this. Nothing fancy - but if you aren't willing to drink it, then you shouldn't cook with it either.
Good choices for this paella are Chardonnay or Pinot Grigio. Steer clear of anything too sweet (like Riesling) or too strongly flavored (like Sauvignon Blanc). For the vegetable stock, you can opt to make your own or use store bought.
Another other important element of this vegan paella is the saffron!
Saffron is what gives most Spanish rice dishes their distintive aromatic flavor. It's hard to compare saffron to any other spices, and there isn't really a suitable alternative.
That's what makes it the most expensive spice in the world. An ounce of saffron is more expensive than an ounce of gold!
But don't worry - you only need a tiny pinch of saffron for your paella. You can always leave it out, but I wouldn't.
Personally, I buy a reasonably price saffron and keep it in my pantry. I've never seen a recipe that needs more than a pinch. This saffron is the one I've bought most recently, and that little jar has lasted over a year and been used in dozens of recipes!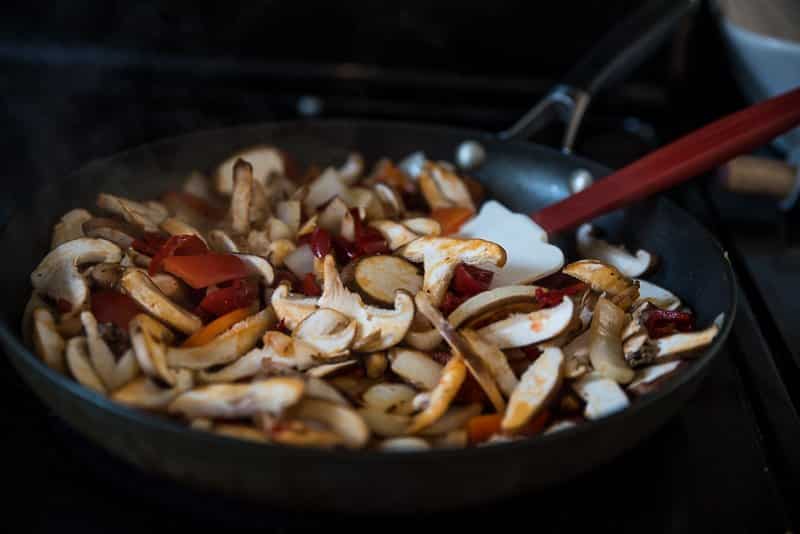 Beyond that, the recipe is pretty straightforward. Just cook up the veggies on the stovetop, with the saffron and other spices.
You can experiment with a variety of different vegetables. I personally like to use shiitake mushrooms, artichoke hearts, red bell peppers, onions, and capers.
Other good vegan-friendly options to try are asparagus, eggplant, and zucchini.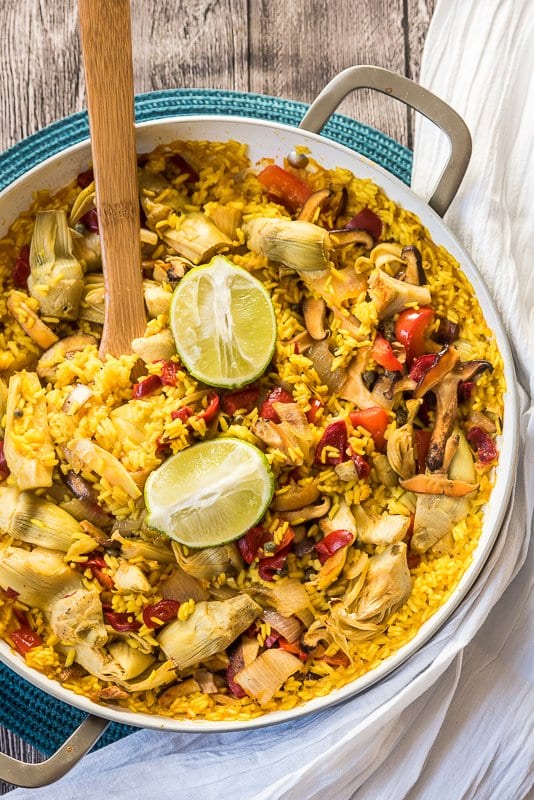 Want more easy vegan recipes?
Subscribe to the Delicious Everyday newsletter. I'll let you know when we have new recipes cooking! And as a thank you for signing up, I'll also send you my FREE eCookbook, with my top one pot vegan recipes.
Recipe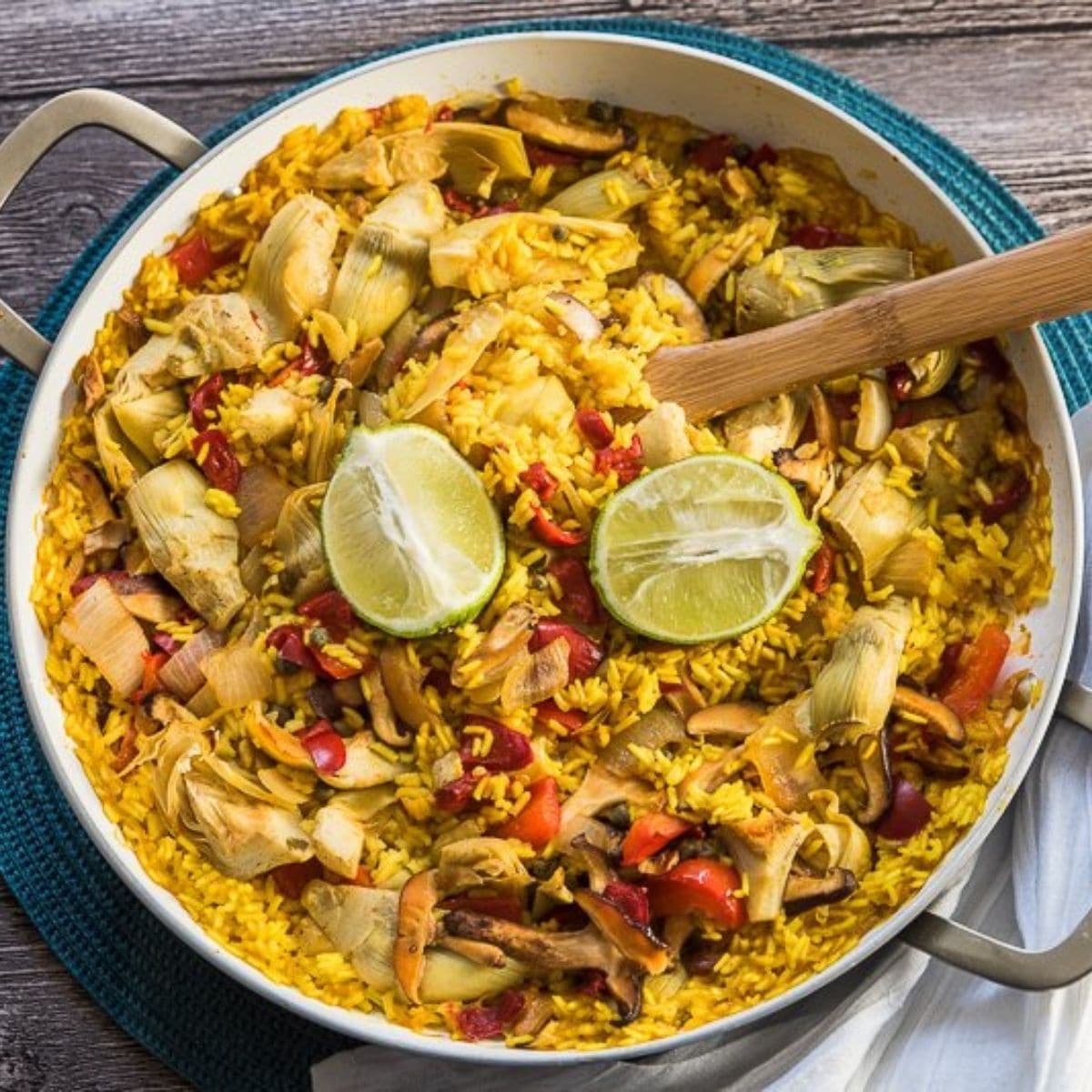 Ingredients
6

cups

vegetable stock

2

cups

white wine

such as Chardonnay

16

oz

Spanish Rice

may be called Yellow Rice or Saffron Rice

1

red bell pepper

seeded and chopped

1

yellow onion

peeled and chopped

8

oz

shiitake mushrooms

washed and chopped

14

oz

artichoke hearts

canned, quartered

¼

cup

piquillo peppers

chopped

2

cloves

garlic

peeled and minced

2

tbsp

capers

1

pinch

saffron threads

½

tsp

cayenne pepper

1

tsp

smoked paprika

1

lime

cut into wedges
Instructions
Preheat oven to 375 degrees.

In a large stock pot, combine 4 cups of vegetable stock and 2 cups of white wine.

Bring to a boil, and add rice. Cover and simmer for 15 minutes.

In a paella pan (or deep oven-safe frying pan), heat a drizzle of olive oil over medium heat.

Add bell peppers and onions, and cook for 5 minutes.

Add shiitake mushrooms, and cook for 3 more minutes.

Add artichoke hearts, piquillo peppers, garlic, capers, saffron, paprika, and cayenne pepper. Stir and cook for 2 more minutes.

Add rice into paella pan. Season with salt and pepper to taste, and stir to combine.

Bake in the oven for 30 minutes. Check on the paella every 10 minutes, adding a bit of the remaining vegetable stock each time so that the paella stays juicy.

Remove from oven. Serve with lime wedges.
Nutrition
Calories:
275
kcal
Carbohydrates:
23
g
Protein:
3
g
Fat:
9
g
Saturated Fat:
1
g
Sodium:
1920
mg
Potassium:
388
mg
Fiber:
5
g
Sugar:
9
g
Vitamin A:
3015
IU
Vitamin C:
66.2
mg
Calcium:
45
mg
Iron:
1.7
mg
Craving more veg-friendly recipes?
Shop our collection of vegetarian and vegan cookbooks, including our new Vegan Thanksgiving and Vegan Christmas cookbooks!