I've taste tested a LOT of lasagna in my life - and I can tell you this is simply the best vegan lasagna recipe you're going to find. Perfectly cooked lasagna noodles are layered with vegan ricotta cheese, savory marinara sauce and protein-packed fresh spinach. It's simple, delicious, and 100% vegan.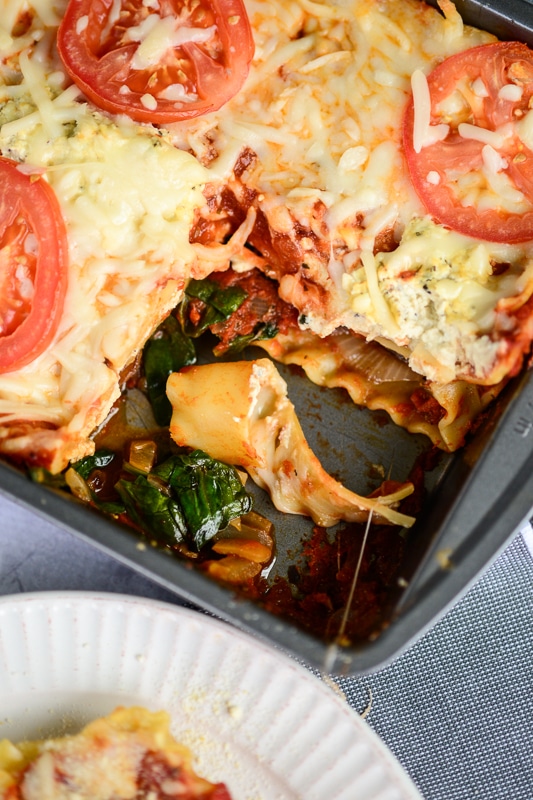 Jump to:
Lasagna is one of my all-time favorite pasta dishes. It was a special occasion dish in our home growing up, and so it always brings back great memories of cooking with my family.
And so of course, I had to reinvent my own plant-based version loaded with fresh spinach and dairy-free ricotta cheese. I think it might be better than the original.
This vegan lasagna is:
Quick & Easy
Healthy
Dairy-Free
Loaded with protein-packed fresh spinach
Delicious
100% vegan and vegetarian friendly
Insanely good comfort food
Let's get cooking.
But first - if you haven't already grabbed it, now would be a good time to snag a copy of my vegan substitution cheat sheet. It's packed with handy tricks to vegan-ize all your favorite recipes!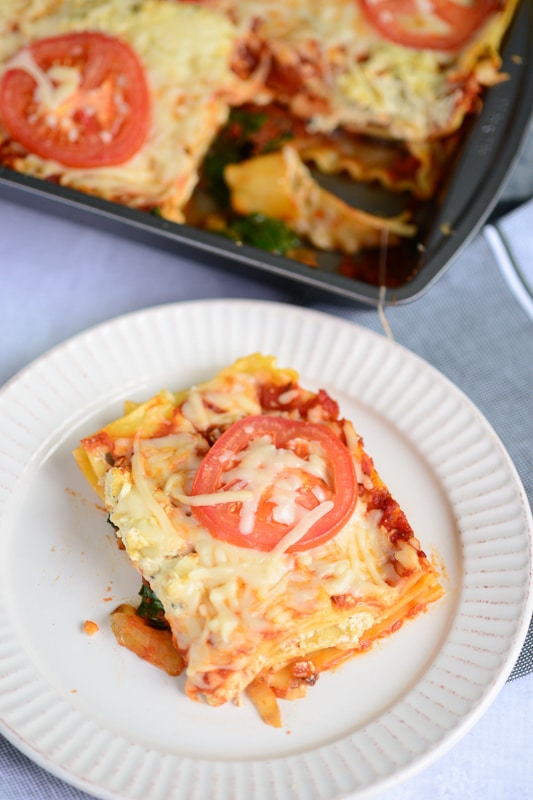 How to Make Vegan Lasagna
Lasagna is all about the layers - cooked lasagna noodles layered with spinach, dairy-free ricotta cheese, and tomato sauce. Let's get to it.
Make the Vegan Lasagna Noodles
You'll need to start by cooking your lasagna noodles. Most lasagna noodles are naturally vegan, so you can choose your favorite brand. Boil a large pot of salted water, and cook the noodles according to the package directions.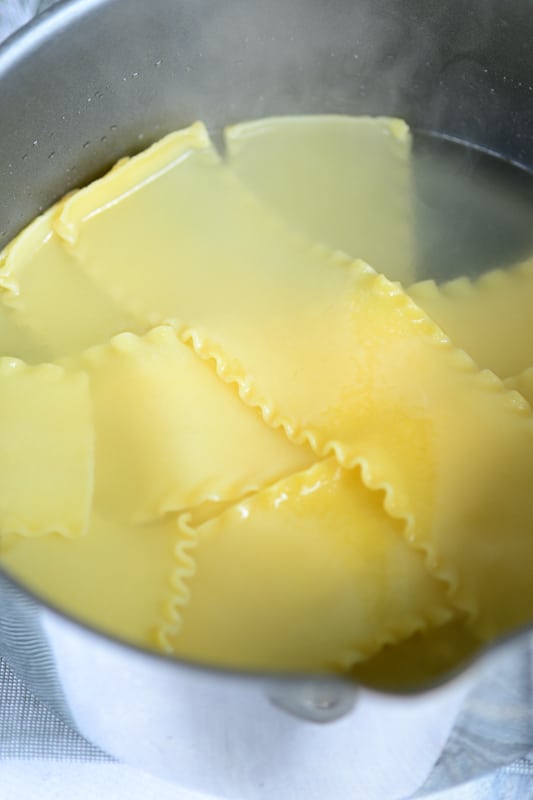 Aim for al dente noodles, as they are going to cook a bit more when the lasagna is baked in the oven. Overcooked pasta turns into mush in the oven!
Tip: Use "no-cook" lasagna noodles if you want to save time and don't want to be bothered with pre-boiling your pasta.
They will be labeled as "no-cook" or "oven-ready" on the package. I like these Ronzoni noodles, which are also vegan-friendly. This trick also turns this recipe into a 30-minute meal!
Make the Vegan Lasagna Filling
Next, we'll pull together our veggie-packed lasagna filling.
Simply sauté the spinach with some chopped onion, garlic, and olive oil until the spinach is wilted.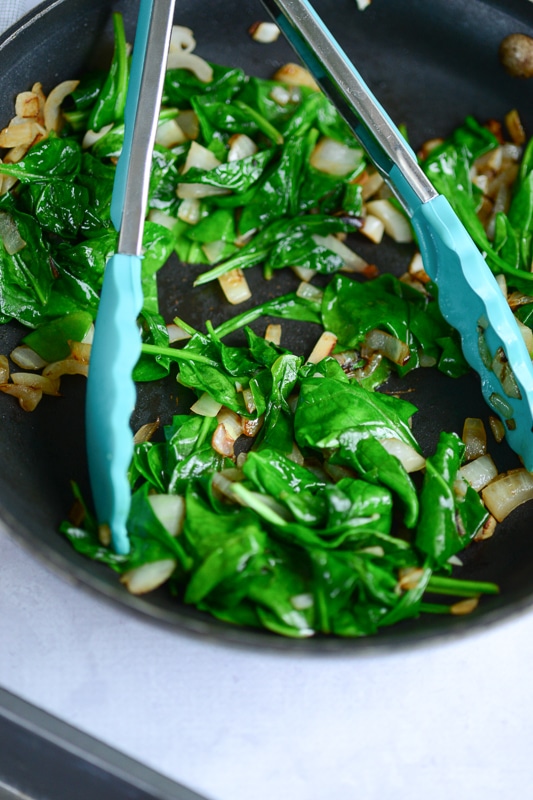 You can experiment with the filling - incorporating your favorite veggies or whatever ingredients you have in your pantry. I bet this lasagna would be delicious with some mushrooms, zucchini, or even sun-dried tomatoes. Get creative.
I made my own tofu-based vegan ricotta cheese for this recipe, and it turned out really great. I'm generally not a big fan of tofu (with the exception of Burmese tofu), but this is really worth a try. It only takes about five minutes. You can grab the vegan ricotta cheese recipe here.
Of course, if you want to make this even easier, go ahead and use a store-bought vegan ricotta. I won't tell.
If you're really ambitious, you can also make your own marinara sauce. I like this simple marina sauce recipe, or you could try it with this vegan mushroom bolognese. I was feeling a bit lazy however, so just used my favorite jarred tomato sauce for this one.
Assemble the Vegan Lasagna
Now that we have all our pieces and parts ready, we can start layering our vegan lasagna in the baking dish.
First, spread about one cup of tomato sauce in the bottom of the pan.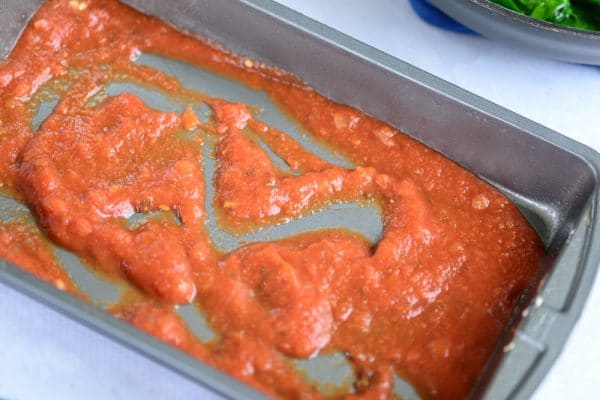 Next, lay down a single layer of lasagna noodles, overlapping the noodles a bit to fit. You may need to use 3-5 noodles, depending on the size of your pan and how wide your noodles are.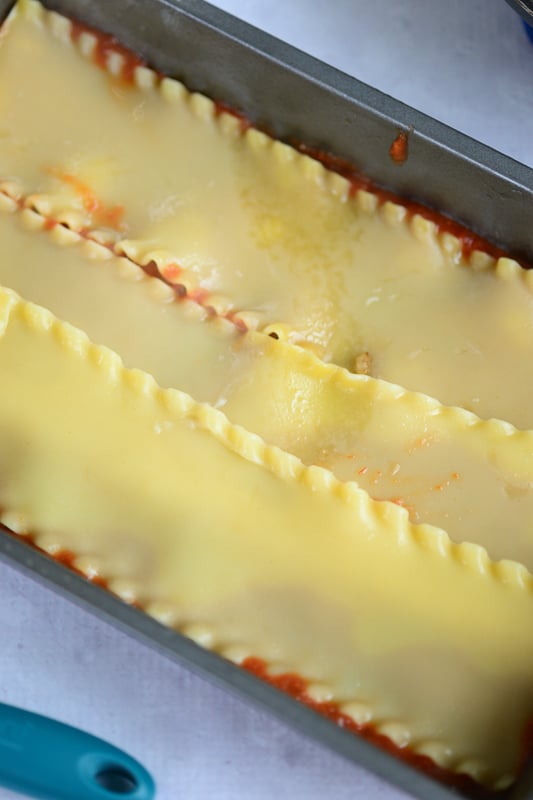 Then, spread about 1 cup of the spinach filling on top of the noodles. Make sure the filling is spread evenly so that each slice of lasagna will have a good helping of the sauteed spinach.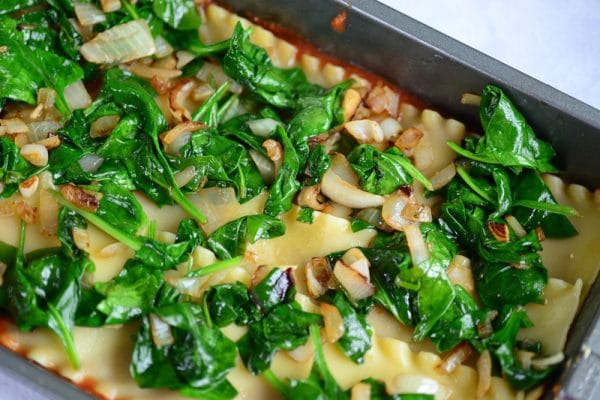 Pour another cup of marinara sauce over top of the spinach filling, and then add another layer of the lasagna noodles.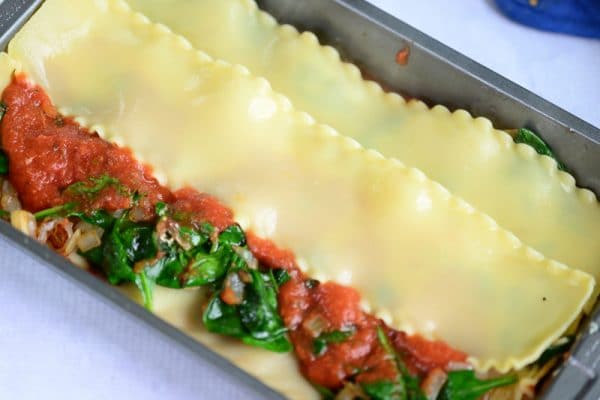 Next, pile on the creamy vegan ricotta cheese. This is the best part!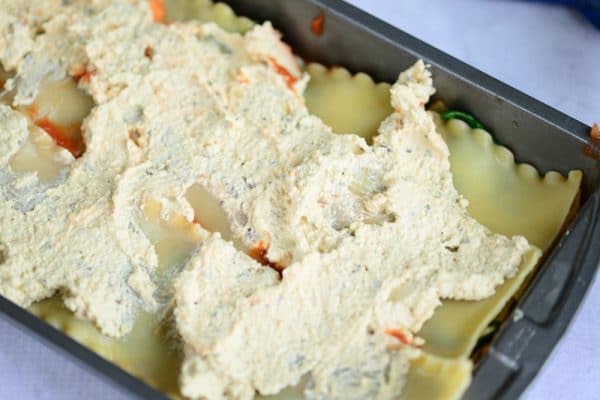 And then sprinkle over a layer of vegan mozzarella cheese. This part is optional, but it adds a nice melty quality. The cheesy layer will bubble and thicken as the lasagna bakes. Ohhh, I can't wait to eat this!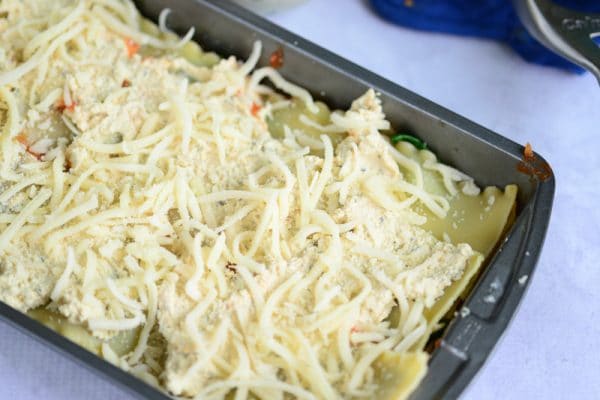 Keep repeating the layers until you fill up the pan- or you run out of noodles.
Finish with a layer of marinara sauce, another layer of vegan mozzarella cheese, and and a few sliced tomatoes. Then, pop it all in the oven to bake at 400 degrees Fahrenheit for 20-25 minutes.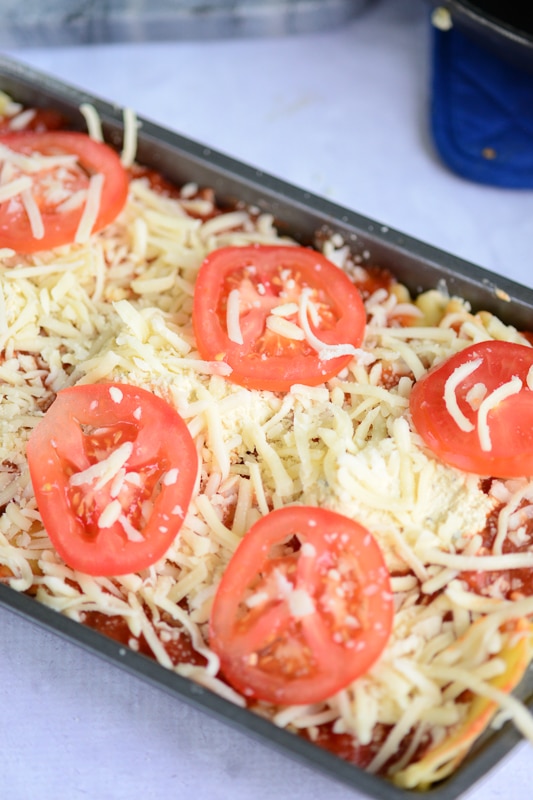 Now it's time for the hard part - waiting for it to cool after it comes out of the oven. 😉
But if you can stand to let it set for a few minutes, it will be much easier to cut and serve.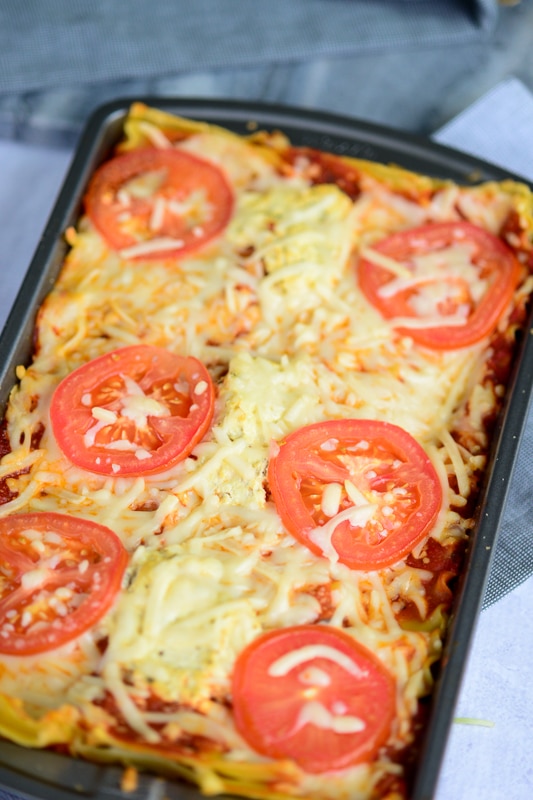 This vegan lasagna is more than hearty enough to serve on it's own. But if you want to make it a full dinner party menu - you can pair this with a fresh salad (like this green spring salad) and some crusty bread.
For more vegan pasta recipes, check out some of these reader favorites:
Recipe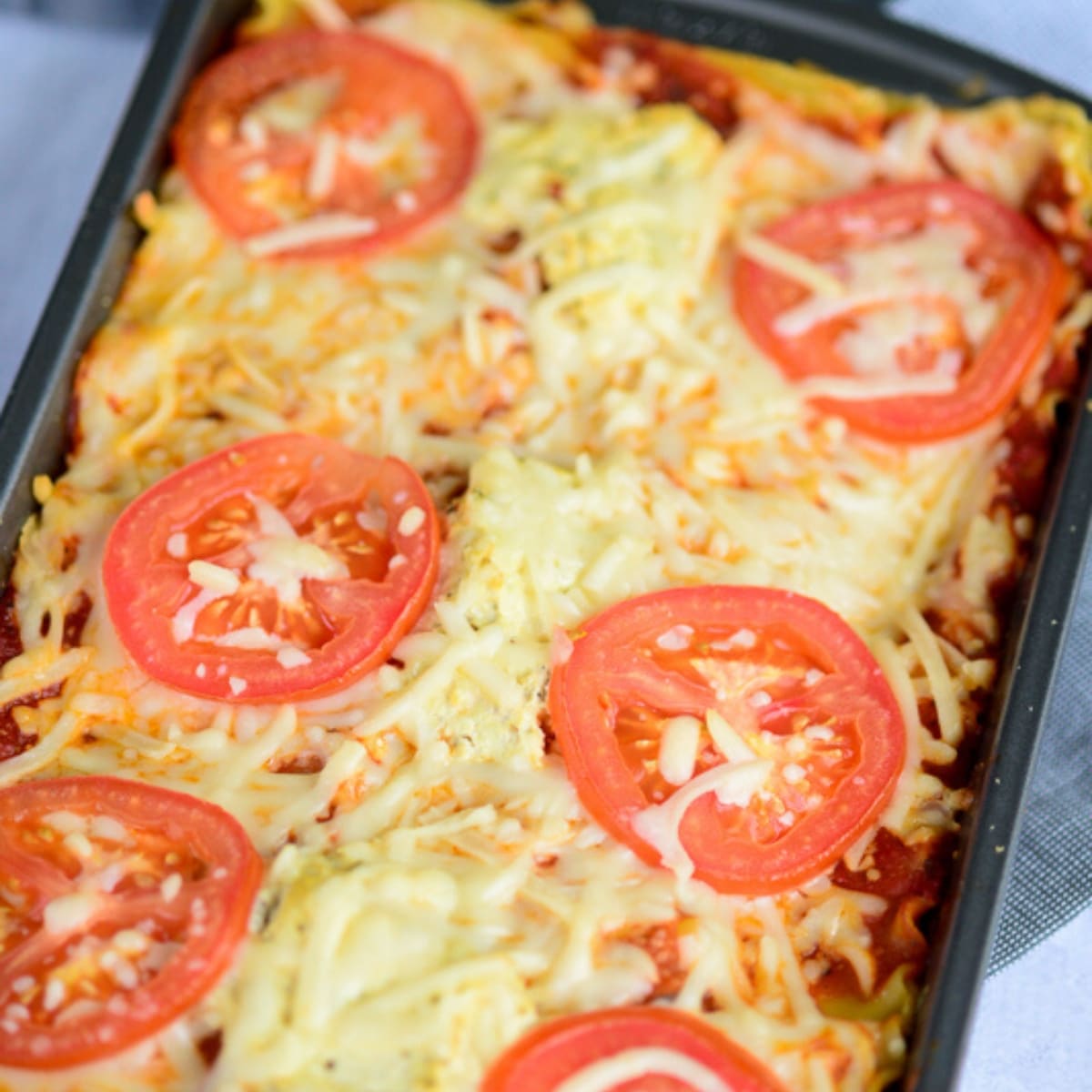 Ingredients
1

pound

Lasagna Noodles

14

oz

vegan ricotta cheese

1

tbsp

olive oil

1

medium

onion

diced

1

clove

garlic

minced

10

oz

fresh spinach

8

oz

vegan mozzarella cheese

3

cups

marina sauce
Instructions
Boil water for your noodles in a large pot. Cook pasta according to the package instructions, until al dente. Drain noodles from water and set aside.

Heat olive oil in a large non-stick skillet. Add onion and cook for 3-4 minutes, until softened. Add garlic and spinach, and cook for 2-3 minutes, until spinach is wilted. Set aside.

Prepare a large baking pan by spraying with non-stick cooking spray. Spread one cup of pasta sauce in the bottom of the pan.

Lay a single layer of lasagna noodles down first. Top with a layer of spinach filling, then a layer of ricotta, then a sprinkle of vegan mozzarella cheese. Repeat util all noodles are used. Top with one more layer of pasta sauce, and a sprinkle of vegan mozzarella cheese.

Bake at 400 for about 20-25 minutes.
Nutrition
Calories:
268
kcal
Carbohydrates:
47
g
Protein:
11
g
Fat:
4
g
Saturated Fat:
1
g
Sodium:
36
mg
Potassium:
434
mg
Fiber:
3
g
Sugar:
3
g
Vitamin A:
3330
IU
Vitamin C:
11.1
mg
Calcium:
66
mg
Iron:
2.1
mg
Craving more veg-friendly recipes?
Shop our collection of vegetarian and vegan cookbooks, including our new Vegan Thanksgiving and Vegan Christmas cookbooks!