This nut-free, dairy-free Vegan Ricotta Cheese is wonderfully delicious, so easy to make and so healthy. It makes a great replacement for dairy ricotta and pairs well with so many recipes calling for traditional ricotta. Once you try this, you'll never go back to the dairy version.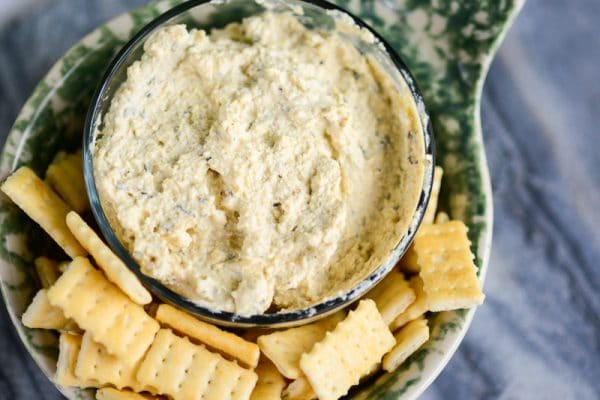 When I think about ricotta cheese I think about lasagnas, raviolis, calzones, cannelloni and manicotti - all stuffed with delicious and creamy ricotta cheese.
So I totally get why ricotta is such a hard thing to give up when transitioning to a more plant based diet. In fact, my love of all things cheese is the main thing that keeps me from going 100% vegan.
Recently, I set about creating a brand new vegan lasagna recipe. (Go check that out if you haven't seen it yet!) Now some vegan lasagana recipes simply leave out the cheese entirely. But let's be honest - no one wants that.
So I set about creating my own veggie-friendly substitution. And now I present to you - my vegan ricotta cheese!
Okay, it's not really cheese. But it has that creamy consistency and slightly tangy flavor of ricotta, and makes a good vegan substitution for ricotta cheese in lots of different recipes that would otherwise be off limits.
(If you want some more easy vegan substitution ideas - grab my cheat sheet here. You can use it to vegan-ize just about any recipe.)
This vegan ricotta cheese recipe is:
Super Healthy - high in plant-based protein, vitamin A, vitamin C and energizing B vitamins.
Nut-Free - perfect for people with nut allergies.
Low Calorie - skip all the calories of those heavy dairy and nut-based cheeses.
Wonderfully Creamy - the texture and taste is really close to whole milk ricotta!
Delicious- with a mild garlic, herby basil and lemon zing. Oh YES!
Easy to make in just 15 minutes.
Ingredients for Vegan Ricotta
Tofu is the key ingredient here. It does such a great job of giving this vegan cheese that great ricotta-like texture.
I'm actually not a huge fan of tofu, and use it pretty sparingly. I much prefer the texture of soy-free Burmese chickpea tofu in stir fries and similar dishes.
But for this vegan ricotta, it actually works perfectly. I used extra firm tofu, to get the perfect fluffy texture. This is the exact brand (Nasoya) that I used for this recipe!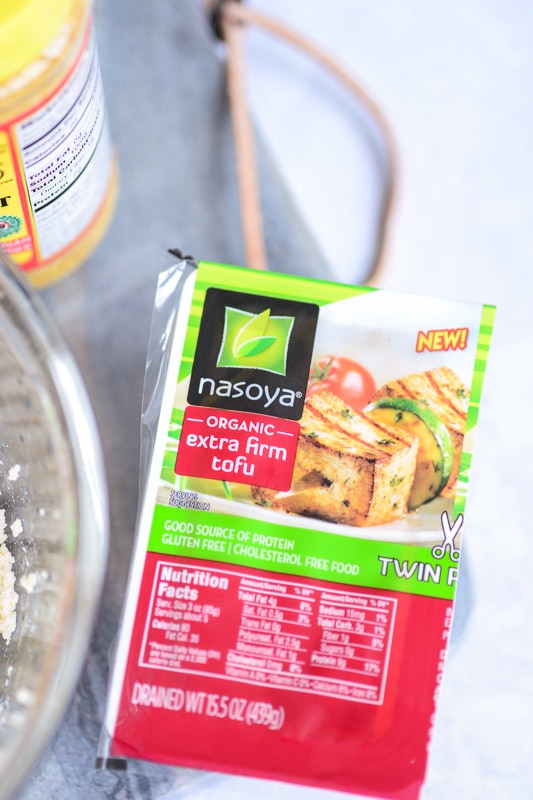 Nutritional yeast (aka Vegan Crack) is the other essential ingredient, because it adds that distinct cheesiness.
You can purchase it at most grocery stores in the health food section, or you can grab it on Amazon here.
It's a really handy ingredient to keep in your pantry. I use it for my favorite vegan mac and cheese too, and for this 5-minute vegan alfredo sauce.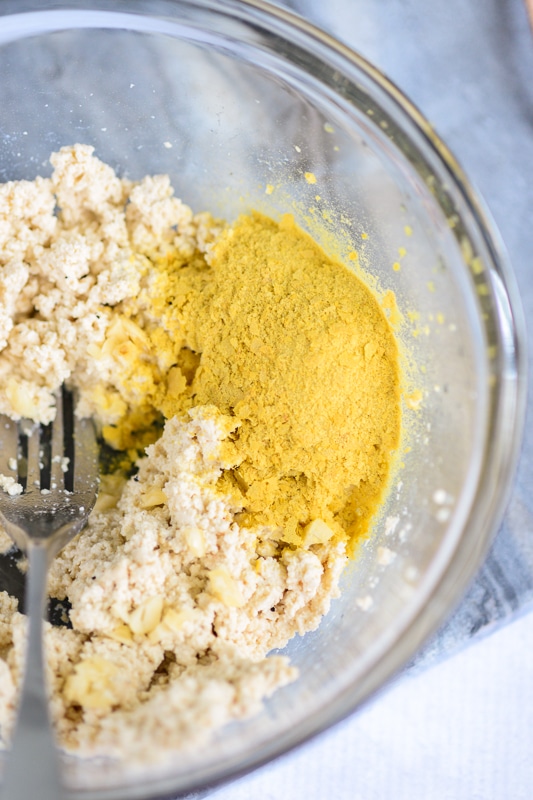 How to Make Vegan Ricotta Cheese
I like to take the old-fashioned route and use a fork to mash the tofu. I find that with a blender you lose a bit of the ricotta-like texture and the cheese becomes a bit too smooth.
Also, I'm lazy and don't want to wash the blender. 😉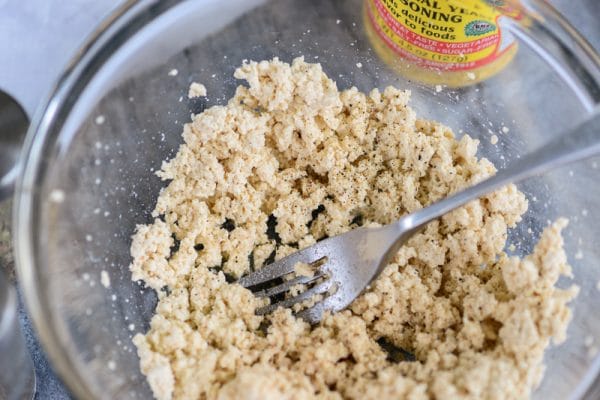 Then mix in the the rest of the ingredients - nutritional yeast, minced garlic, dried basil, a squeeze of lemon, salt and pepper.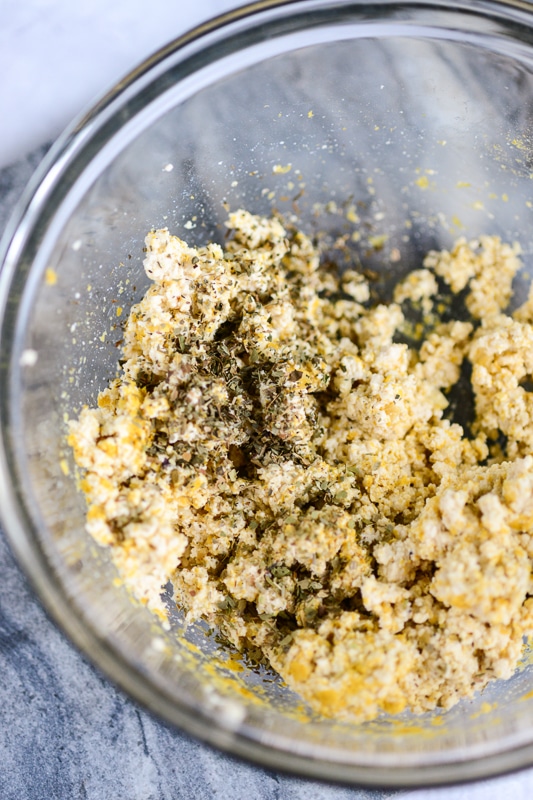 If you find that the vegan ricotta is too thick, you can add 1-2 tablespoons of water to reach your desired consistency.
The nice thing about making homemade vegan ricotta, rather than store-bought, is that you can adjust the recipe to make it your own.
I use this as a base recipe and simply add various fresh herbs or seasonings to customize it for the type of dish I'm making.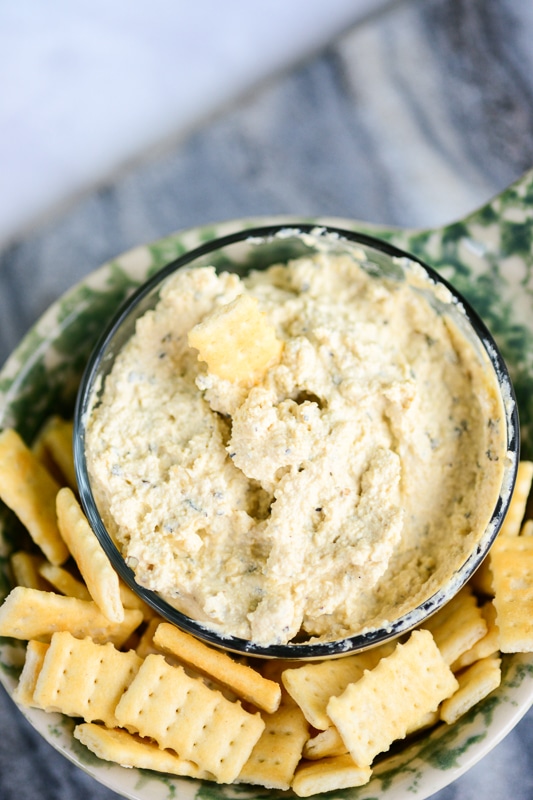 You can try it with oregano, fresh cilantro, or even chili powder for a spicy Mexican enchilada.
This vegan ricotta has so many uses! Try it as a substitute for traditional ricotta in pasta dishes like lasagna or stuffed shells, stuff it into Italian calzones, or even serve it as a dip for fresh veggies or crackers.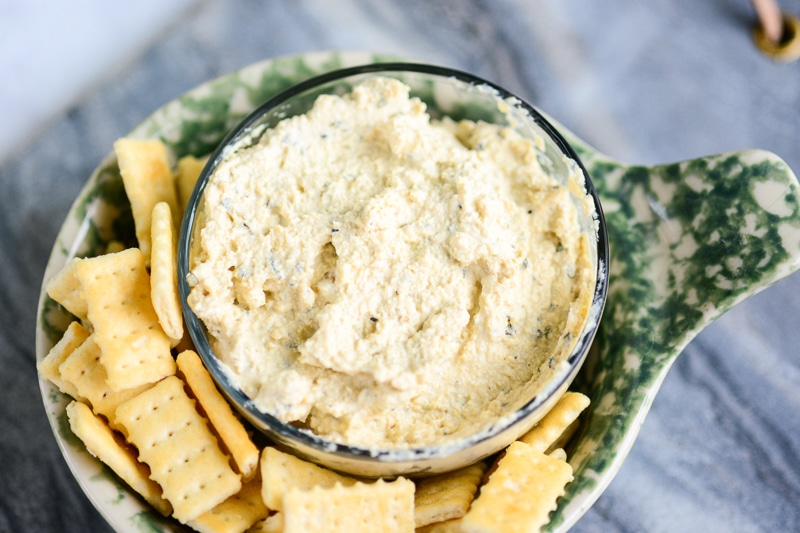 I can't wait to try it in this zucchini cannelloni recipe next!
If you like this, be sure to check out this easy vegan feta cheese recipe as well. And don't forget to grab a copy of that vegan substitution cheat sheet- it's packed with easy ways to make all your favorite recipes vegan friendly!
Recipe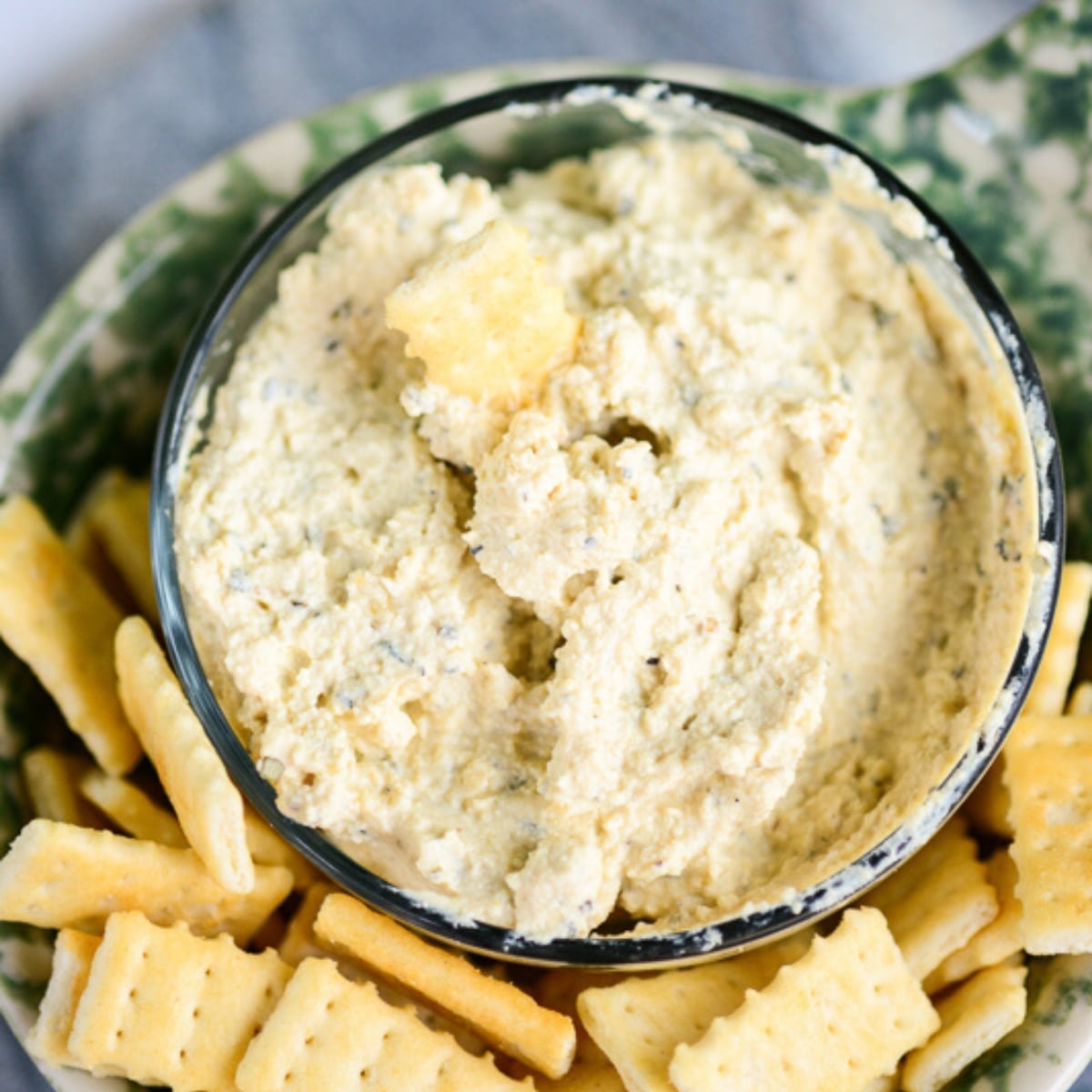 Instructions
Mash the tofu with a fork in a medium bowl.

Add all ingredients and mix until well combined.
Notes
Use vegan ricotta cheese as a substitute in recipes that call for traditional ricotta. Or serve on its own as a dip with crackers or fresh veggies.
Nutrition
Calories:
144
kcal
Carbohydrates:
6
g
Protein:
13
g
Fat:
8
g
Saturated Fat:
1
g
Sodium:
4
mg
Potassium:
164
mg
Fiber:
3
g
Sugar:
1
g
Calcium:
136
mg
Iron:
2.1
mg
Craving more veg-friendly recipes?
Shop our collection of vegetarian and vegan cookbooks, including our new Vegan Thanksgiving and Vegan Christmas cookbooks!