A Vegan Mac and Cheese that you don't need to feel guilty about! This healthy mac and cheese contains hidden veggies but it is so creamy and delicious that you'd never know. And it's ready in under 30 minutes from start to finish!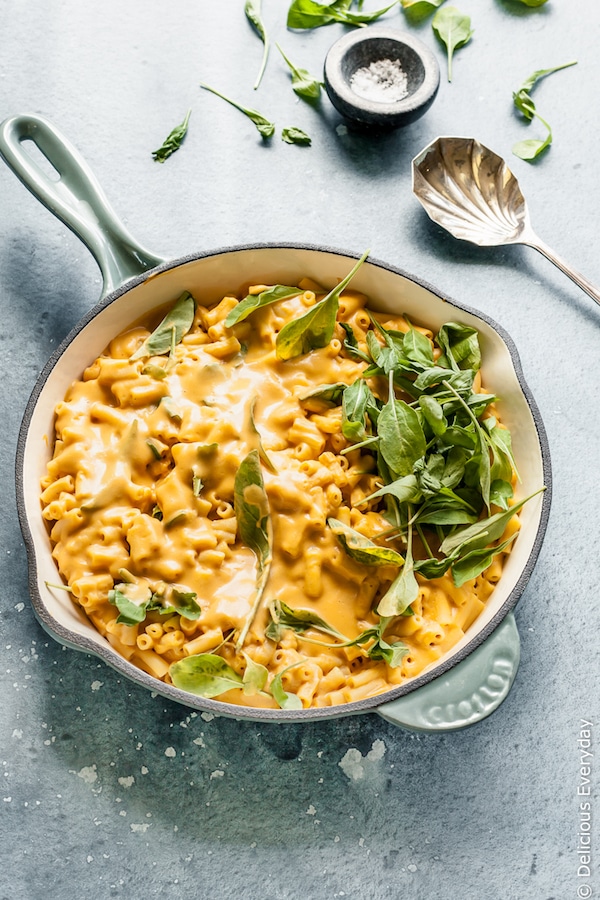 Mac and cheese is the ultimate comfort food! There's really nothing that compares to a big bowl of creamy mac and cheese on a cold night.
But this vegan mac and cheese is something different altogether. It has all the cheesy comfort of the original, but it is a whole lot lighter and 100 times more waistline friendly.
The secret? Well, for a start, there's no cheese in this mac and cheese.
Secondly, it is loaded with veggie goodness - cauliflower, potato and butternut pumpkin (butternut squash).
We've all heard of cauliflower mac and cheese but the addition of butternut squash adds a lovely golden hue and a subtle sweetness to counter the slight bitterness of the cauliflower.
It even looks like a certain well-known brand's (ahem - Kraft) all too familiar yellow cheese sauce.
Completely devoid of chemicals and food colors, this dairy-free cheese sauce looks rich and cheesy. And it tastes it too.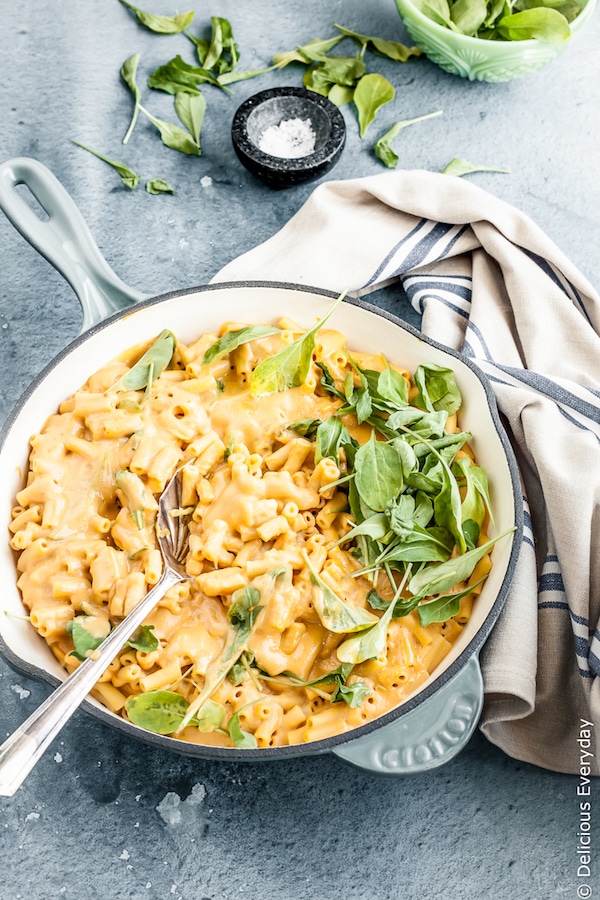 A touch of nutritional yeast, smoked paprika and miso give the vegan cheese sauce extra depth, and a squeeze of lemon adds that slight acidic note found in traditional cheese.
The best part though, is that it is a cinch to prepare! Dinner will be on the table in under 30 minutes from start to finish.
While you're here, be sure to grab our FREE 5-Day Meatless Meal Plan. It's packed with tasty recipes to make vegetarian cooking easy and delicious!
How to Make Vegan Mac and Cheese
The first step to making this vegan mac and cheese is to cook the veggies.
Place potatoes, butternut squash, cauliflower, garlic, shallot, and cashews into a pot of water and bring to a boil.
When the veggies are cooked, we'll process them all in the blender to create our dairy-free cheese sauce.
The butternut squash will give your vegan mac and cheese a gorgeous orange color, and the cashews will lend a perfect creamy consistency.
Next, add the nutritional yeast, white miso, smoked paprika, olive oil, and lemon juice and blend until nice and creamy.
Finally, we'll cook the macaroni and toss it with our vegan cheese sauce. I love the traditional elbow macaroni pasta for my vegan mac and cheese, but you can use any shape you like!
If the sauce is too think, add a bit of the macaroni cooking water to thin it out.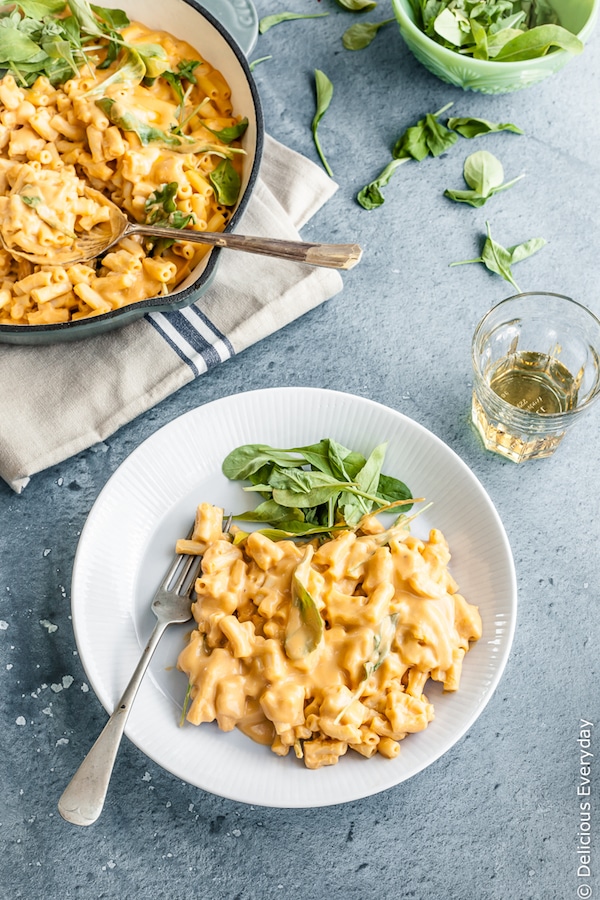 Tips for the Best Vegan Mac and Cheese
Be sure to use dense, starchy potatoes for the vegan cheese sauce. I have found that russet potatoes work best for this recipe.
If you're not up to the task for peeling your butternut squash (I know it's a tough job!), you can buy pre-chopped butternut squash at most grocery stores.
Be sure not to overcook the pasta - overcooked macaroni will absorb the dairy free cheese sauce more quickly.
If you're not going to eat the vegan mac and cheese right away, I recommend preparing some additional sauce and adding it before reheating. This will keep your mac and cheese from getting too dry.
If you can't find white miso paste, you can use a dash of soy sauce to give your vegan mac and cheese that bit of umami flavor. But it really is worth picking up some white miso - I always keep it in my pantry!
Butternut squash is also known as "butternut pumpkin" in some regions. They are the same thing.
More Vegan Pasta Recipes
If you love the idea of a vegan mac and cheese, but are looking for something a little simpler (and less veggie-centric), be sure to try out this Baked Vegan Mac and Cheese which uses dairy-free cheese to make a simple sauce with just a few ingredients.
And be sure to check out my most popular vegan pasta recipes here. Here are a few of my personal favorites:
While you're here, be sure to grab our FREE 5-Day Meatless Meal Plan. It's packed with tasty recipes to make vegetarian cooking easy and delicious!
Recipe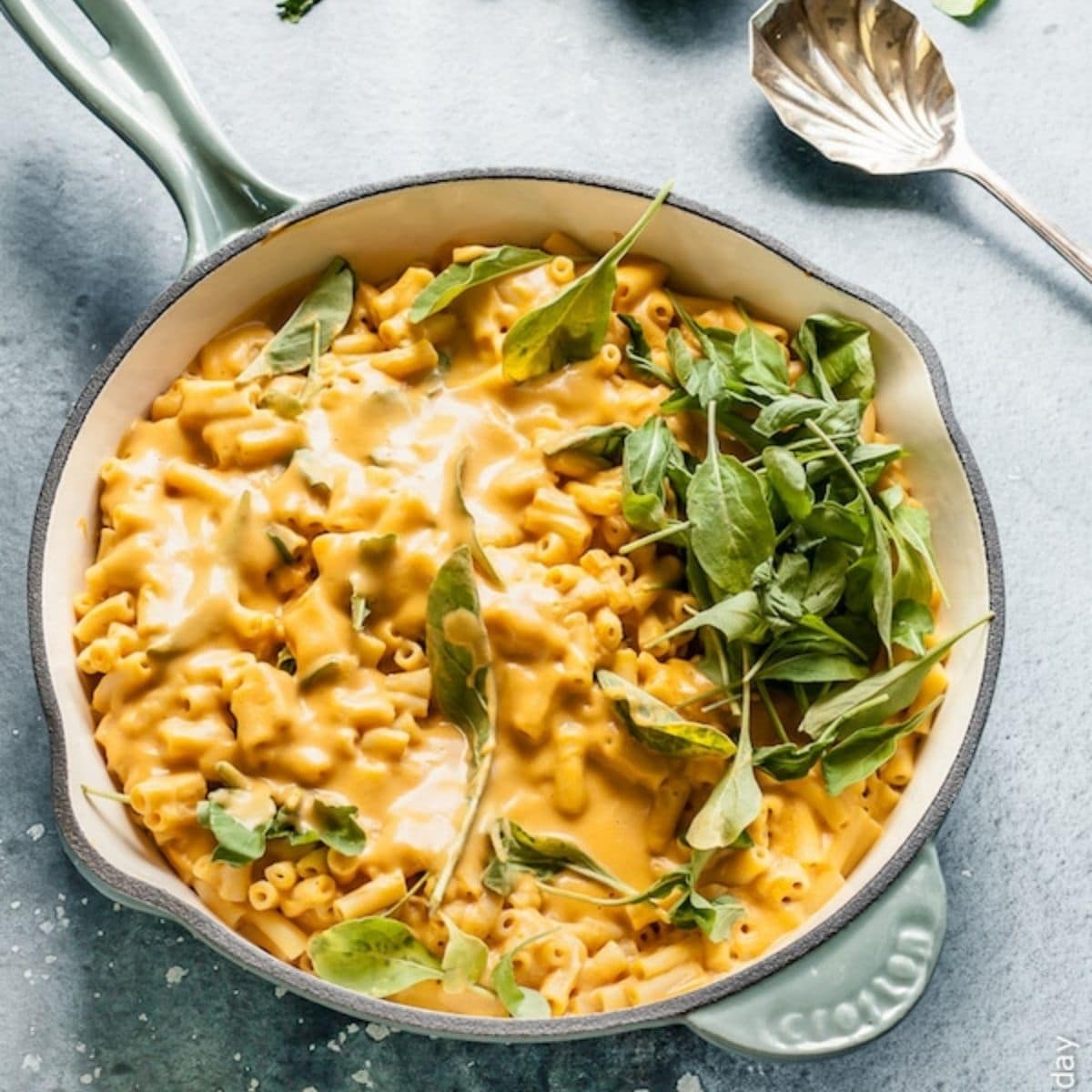 Ingredients
1

cup

potato

200g, peeled and chopped

1

cup

cauliflower

100g, roughly chopped

1

cup

butternut squash (butternut pumpkin)

200g, peeled and chopped

2

garlic cloves

2

tbsp

shallot

peeled and roughly chopped

½

cup

cashews

¼

cup

nuritional yeast

1 ½

tsp

smoked paprika

2

tbsp

olive oil

1

tbsp

white miso

1

tbsp

lemon juice

10

oz

macaroni

300g

salt and pepper

to taste

baby spinach or arugula (rocket)

optional
Instructions
Place the potato, cauliflower, butternut squash, garlic, shallot and cashews in a saucepan and cover with as much water as needed so that the vegetables are covered. Add a little salt to season and bring to a boil and cook for 10 minutes until fork tender. Do not drain.

Place in a blender with 1 ½ cups of cooking water with the all the rest of the ingredients except the macaroni. Blend until smooth. Taste and adjust the seasoning as necessary.


While the sauce is blending bring a saucepan of water to a boil. Once boiling, add the macaroni and cook according to packet directions. Drain, reserving ½ cup of the cooking water.

Toss the pasta with the sauce until well combined. Add some of the reserved pasta water if you'd like slightly looser sauce Add your favourite greens (if using) and serve.
Notes
This recipe makes 4 generous serves maybe even 5. Depends on how hungry you are 🙂
Russet potatoes will work best with this vegan mac and cheese recipe. If you can't find them, substitute another starchy potato.
IMPORTANT: If you over cook the pasta you will find that the pasta will absorb the sauce. This recipe should provide more than enough vegan cheese sauce to counter this. In fact, it will look like too much sauce, but the pasta will absorb some of this. If not eating immediately, cover the pasta with a layer of extra sauce so that the dish doesn't dry out. If it does, a little olive oil or water stirred through will help slacken it.
Left-over pasta can be frozen and reheated, however, it will have absorbed some of the sauce. This recipe is best eaten straight away.
Nutrition
Calories:
468
kcal
Carbohydrates:
68
g
Protein:
14
g
Fat:
15
g
Saturated Fat:
2
g
Sodium:
179
mg
Potassium:
604
mg
Fiber:
5
g
Sugar:
4
g
Vitamin A:
370
IU
Vitamin C:
21.2
mg
Calcium:
45
mg
Iron:
4.1
mg
Craving more veg-friendly recipes?
Shop our collection of vegetarian and vegan cookbooks, including our new Vegan Thanksgiving and Vegan Christmas cookbooks!
Did you make this recipe?
I'd love to see! Share your photo on Instagram and tag me @deliciouseveryday for a chance to be featured.
And don't forget to follow Oh My Veggies on Pinterest, Facebook and Instagram for all of the latest news and competitions.