This simple one-pot vegan potato soup is simple, creamy and delicious. Tender potatoes come together with fresh chives and almond milk to make the perfect comfort food. A simple and quick recipe, even for the busiest of evenings.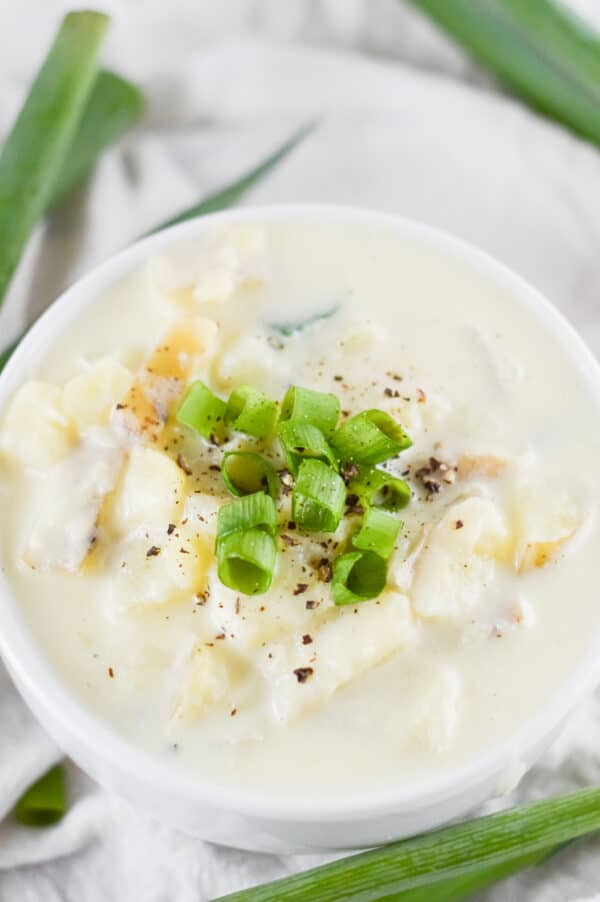 While you're here, be sure to grab our FREE 5-Day Meatless Meal Plan. It's packed with tasty recipes to make vegetarian cooking easy and delicious!
I'm a huge fan of comfort foods because, well, it's comforting.
There's a reason it gets that title, after all. And perhaps the most notorious type of food to dominate the comfort food category is soup.
I make a lot of soups and some of my favorites are Vegan Carrot and Coriander Soup or Spicy White Bean Pumpkin Soup. In fact, I have a whole collection of vegan soups in my recipe box!
And this potato soup has quickly become a favorite in my house. That's because it's so easy to cook up in a single pot.
You know I love those one-pot recipes! In fact, I wrote a whole cookbook full of them. 😉
How to Make Vegan Potato Soup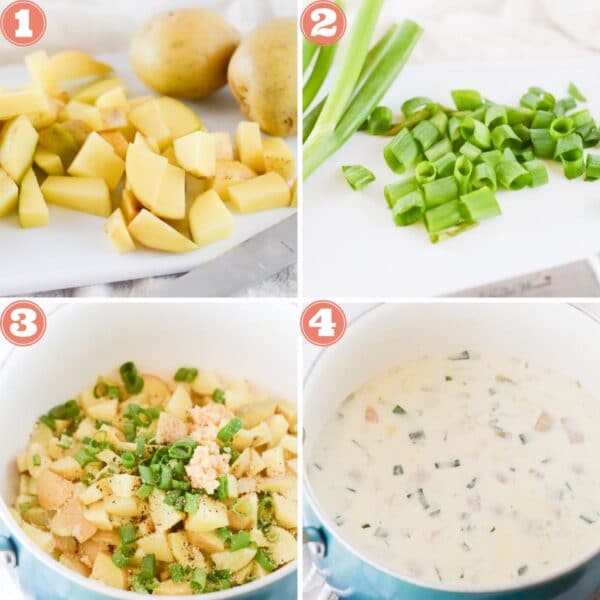 Prepare potatoes - Wash, dice, and boil your potatoes until fork tender. Drain and place back in the pot. Add in the rest of the ingredient except the almond and coconut milk. Stir until butter is melted.
Simmer - Add the two milks to the mixture and stir well. Let it simmer uncovered for about 15 minutes on a low-medium setting.
Finish - Lightly smash the ingredients in the soup, leaving some chunks of potato. Let sit off the heat for about 10 minutes in order to thicken.
Garnish and serve - Spoon into bowls, garnish if desired, serve, and enjoy!
Scroll down for the full printable recipes with measurements and detailed instructions.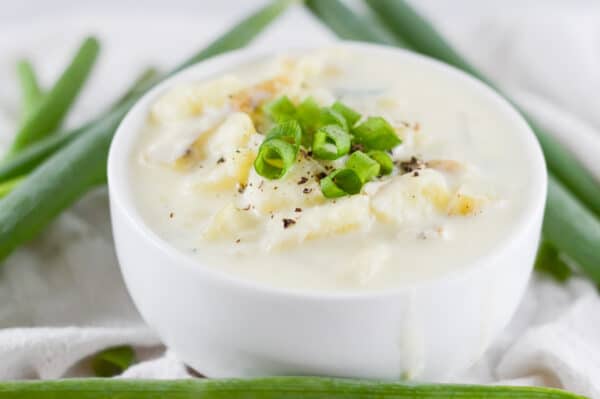 Tips and Variations
Coconut Milk Substitutes - If you're not a fan of using coconut milk, you can use another substitute that will work like heavy cream would. For example, you can mix one part vegan unsalted butter with three parts vegan milk. You can also do two parts dairy-free milk and one part oil.
Grab the Cheat Sheet! - If you're a fan of vegan cooking, make sure you snag a free copy of my vegan substitution cheat sheet. It's packed with my favorite easy substitutions to vegan-ize your favorite recipes.
Use an immersion blender - If you prefer to not have chunks of potato in your soup, you can use an immersion blender (like this one) and make it smooth. You can also use an immersion blender in place of mashing the soup. Just be sure to not blend it too much if you still want chunks of potato.
Make it spicy - Add in half of a tablespoon of crushed red peppers or slice up a jalapeno and add it to the pot. This will add a nice spice to the soup, if desired.
Storage - Store this potato soup in the fridge or freezer in an airtight container. Will last in the fridge up to 5 days and in the freezer up to a month.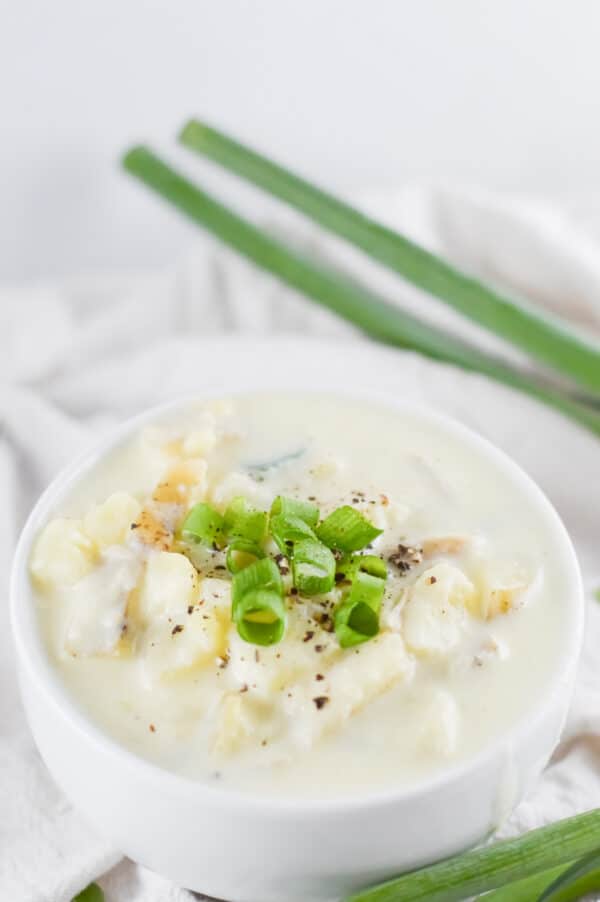 Common Questions About Vegan Potato Soup
How Do You Make Potato Soup Thicker?
If you like your potato soup thicker, you can always double the amount of potatoes called for in the recipe or reduce the amount of milk included in the recipe.
If you want to thicken it after preparing as-is, you can mix some cornstarch into a dab of water and mix that it into the soup.
You can also always allow your soup to simmer longer in order to evaporate some of the extra liquid. This should help make it a bit thicker.
If you want to make it thinner after preparing, you can add more almond milk or even a dab of water. Just know the water could cause the flavor to dilute a bit.
Can You Freeze Potato Soup?
Yes, you can definitely freeze potato soup. However, here's what you'll want to know if you decided to freeze it.
Potatoes will often change their texture a bit once frozen and then thawed. Many people don't mind the texture.
I would suggest freezing a bit first, and then trying it to see if you're ok with the outcome of the soup. That way, you don't waste your entire batch of soup.
More Vegan Soup Recipes
If you're a soup lover, be sure to check out my full collection of the best vegan soups. Here are a few favorites:
While you're here, be sure to grab our FREE 5-Day Meatless Meal Plan. It's packed with tasty recipes to make vegetarian cooking easy and delicious!
Recipe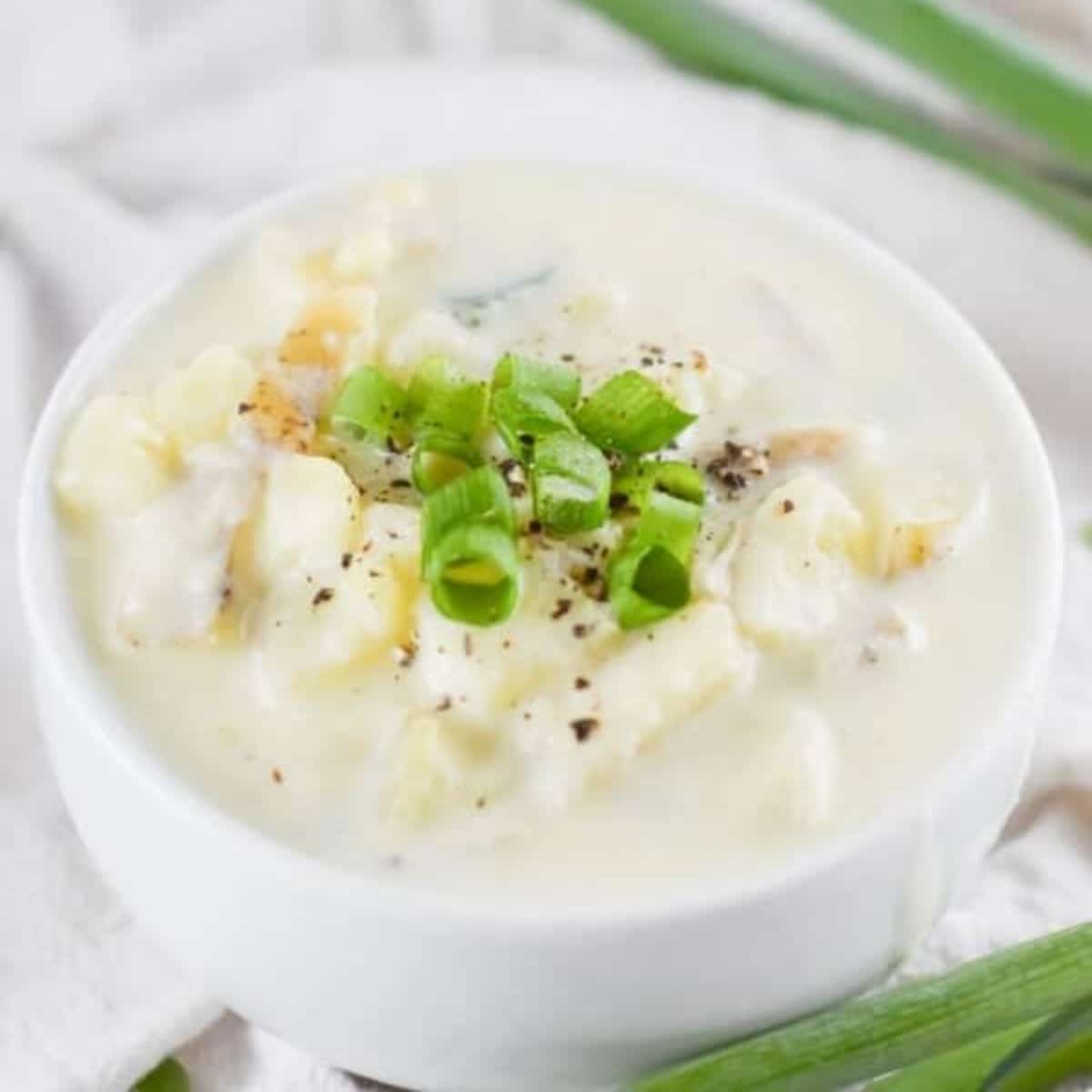 Instructions
Fill a large pot with water and bring it to a light boil.

Wash and dice the potatoes and add them to the boiling water. Let simmer for about 15 minutes or until potatoes are fork soft.

Drain the potatoes and add them back to the pot along with the rest of the ingredients except the milk and coconut milk. Stir until butter has melted.

Add the coconut milk and almond milk and let simmer on low for about 15 minutes.

Using a potato smasher, lightly smash the mixture and stir again. Let sit to thicken a bit more for around 10 minutes.
Nutrition
Calories:
181
kcal
Carbohydrates:
23
g
Protein:
4
g
Fat:
9
g
Saturated Fat:
6
g
Sodium:
116
mg
Potassium:
572
mg
Fiber:
3
g
Sugar:
1
g
Vitamin A:
175
IU
Vitamin C:
25
mg
Calcium:
105
mg
Iron:
2
mg
Craving more veg-friendly recipes?
Shop our collection of vegetarian and vegan cookbooks, including our new Vegan Thanksgiving and Vegan Christmas cookbooks!