This Vegan Edible Cookie Dough makes for a totally indulgent dessert. Naturally gluten-free and dairy-free, this recipe is quick and easy. It takes only a few ingredients and a couple of minutes to make this addictive treat.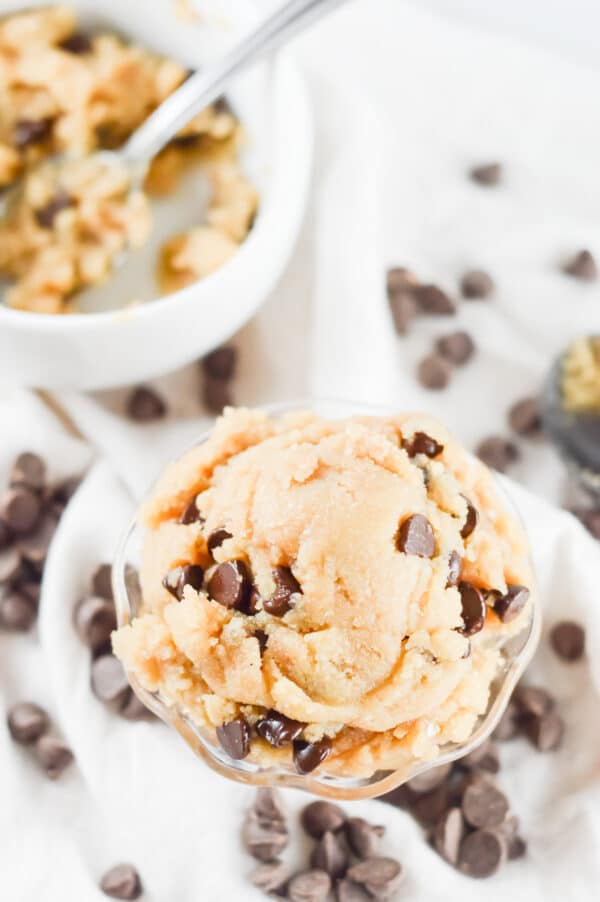 Edible cookie dough has always been a slightly controversial topic. This is specifically due to the fact that actual cookie dough, before it's cooked, has raw flour and eggs in it.
Of course, that didn't stop most of us from eating it right off the spoon in our mothers' kitchens. 😉
The best part about vegan edible cookie dough is the fact that it doesn't contain eggs or normal flour. Instead, it contains blanched almond flour and zero eggs.
So it's totally safe to munch away!
Of course, normal flour could be used, but I think almond flour tastes so much better in the raw.
Blanched doesn't mean anything strange has been done to the flour to alter it. It simply means the outer skin has been removed from the almond.
This not only makes it easier to digest, but it allows the flour to have a softer texture. Perfect for edible cookie dough!
If you love vegan baking, make sure you grab a copy of my free vegan baking cheat sheet while you're here. It's packed with all my favorite plant-based substitutions to help you vegan-ize any recipe!
How to Make Vegan Edible Cookie Dough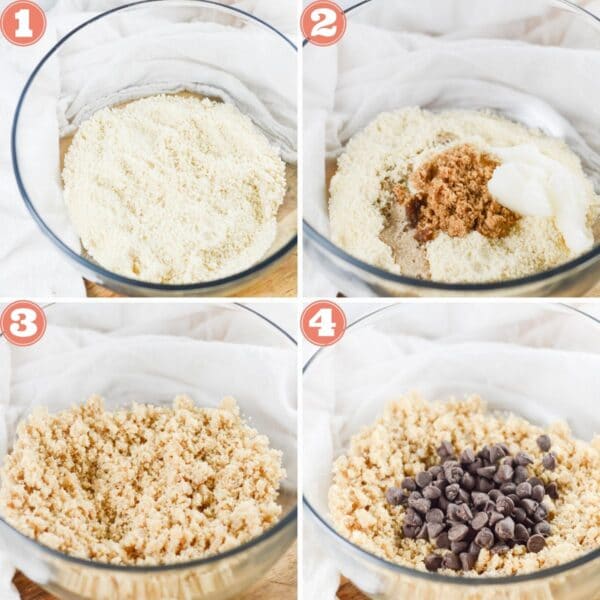 Mix the ingredients - Combine all the cookie dough ingredients in a medium bowl, leaving out the milk and chocolate chips. Combine with a fork until it forms a nice crumbly mixture.
Stir again - Add the milk to the bowl and stir the ingredients well.
Finish - Fold the chocolate chips into the dough mixture. Divide between four dishes, evenly, serve, and enjoy!
Scroll down for the full printable with recipe with measurements and detailed instructions!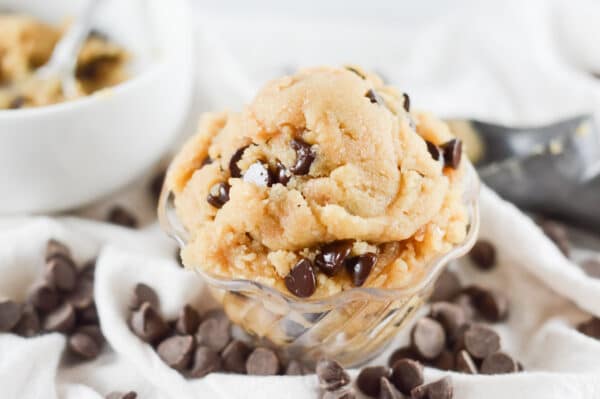 Tips and Variations
Vegan Chocolate Chips - Be sure to use dark chocolate chips which are naturally vegan, but always check the label for sneaky milk products. Or grab a brand labeled vegan, like these.
Other Flour Substitutes - You can use other types of flour in this recipe, if you prefer. However, I have not tested other flours in this specific recipe, so I can't assure you of the outcome. Do note that if you use normal baking flour, you'll want to microwave it for a few seconds to make sure it is safe to consume raw.
Additions & Mix-Ins - Chocolate chips, of course, are a given. However, if you have other vegan candies (or sprinkles!) that you enjoy, you can definitely mix them into this cookie dough.
Storage - Keep this cookie dough stored in an airtight container in a cool, dry place. You can definitely store it in the fridge, in an airtight container. If storing in the fridge, it will keep for up to 10 days. If not storing in the fridge, the dough will last up to 4 days. You can also freeze this edible vegan cookie dough for up to 3 months in an airtight container.
No egg substitute - Many people feel they need to still substitute the egg in edible cookie dough even though they're not cooking it. You definitely don't need to find something to swap out for the egg in your regular cookie dough recipe. Just skip it altogether. This is healthier, safer, and saves you from using unnecessary ingredients.
Make it Keto - This recipe isn't far from being keto. You'll simply want to use unsweetened almond milk, keto brown sugar (such as Swerve), and make sure the chocolate chips are keto-friendly.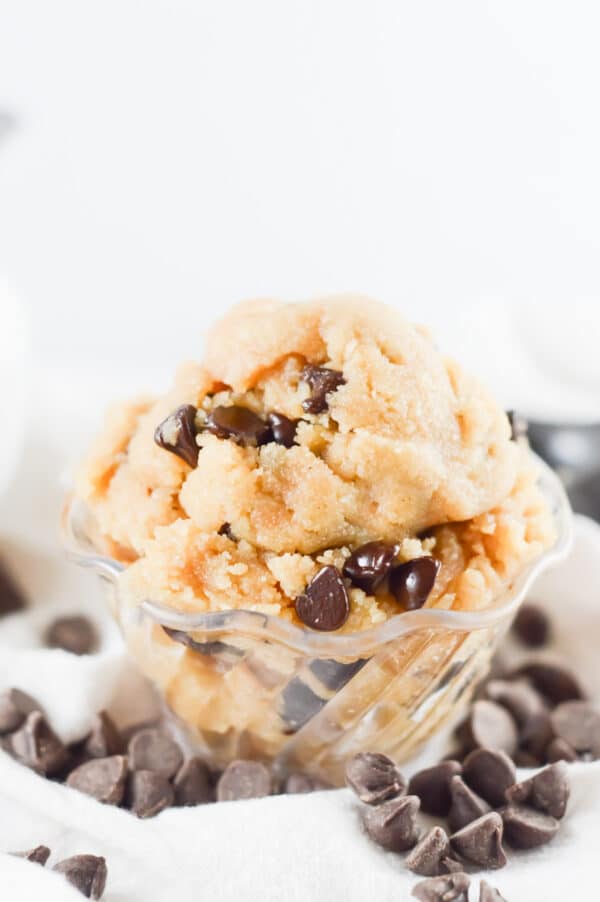 Common Questions About Vegan Edible Cookie Dough
How Long Does Vegan Cookie Dough Last?
Well, if you're in my home, edible cookie dough doesn't last beyond the hour after it's made.
However, in terms of it going bad, this can vary by recipe. Since this recipe has almond milk in it, if stored out of the fridge, it will only last a couple of days.
If stored in the fridge, it should be tasty for up to ten days. Of course, as stated, this is something that can vary by recipe and depend on the specific brands you use and what you use for mix-ins. Overall, these are good numbers to go by.
Does Vegan Cookie Dough Need to Be Refrigerated?
You definitely don't have to refrigerate this edible cookie dough, although it will last longer if you do.
Other Vegan Dessert Recipes You Might Like:
If you love this recipe, be sure to check out our regular (fully baked!) vegan chocolate chip cookies or the full collection of vegan cookie recipes. Here are a few faves:
I know I'm not the only one who's in love with cookie dough. If you decide to give this Vegan Edible Cookie Dough a try, please let me know in the comments below!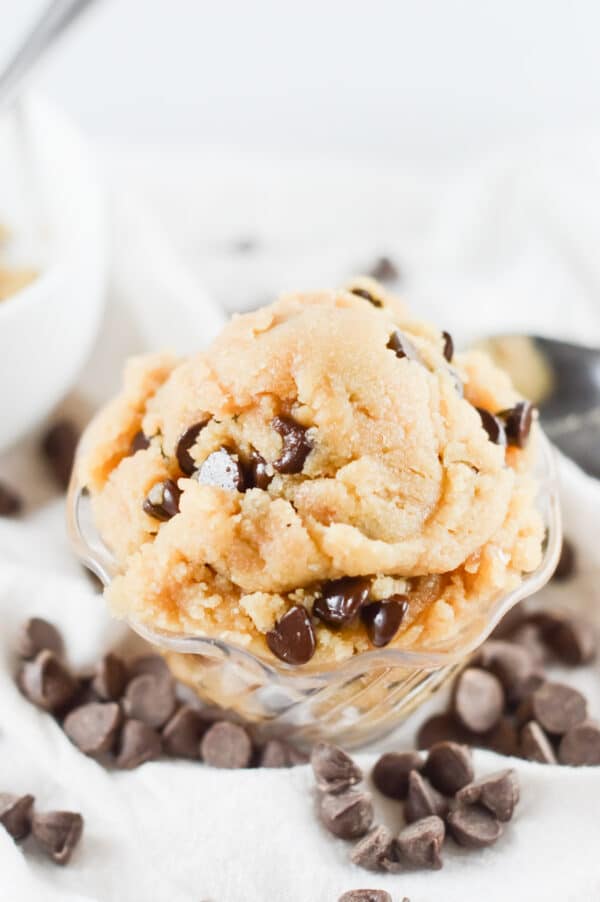 Recipe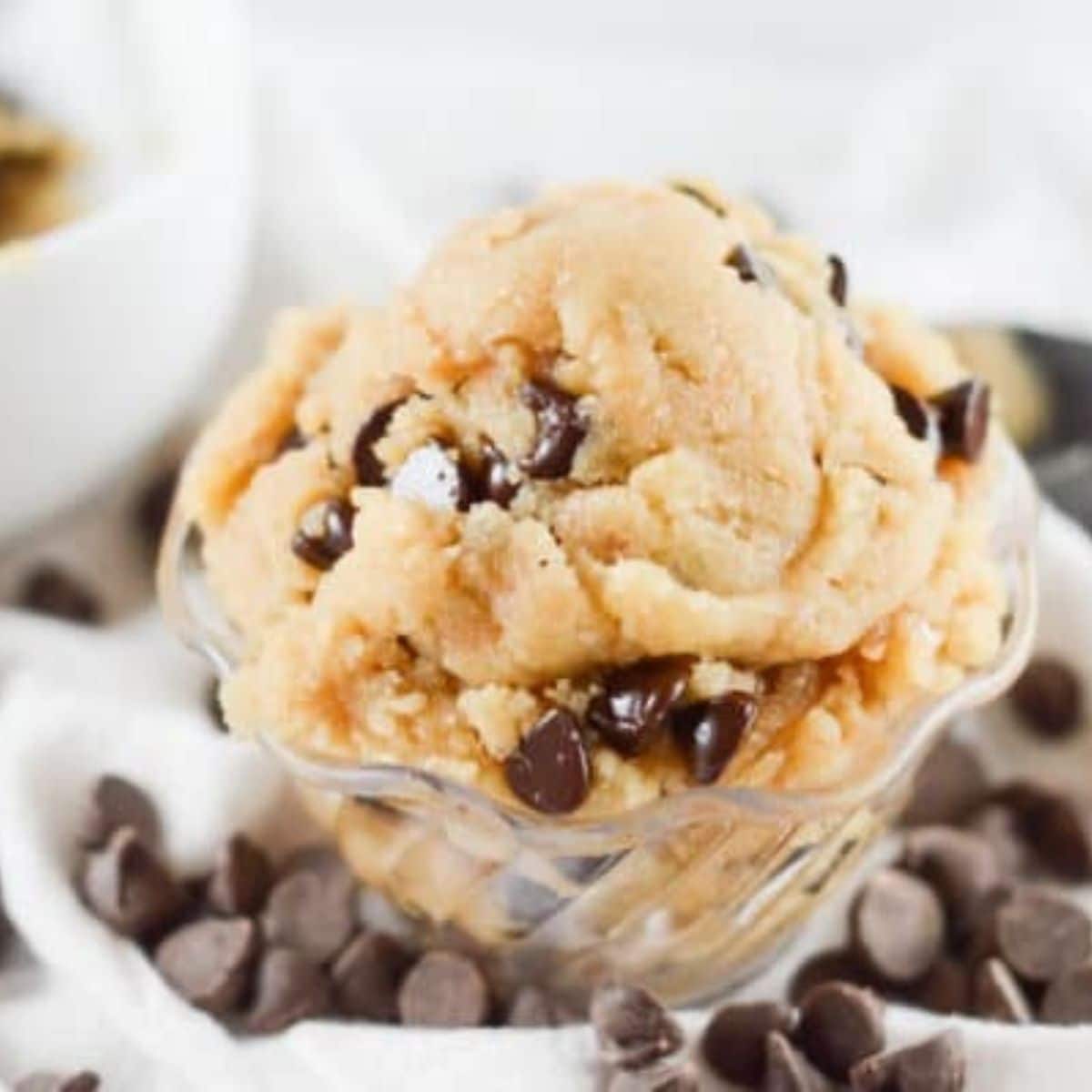 Instructions
In a medium bowl, combine everything but the milk and chocolate chips. Mix until ingredients form a crumbly consistency.

Add the milk and stir well again.

Fold in the chocolate chips until they stick into the mixture well.

Divide evenly into four small bowls and enjoy!
Nutrition
Calories:
483
kcal
Carbohydrates:
34
g
Protein:
10
g
Fat:
36
g
Saturated Fat:
14
g
Cholesterol:
3
mg
Sodium:
1777
mg
Potassium:
12
mg
Fiber:
5
g
Sugar:
25
g
Vitamin A:
50
IU
Calcium:
135
mg
Iron:
2
mg
Craving more veg-friendly recipes?
Shop our collection of vegetarian and vegan cookbooks, including our new Vegan Thanksgiving and Vegan Christmas cookbooks!