These easy vegan donuts are light, fluffy, and dipped in a rich chocolate glaze. So tasty, you would never guess these are vegan. And they're ready in just 30 minutes!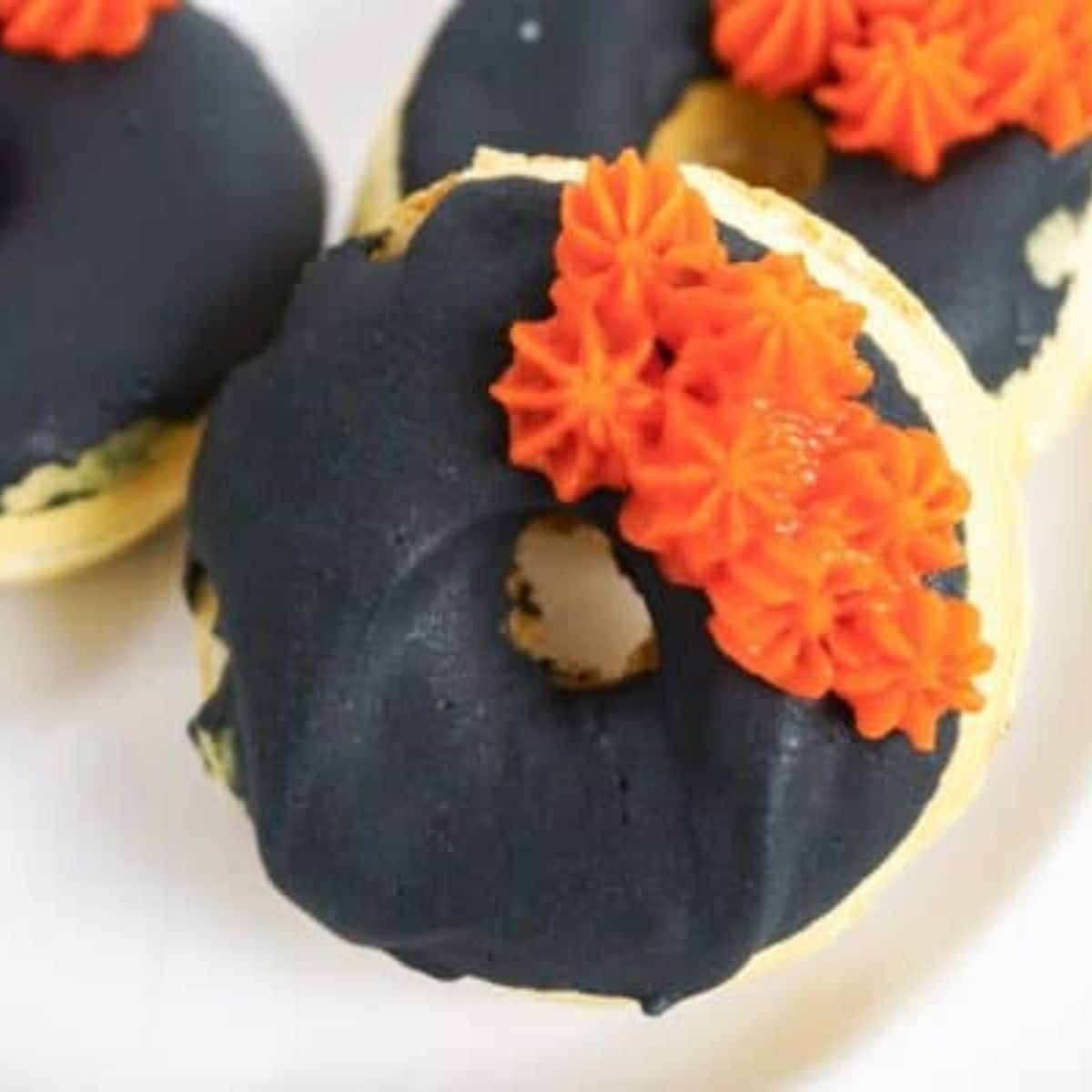 I've been going crazy with the vegan desserts lately!
It's been so much fun creating vegan-friendly versions of all my favorite sweets.
Some of my favorites so far are this vegan chocolate cake, this crazy good vegan carrot cake, these addictive vegan peanut butter cookies, and these healthy-ish vegan oatmeal cookies.
But for some reason, I thought vegan donuts were out of reach. Silly me!
These easy vegan donuts were so simple to pull together, and they tasted so good that my husband didn't even realize they were vegan. I call that a win!
These vegan donuts are:
Dipped in a rich white chocolate glazes (yep - that's white chocolate!)
100% vegan and vegetarian-friendly
Egg-free
Dairy-free
Nut-free
And completely and totally delicious.
And I was able to pull these off by simply swapping out a few ingredients for my favorite plant-based substitutions.
If you love vegan baking, make sure you grab a copy of my free vegan baking cheat sheet while you're here. It's packed with all my favorite plant-based substitutions to help you vegan-ize any recipe!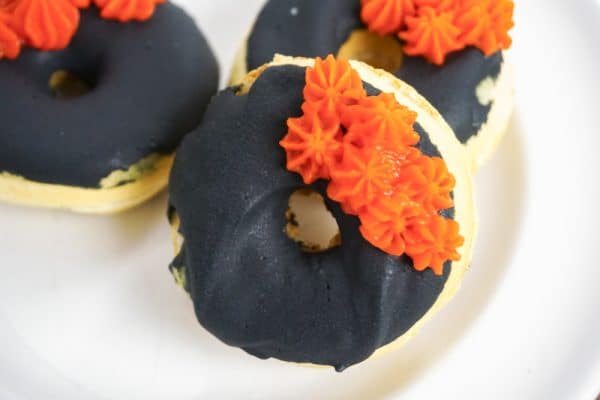 How to Make Vegan Donuts
Let's start with whipping up the simple donut batter.
Preheat your donut maker - or if you're baking these in the oven, preheat it to 350ºF.
Mix together the coconut milk and vinegar and set the mixture aside.
Mix together the dry ingredients - the flour, baking soda, salt and sugar and set that aside.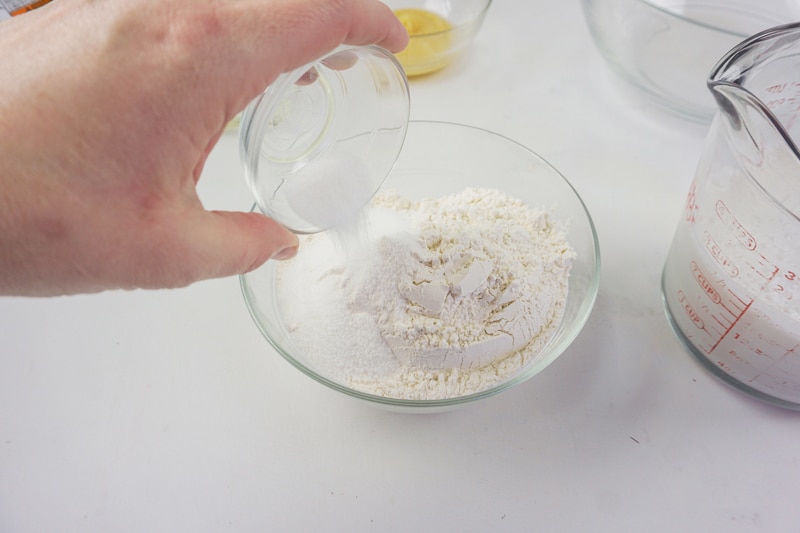 Next, combine the apple sauce and vegetable oil with the coconut milk and vinegar mixture.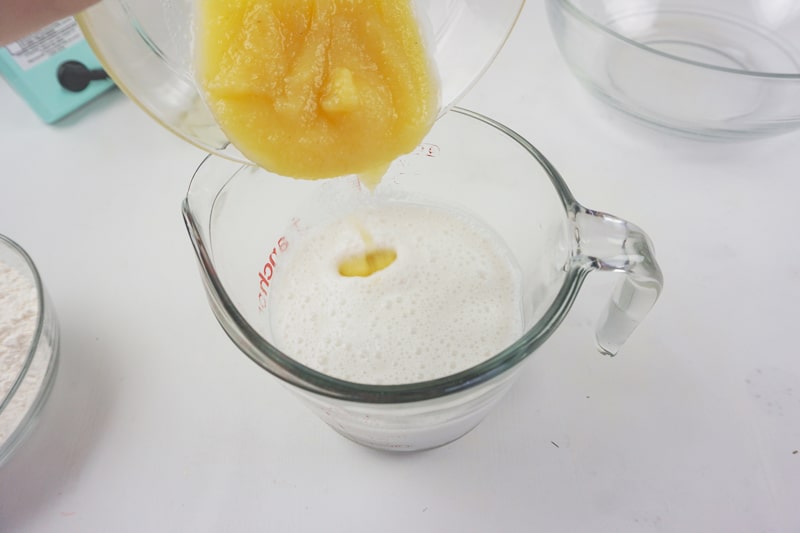 In a large bowl, combine the dry ingredients with the wet ingredients and whisk until the batter is nice and smooth.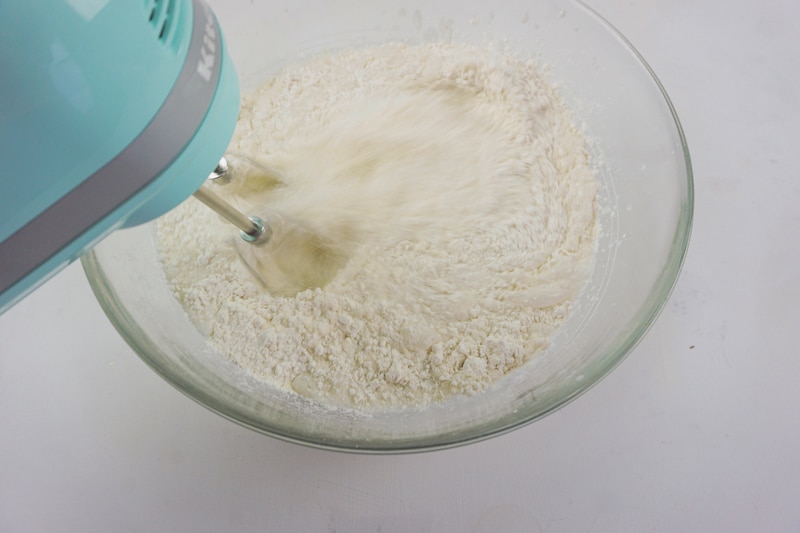 Fill each cavity of your donut maker or donut pan with a heaping spoonful of the batter.
Alternatively, you can also put the batter into a ziplock bag, make a small cut in a corner, and pipe the donuts into the donut cavities. This does help cut down on the messiness!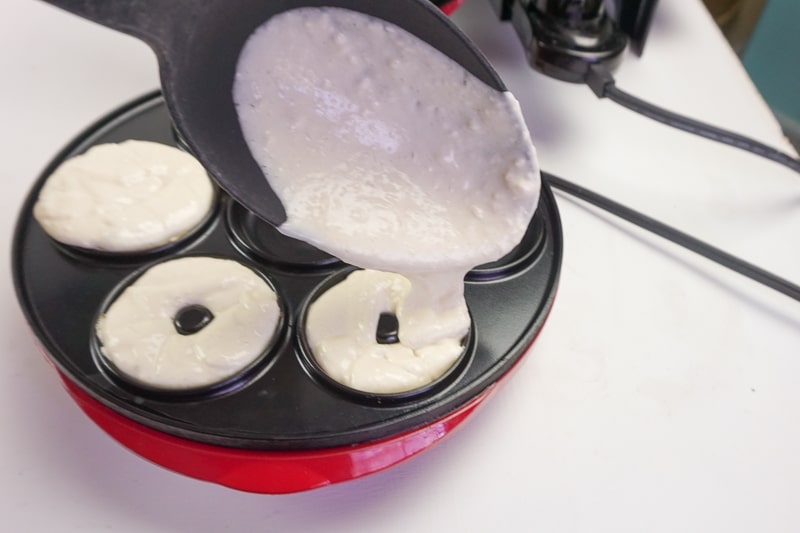 Bake your vegan donuts in the donut maker for 3 minutes or until lightly browned. The time may vary a bit based on your specific model of donut maker.
If you're baking these vegan donuts in the oven, bake for 8 minutes or until just browned.
Place the warm donuts in a cooling rack and allow them to cool before glazing or decorating.
Make the Vegan Donut Glaze
I love the look of chocolate glaze on my donuts, but I've always been partial to the flavor of white chocolate. So I created this white chocolate glaze, which is colored to look like traditional chocolate glaze!
Tricky, huh?
Of course, you can make the glaze with regular dark chocolate chips if you prefer. Or just leave out the food coloring if you're not concerned about the look. I know - not everyone is taking pictures of their food like me. 😉
To start, place some vegan-friendly white chocolate melting chips in a microwave-safe bowl and microwave on high for 1 minute.
Take it out, and give it a stir until the chocolate is completely melted. The white chocolate will continue to melt from its own heat while you stir.
Add a bit of black gel food coloring to the melted vegan chocolate.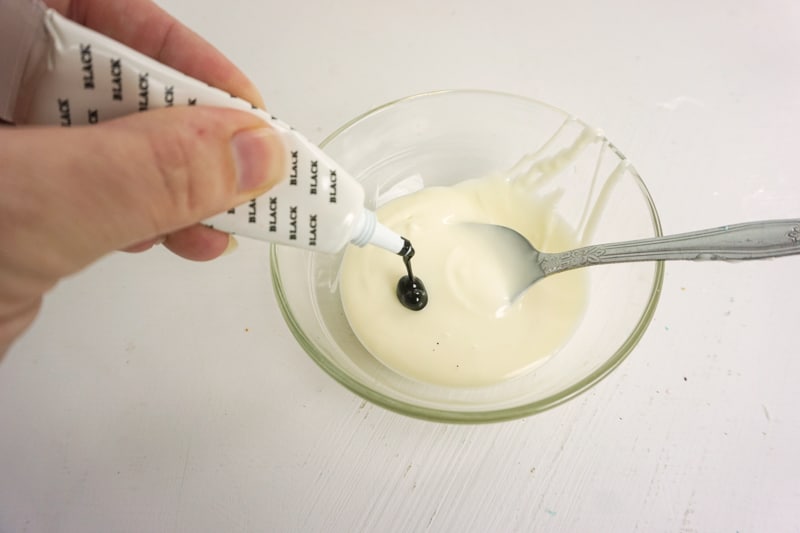 If the chocolate becomes becomes lumpy or grainy, add a tablespoon of vegetable oil to smooth it out. You can use 1 Tbsp (15 ml) of vegetable oil for every 6 oz (170 g) of white chocolate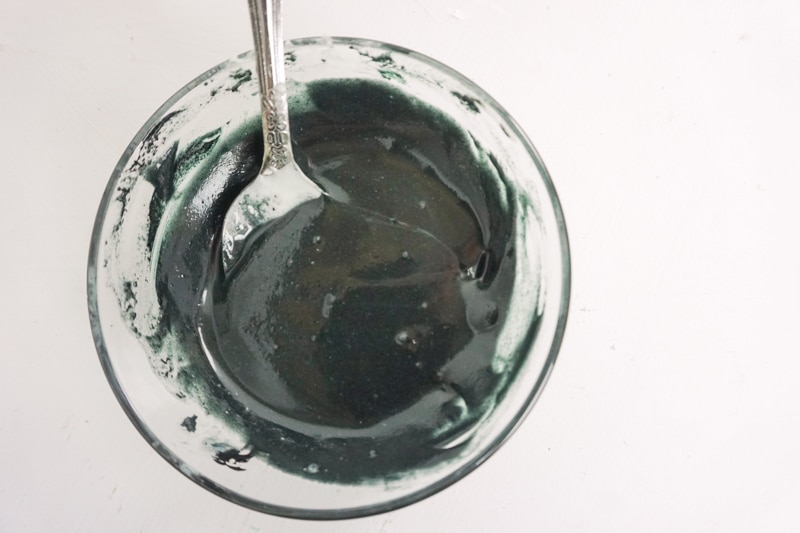 Now the fun part!
Start dipping each vegan donut into the vegan chocolate glaze until the top is completely covered with the black glaze.
You may need to dip each donut two or three times to get a perfect coating. Set the donuts aside to rest until the glaze is firm.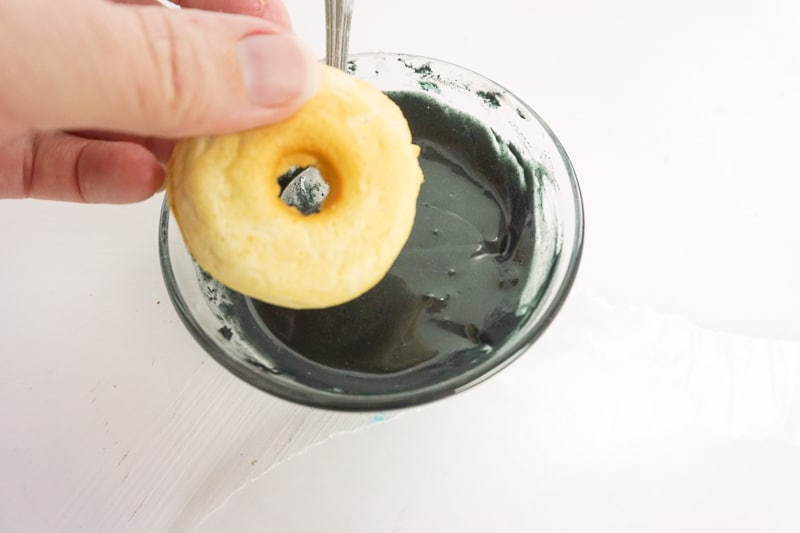 Decorate the Vegan Donuts
To finish off these vegan donuts, I decorated them with some adorable little orange stars. Because... why not?
Grab a tube of orange decorating icing with a small star-shaped tip. An simply start dropping a few orange stars onto each donut.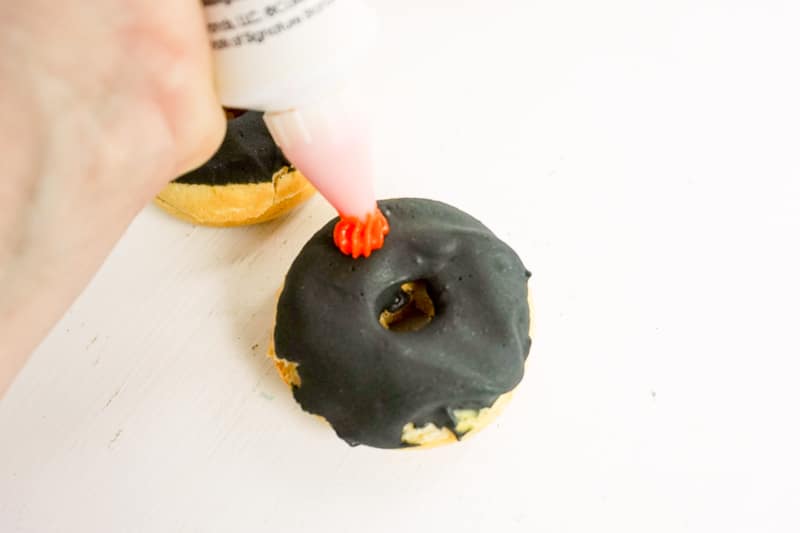 There are SO many ways you can decorate the tops of the vegan donuts, so get creative. This is a fun rainy day activity to do with the kids!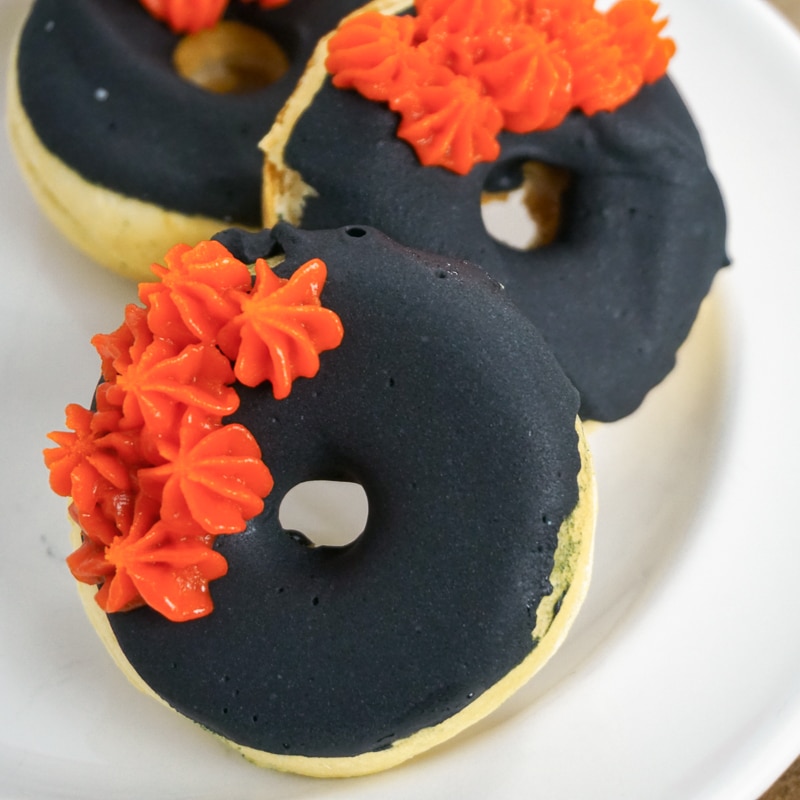 Tips for Making Perfect Vegan Donuts
I had to try this recipe a few times myself to get it perfect - so here are a few tips to help you get it right the first time!
If your chocolate glaze starts to get lumpy, you can add a tablespoon of vegetable oil to help smooth it out. Add just a little bit at a time while continually stirring, until you have a nice smooth chocolate glaze.
If you don't want to mess with the food coloring, you can just make the white chocolate glaze without it. The color won't be as impressive, but they will taste just as good!
These are easiest to make in an electric donut maker - I like this one. But alternatively, you can bake these in the oven using a special donut pan.
And don't forget to grab a copy of my free vegan cheat sheet too! It's packed with my favorite easy substitutions to help you make just about any recipe vegan!
Recipe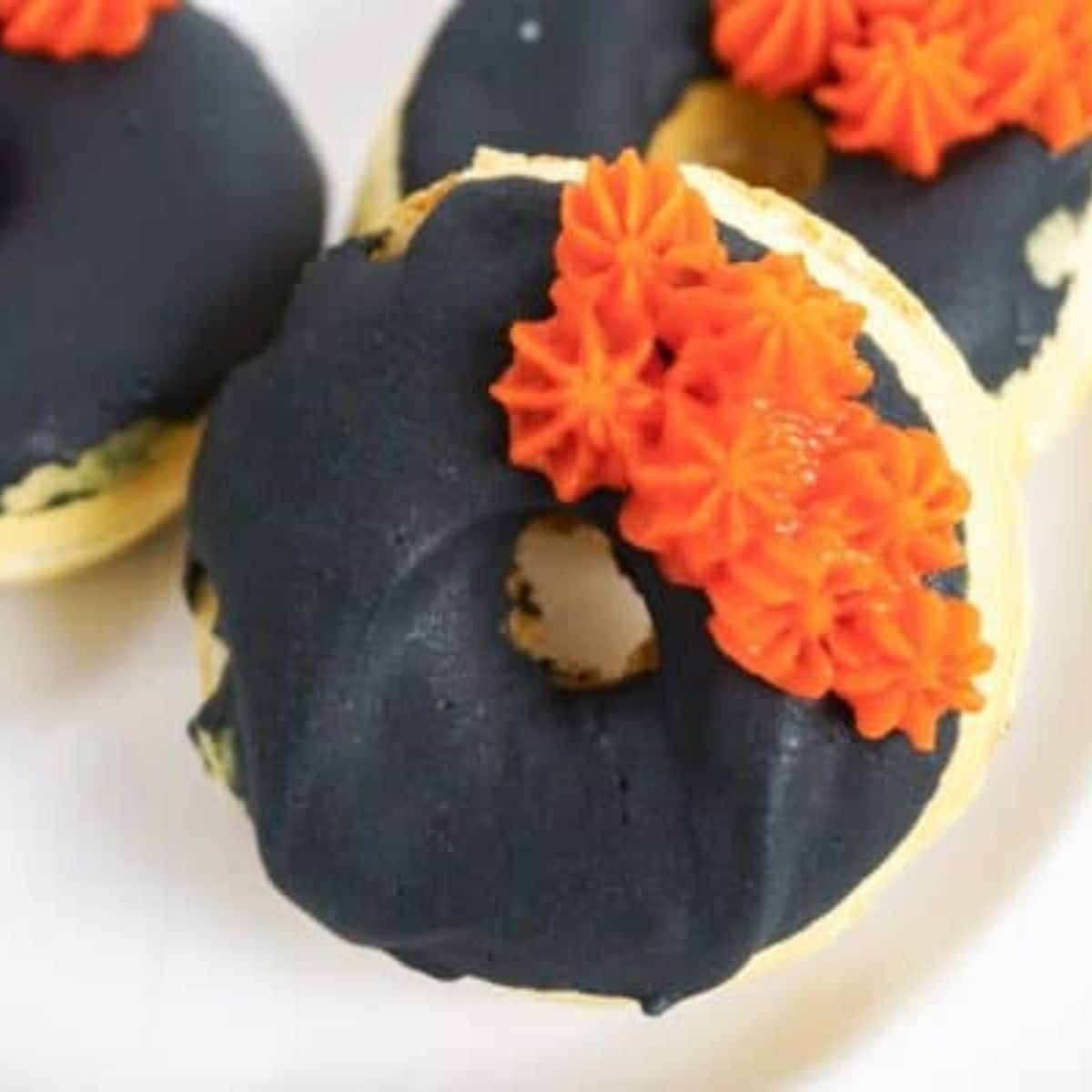 Equipment
Donut Maker

Donut Pan (alternative to donut maker)

Electric Hand Mixer
Ingredients
For the Glace/Icing
1

cup

white chocolate melting chips

vegan friendly

1

tube

orange decorating icing

with a star shaped tip

black gel food coloring

a few drops

1

tbsp

vegetable oil

if needed
Instructions
Preheat mini-donut maker, or preheat oven to 350 degrees.

Combine coconut milk and vinegar in a medium bowl. Set aside.

Combine flour, soda, salt and sugar in another mixing bowl. Set aside.

Combine apple sauce and oil with the coconut milk mixture.

Add wet and dry ingredients together and whisk with a hand mixer until the batter is smooth.

Spoon the batter into your mini-donut maker or donut pan. If using a donut maker, bake for 3-5 minutes. If baking in the oven, bake for 8-10 minutes or until browned.

Place the white chocolate melting chips in a microwave-safe bowl. Microwave them on high for 1 minute to melt.

Stir white chocolate melting chips until they are fully melted.

Add black GEL food coloring to the melted chocolate. If the chocolate becomes clumpy and, add a tablespoon of vegetable oil and stir until smooth.

Dip donuts into the vegan chocolate and set them aside for the glaze to set.

Using a small star tip on a tube of orange decorating icing, dot 6-10 stars onto each vegan donut. (Or decorate to your own liking with icing.)

Serve!
Nutrition
Calories:
286
kcal
Carbohydrates:
32
g
Protein:
4
g
Fat:
17
g
Saturated Fat:
12
g
Cholesterol:
2
mg
Sodium:
332
mg
Potassium:
144
mg
Fiber:
1
g
Sugar:
14
g
Vitamin C:
1
mg
Calcium:
32
mg
Iron:
2
mg
Craving more veg-friendly recipes?
Shop our collection of vegetarian and vegan cookbooks, including our new Vegan Thanksgiving and Vegan Christmas cookbooks!