You'll never guess the key ingredient that makes this vegan chocolate mousse so light and fluffy. And no, it's not avocado or coconut cream! This delicious 3-ingredient, easy chocolate mousse is dairy-free, gluten-free and nut free!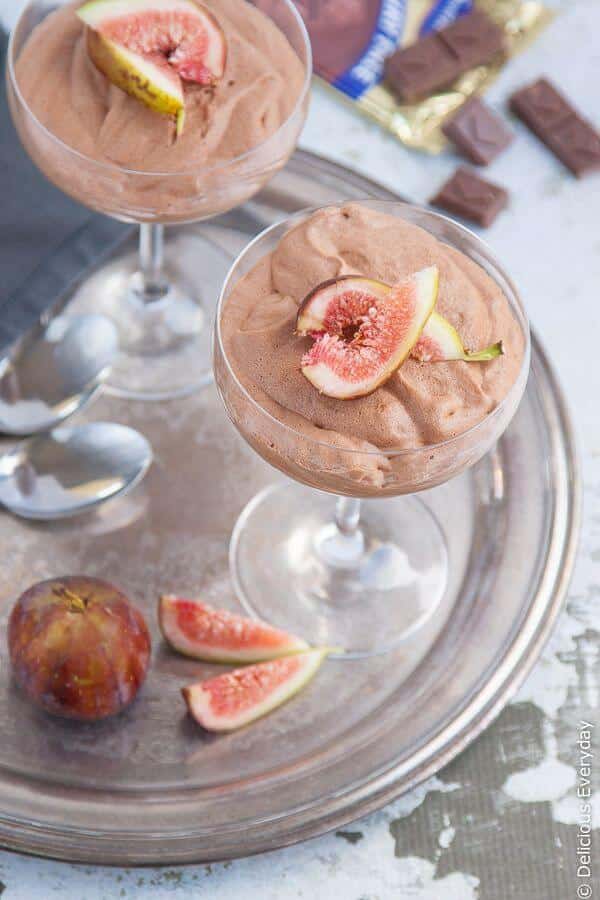 This post was sponsored by Sweet William chocolate.
I've tried more than a few vegan mousse recipes in my time. I've tried recipes that use avocado and those that use coconut cream. I've even tried vegan chocolate mousse made with tofu.
But none of them really had that light, cloud-like quality that a good chocolate mousse should have.
Making Vegan Chocolate Mousse Fluffy
This mousse though is light, airy, and fluffy. Spoonfuls melt on the tongue.
And the key ingredient that makes this magic happen might seem bizarre, but believe me, it really does work.
The secret ingredient in this vegan mousse is... aquafaba. So what is aquafaba? It's the liquid drained from a can of chickpeas.
Yes, you read that correctly: chickpea water!
Chickpea water can make vegan mousse, you ask? Well, aquafaba, has been hitting the news of late, and I've spent the last few weeks playing with it to see what it can do.
And I have to admit, I've been pretty impressed. It's even one of the star ingredients in my popular vegan puff pastry recipe.
For more easy ways to vegan-ize your favorite recipes, be sure to grab a free copy of this vegan substitution cheat sheet!
So, when I was asked by Sweet William, to develop a recipe using their gluten-free, nut free and dairy-free chocolate, I knew I had to incorporate the magical ingredient of aquafaba.
The result is this gorgeous decadent 3-ingredient vegan chocolate mousse that can be quickly and easily made with ingredients you already have in your pantry!
I know the idea of whisking chickpea water for this vegan mousse sounds bizarre. Believe me, I've been there! The minute I read about the idea, I had to try it for myself, and I found out it really, truly does work.
And, in case you are wondering if you can taste the chickpea flavors in the final product, you can't.
Something magical seems to happen when the water is whisked. And despite a definite chickpea aroma during the whisking process, all of that seems to disappear and is undetectable in the final product.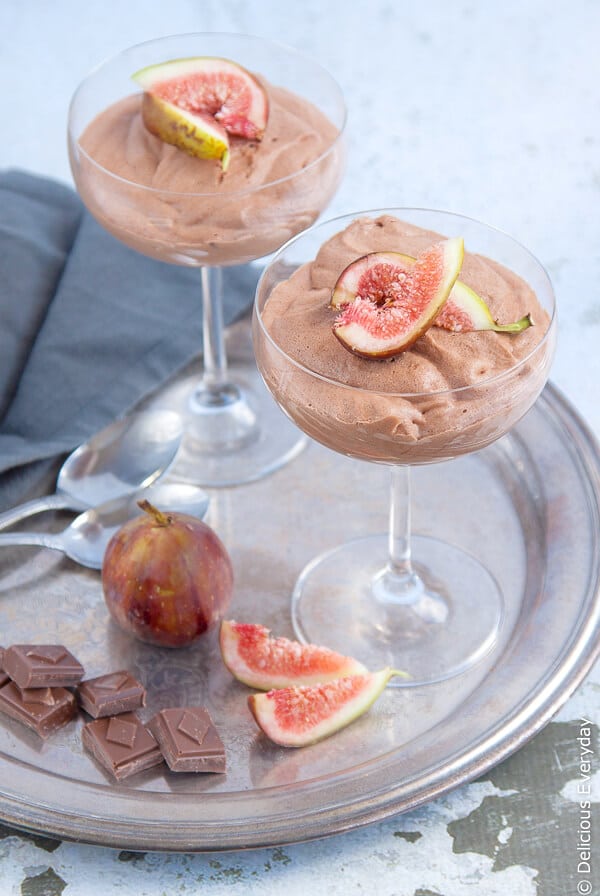 Preparing Vegan Chocolate Mousse
First, you start by chopping up your chocolate and melting it in a heat-proof bowl over a pan of simmering water. Just keep stirring the chocolate until it is melted.
Then you'll put the chickpea water in a bowl and whisk it for five minutes until it is fluffy, at which point you'll add the sugar and whisk for another three minutes.
Then while your chocolate is still warm, add a third of your fluffy chickpea water fluff to the chocolate and fold in.
Once you've done that, add your mixture to the rest of the chickpea foam and fold it again.
Then, just spoon your vegan chocolate mousse into small serving glasses and refrigerate for two hours before serving. You can garnish it with whatever you like!
If you're not sure what to do with the leftover chickpeas after making this vegan mousse, try making this divinely-spiced roasted Moroccan carrot salad or a vegan chickpea tomato soup.
Don't forget to grab a copy of this free vegan cheat sheet! It's packed with my favorite substitutions to vegan-ize just about any recipe.
Recipe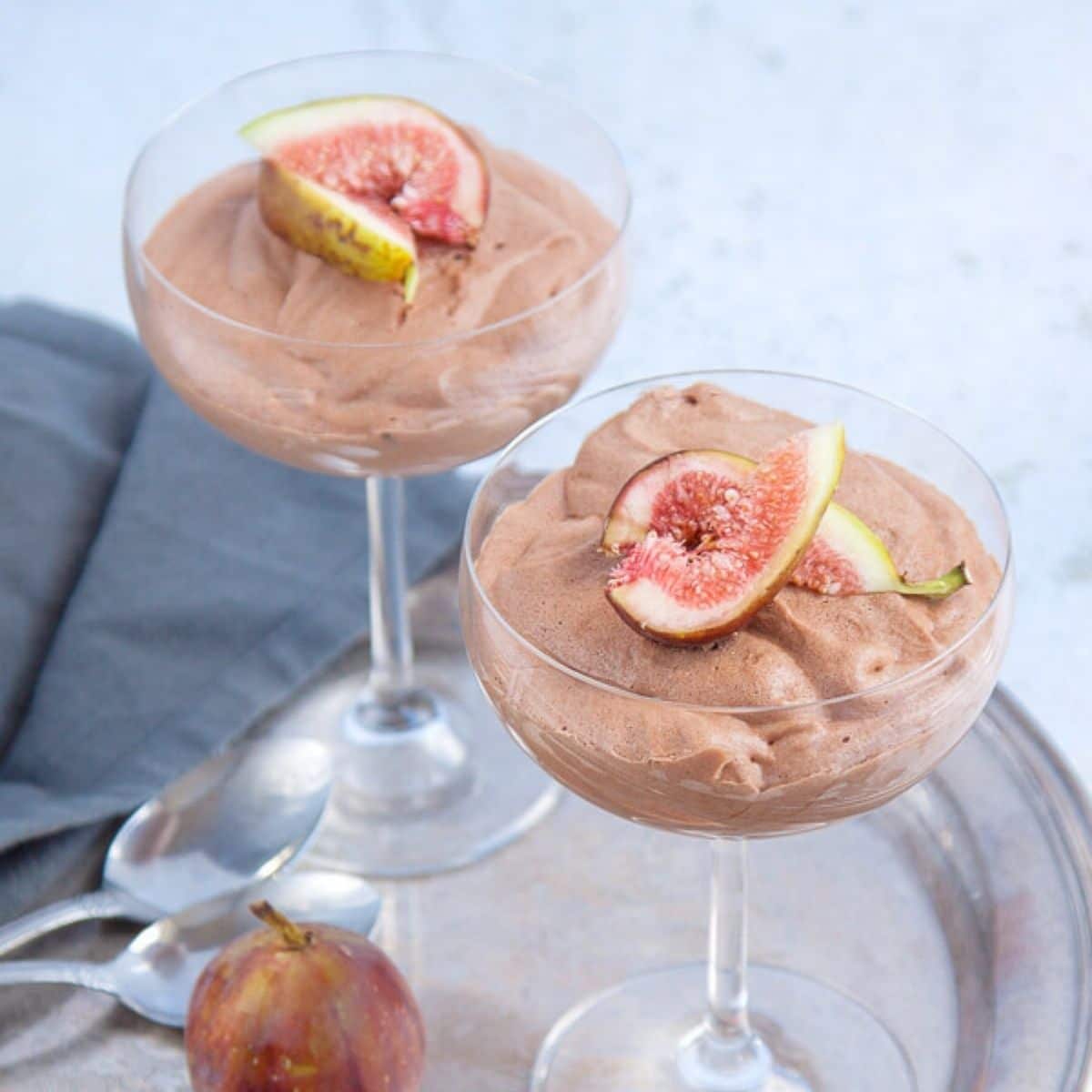 Ingredients
5

oz

Sweet William original chocolate

or your favorite vegan chocolate

¾

cup

aquafaba (chickpea water)

2 tbsp additional

3

tsp

caster sugar

super fine
Instructions
Prepare 4 glasses, or bowls, to serve your mousse and set aside.

Roughly chop the chocolate and place into a large heatproof bowl, over a saucepan of simmering water. Stir with a spatula until almost melted. Remove from the heat and keep stirring until all of the chocolate has melted and the mixture is smooth.

Place the chickpea water in the bowl of a stand mixer and mix for 5 minutes, until light, fluffy and cloudlike. You should be able to clearly see trails from the whisk in the mixture. Gradually add the sugar and whisk for another 3 minutes, or until it has very firm peaks.

Take ⅓ of the mixture and add it to the chocolate, and use a spatula to fold it through the chocolate until fully incorporated. You need to do this quickly while the chocolate is still warm, otherwise the chocolate could seize up, resulting a grainy mousse.

Add the chocolate mixture to the remaining chickpea foam and fold until combined, making sure not to knock too much of the air out of the mixture.

Divide the mixture between your serving glasses or bowls, and cover with clingfilm and refrigerate for 2 hours before serving.

Serve with your favorite accompaniments - like raspberries, figs or chocolate chips for a bit of crunch.
Notes
The chickpea water should be at room temperature before whisking. If using a different brand of chocolate, you may need to vary the amount of sugar to achieve desired level of sweetness.
Nutrition
Calories:
12
kcal
Carbohydrates:
3
g
Sugar:
3
g
Craving more veg-friendly recipes?
Shop our collection of vegetarian and vegan cookbooks, including our new Vegan Thanksgiving and Vegan Christmas cookbooks!