Crunchy chickpeas and savory tomatoes fuse together perfectly in this delicious (and totally vegan) chickpea tomato soup.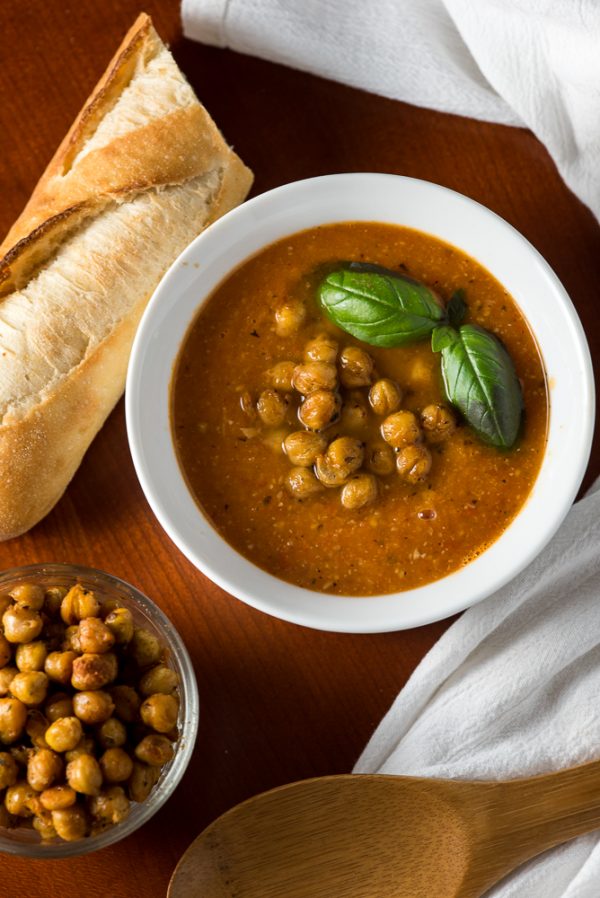 Jump to:
What can be better than a big, piping hot bowl of tomato soup? It's one of the simplest comfort foods.
So on this rainy day, I wanted nothing more but to curl up with a good book and a big bowl of soup. So I did some experimenting, and kicked this comfort food up a notch by creating this vegan Chickpea Tomato Soup.
Chickpeas, or garbanzo beans, are an interesting ingredient. It was one of the first legumes to be cultivated, starting in the Middle East over 7,500 years ago!
It's incredibly nutritious, and packed with protein, which is why it's one of my favorite healthy ingredients to cook with.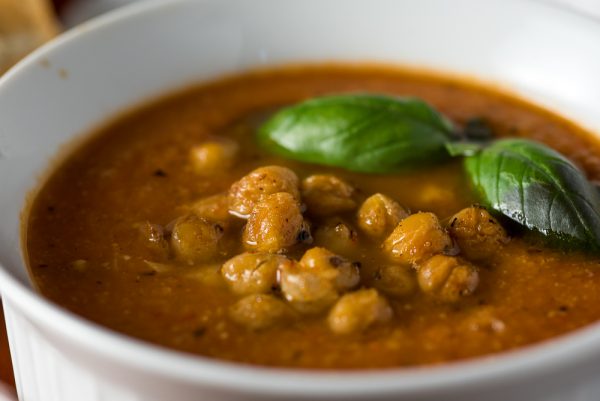 Garbanzo beans are the classic ingredient used to make hummus - yum!
They are also great in chilis, as a salad topping, or roasted as a crunchy snack. Some of my favorites recipes are hummus flatbread pizza, burmese chickpea tofu, and moroccan chickpea salad.
In this chickpea tomato soup, the garbanzo beans are actually used two ways. They are blended into the soup to give it a creamy consistency, and also roasted and used as a crunchy topping!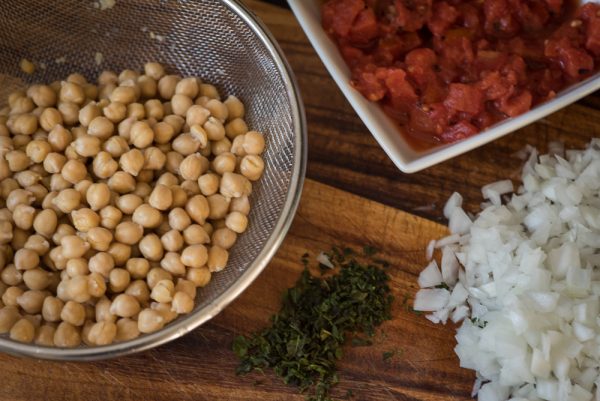 While you're here, be sure to grab our FREE 5-Day Meatless Meal Plan. It's packed with tasty recipes to make vegetarian cooking easy and delicious!
Let's make Chickpea Tomato Soup!
This vegan chickpea tomato soup was pretty simple to make, and went together very quickly. I started off with cooking some onions and garlic to give the broth some flavor. Then added in the vegetable broth.
I used organic store bought broth this time, because I was in a rush. But if you have the time, check out my homemade vegetable stock recipe.
Then add in the diced tomatoes - I personally prefer the fire roasted variety. And if you can get San Marzanos specifically, that's even better. They have a really unique tangy flavor. Add some basil - fresh or freeze dried.
Then, just cook everything until it starts to boil.
While all of that was cooking, I took half my chickpeas and spread them out on a baking sheet.
If you have parchment paper, line the sheet so that the chickpeas don't stick. I tossed them in olive oil and a bit of high quality curry powder.
I roasted them in the oven for about 10 minutes, but just keep an eye on them and take them out when they look crispy.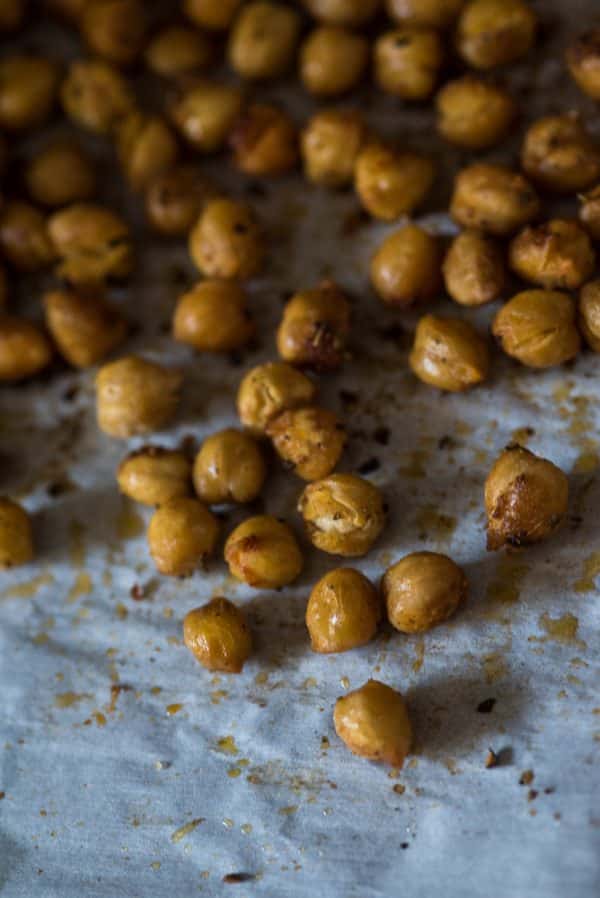 Now, here is where it gets a little bit interesting. Toss the remaining chickpeas into the tomato soup and let them simmer for about 10 minutes.
Then you have a choice to make. You can either leave the soup as it is -  a chunky, delicious mess. Or you can blend the soup, which is what I did.
I love blending chickpeas into my soups because it gives a really great, creamy texture, without any actual cream.
As a lifelong vegetarian, I love being able to get that creaminess without any animal products.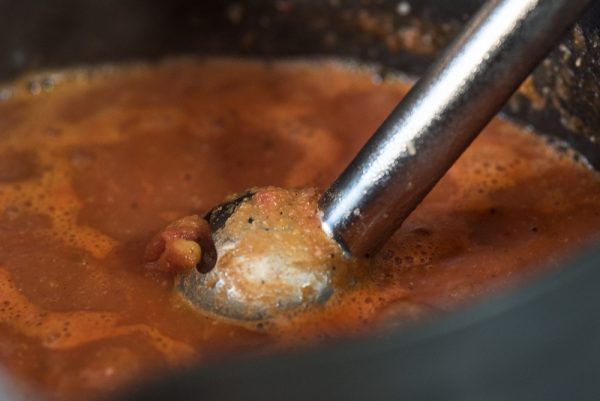 To blend the soup, you have two options. Either pour the whole thing into your kitchen blender, working in batches.
Or you can use my secret weapon - the immersion blender. This little device is seriously so awesome. You don't even have to take the soup off the stove. Just plug in the immersion blender, stick it right in the soup pot, and blend away!
I have the Cuisinart Smart Stick, and love it. It's not very expensive either. (No affiliation - I just love this thing.)
That's pretty much it! Serve the chickpea tomato soup topped with the crispy roasted chickpeas.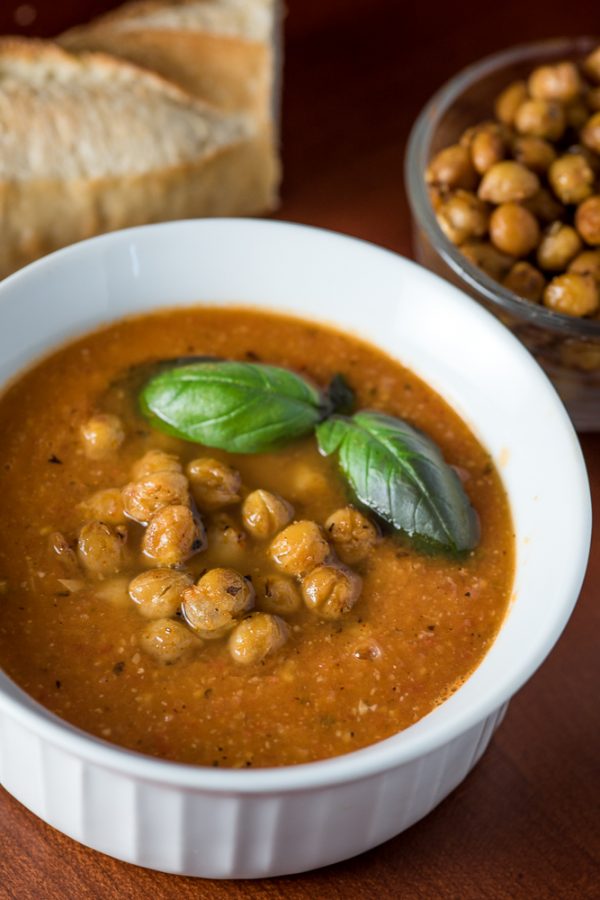 More Soup Recipes
If you love this Chickpea Tomato Soup, be sure to check out these other delicious soup recipes. V
Recipe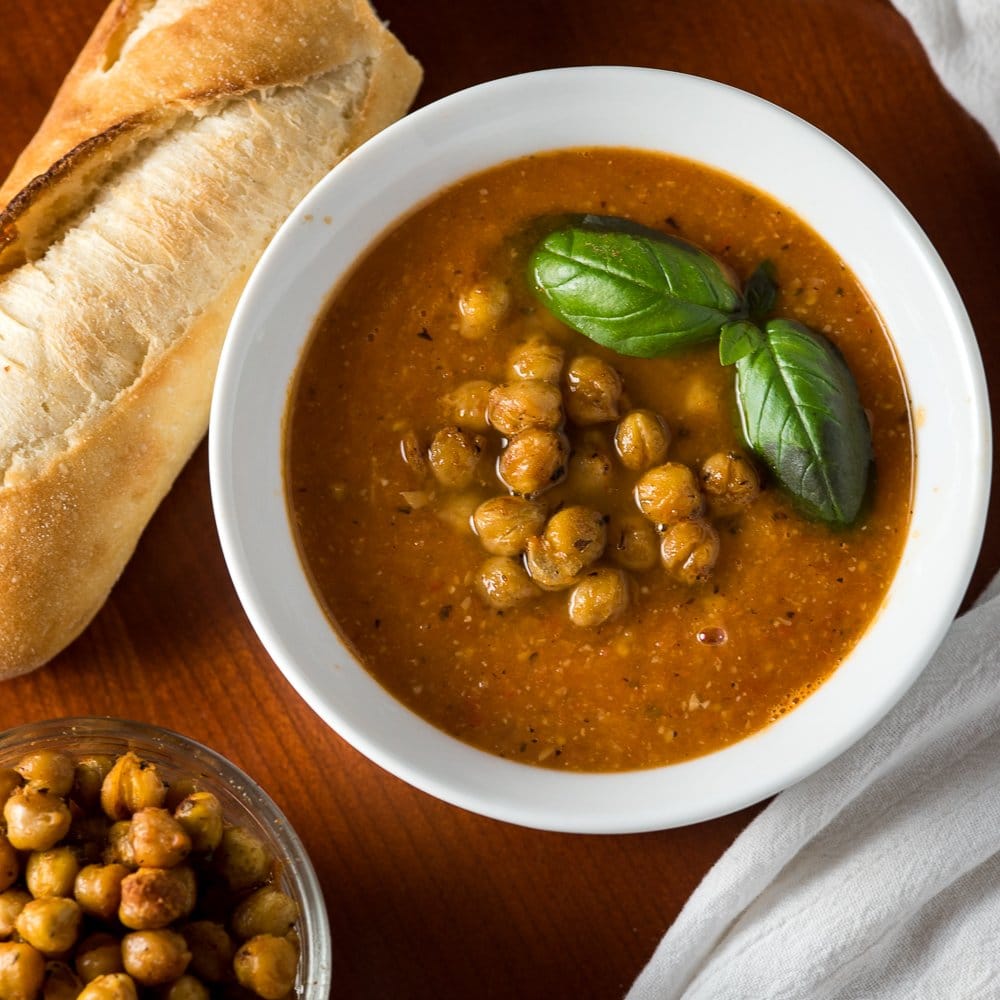 Instructions
Preheat oven to 400 degrees.

Rinse and pat dry the chickpeas. Line a baking sheet with parchment paper, and spread out half the chickpeas in a single layer.

Drizzle chickpeas with olive oil. Sprinkle with curry powder, salt, and pepper. Toss to coat.

Roast chickpeas in the oven for 20-25 minutes, stirring occasionally, until crispy. Set aside.

In a large pot, heat a drizzle of olive oil over medium heat.

Add onions and garlic, and cook for 3-5 minutes, until softened.

Add the tomatoes, vegetable broth, basil, cumin, oregano and agave syrup. Stir to combine. Bring to a simmer and cook for 15 minutes.

Add the remaining chickpeas and cook for 5 minutes.

Using an immersion blender, blend the soup to a slightly chunky puree. (If you don't have an immersion blender, you can work in batches with a regular kitchen blender. Be careful when handling hot soup!)

Serve the soup topped with the crispy chickpeas!
Nutrition
Calories:
287
kcal
Carbohydrates:
51
g
Protein:
13
g
Fat:
4
g
Sodium:
961
mg
Potassium:
798
mg
Fiber:
13
g
Sugar:
15
g
Vitamin A:
1750
IU
Vitamin C:
21.9
mg
Calcium:
134
mg
Iron:
6.5
mg
Craving more veg-friendly recipes?
Shop our collection of vegetarian and vegan cookbooks, including our new Vegan Thanksgiving and Vegan Christmas cookbooks!