There's nothing quite like a belly-warming bowl of soup on a cool night. So I've scoured the internet to bring you the very best vegan soups from all around the world. These veggie-packed bowls of deliciousness will have you begging for more.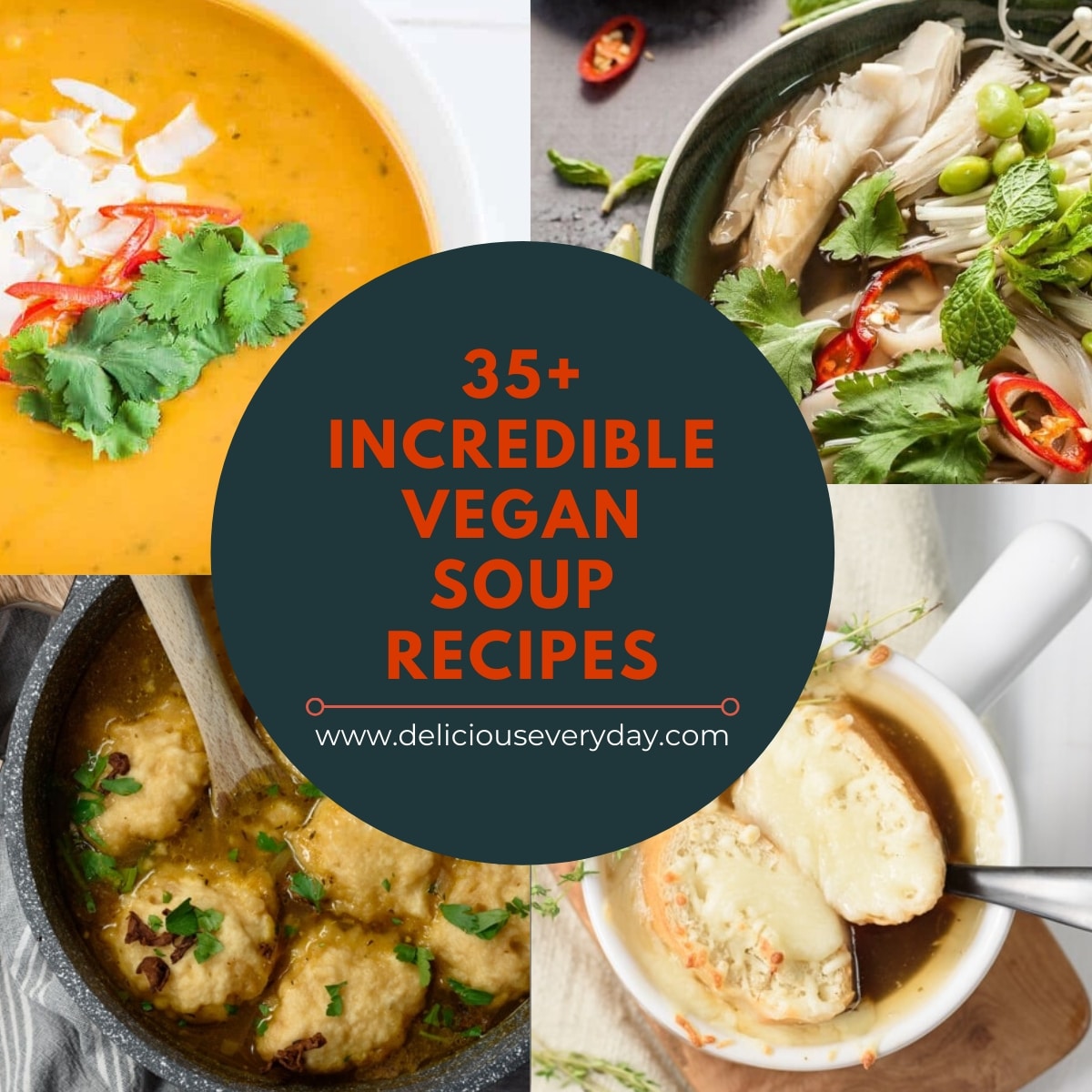 I. Love. Soup.
How much do I love soup? Let me count the ways…
First of all, I love the convenience. Soups are so easy to make, often in a single pot, making them perfect for a weeknight meal. (And you all know I love those one-pot vegan meals!)
Love that soups are budget-friendly - they don't need a long list of ingredients!
I love that vegan soups are perfect for meal prep. Just make a big batch on the weekend and you'll have soup to keep you warm all week long!
Of course, I love that soups are so healthy and nourishing. It's one of the ways I can make sure that my whole family eat lots of healthy veggies -- white beans, zucchini, and fennel, you can't go wrong!
And no one even notices all the hidden veggies when you blend them right into the broth.
But most of all, I love how a big bowl of soup in your belly can make you feel warm and cozy anytime. It's magic.
So, I've gathered up 35 of my favorite vegan soup recipes to share with you here. These soups are:
100% vegan and vegetarian-friendly.
Chock full of nourishing, plant-powered ingredients.
Hearty enough to serve as a one-dish vegan meal.
Packed with colorful veggies with all their healthy vitamins, minerals, and antioxidants.
Loaded with flavor that even the pickiest eaters will love!
So, are you ready to slurp down some healthy comfort food?
Oh! And while you're here, be sure to snag a copy of my free ultimate vegan toolkit. It's loaded with easy vegan recipes, cheat sheets, pantry guides, and more.
35+ Best Vegan Soup Recipes
These delicious plant-based soups are substantial, hearty meals on their own. Each recipe is full of nourishing plant-powered ingredients that will fill you and leave you feeling satisfied.
I hope you found some incredible soup recipes to get you cooking!
While you're here don't forget to grab a free copy of my ultimate vegan toolkit! It's packed full of my top vegan recipes, cheat sheets, pantry guides, and more.