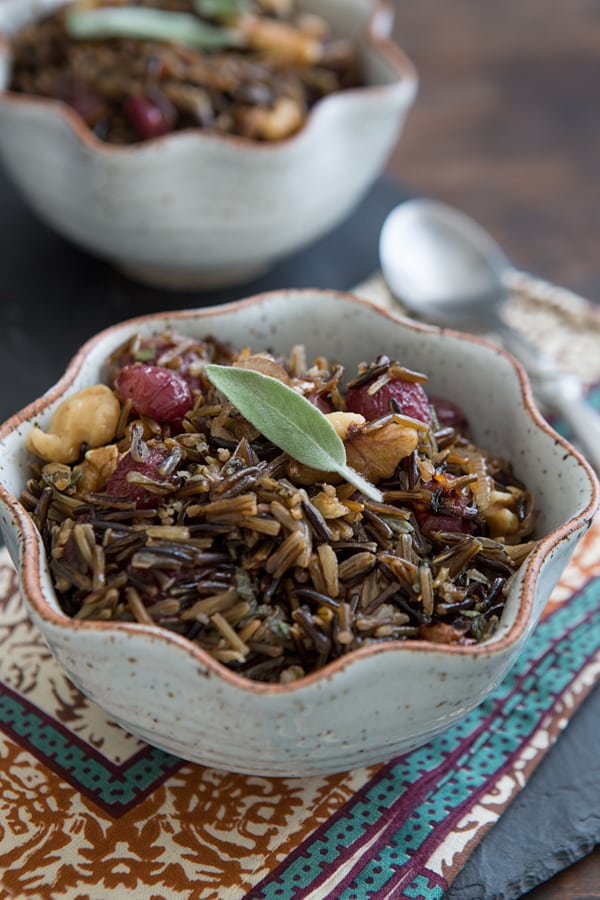 This vegan recipe for Wild Rice with Roasted Grapes and Walnuts makes a delicious fall side dish it's perfect for Thanksgiving!
Exercise + Reality TV
Last weekend, Chris and I decided to get AppleTV. My plan was to get it, subscribe to Hulu, and then start watching old episodes of Rock of Love immediately. I was so excited that on the way to Best Buy, I sang the Rock of Love theme song, and since I only know approximately 3 lines from it (including "touch my backstage pass" which: ew, Bret Michaels, really???), I'm sure that was pretty annoying to listen to. (My poor husband puts up with so much. Seriously.)
When we got home and I was scrolling through to find Rock of Love, I found all of these other trashy reality shows I had forgotten about though. The Surreal Life! I Love New York! Daisy of Love! Weren't things so much better back then? Wasn't life so much simpler? Anyway, my goal is to work out while watching these shows, so by the time I catch up on all of them, I'll be in the best shape of my life. I'll be able to throw trays of Lean Cuisine stuffed cabbage across a tour bus with the strength of an olympic shot putter. Also, if you work out while watching crappy reality shows, it's okay. Did you know that? It's true. Don't you believe me? You should.
Rediscovering Old Favorites
Discovering old favorites is awesome, right? So here's another old favorite: wild rice! Wild rice is not as cool and happening as quinoa or freekeh, but you shouldn't forget about it because it too is a delicious whole grain. (And did you know it's actually a grass and not rice at all? It's a fact!) Wild rice is one of those things that I rarely make, but whenever I do, I think, "I need to make this more often." And then I don't because I don't really know what to do with it.
Well, here's what I did with it. I roasted some grapes and sliced shallots and tossed them with wild rice, walnuts, and sage. It's simple, but delicious--it's one of those recipes that seems like there's not much to it and you don't expect it to blow you away when you try it, but then it does. Yes, I'm telling you that this wild rice recipe will blow your mind. If you haven't had roasted grapes before, I'm pretty sure they're about to be your new favorite thing.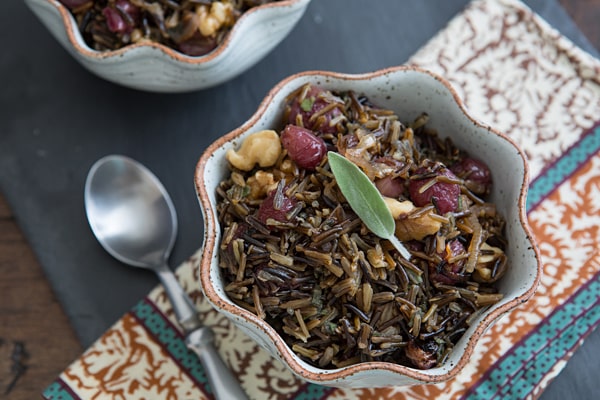 Ingredients
2

cups

red seedless grapes

1

shallot

thinly sliced

1

cup

wild rice

cooked according to package directions

½

cup

walnut pieces

toasted

1

tbsp

+ 2 tsp olive oil

divided

1

tbsp

red wine vinegar

2

tbsp

fresh sage leaves

chopped

salt and pepper

to taste
Instructions
Preheat oven to 400°F.

Toss the grapes and shallot with 2 teaspoons of olive oil. Transfer to a baking sheet that's been sprayed with oil or lined with parchment paper and roast for about 20 minutes, or until the grapes are softened, but not burst.

Transfer the grapes and shallot to a large bowl. Add rice, walnuts, remaining oil, vinegar, and sage; gently toss, careful not to smash the grapes. Season with salt and pepper to taste.