This Blueberry-Lemon Yogurt Cake is like biting into a slice of sunshine. It's moist and delicious, with a bit of tang from the lemon and yogurt, and a burst of sweetness from the blueberries. All topped off with a sticky-sweet lemon glaze.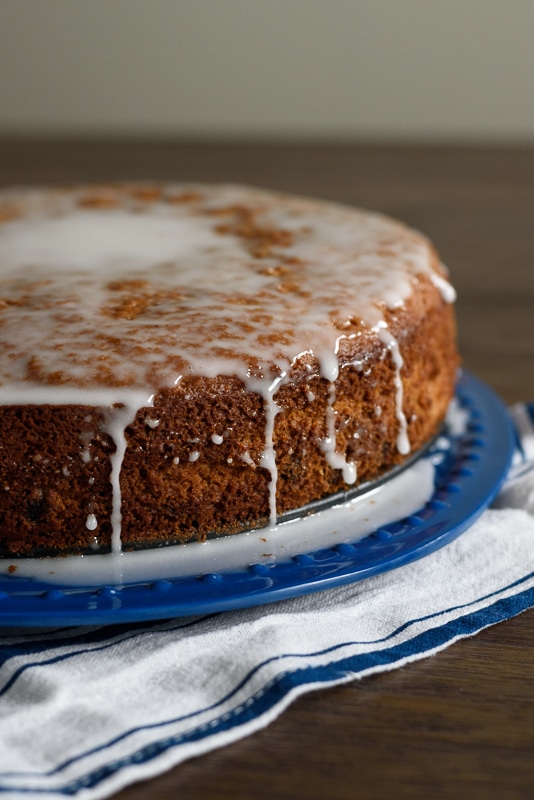 This delicious little cake is stuffed full of bright flavors from fresh lemon, blueberries, and creamy Greek yogurt.
Add that drizzle of sugary lemon glaze on top; how you can even resist?
Plus, there's fruit and yogurt inside, so I think we can eat it for breakfast too. 😀
Let's get baking.
The Star Ingredients
My inspiration for this cake was the Cool Foods at Publix promotion. As you all know, I love shopping at Publix. Seriously – they're just so darn nice there. And I love using their sales flyer as inspiration for new recipes.
Last year I created this awesome waffle sundae bar from ingredients on the Cool Foods promotion. And just a few weeks ago, I created this Chocolate Quinoa Cake from ingredients on their Plant-Based promotion. Clearly, I have a bit of a sweet tooth.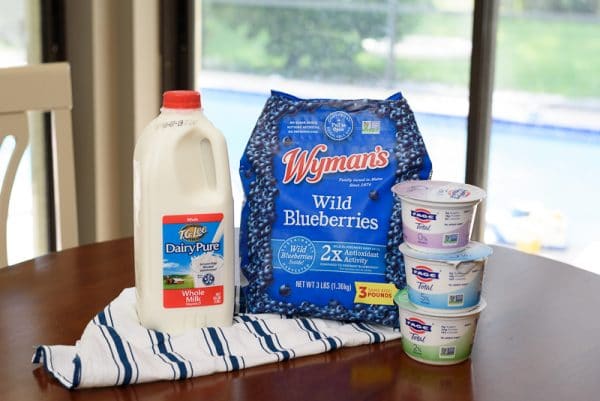 Anyway, this time around I was lucky to find these tasty ingredients, which inspired this blueberry-lemon yogurt cake recipe:
Blueberries. I used the Wyman's of Maine Blueberries, which are on sale for just $10.99 for a 3-pound bag. It was my first time cooking with this brand of frozen fruit, and I was really impressed. These frozen blueberries tasted just like fresh blueberries but are way more convenient. I picked up some of the other Wyman's of Maine Fruit varieties as well, since they were on sale. I can't wait to try the Cherry Berry with Kale in a smoothie!
Greek Yogurt. Fage is a brand I am very familiar with, as it's a regular in our fridge. So, I was happy to spot Fage Greek Yogurt on sale at 10 for $10 (5.3 – 7 oz sizes). Yogurt is the secret ingredient that gives this cake it's rich, moist texture. The Fage Greek yogurt worked perfectly for this. And of course, it's pretty delicious to eat on its own too.
Milk. Of course, it's tough to bake a cake without milk. So, I was delighted to find Dairy Pure Milk on sale at 2 for $5 (half gallon size).
From 10/12/19 to 10/25/19 head to your local Publix for savings on a variety of products featured in their Cool Foods list. Grab the in-store flyer and visit the Cool Foods microsite for a complete roundup and list of savings!
How to Make Blueberry-Lemon Yogurt Cake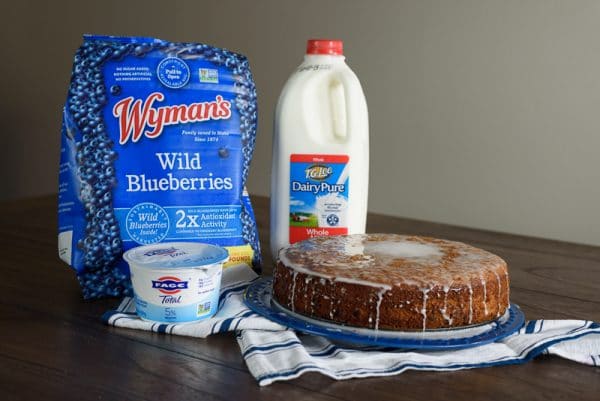 The first step in creating this delicious cake is to prep the lemons. Grab three lemons – then zest and juice them. Zesting is easiest with an actual zester but if you don't have one, you can get the job done with a cheese grater.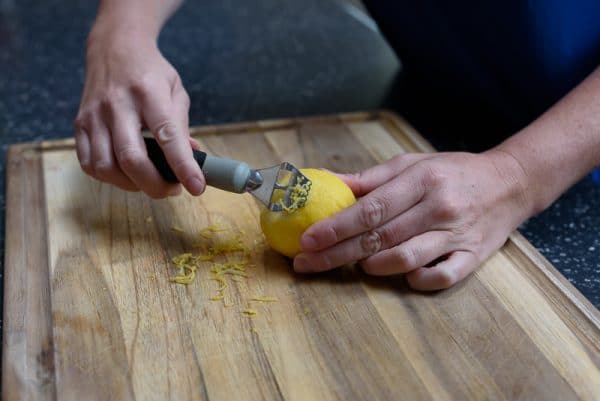 After the lemons are zested, cut them in half and squeeze the juice into a measuring cup or small bowl.
Put your lemon zest and lemon juice aside for now.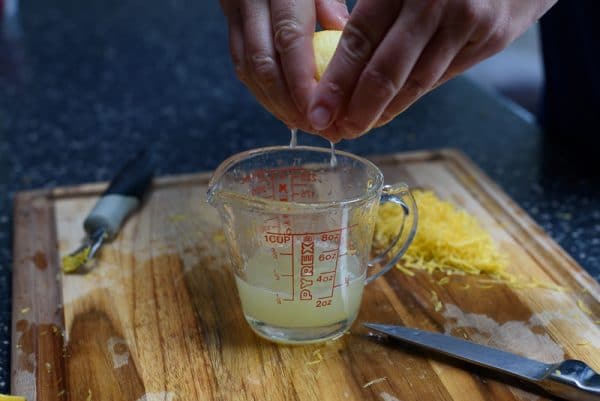 Next, combine the flour, sugar, baking powder, and salt in a big mixing bowl. I did the mixing in my stand mixer, but you can mix it by hand as well.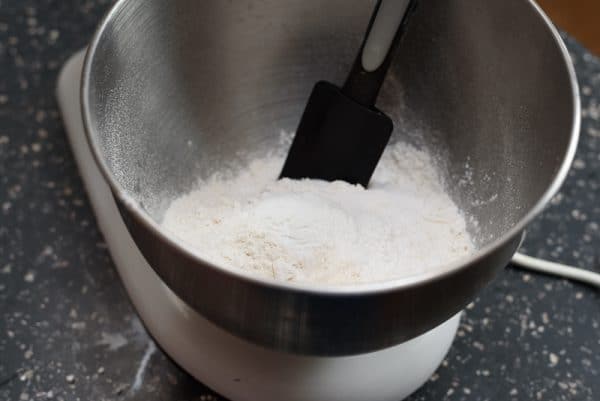 Add in the eggs, vanilla, coconut oil, milk, and yogurt.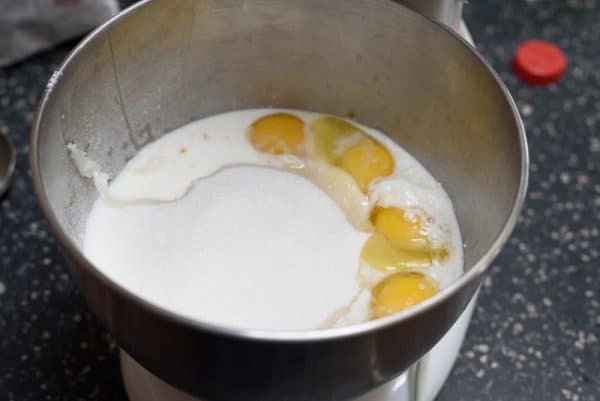 Mix everything together.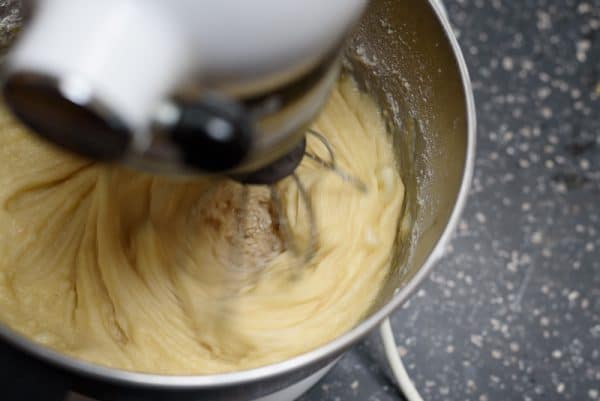 Then add in the lemon juice and lemon zest.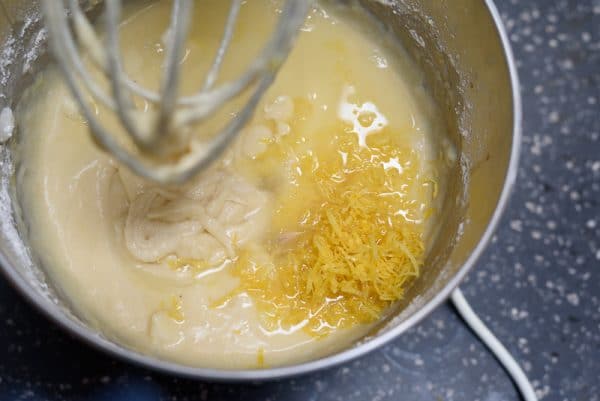 Stir again to combine until you have a smooth cake batter.
Next, we're ready for the blueberries. Here's a little trick that I use when baking anything with fruit inside. Mix the fruit first with a couple tablespoons of flour, so it's well coated. And then add it to the cake batter.
This helps the fruit pieces "float" in the cake rather than sinking to the bottom of the baking pan. Don't ask me why this works – it just does.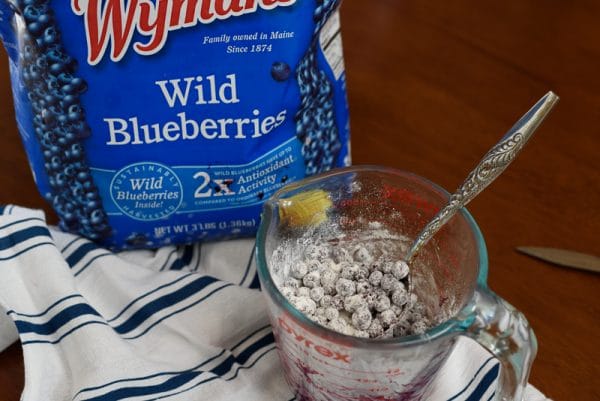 After tossing your blueberries with some flour, carefully fold them into the cake batter.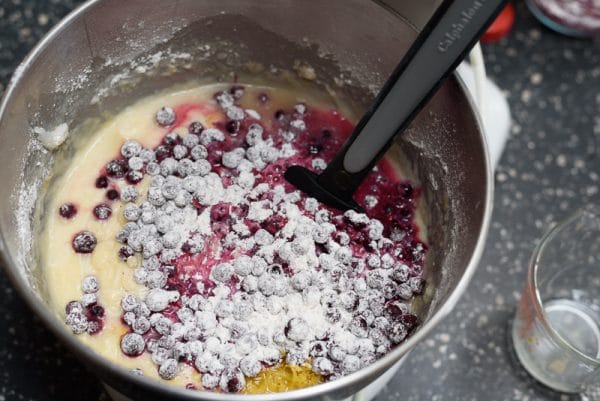 I have to admit, I was a little surprised when my cake batter turned bright purple. I don't know why, but I didn't expect it. I have to say – I kind of love it. Who doesn't want a purple cake?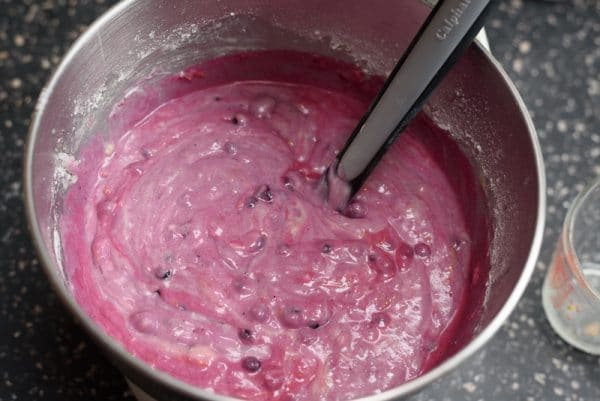 Next, we need to get our cake batter into a pan. I used an 8" springform cake pan, as I like being able to just open the sides up after baking and pop out my cake. You could also make this in a loaf pan, or even a mini Bundt pan for a different look.
Line the bottom of the cake pan with parchment paper. The easiest way to do this is to trace around the cake pan on the parchment, and then cut it out. Prefect fit every time!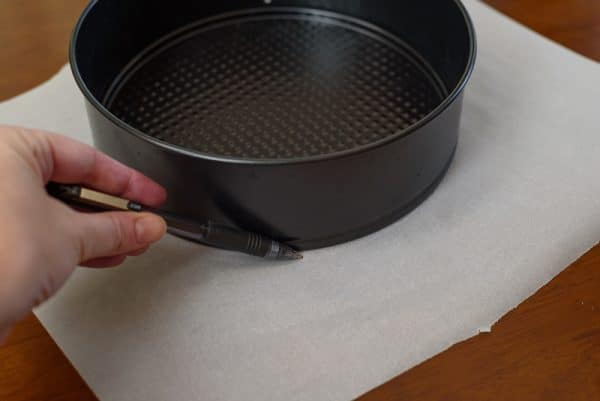 Give the pan and parchment a light spray with some olive oil baking spray – just to be double sure that it doesn't stick.
Then pour in the cake batter. It should fill the pan about ⅔ of the way.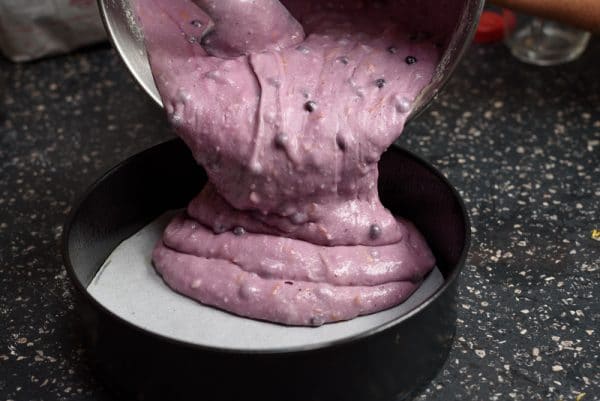 Bake at 350 degrees Fahrenheit for 45 minutes. You'll know it's done when you can insert a toothpick and it comes out clean.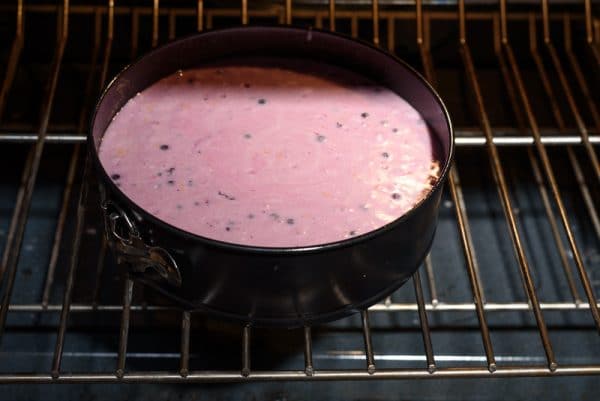 When the cake is done baking, remove it from the oven and let it cool until it is cool to the touch.
While the cake is cooling, you can make the glaze.
To make the glaze, simply whisk together the juice of one lemon with 1 ½ cups of confectioner's sugar. You can use a little more or less sugar to adjust the glaze to your desired thickness.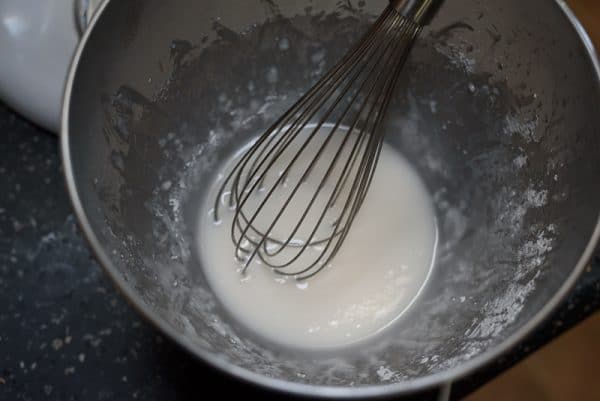 Pour the glaze over the cake, letting some drip down the edges.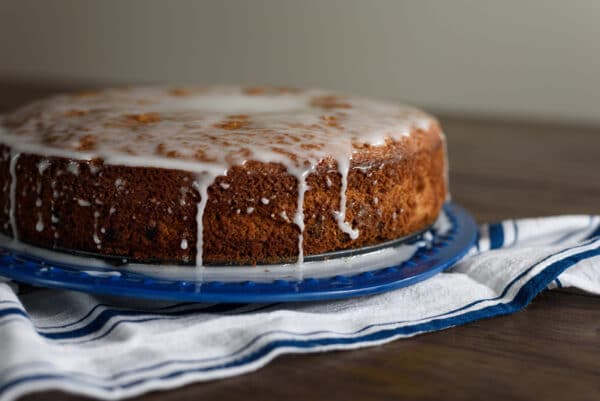 Dig in!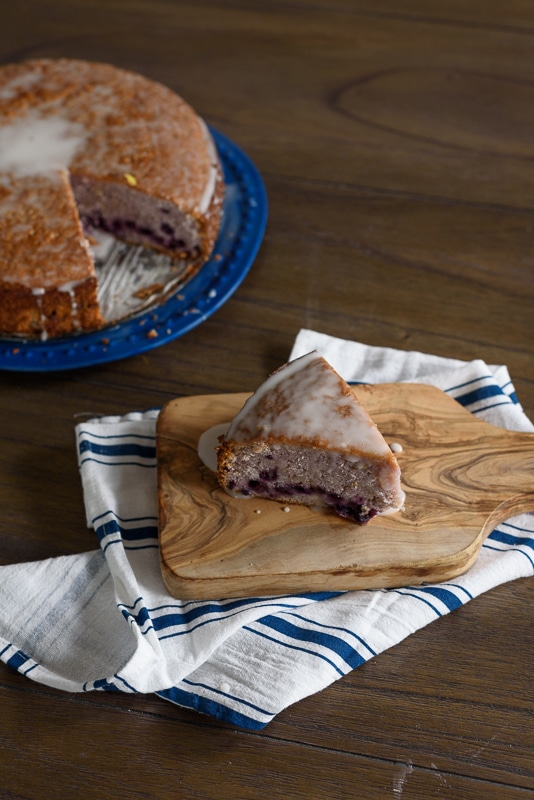 Cool Foods Promotion at Publix
And don't forget to check out the Cool Foods Promotion at Publix from now through 10/25/19 to pick up the star ingredients for this cake, and plenty of other delicious treats too.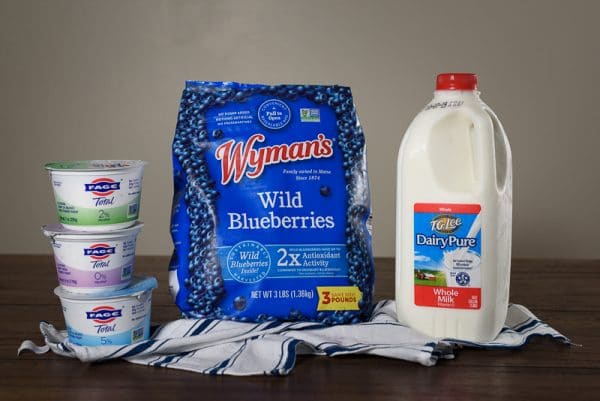 More Tasty Desserts
If you love this Blueberry Lemon Yogurt Cake, be sure to check out these other delicious recipes:
Recipe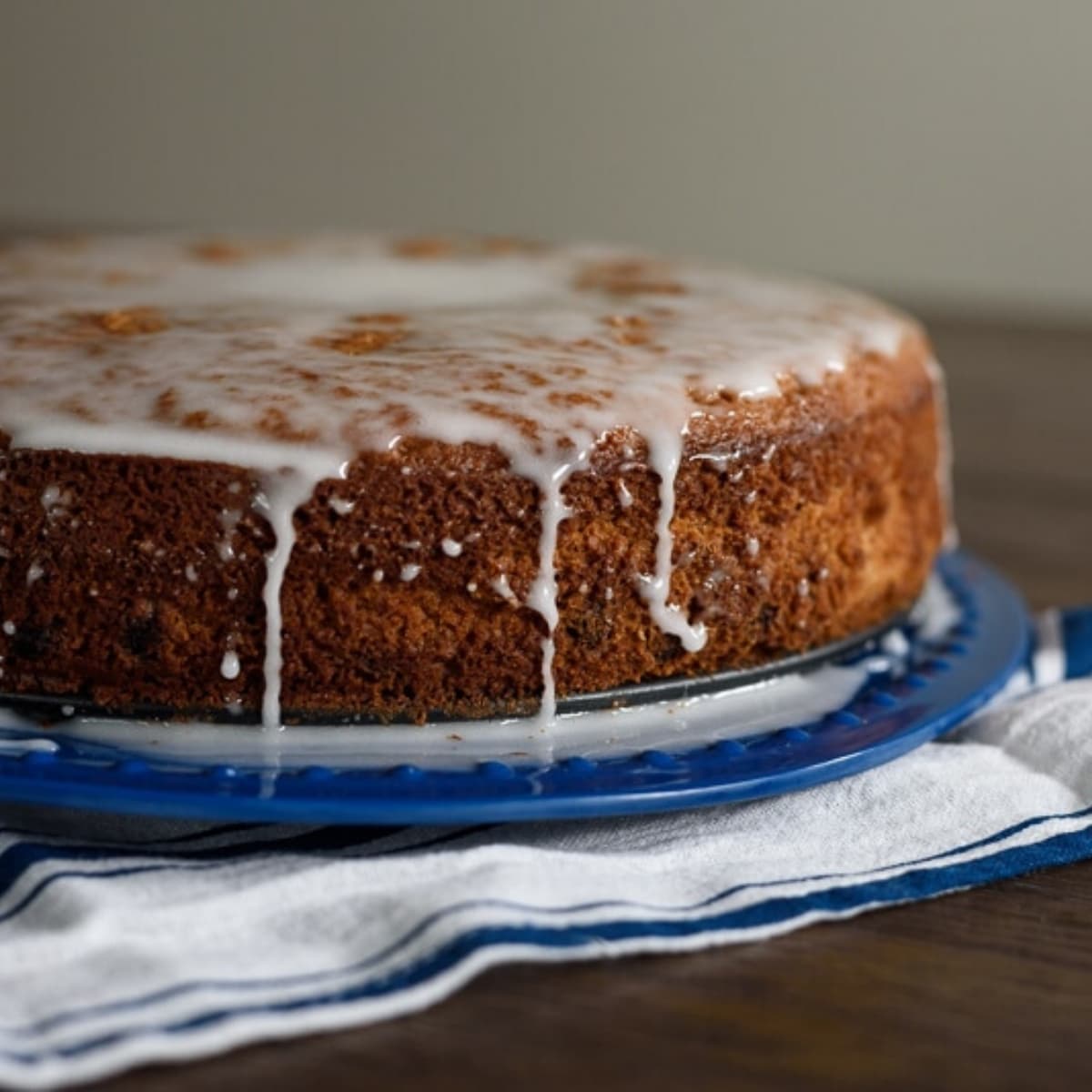 Ingredients
For cake:
½

cup

Dairy Pure Milk

½

cup

Fage Greek Yogurt

plain

1

cup

Wyman's of Maine Blueberries, frozen

2 ¼

cups

All-Purpose Flour

+2 tbsp

3

tsp

Baking Powder

1

tsp

Salt

2

cups

Sugar

4,

Eggs

3,

Lemons

juiced and zested

1

tsp

Vanilla Extract

½

cup

Coconut Oil

Non-stick cooking spray
For the glaze:
1 ½

cups

Confectioner's Sugar

Juice of 1 lemon
Instructions
In a large mixing bowl, combined 2 ¼ cups flour, baking powder, salt, and sugar.

Add the eggs, vanilla extract, coconut oil, milk, and yogurt. Mix to combine into a smooth batter.

Add the lemon juice and lemon zest and mix again.

Toss the blueberries with 2 Tbsp of flour. Fold into the cake batter.

Prepare an 8" cake pan by spraying with non-stick cooking spray and lining the bottom with parchment paper.

Pour cake batter into pan, filling about ⅔ of the way.

Bake for 50-60 minutes, until a toothpick or sharp knife inserted into the cake comes out clean.

Set the cake aside and allow to cool completely.
For the glaze:
In a large mixing bowl, whisk together the lemon juice and confectioner's sugar until a thick glaze forms.

Drizzle lemon glaze over the cake and serve.
Nutrition
Calories:
400
kcal
Carbohydrates:
72
g
Protein:
6
g
Fat:
11
g
Saturated Fat:
9
g
Cholesterol:
56
mg
Sodium:
225
mg
Potassium:
243
mg
Fiber:
2
g
Sugar:
51
g
Vitamin A:
108
IU
Vitamin C:
16
mg
Calcium:
94
mg
Iron:
2
mg
Craving more veg-friendly recipes?
Shop our collection of vegetarian and vegan cookbooks, including our new Vegan Thanksgiving and Vegan Christmas cookbooks!