This Creamy Wild Rice and Mushroom Soup is a lighter (and vegetarian!) soup that's packed with flavor from fresh mushrooms, white wine, shallots, and herbs.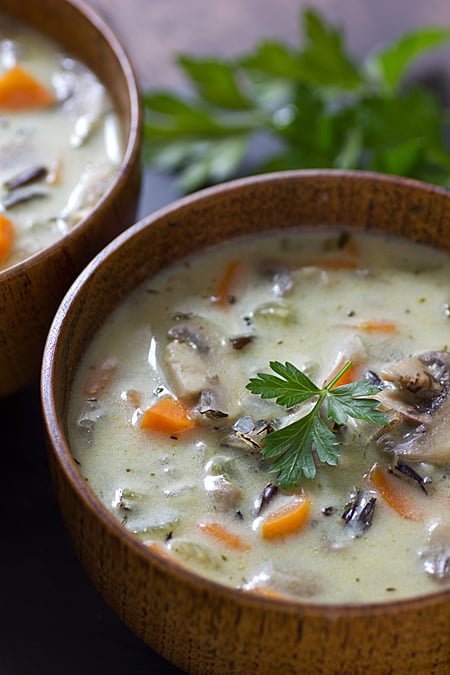 And Soup Week continues! It also ends with this delicious creamy vegetarian wild rice and mushroom soup.
I guess since I only post 2–3 recipes each week, theme weeks are not very epic around here, huh? Theme months would be way too much I think, but maybe I'll start doing theme fortnights in the future. (Yes, I said fortnight. I'm fancy like that.)
But for now - on to this delicious soup!
Creamy, Meaty Comfort Food
Having spent a good part of my life up in the Midwest, I can tell you this: Midwesterners like their food creamy.
We love cheesy casseroles, anything made with canned soup, and all kinds of concoctions made with sour cream, mayo, and/or cheese sauce (usually and, not or).
Being sick last week, I was craving comfort food and to me, comfort food is creamy food. So I set out to make a vegetarian version of the classic Creamy Wild Rice and Chicken Soup.
And then, because it's the New Year and I'm trying to watch what I eat, I set out to make a lighter version. Behold, Vegetarian Creamy Wild Rice and Mushroom Soup.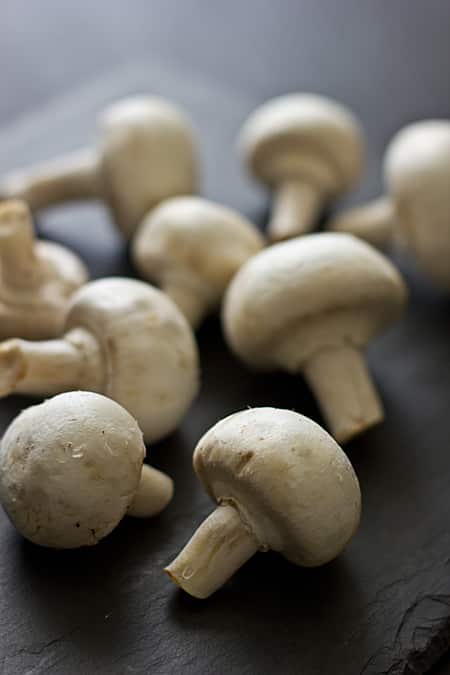 Replacing the Meat
The biggest obstacle was figuring out what to replace the traditional chicken with. I'm always hesitant to cook with seitan on my blog because I don't know if that's readily available everywhere. Plus - it's very polarizing.
And tofu in a creamy soup? That seemed kind of icky.
So I went with adding extra mushrooms, which make a wonderful replacement for meat in all kinds of recipes!
Replacing the Cream
I adapted my Vegetarian Creamy Wild Mushroom Rice Soup from this Cream of Turkey and Wild Rice soup from Eating Well. Instead of adding heavy cream or half-and-half, they used sour cream to thicken the broth.
I love this method of making creamy soups - it adds creaminess without a lot of fat or calories. It also adds a little tanginess. If you're ambivalent about sour cream, you can try some plain Greek yogurt or just stick with adding heavy cream instead.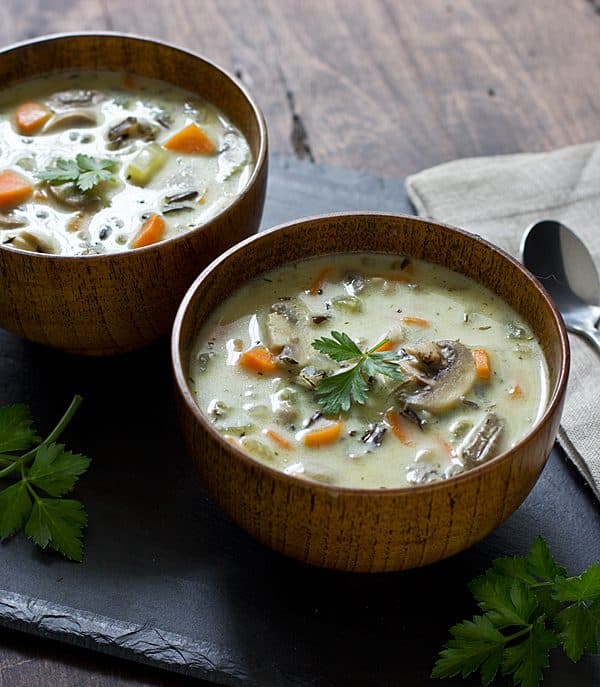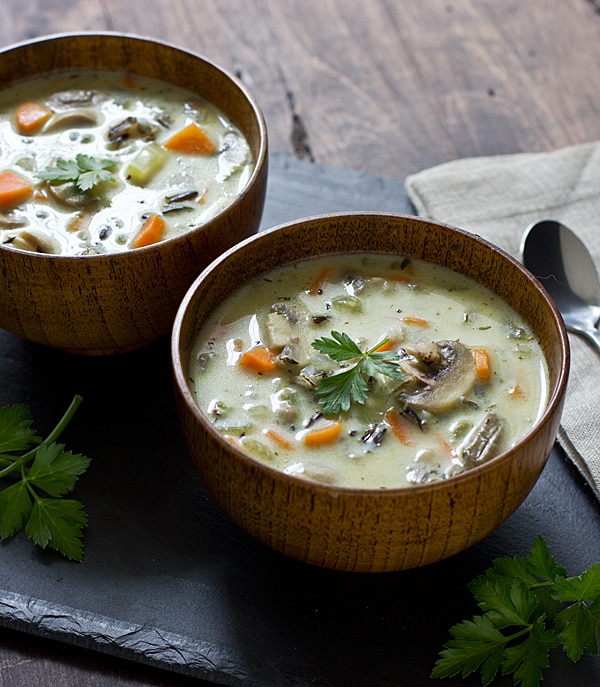 Cleaner, Lighter Comfort Food
This Creamy Wild Rice and Mushroom Soup was exactly what I needed when I was feeling sick. It reminded me of home, of chilly winters, of snow soaking through my boots and numb toes—okay, maybe I don't miss everything about the Midwest. But it did remind me of the food I grew up on. Total comfort food.
I hope you love this creamy vegetarian soup as much as I do!
Recipe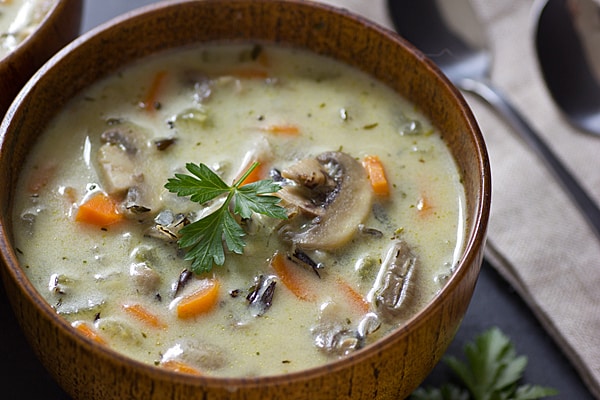 Instructions
Heat oil in a Dutch oven over medium heat.

Add mushrooms, celery, carrots, and shallot and cook, stirring often, until softened (5–7 minutes).

Stir in flour, salt, and pepper and cook for 2 minutes, stirring constantly.

Add white wine and thyme; increase heat to medium-high and cook 2 minutes more.

Add broth to Dutch oven and bring to a boil. If you're using instant rice, add it now and reduce heat to a simmer. Cover and cook until rice is tender, 5–7 minutes, then stir in sour cream and parsley.
Notes
If you'd like to use non-instant wild rice, cook 1 cup according to the package instructions and stir it into the soup at the end of cooking time.
Nutrition
Calories:
338
kcal
Carbohydrates:
53
g
Protein:
12
g
Fat:
9
g
Saturated Fat:
3
g
Polyunsaturated Fat:
1
g
Monounsaturated Fat:
4
g
Cholesterol:
15
mg
Sodium:
1026
mg
Potassium:
995
mg
Fiber:
5
g
Sugar:
8
g
Vitamin A:
6287
IU
Vitamin C:
6
mg
Calcium:
123
mg
Iron:
2
mg
Craving more veg-friendly recipes?
Shop our collection of vegetarian and vegan cookbooks, including our new Vegan Thanksgiving and Vegan Christmas cookbooks!