A quick and easy flatbread pizza recipe. Flatbreads are lightly toasted until crisp and topped with smooth creamy hummus, sweet cherry tomatoes, dandelion greens and tart balsamic for a satisfying healthy meat-free meal.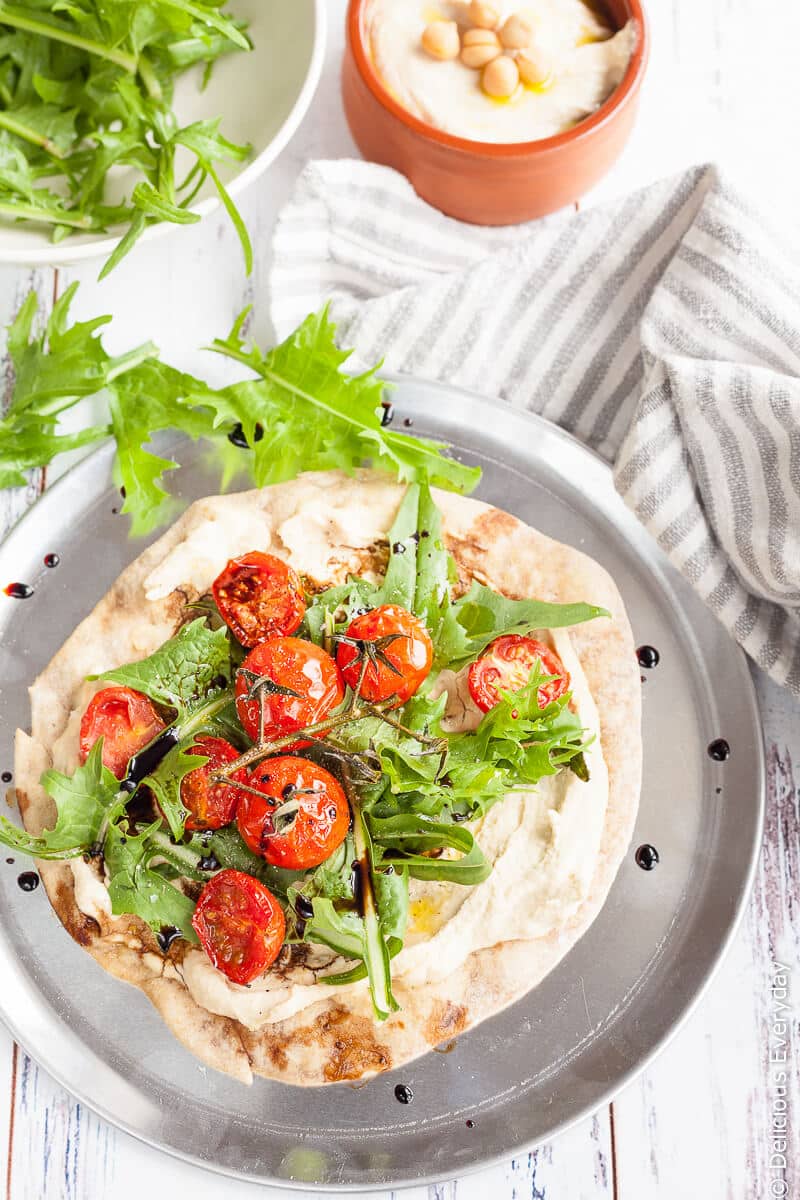 When cheese and I were still friends I used to love pizza.
Margherita pizza was my go to. The combination of tomato, basil, and gooey stretchy cheese is hard to beat. Utterly simple and utterly delicious. Especially wood-fired versions!
But cheese and I had a falling out a few years ago so I thought my days of pizza were over. And while a deliciously cheesy pizza is hard to beat I've discovered that cheese does not the pizza make.
One of my favourites is my mushroom and leek brioche tart. It looks like a pizza. Tastes like a pizza. However, it is totally cheese and dairy free, and you don't miss it one bit!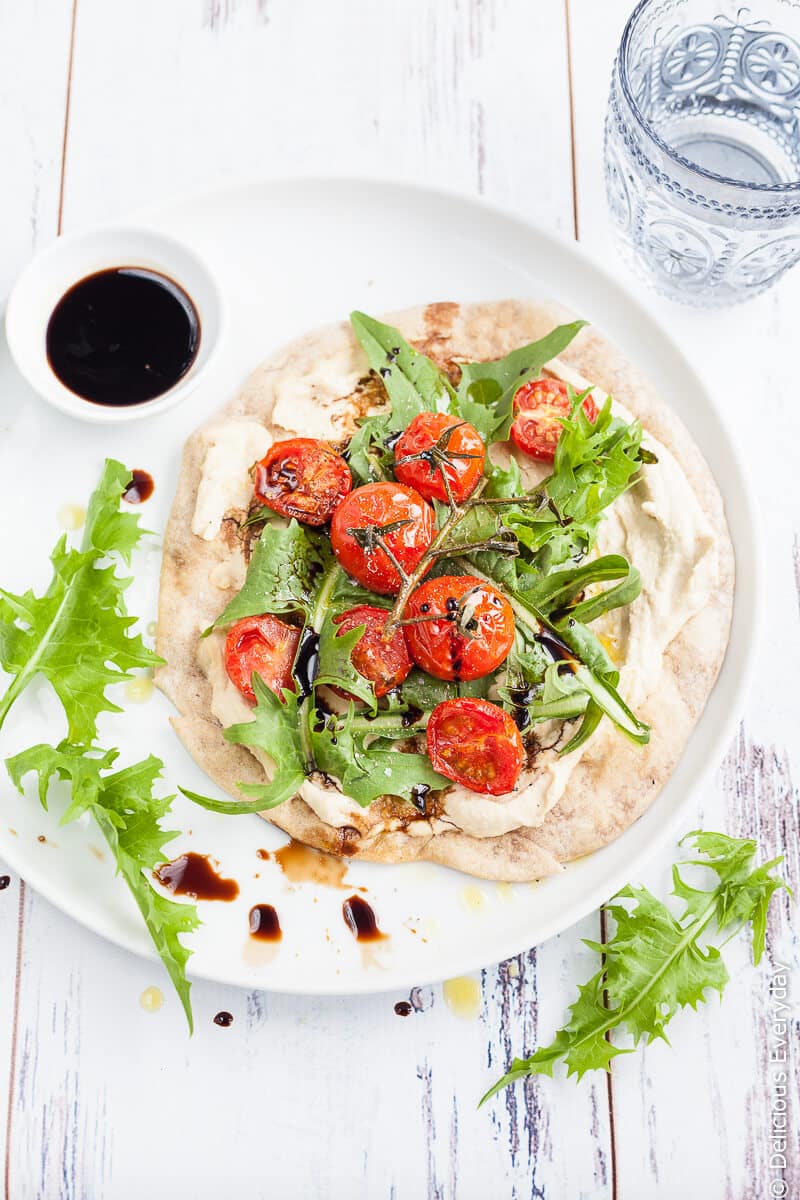 Today I'm sharing a deliciously simple dairy free and vegan flatbread pizza recipe. Crispy flatbread is topped with smooth creamy hummus, quick roasted cherry tomatoes, and dandelion greens. I came across the dandelion greens, a beautiful tangled mass, at my local farmers market on Saturday and had to give them a try.
The idea of eating dandelions might bring you back to your childhood when eating dirt was a thing. If you've never tried them, they really are delicious! Flavourwise they remind me of a bitter version of rocket (known as arugula to my United States readers).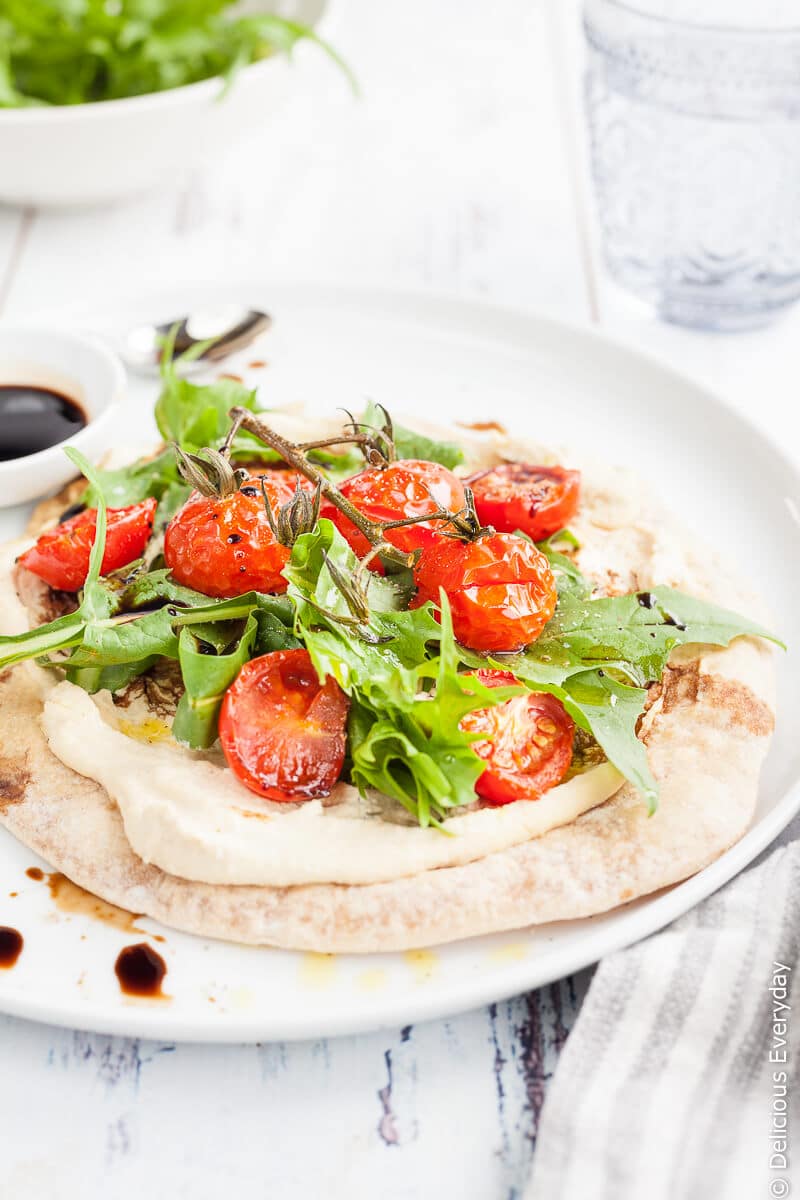 Dandelions are bitter due to a compound called sesquiterpene. For some, their bitterness can be too much. To counteract this I've paired the dandelion greens with sweet cherry tomatoes, the creamy fattiness of hummus and tart balsamic vinegar. This combination worked so well that neither my husband nor I noticed the bitterness in the dandelion greens at all.
If you are new to dandelion greens, as I was, they have a whole raft of health benefits, not least of which is the fact that they are high in iron. Especially important for vegetarians and vegans. They are also high in calcium and are loaded with antioxidants.
Can't get your hands on dandelion greens? Rocket (arugula) is your next best choice.
While I've made the flatbreads for my flatbread pizza recipe, as well as the hummus, you can just as easily substitute store-bought flatbreads and hummus for a deliciously easy and fast meal.
So tell me, have you tried dandelion greens before? What are your favourite ways to eat them?
Recipe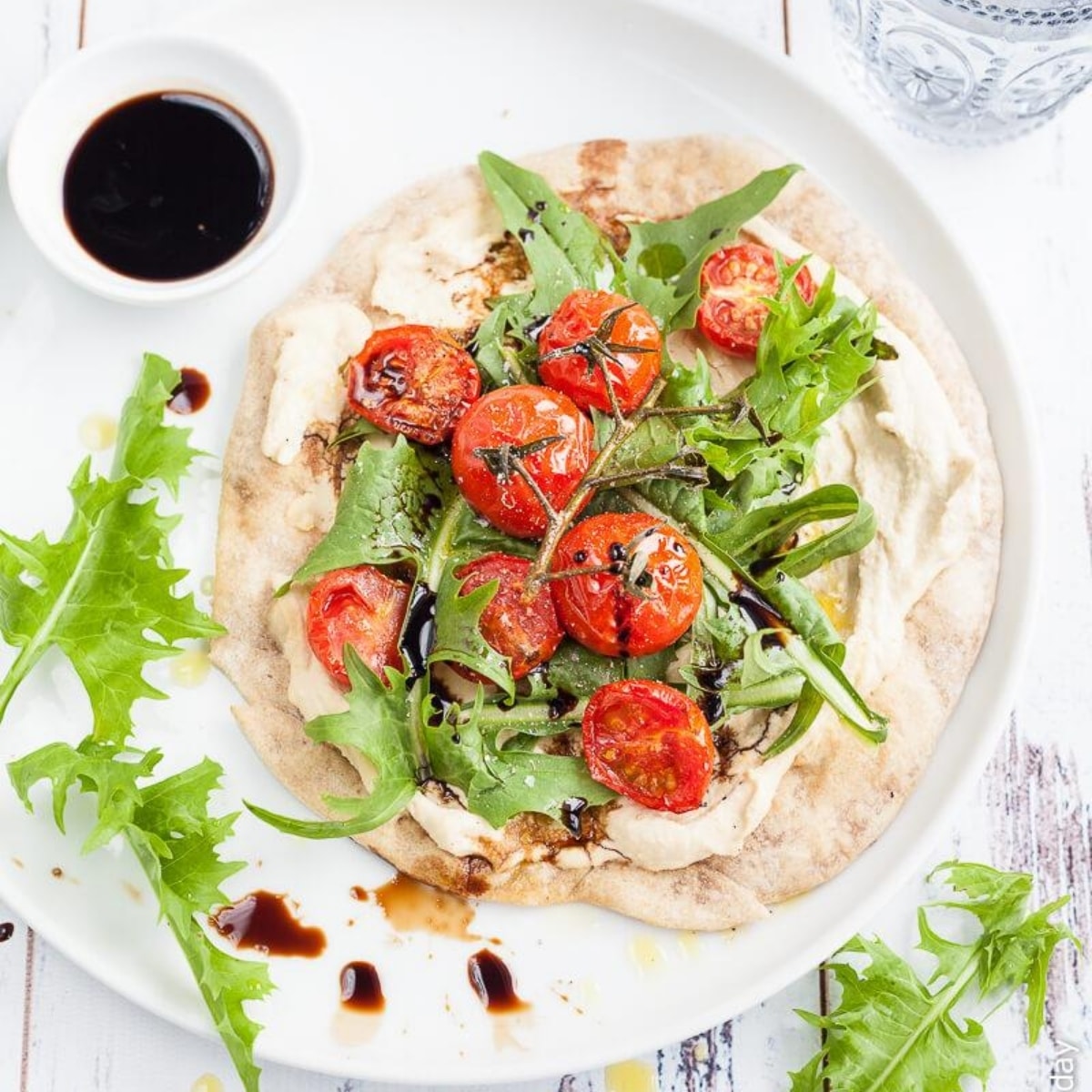 Ingredients
Instructions
Start by making the hummus. Place the chickpeas, garlic and salt into a food processor and process until you have a paste. You might need to scrape down the bowl a couple of times to achieve this. Add the tahini and lemon juice and process until smooth and creamy. For a looser hummus add a tablespoon or so of water. Taste and adjust the seasonings as necessary. Refrigerate until needed.

Preheat the oven to 200 celsius (400 fahrenheit). To make the flatbreads place the flours and salt in the bowl of a mixer fitted with a dough hook. Mix until combined. Add the oil to the water and, with the mixer running, add the liquid. Knead for 7 to 10 minutes or until smooth and elastic. As different brands of flour vary you may need to add slightly more water to form a dough. Let the mixer do its work for a couple of minutes first to see if it will come together before adding more water though.

Remove the dough from the mixer and place onto a lightly floured bench. Divide into 4 equal size pieces and roll out into roughly 20cm (8 inch) circles. Don't fret if once you've rolled the dough out it isn't in a neat circle. It's part of the charm of homemade to be slightly misshapen!

Place a frying pan on a medium high heat. Place one of the flatbread in the pan and cook until it puffs up like a ballon (around 1 to 2 minutes). Turn it over and cook for a further minute until the bread no longer looks doughy. Repeat with the remaining flatbreads.

While you are cooking the flat breads place the tomatoes into a baking tray and lightly coat in half the olive oil and season with salt and pepper. Cook until their skin starts to split or wrinkle, around 10 to 15 minutes.

To make the pizzas place the flat breads on a baking tray and lightly brush with olive oil. Bake for 5 to 7 minutes until crispy.

Top the flatbread pizzas with generous dollops of hummus, spread over the base, dandelion greens and tomatoes and a drizzle of balsamic and extra virgin olive oil. Serve immediately!
Notes
If you don't have spelt flour simple replace with plain (all purpose) flour.
!SHORTCUT:
Use store-bought flatbread and hummus for a quick, easy and delicious 15 minute meal!
Nutrition
Calories:
478
kcal
Carbohydrates:
64
g
Protein:
11
g
Fat:
20
g
Saturated Fat:
2
g
Sodium:
622
mg
Potassium:
433
mg
Fiber:
7
g
Sugar:
5
g
Vitamin A:
3295
IU
Vitamin C:
34
mg
Calcium:
91
mg
Iron:
5.2
mg
Craving more veg-friendly recipes?
Shop our collection of vegetarian and vegan cookbooks, including our new Vegan Thanksgiving and Vegan Christmas cookbooks!