This sweet potato hummus is a spicy twist on the classic, with the addition of roasted sweet potato and spices. And it's totally addictive!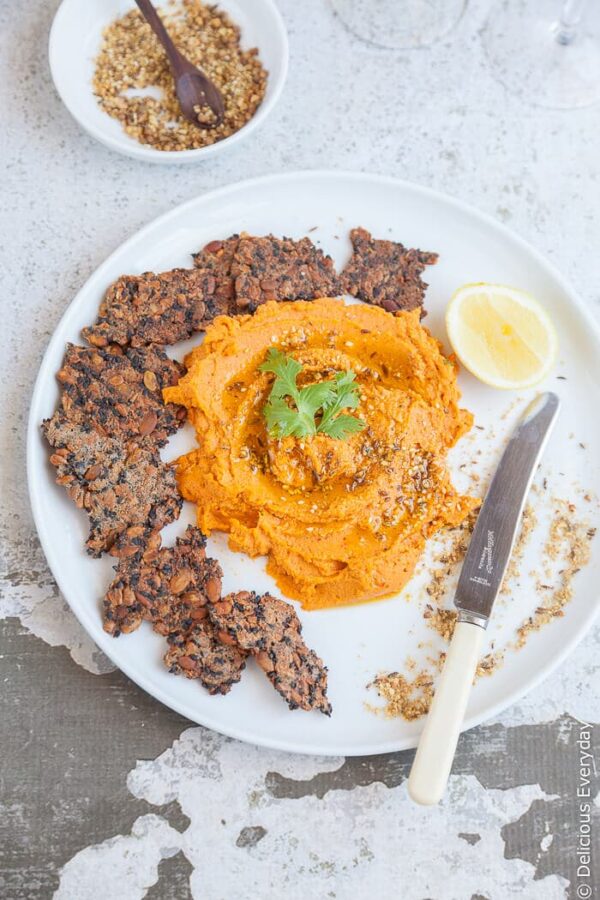 I love hummus as much as the next person, but sometimes you need to shake things up, and this Moroccan-styled Sweet Potato Hummus is a delicious alternative to traditional hummus.
Prepping Your Sweet Potato Hummus
Start by baking your sweet potato for 45 minutes in the oven so it's nice and soft. While you're prepping the sweet potato, you can get the rest of your ingredients prepared!
Take the red bell pepper and hold it over the flame on your smallest gas burner to char the skin. If your stove isn't a gas cooktop, you can do this on the grill instead.
Then place the roasted bell pepper in the oven for 15 minutes. (Hint: If you place it in a bowl and cover it with plastic wrap, the steam will make removing the skin easier.)
Repeat the same process with a chili, minus putting it in the oven. Then remove the skin of both the bell pepper and chili, discarding the stalk and seeds.
Remember to be extra careful handling the chili pepper - don't touch your face while working or the oils from the chili will burn! It's a good idea to wear disposable gloves.
Once your sweet potato is nice and soft, scoop out the flesh and put it into a food processor along with the bell pepper, chili, a little lemon juice and your favorite spices.
I used cumin, coriander, paprika, and garlic. Feel free to experiment with your preferred spice blend! Process until it's smooth.
Now comes time for the taste test! If it needs more lemon, chili, or salt, just add a little bit until it tastes just right. These spices will give it that little Moroccan kick you'll love!
Personalizing Your Sweet Potato Hummus
With the rich flavors and starchiness, this Moroccan-Style Sweet Potato Hummus is a great substitute for other spreads or dips. It's perfect for pairing with homemade pita chips.
If you're not too keen on spice, only use half a chili for this recipe. You can always taste and add more to the blender if you want to go spicier.
What's great about this recipe is that you can do so much with it! If you want to make the sweet potato hummus into more of a dip, just add a couple tablespoons of vegetable stock and process it again. You will get a thinner consistency.
This sweet potato hummus is the perfect addition to any meal. If you need some creative ideas, check out the list of ways to eat hummus!
This brilliantly colored, spicy dip is perfect for afternoon snacking or spreading on everything from toast to bagels or your favorite crackers.
To serve this dip I've gone with the amazing seeded crackers from A Modern Way To Cook by Anna Jones. If you don't have Anna's book, it is definitely one to add to the collection.


Recipe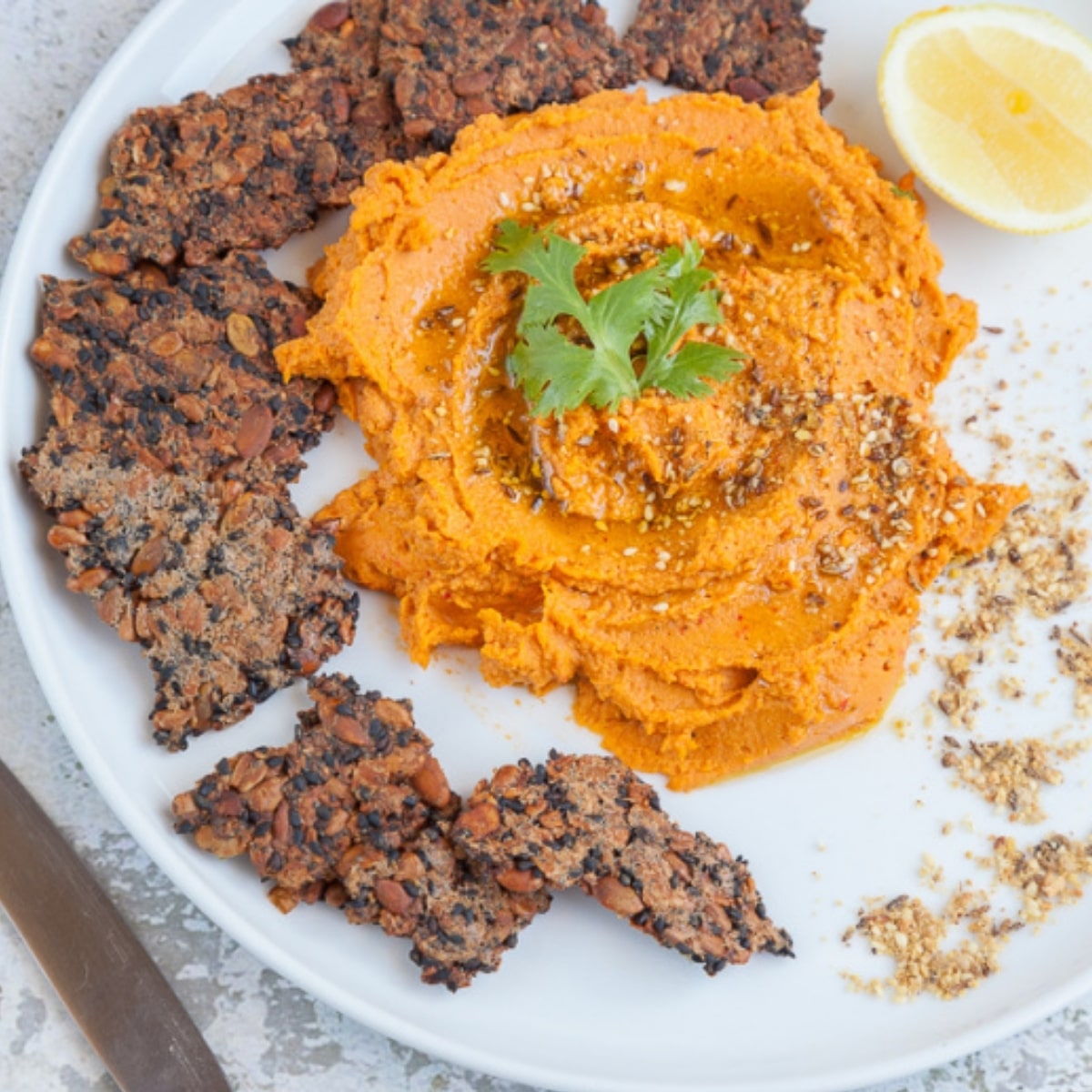 Instructions
Preheat oven to 400 degrees (F). Place the sweet potato on a baking tray and bake for 45 minutes or until tender.

While the sweet potato is baking turn on your smallest gas burner and place the bell pepper directly on the flame, using tongs to turn every so often, or until the skin is lightly charred. Repeat with the chili. Once the skin is charred, place bell pepper (not the chili) in the oven for 15 minutes, or until tender. Place both the bell pepper and chili in a bowl and cover with plastic wrap for a few minutes. This will help make the process of removing the skin easier. Once cooled remove the skin of the capsicum and chili and discard the stalk and seeds.

Cut the sweet potato in half and scoop out the flesh. Place the sweet potato flesh, char-grilled capsicum (red pepper), half the chili and the remaining ingredients in the food processor. Process until smooth. Taste and adjust the amount of lemon, chili and salt to taste.

Serve with a drizzle of olive oil. Serve with your favorite crackers or warmed pita bread.
Notes
If you don't like a lot of heat start by adding half the chili to the hummus and add more as needed.
If you do not have a gas cooktop, you can roast the red pepper on the grill. Alternatively, substitute store bough roasted red pepper (jarred). 
Nutrition
Calories:
215
kcal
Carbohydrates:
34
g
Protein:
9
g
Fat:
5
g
Sodium:
29
mg
Potassium:
486
mg
Fiber:
8
g
Sugar:
7
g
Vitamin A:
5795
IU
Vitamin C:
57.6
mg
Calcium:
68
mg
Iron:
3.7
mg
Craving more veg-friendly recipes?
Shop our collection of vegetarian and vegan cookbooks, including our new Vegan Thanksgiving and Vegan Christmas cookbooks!