These vegan sugar cookies are so soft and sugary, no one would ever guess they're completely plant based. Plus, they're easy to put together in under 20 minutes! Easy, delicious, and no-nonsense - perfect for any occasion.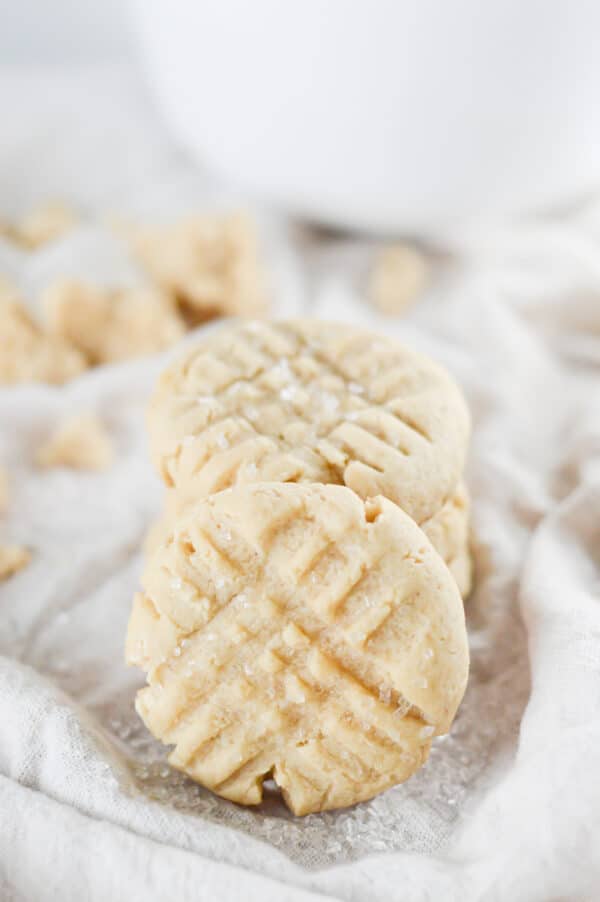 Sugar cookies are another one of those staple cookie recipes, like these Vegan Chocolate Chip Cookies or these Vegan Peanut Butter Cookies.
There are so many different ways to make them that it will make your head spin. However, it's hard to find one that isn't delicious.
The best part about this vegan sugar cookie recipe is the fact that no one would ever know it's vegan!
It tastes exactly like traditional sugar cookies. There aren't any ingredients you've never seen before and no strange textures. Just great cookies!
How to Make Vegan Sugar Cookies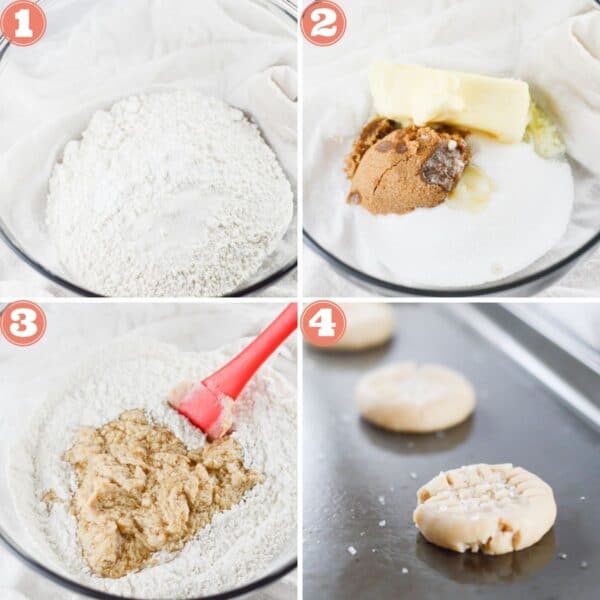 Prep - Preheat the oven to 350 degrees and grease a cookie sheet and set aside.
Mix the dry ingredients - In a large bowl, combine all the dry ingredients except the coarse sugar. Mix well and set aside.
Mix the wet ingredients - In another bowl, combine the sugars, vanilla, and butter. Cream together well before adding in the applesauce and mixing well again.
Finish the dough - Combine both the wet and dry ingredients and mix until a thick dough forms. Roll the dough into 1-inch balls and place them on the prepared sheet. You should be able to fit about 12 cookies on the sheet.
Bake - Using a fork, make a criss-cross pattern on top of the cookie, pressing it down to be flatter. Sprinkle with coarse sugar and bake for 8 minutes. Remove from the oven and allow to cool on the pan.
Garnish and enjoy - If desired, you can garnish your cookies with frosting, serve, and enjoy!
Scroll down for the full printable recipe with measurements and detailed isntructions.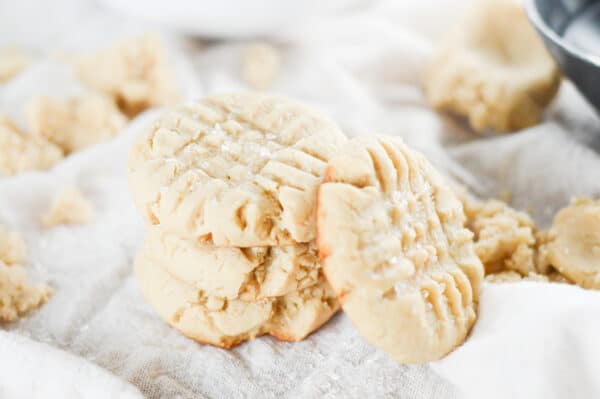 Tips and Variations
Make Vegan Cut-Out Sugar Cookies - If you want to roll out this dough and use it for shapes (like these strawberry-shaped sugar cookies, you'll want to change up one or two steps.
Before baking, once you're finished mixing the dough, cover it and chill it for two hours. Then, put the dough between two pieces of wax paper and roll it out using flour to make sure the dough doesn't stick.
Place the cookies on a greased baking sheet and follow the baking instructions as stated.
Skip the Criss-Cross - If you don't want to press down the cookies, you don't have to. However, these cookies don't spread or expand very much. So, they will be small, very round cookies if not pressed down. If you don't mind this, you can skip this step.
Use Pumpkin Puree - If you want to swap out the applesauce for the same amount of pumpkin puree, that would work just fine.
In fact, the applesauce replaces the egg you would normally find in a sugar cookie recipe. So, you can use your preferred egg substitute instead of the applesauce. However, this may cause the recipe to act a little different, so you'll want to experiment.
For more vegan substitutions, be sure to grab this free vegan cheat sheet with all my favorite swaps to vegan-ize your favorite recipes.
Skip the coarse sugar - If you don't want to use coarse sugar, you definitely don't have to. You can either skip it altogether or put frosting on your cookies instead. This Wilton frosting is vegan-friendly!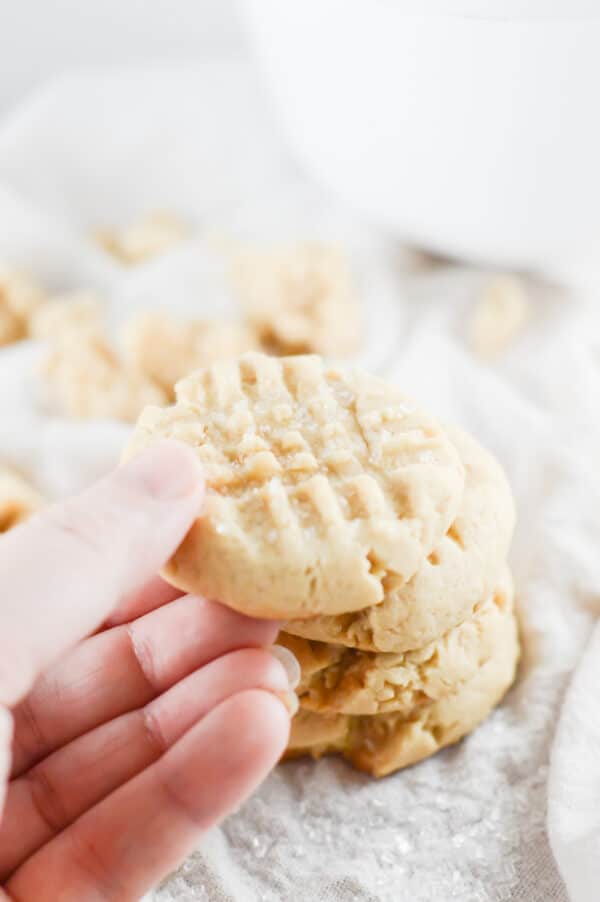 Common Questions About Vegan Sugar Cookies
Why Do Sugar Cookies Puff Up?
If you don't want your sugar cookies to be puffy, try reducing the amount of baking powder you used.
Also, check to make sure you're following the recipe to the letter. With baking, any little thing being off can cause a change in the cookie outcome.
Make sure and bake the cookies when the dough is cold (if doing shapes) and don't mess with the dough too much. In other words, don't keep rolling it out over and over again or this will cause the cookies to turn out odd.
Other Vegan Cookie Recipes You Might Like:
Make sure you check out my list of the top vegan cookies on the internet, for more baking ideas. Here are a few favorites:
If you decide to give these Vegan Sugar Cookies a whirl, let me know in the comments below!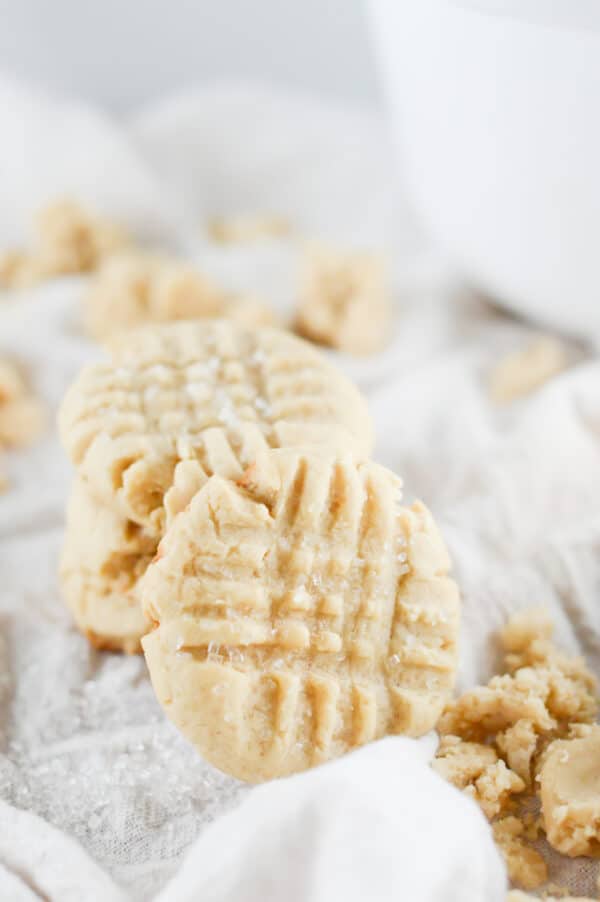 Recipe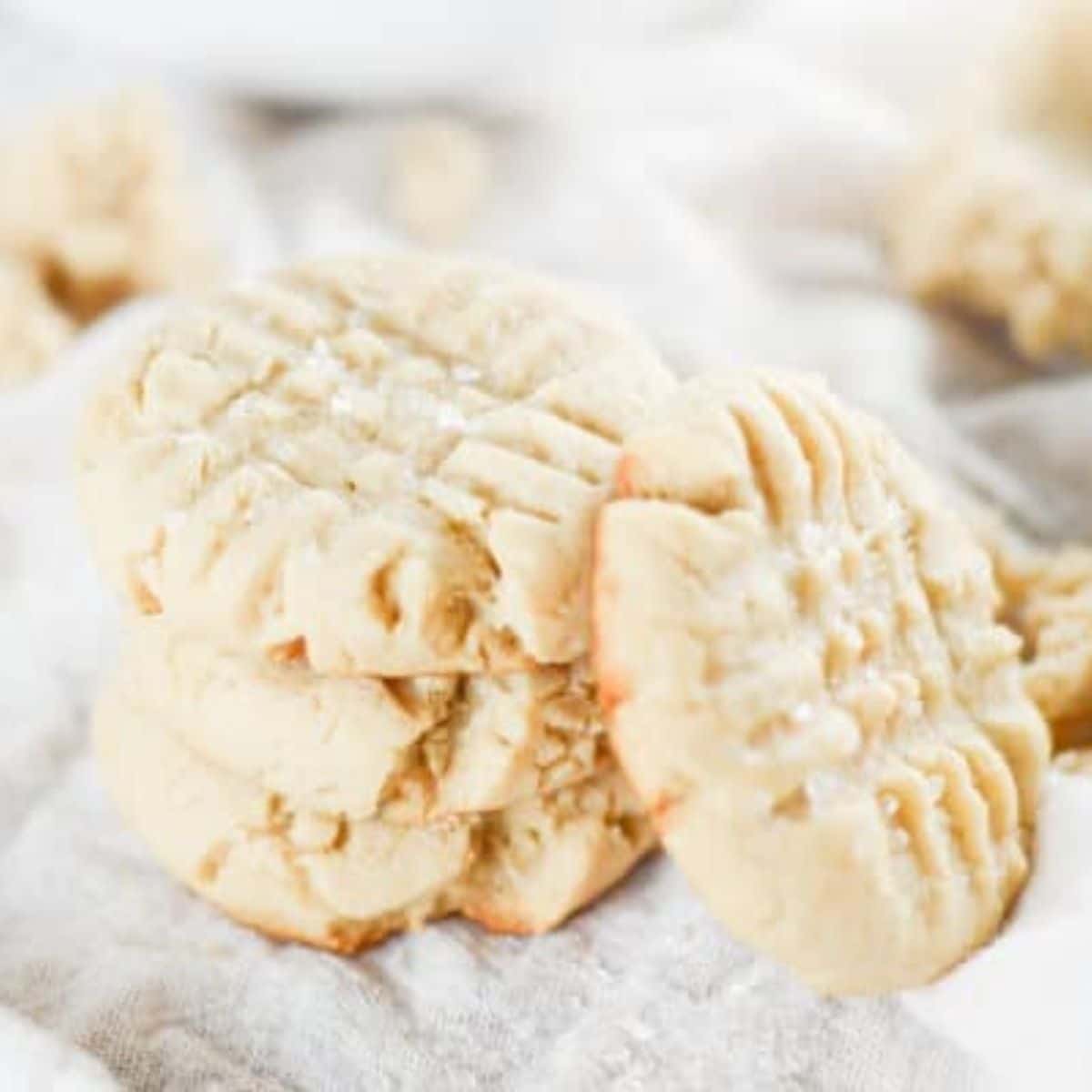 Instructions
Preheat the oven to 350 degrees and grease a baking sheet. In a bowl, combine all the dry ingredients except the sugar and mix well.

In a separate bowl, cream together the butter, both sugars, and the vanilla. Add the applesauce to the sugar bowl and mix well again.

Combine both the dry and wet ingredients and mix well until a thick dough forms.

Roll into 1-inch balls and place on the prepared baking sheet.

Press down the balls with a fork in a criss-cross pattern. Sprinkle with coarse sugar and bake for about 8-10 minutes or until the edges of the bottoms start to turn a very light gold color. Leave on the pan to cool for a few minutes.
Notes
If you want to cut shapes out of the dough, once mixed, cover it and chill it for a couple of hours. Then, place the dough in between two sheets of wax paper and roll it out, making sure to use plenty of flour if need be so it doesn't stick. Cut out your shapes and bake them following the same baking time and temps.
Nutrition
Calories:
90
kcal
Carbohydrates:
14
g
Protein:
1
g
Fat:
3
g
Saturated Fat:
1
g
Sodium:
132
mg
Potassium:
32
mg
Fiber:
1
g
Sugar:
7
g
Vitamin A:
180
IU
Calcium:
10
mg
Iron:
1
mg
Craving more veg-friendly recipes?
Shop our collection of vegetarian and vegan cookbooks, including our new Vegan Thanksgiving and Vegan Christmas cookbooks!