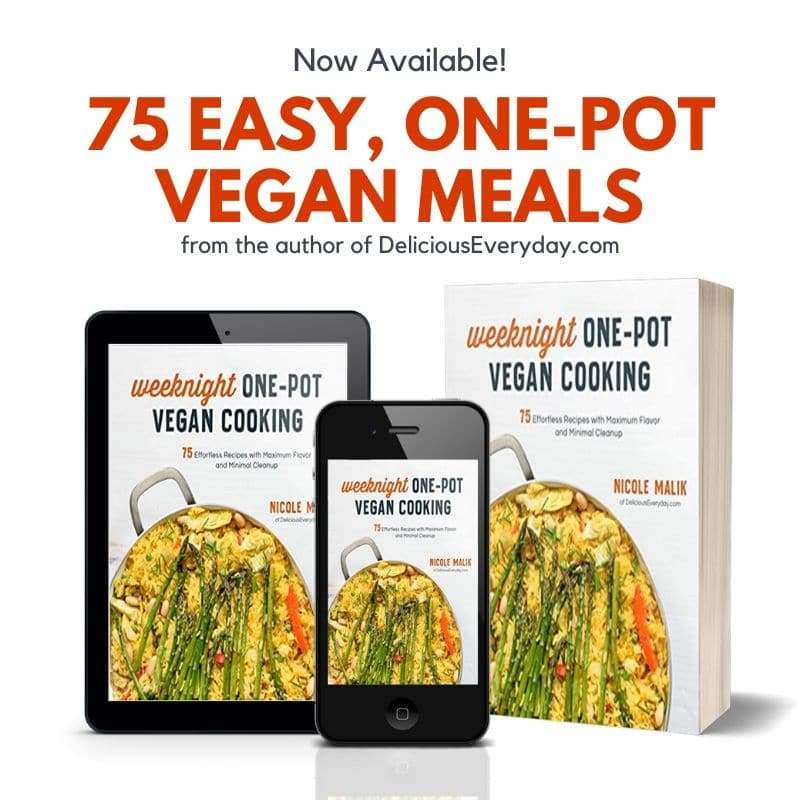 Are you ready to make vegan cooking easy?
75 Effortless Plant-Based Recipes
It's finally here! The first cookbook from Delicious Everyday. And I hope you all love it as much as I loved creating it.
It's packed full of simple and delicious vegan meals- and every one of them can be made in a single pot. How great is that?
Available from your favorite bookseller: 
Amazon | Books-a-Million | Barnes & Noble | IndieBound
---
About the Author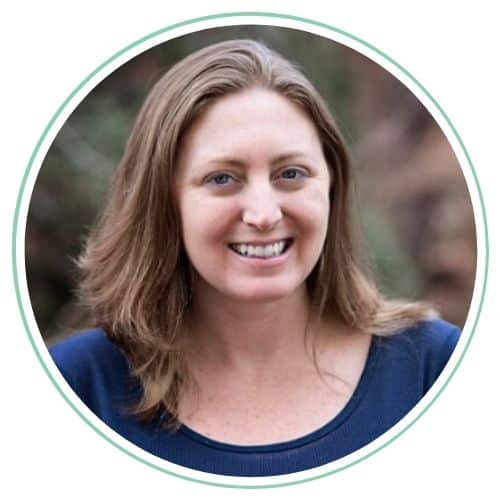 While I love cooking, I simply don't have hours to spend in the kitchen. And I certainly don't want to spend hours cleaning it up! So, these one-pot vegan meals were born.
I promise that every recipe here is delicious, satisfying, real food. You won't find any salads or tofu in this book!
And best of all, every recipe is designed to be made in a single pot or pan, so you can get an incredible plant-based meal on the table without a ton of hassle and without spending the rest of the night cleaning the kitchen.
These are dishes that anyone will enjoy—whether you're a full-time vegan, an aspiring vegetarian or just looking to incorporate more meatless meals into your routine. In fact, I'm the only vegetarian in my family, and no one ever complains about the food!
This is simply good food that you can feel good about eating.
Happy cooking
Nicole Author, DeliciousEveryday.com
---
Delicious Everyday's vegetarian and vegan recipes have been featured on:

---
Available Now from the following Retailers
Amazon | Books-a-Million | Barnes & Noble | IndieBound
---
What the Critics are Saying
"Nicole's One-Pot Vegan Cookbook is perfect for any family that wants to bring more plant based meals into their diets. There will be no more boring "Meatless Mondays" as Nicole's cookbook provides fun, delicious, and comforting plant based recipes." - Tanya Harris, My Forking Life
"Nicole has mastered the art of making quick, flavorful plant based dishes! This cookbook will be a staple in my kitchen!" - Manali, Cook with Manali
"Nicole's One-Pot Vegan Cookbook is a MUST HAVE, especially if you like plant based multi cultural cuisines that are wholesome, delicious and relatively simple to prepare. You don't even need to be a vegan to appreciate these dishes because I guarantee there's something for everyone's palette and that is what I LOVE the most about her book, you rock! " - Charla Harris, That Girl Cooks Healthy
"While I'm not plant-based I do try and have at least one meatless day a week for environmental and health reasons. These recipes not only look simple but like things even meat eaters will enjoy. I can't wait to incorporate more of these delicious meals into our diet." - Lisa Sharp, Retro Housewife Goes Green
"While I am not a vegan myself, I love finding creative ways to eat and serve vegetables. Making really tasty vegetables often involves a lot of dishes which is why I love One Pot Vegan - you'll learn how to make loads of veggie dishes all in just one pot. Each of these super flavorful recipes will keep mealtime from becoming boring and help your family find new ways to enjoy their favorite vegetables." - Carissa Bonham, Creative Green Living
"Eating healthy has never been easier! Nicole has managed to create fuss free plant-based recipes that are satisfying, full of flavour and nutritious. From easy one pot breakfasts to desserts this cookbook is a must for anyone wanting fresh and simple recipes." – Harriet Britto, RecipePocket.com
"Vegan food at its best! This One-Pot Vegan cookbook shows you how to make your dinner tastes ah-ma-zing. Even the beautiful pictures inspire a vegan non-cook like me to start cooking." - Linda, Simply Healthyish Recipes
"Nicole's cookbook makes vegan cooking more exciting and accessible to all. It's a must have for every kitchen!" - Shivani Raja, Shivani Loves Food
"This book is a winner for anyone trying to get their family to eat more vegetables, vegan or not!" - Jo, Nourishing Time
"Nicole's recipes are sensational! She has opened up a way for our family to eat flavorful plant based meals that taste gourmet without having to be in the kitchen all day. Say goodbye to dirtying all the pans too…The One-Pot Vegan Cookbook is perfect for moms like me who want satisfying, healthy food without all the mess! " - Liz, Blue and Hazel
"If you are looking for delicious, plant based, easy meals to feed your family, One Pot Vegan is your answer. Nicole has created simple, one pot meals that will wow your family. " - Angi Schneider, Schneider Peeps
"This book is the perfect collection of real recipes for real families. It is a true testament of cooking from scratch. You don't need fancy equipment to make delicious meals every day. You only need one pot and one cookbook. This one. " - Emese, My Pure Plants
"Nicole shows how easy it is to make imaginative, delicious and wholesome vegan meals. One pot meals are sanity savers especially for busy weeknights. This cookbook offers easy recipes with maximum flavors and minimal cleanup. It's a must have cookbook for everyone ( including vegans or not !)." -Prajakta, Profusion Curry
"If you are looking for a wide variety of vegan recipes, One Pot Vegan is the cookbook for you! So many flavors inspired by cuisines all over the world with easy to follow instructions and mouthwatering photos." - Kate, Babagonosh
"Wow is the first thing I thought when I saw this beautiful book! These recipes look delicious and the photos make them even more inviting, drawing me in and making me want to get in the kitchen. I can't wait to start trying them. I love how it's laid out in and easy to use format too. I'm so inspired to cook! " - Christina, Little Sprouts Learning Garden
"I absolutely love this book - the recipes are so simple and easy that they're basically foolproof, and not to mention delicious and super healthy! Plus, the ingredients are common and affordable which makes these recipes perfect for everyday cooking." -Hannah, Crunch and Cream
"This is a perfect cookbook for busy moms like me that are trying to do all the things! Healthy meals all cooked in one pot - it's a dream come true!" - Melissa, Create and Find
"Nicole manages to make one-pot cooking a full-on fine dining experience with this delight of a cookbook filled with easy, flavor packed dishes certain to please the pickiest of taste buds!" - Kristen Wood, MOON and Spoon and Yum
---
Available anywhere books are sold.